5 Still Unsigned Free Agents the Patriots Should Contact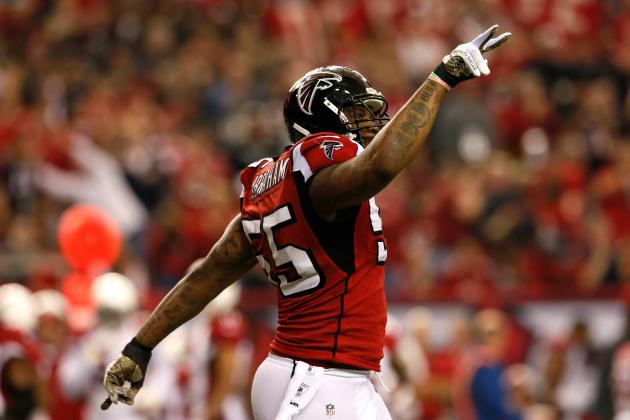 Kevin C. Cox/Getty Images

Earlier this week, ESPN Boston's Mike Reiss made these observations at Patriots OTAs:
In seven-on-seven drills, [Mike] Jenkins couldn't corral a Tom Brady pass and it was intercepted by safety Steve Gregory. That play seemed to be a reflection of what we have seen overall in these OTAs -- the passing offense remains a work in progress and the defense is a step ahead. [Aaron] Dobson later had a drop as well...there were two more pass breakups for third-year cornerback Ras-I Dowling, who has shown up multiple times this spring.
These observations bring several curious points to mind.
For one thing, New England's defense has been their short straw for years now, while their offense has been something of a saving grace. It's intriguing to see a role reversal here, even though it's only June. It's a fascinating storyline for Patriots fans to follow.
Naturally, the current struggles on offense are to be expected, as this new batch of ball-catchers experience their growing pains. Still though, it's nice to see the team's defense gaining a little swagger out there on the field. It's a great sign of increased balance on both sides of the ball, which is essential for a successful championship run.
The early observations from OTAs also reveal some immediate gaps for the Patriots to start thinking about. There are still plenty of available free agents who can help the Patriots fill those gaps.
Here are five players they should contact.
Begin Slideshow

»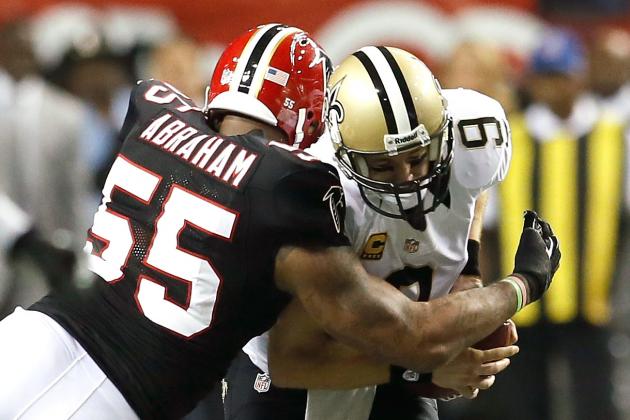 Kevin C. Cox/Getty Images

When the Patriots visited with with safety Adrian Wilson and defensive end John Abraham earlier in the offseason, everything seemed to be falling into place. It was a perfect situation, with two prolific veterans joining forces to win a championship in New England.
But the Patriots only signed Wilson.
No question, Wilson was a tremendous pickup. He came to the Patriots with staggering career totals of 27 picks and 25.5 sacks on his resume. He's a tenacious beast and a top-notch aggressor. Getting him was one of the team's finest moves of the offseason.
But still, a double signing would've been twice as sweet. Abraham's fresh off a 10-sack season. The Patriots would be in amazing shape with a savvy sack machine like him up front, with Wilson lurking around in the defensive backfield, both of them making timely plays to swing the momentum of big games. That would be a great situation.
Reports have since emerged regarding Abraham's desires for the specific role and contract he's looking to land. Rigidity of any kind could easily explain why things didn't work out with the Patriots.
It likely explains why it hasn't work out with anybody else yet, either. His stalled progress may even prompt him to retire. It'll be interesting to see where his head's at over the next few weeks.
In the meantime, New England's flirtation with Abraham has cooled, but it would be nice to see it heat up again. It's such a perfect combination, it would be a waste to see this partnership remain hypothetical.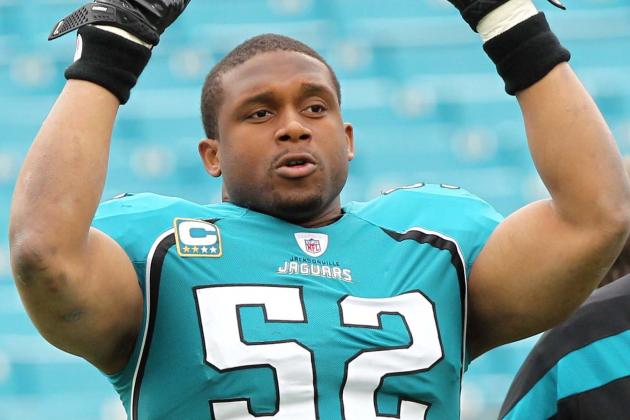 Kim Klement-USA TODAY Sports

Linebacker Daryl Smith has played for the Jaguars throughout his entire nine-year career. Over that time, he's shown poise, commitment and unwavering talent.
Playing for the Patriots would afford him the opportunity to finally play for a contending team. In return, the Patriots would benefit from his blitzing prowess, his role versatility and his leadership. It's a good match.
Smith is 31 years old and he has nearly a decade of experience and wisdom to his credit. He missed most of the 2012 season with a groin injury, but that was a rare splotch on an otherwise stellar string of durability, as he's played at least 14 games in each season between 2004 and 2011.
Smith could easily fill an Andre Carter-type role for the Patriots, as he would provide a physical punch on the field, along with a steady hand and voice in the locker room.
As far as last-minute pickups go, Smith would be a gem.
Robert Mayer-USA TODAY Sports

Defensive end Trevor Scott had a respectable season with the Patriots in 2012. He competed hard and had a few standout games, including the first Dolphins game in early December, where he notched a strip sack in the first half and another sack in the second half. His energy was always high and palpable.
Giving Scott another go-around for 2013 wouldn't be a game-changing move, nor would it induce any massive splash or buzz, but it would be a quietly solid move.
Scott has a great "next man up" mentality, as he's willing to pull his weight in any capacity to help the team. The Patriots are built on that mentality. It's the foundation of their whole soul. They can never have too many players who fit that bill.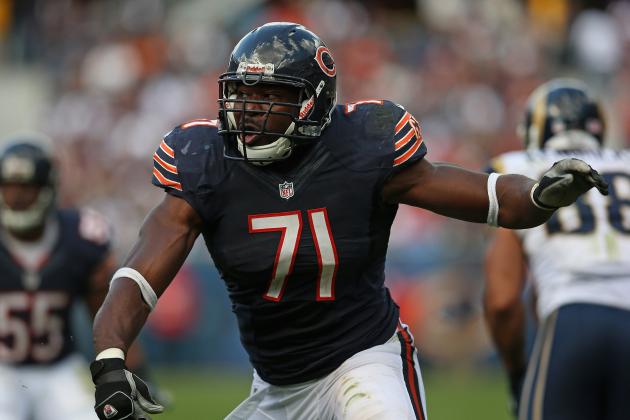 Jonathan Daniel/Getty Images

Defensive end Israel Idonije would be a tremendous pickup for the Patriots. His presence would send immediate reverberations throughout the defensive unit, providing a potent dose of passion, wisdom and consistency on a major scale.
Idonije is coming off another great season with 7.5 sacks, which factors into the 20.5 sacks he's accumulated over the last three seasons. He also has a wonderful knack for staying on the field, as he played the full 16-game slate in five of the last six seasons (he played 15 games in 2009). He has 272 career tackles and 28.5 career sacks.
He's a menace on the field. He's mean, aggressive, versatile, instinctual, smooth and athletic. He can seal off the run and get to the quarterback at a very high level.
Snagging him would be like pulling a rabbit out of a hat, but it's a trick I'd love to see.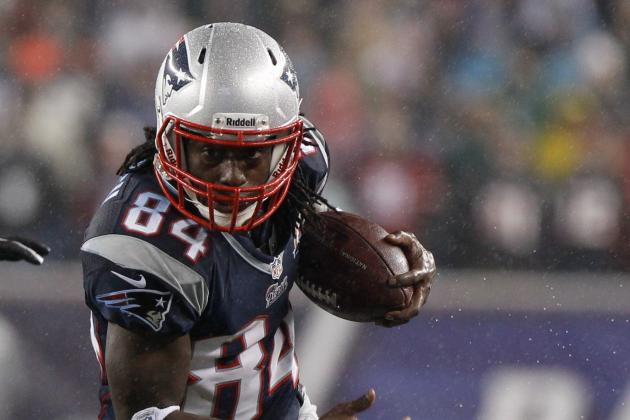 USA TODAY Sports

Tom Brady is throwing the football to nearly a dozen new receivers and tight ends at OTAs right now. If there were a stable core of ball-catchers to go along with all the new faces, it would be a perfect mixture.
But, as it stands, the reliable core isn't so reliable, as the four members of the core (Danny Amendola, Julian Edelman, Rob Gronkowski and Aaron Hernandez) all have freakishly worrisome injury histories.
Brady is the both the anchor and the cushion for this brand-new offense.
Of course, on the positive side, it's only June. There's plenty of time for this crew of misfits to carve some chemistry out there. There's also plenty of time for everyone to heal and get into shape. And, as far as anchors go, Brady's the best one to have.
Still though, a little more stability would hit the spot. A familiar face would be nice. It would be good for Brady to have a reliable comrade out there, someone like wide receiver Deion Branch, who has terrific hands and brings a voice of leadership from which to build a choir, as opposed to the current situation, where the quarterback's out there shouldering the brunt of a monologue everyday.
Branch's body is still in good shape for 33. True, his age has hurt his ability to get open, but this new and youthful receiving package might put a fresh spin on his legs and give him a few windows to exploit.
Plus, he's Deion Branch. He's a legend.