Washington Nationals: The 5 Most Promising Developments of the 2013 Season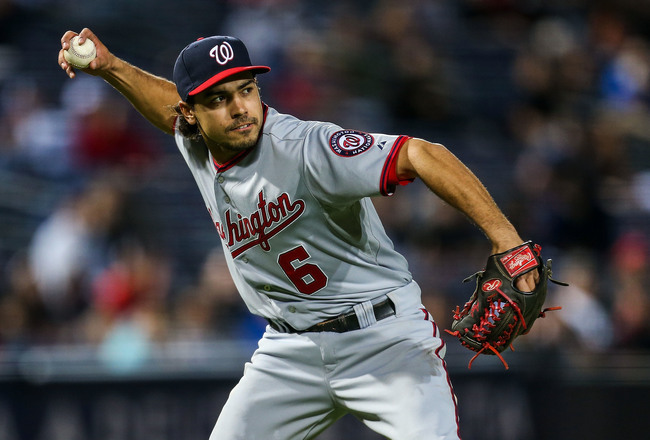 USA TODAY Sports
With the Washington Nationals off to an unusually slow start to the 2013 season, many baseball fans will be quick to consider them as simply overrated. Throughout a third of the season, the Nationals sit a season-high eight games behind the NL East leading Atlanta Braves.
Despite the lackluster start, there is still plenty of time for the Nationals to bounce back. They're led by savvy manager Davey Johnson. If anyone could turn around an underwhelming ballclub like the Nationals, it'd be Davey.
The Nats have officially dealt with it all throughout the first two months of the season. The injury bug, inconsistent play, bad luck, you name it. But through the early-season bumps, there is still a handful of positive and promising developments team wide.
The following piece will take a closer look into five of those encouraging developments throughout the Nationals' organization.
All stats courtesy of Baseball-Reference.com and are current through June 5, 2013.
Jordan Zimmermann Evolving into a True Ace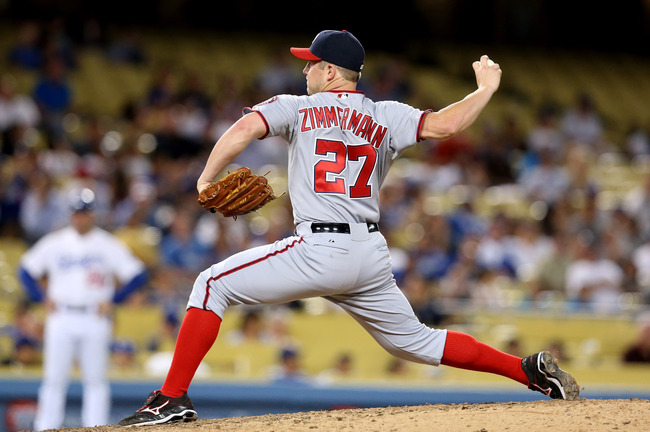 Stephen Dunn/Getty Images
There are few teams in the majors where Jordan Zimmermann would somehow get overlooked, but that's exactly what's happening in Washington. Stephen Strasburg and Gio Gonzalez typically hog the headlines.
While Strasburg has thrown the ball very well this season and has looked like his dominant self more recently, Zimmermann has hands down been the best pitcher on the team through the first two months of the season.
In 12 starts, Zimmerman is 8-3 with a 2.16 ERA and 0.91 WHIP. Numbers any team would be entirely content with from their ace, let alone their "third" starter.
Zimmermann's first 12 starts have served less as a breakout than a continuation of a progression. Since the start of 2012, only Los Angeles Dodgers ace Clayton Kershaw, at 2.31, has a lower ERA than Zimmermann's 2.61 among full-time starters.
Surely, a .238 batting average against him on balls in play, likely a sign of good luck, has helped. Zimmermann, after years of trying, added a change-up to a mid-90s fastball, a deceiving slider and a 12-to-6 curveball. Now equipped with an impressive arsenal of pitches, Zimmermann has proved he is capable of being a legitimate ace in the big leagues.
The Continuation of Rafael Soriano's Consistent Ways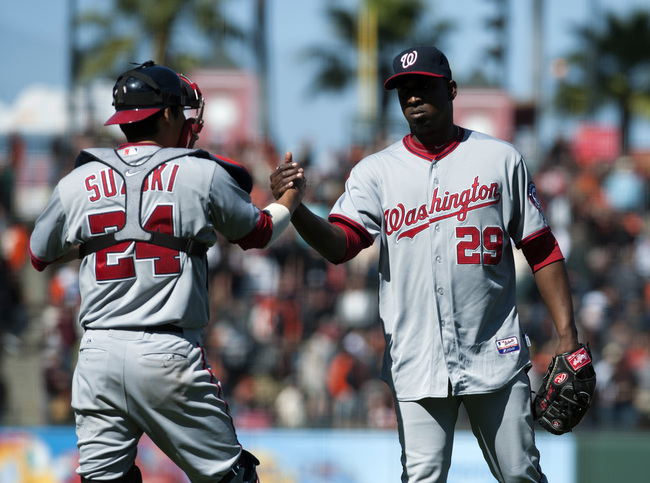 Ed Szczepanski-USA TODAY Sports
A couple of months into his tenure in Washington, Soriano has given the Nationals what they expected, experience and inevitability in the ninth inning. Following an epic collapse in the 2012 postseason, all Washington Nationals fans were fully aware of the need to fill the ninth inning role.
He didn't come cheap, but after a choppy start, Soriano has pitched well. He has saves in 15 of the Nationals' 28 victories and has slipped up minimally. His consistency has remained the same, which is what the Nationals' brass counted on most.
Soriano has a very respectable stat line, sporting a 2.74 ERA, 1.16 WHIP, a win and the aforementioned 15 saves.
There are a lot of cloudy closer situations around the league, but Washington isn't one of them.
Soriano is undoubtedly one of the safest closers in the game these days and will prove to be a valuable commodity heading into a very important remainder of the season for the Washington Nationals.
Adam LaRoche Is Heating Up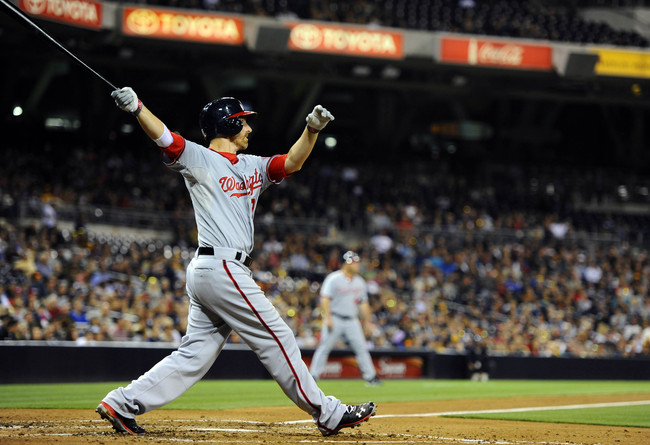 Christopher Hanewinckel-USA TODA
There has been much angst over the Nationals' slumping offense, especially the first baseman who was re-signed to a two-year, $24-million deal in the winter.
But after reaching the lowest point of his trademark slow start, Adam LaRoche is no longer part of that concern. He has been raking the baseball and has proven he can shoulder the Nationals offense if needed.
LaRoche hit .341 with four doubles, a triple, seven home runs and 19 RBI in the month of May. He smashed two home runs to cap off the end of the month, his third multi-home run game of the season.
LaRoche has shown throughout his career that he can be streaky; it's a known fact. When he is slumping, it can be a brutal stretch. When he is hot, he hits like few others. And right now, he is a major factor in carrying the struggling offense.
The Nationals offense has needed him, because they have received production from few sources outside the portion of their lineup that stretches from Bryce Harper through Ian Desmond.
This certainly serves as an important development for the Nationals as they attempt to climb back from an eight-game deficit within the division, their largest of the season.
If LaRoche and the rest of the Nats' offense can manage to string together a hot streak in unison, they can easily narrow the gap between them and the Atlanta Braves going forward.
Bryce Harper's Ascension at Age of 20
Ezra Shaw/Getty Images
There's never been any questioning of Bryce Harper's natural-born talent on the baseball field, but the sophomore slump is a pretty common occurrence for many talented young players.
Through the first two months of the 2013 season, it is looking like Harper will be one of the few to simply bypass any type of (offensive) regression following his rookie year.
Despite currently being on the disabled list following a gruesome injury he suffered from running into the outfield wall, Harper still seems to be the shining star of the Nationals franchise.
Harper will now have to deal with the backlash of his reckless style of play, having his long-term possibilities questioned.
But what fans and naysayers alike need to realize is that Harper wouldn't be in the position he's in if it weren't for his aggressive approach on both sides of the ball.
The game knocks out random people at random times, and Harper can't entirely avoid that. But he can certainly lower his risk.
Only a few have a shot at true greatness in baseball and Harper is one of them. The majority of the time, Harper is mesmerizing to watch.
For Harper to put up MVP-caliber numbers at age 20 is astounding, because power tends to develop later in a career, and Harper already has it.
The Continued Development of Top-Prospect, Anthony Rendon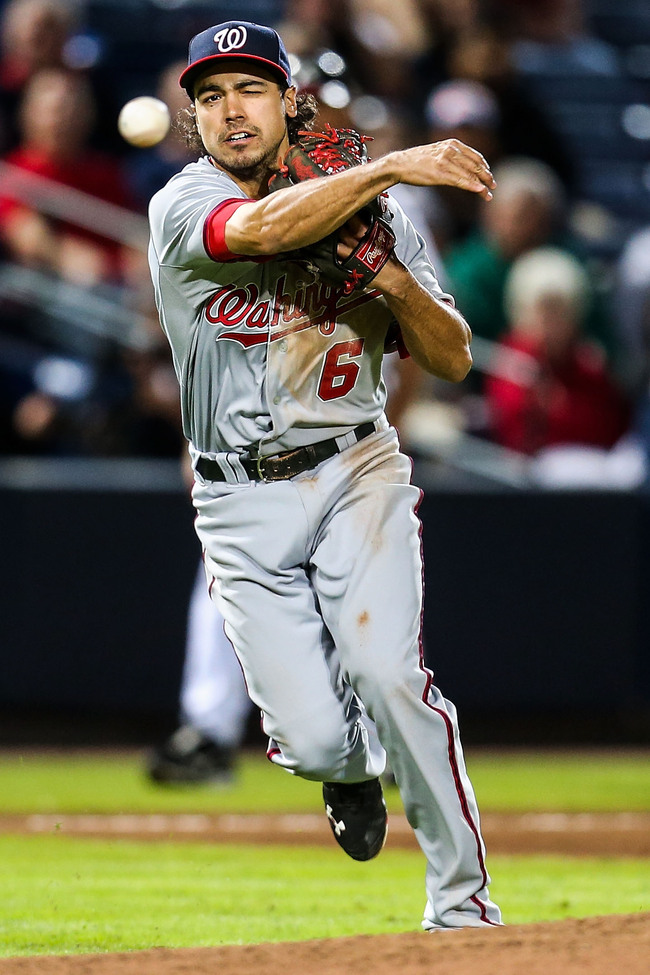 USA TODAY Sports
The very recent promotion of the Nationals' top-prospect, Anthony Rendon, may serve as a much needed boost for the scuffling ballclub.
The Nats could no longer tolerate the diminished play of Danny Espinosa, who consistently struggled with a wrist ailment throughout the first two months of the season. Espinosa was finally placed on the disabled list on Tuesday, making room for Rendon at the keystone.
For now, the Nationals will count on Rendon, the No. 6 overall pick of the 2011 draft. Rendon, 22, went 6-for-25 with five walks in April when he filled at third base for the injured Ryan Zimmerman. He is widely considered one of the most advanced minor league hitters in baseball.
Rendon should hit better than he did in his first call-up, especially now that he'll have frequent playing time over a longer period of time.
His ability to continually develop over the course of the first two months of the season, playing multiple positions, will prove to be crucial for the Nationals. Rendon officially has his opportunity to stick in the big leagues for good and could provide the spark Washington desperately needs to get past their offensive woes.
Follow @Andy_Rocco
Keep Reading

Washington Nationals: Like this team?