Jose Mourinho's Chelsea Career in Pictures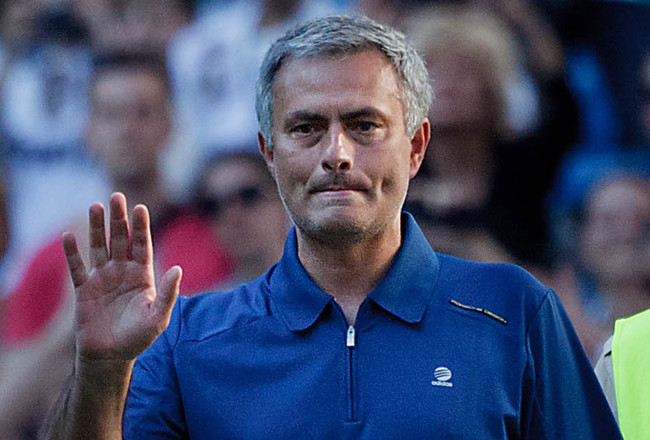 Jose Mourinho has waved "hello" to Chelsea again this week.
Gonzalo Arroyo Moreno/Getty Images
It's nine years this month that Jose Mourinho rocked up to Stamford Bridge and grabbed the attention of the world with his claims of being the "Special One." And now he's back for more.

Chelsea announced the Portuguese's return on June 3, replacing interim manager Rafa Benitez.

Since his initial unveiling all those years ago, Mourinho has been nothing but pure box office for fans and the media alike—providing entertainment on and off the pitch in his pursuit to become the world's most-famed football manager.

Whether he has achieved that aim or not will largely depend upon which side of the fence you sit, but to Chelsea supporters he is very much the messiah. Not only did he secure the club's first title in 50 years, he made the Blues feared across Europe during his time in charge.

Mourinho's Chelsea appeared an unstoppable juggernaut that threatened to dominate domestic and European football for years to come until he was fired in 2007 after a very public falling out with owner Roman Abramovich.

With the pair rekindling their relationship, it seems the scars have healed in the intervening years. To celebrate, Bleacher Report takes a look at some of the more memorable moments of Mourinho's Chelsea career to date.
June 2004: Mourinho Appointed Chelsea Manager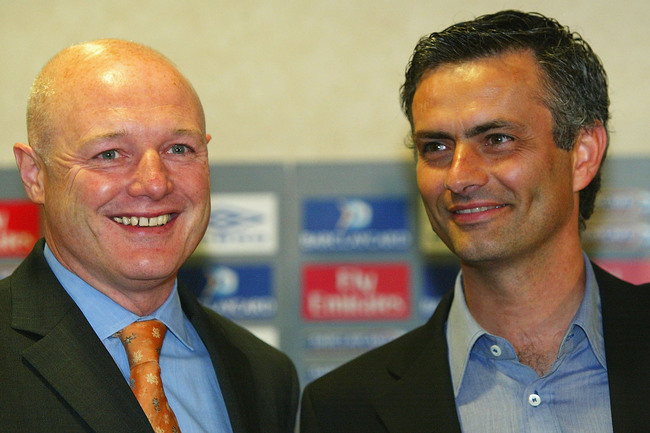 Ben Radford/Getty Images
Flanked by Chelsea chief executive Peter Kenyon, Jose Mourinho was unveiled to the world as the Blues' manager on June 2, 2004, replacing Claudio Ranieri.
He had just lifted the Champions League with Porto and told the gathered media at Chelsea's Stamford Bridge home that "I am not one from the bottle. I am a special one."
The Chelsea love affair was well and truly underway.
February 2005: Mourinho Labelled an "Enemy of Football"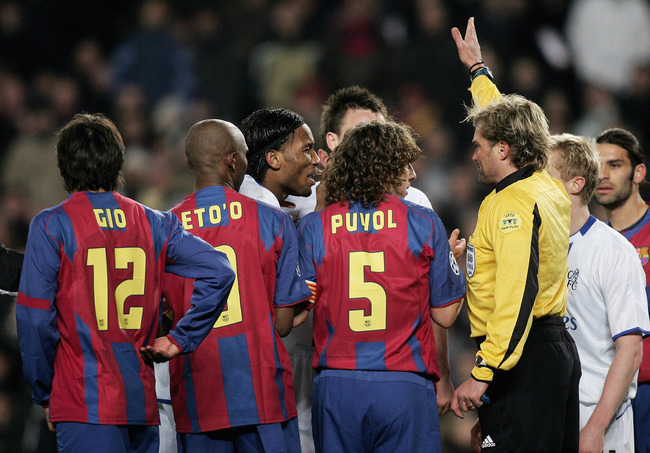 Anders Frisk sends off Didier Drogba at the Nou Camp in 2005.
Ben Radford/Getty Images
Chelsea met with Barcelona in the Champions League in February 2005 and while the second leg of their tie will be remembered largely for footballing brilliance, the first was overshadowed by Jose Mourinho's claims of bias from referee Anders Frisk.
Mourinho claimed the referee was working in Barca's favour at the Nou Camp after Didier Drogba was dismissed. The claims led to the official receiving death threats, before he retired soon after.
Chelsea's manager was later labelled an "enemy of football" by one UEFA official and also received a two-match touchline ban.
Although Chelsea lost the game 2-1 that night, a 4-2 victory at Stamford Bridge in the second leg saw the Blues progress 5-4 on aggregate as Barca crashed out.
February: Mourinho Lifts First Chelsea Silverware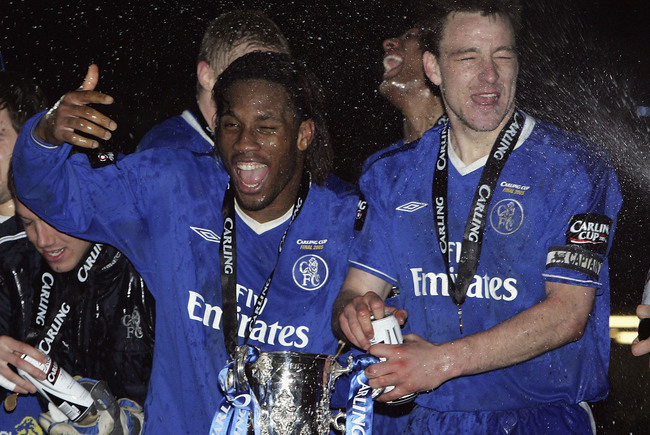 Didier Drogba and John Terry celebrate victory over Liverpool in the 2005 Carling Cup final.
Ben Radford/Getty Images
On the back of that clash with Barcelona at the Nou Camp, Chelsea and Jose Mourinho made the headlines for all the right reasons as they lifted the Carling Cup at the Millennium Stadium in Cardiff just a few days later.

It was Chelsea's first silverware since 2000 and set them on a journey of success under their Portuguese coach.
May 2005: Chelsea Claim the Premier League Title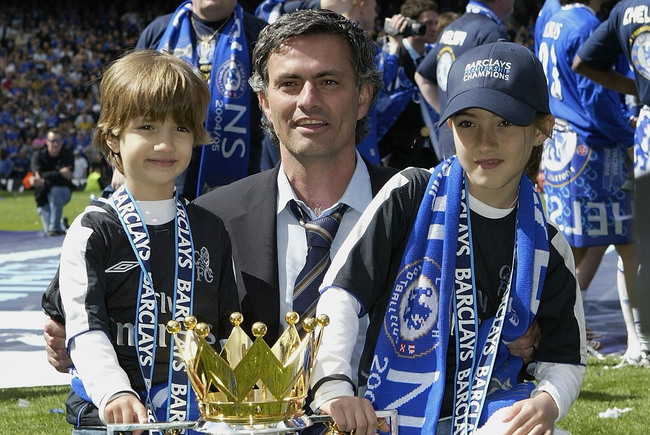 Mourinho celebrates Premier League glory with his children.
Ben Radford/Getty Images
There was a generation of Chelsea fans who had never seen the club lift the league title until Jose Mourinho arrived on the scene.
Just three months after claiming the Carling Cup, he saw his Chelsea team lift the Premier League—the club's first league success since 1955.
As the players paraded the trophy around the Stamford Bridge pitch, Mourinho even threw his winners' medal into the crowd, cementing his relationship with Blues fans even further.
May 2006: Chelsea Claim Back-to-Back Titles
Paulo Ferreira, john Terry and Frank Lampard celebrate Premier League success in 2006.
Dean Mouhtaropoulos/Getty Images
There's a saying in England that you wait for one bus and two come along at the same time. In Chelsea's case, they waited 50 years for a title and along came two after they repeated their 2005 success with another league crown 12 months later.
They did it in style, too, recording a record points tally of 95 as they ruthlessly brushed their rivals aside.
With Jose Mourinho being fired just over 12 months later, it would be another four years before they tasted league success.
June 2006: Shevchenko and Ballack Arrive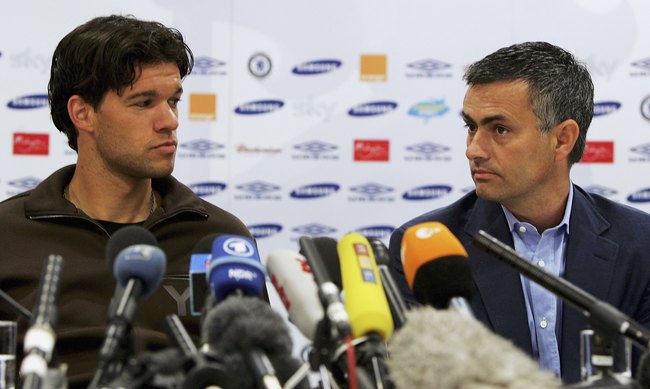 Michael Ballack is unveiled as a Chelsea player in 2006.
Bryn Lennon/Getty Images
Up to the summer of 2006, Jose Mourinho had signed players who would become stars under his management—players with growing reputations that joined Chelsea and became winners. With the arrival of Andrei Shevchenko and Michael Ballack, that policy well and truly changed.
For some, this was the beginning of the end for Mourinho at Chelsea, with the club appearing to adopt a similar approach to Real Madrid's infamous Galacticos policy that saw them pursuing established stars from across the globe.
Whether Ballack and Shevchenko were signings made by Roman Abramovich, we'll never know, but it was an indication of Mourinho's influence waning at the club.
Shevchenko arrived from AC Milan for £30 million, but struggled to adapt to English football and it led to reports of a rift between manager and owner.
Ballack was a free signing from Bayern Munich and while it took time for him to settle, it was only after Mourinho departed 12 months later that Chelsea fans would see the best of the German midfielder.
February 2007: Blues Back Among the Trophies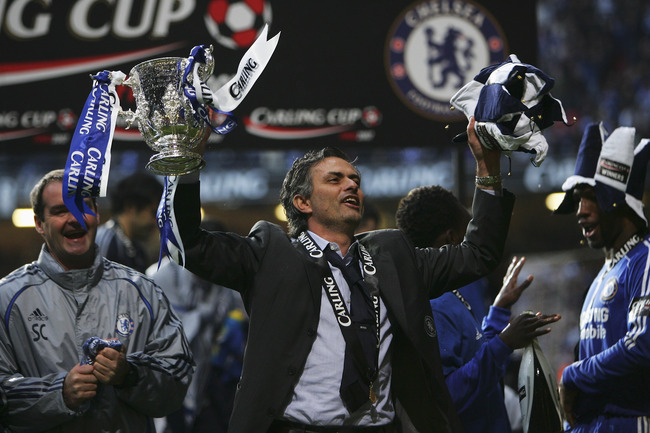 Jose Mourinho celebrates another victory in the Carling Cup.
Alex Livesey/Getty Images
After sealing trophies in his first two seasons in charge, Mourinho was at it again in his third year in West London as the Blues lifted the Carling Cup for a second time under his management.
Liverpool had been first in 2005 and this time Arsenal were on the receiving end of Chelsea's pursuit of silverware, with a Didier Drogba brace cancelling out Theo Walcott's opener.
May 2007: Mourinho and Chelsea Make History at Wembley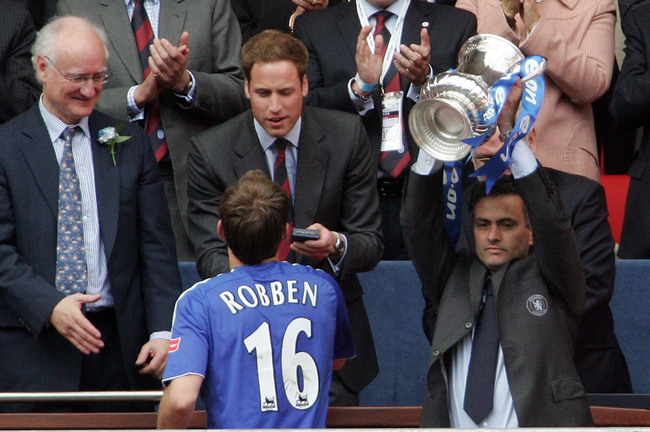 Mourinho holds the FA Cup aloft.
Phil Cole/Getty Images
Jose Mourinho had made history throughout his Chelsea career, so there was an air of inevitability around the 2007 FA Cup final at Wembley.
The famous stadium was staging its first major final since being redeveloped. Never one to be outdone, Mourinho and his Chelsea team wrote their names into the history books as the first club to lift the FA Cup beneath the Wembley arch, beating Manchester United 1-0 after extra-time.
Including Community Shields, it was Mourinho's seventh piece of silverware in just three years at Stamford Bridge, making him the club's most successful manager.
Incidentally, Chelsea were the last club to win the FA Cup at the old Wembley in 2000.
September 2007: Mourinho Fired by Abramovich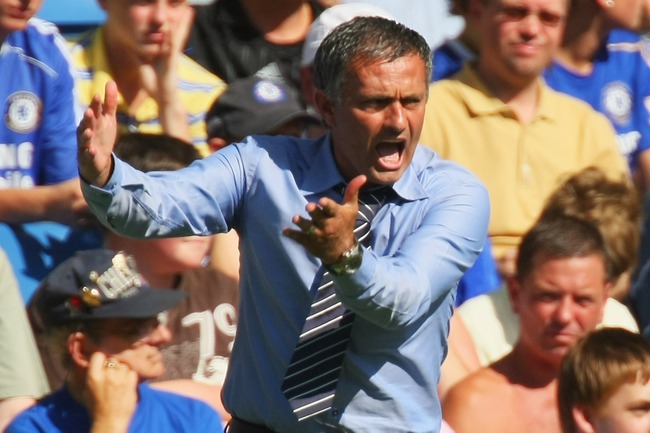 Mourinho in one of his last games at Chelsea
Richard Heathcote/Getty Images
It had long been rumored that Jose Mourinho and Roman Abramovich no longer saw eye-to-eye and it was confirmed on Sept. 20 when the Portuguese was fired as Chelsea manager.
It brought an end to a three-year spell where Mourinho had helped propel the club to the top of the Premier League and came close to lifting the Champions League trophy, being denied by Liverpool twice in the semifinal.
Chelsea fans were aghast, with some protesting to his removal as boss. And since that time, his name has continued to be sung from the terraces, with supporters dreaming of his return.
It's taken six years, but they've finally got their wish.
Keep Reading

Chelsea: Like this team?