Critical Keys for Miami Heat to Top San Antonio Spurs in 2013 Finals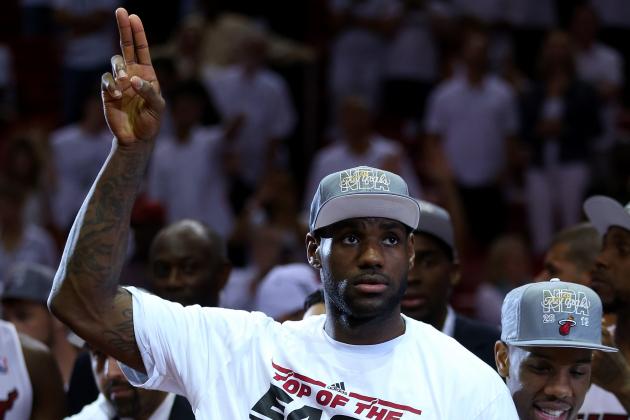 Mike Ehrmann/Getty Images
Will LeBron James get his second NBA title?
Back before Interleague play, baseball's World Series arrived with some mystery.
It was the first time that teams that from the American and National League faced each other all season, so there was no way to know exactly how the matchups would play out.
This NBA Finals is as close as American team sports can come to those old World Series.
That's what makes it a challenge to identify the areas of most importance, as this series starts on Thursday.
Yes, the Miami Heat and San Antonio Spurs faced each other twice this season, once last season and twice the season prior. But those contests offer little insight into what's to come in the next week or two.
In 2010-11, the first season following LeBron James' decision to collaborate with Chris Bosh and Dwyane Wade in Miami, the Heat were still finding themselves, and their two games with San Antonio were fluky—one 30-point win for each side.
In 2011-12, the teams played only once due to the lockout, and neither Wade nor Manu Ginobili participated.
In 2012-13, the teams played twice, but with few of the names you know. Prior to the November 29 game in Miami, Gregg Popovich sent his three stars back to San Antonio on Southwest Airlines, and Kahwi Leonard was out with an injury. In the March 31 rematch? James, Wade and Mario Chalmers watched, all nursing minor injuries in what qualified as the start of the Heat's maintenance program.
Payback?
"I can see where you guys could draw those conclusions, but no," Erik Spoelstra said at the time.
"Who would think of something like that?" Gregg Popovich quipped upon finding out.
We think everyone will be playing in this series.
So what are the keys for Miami?
(All quotes for this piece were collected over the course of the author's coverage of the Miami Heat for the Palm Beach Post.)
Begin Slideshow

»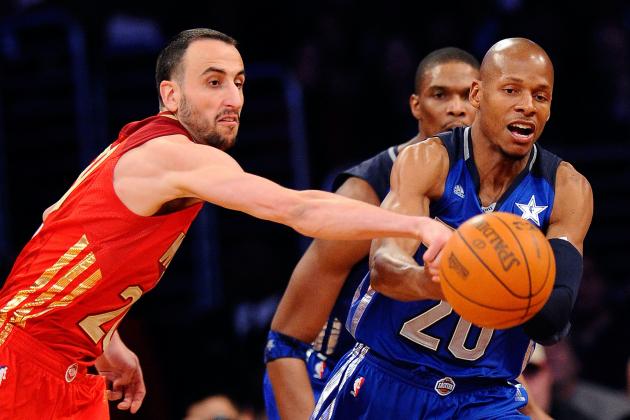 Kevork Djansezian/Getty Images
Ray Allen and Manu Ginobili, formerly All-Stars, are now key reserves.
Earlier this season, Erik Spoelstra was marveling about the San Antonio Spurs' sustained success, and specifically the way in which Gregg Popovich has created a culture of sacrifice:
"Manu Ginobili is a Hall of Famer, easily we all know he should have been a starter for his entire career, and yet he was willing to come off the bench. Pop is able to coach games, whatever he thinks is best for the team, and that may mean changing starting lineups game to game, it might mean half to half, and guys don't get all bent out of shape. It's a great example really for the rest of the league. If it were only about winning basketball games, it's amazing what you can actually get accomplished."
Spoelstra and the Heat haven't merely admired Popovich's approach, but have tried to model their own after it. On its bench, Miami has three former All-Stars (Ray Allen, Rashard Lewis, Juwan Howard), a former Sixth Man of the Year (Mike Miller), and two former starters on playoff teams (Joel Anthony, James Jones), and of those, only Allen is guaranteed regular minutes in this series.
A reserve for the first time in his career, Allen was up and down this season, and mostly down in the playoff series against the Chicago Bulls and Indiana Pacers, but he did hit three three-pointers in the first half of Game 7 against Indiana. He'll be joined in the regular rotation by Chris Andersen, Norris Cole and either Shane Battier or Miller, with the latter getting the minutes in that Game 7.
Ginobili remains the most dynamic player on the Spurs' bench, but he's shooting just 38.3 percent in the playoffs, with that inefficiency masked by a game-winner against the Golden State Warriors.
Gary Neal, Matt Bonner and Boris Diaw all understand their roles, mostly to stretch the floor and play off the stars.
Really, though, this will come down to the two former All-Stars, and likely Hall of Famers:
Ginobili vs. Allen.
Who can make a few more memories?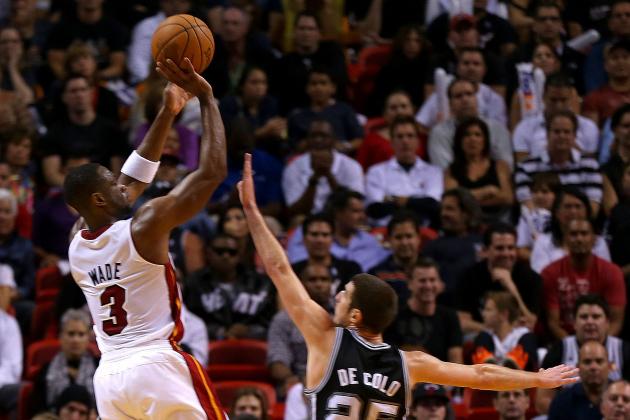 Mike Ehrmann/Getty Images
Dwyane Wade doesn't need to be dominant, just efficient and energetic.
Dwyane Wade had just turned back time, and turned in the sort of electric playoff performance that the basketball-watching public once took for granted.
Still, after he scored 21 points and recorded six offensive rebounds in the Game 7 win against the Indiana Pacers, he didn't pretend that he had turned the corner for good:
"There will be some moments next series where I won't be looking so great. I'm sure there will be some great headlines out there about myself. I'll continue pushing. I'll continue to try to do what I can to help the Miami Heat win another championship."
He has won two already, once (2006) as the primary star and once (2012) as the slightly-hobbled sidekick.
And while he has had his share of injuries through the years, this has been his most challenging playoff run yet, as his right knee, first bruised back in March, still appears to be inhibiting his explosiveness, which is shrinking his offensive space. He's also frustrated at times by a decrease in opportunities, sometimes making that known plainly and sometimes with passive-aggressive quips.
In the close-out of the Pacers, though, some things came together, as he cracked the 20-point barrier for the first time in 13 games. He met with Erik Spoelstra to tweak the game plan, and LeBron James made an effort to involve him early, calling the first play for him, and then a few more.
And then there was this: "I just felt better physically."
Will he feel better for an entire series? Even he can't promise that.
But if Miami can get flashes of the old "Flash," it might be enough.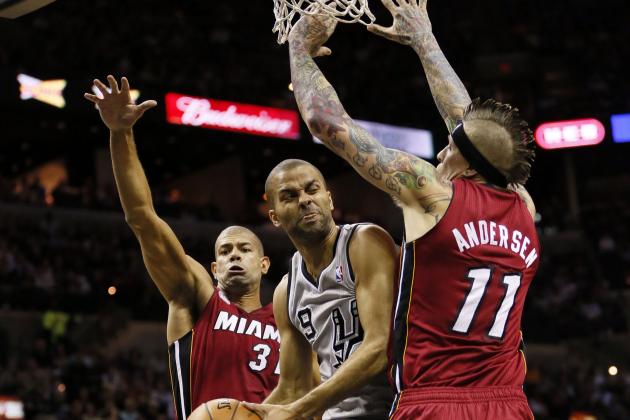 USA TODAY Sports
Tony Parker struggled some against the Heat in March, but he's healthier now.
At the 2012 All-Star game in Orlando, Tony Parker wasn't among those dwelling on LeBron James' so-far-failed quest to win a championship:
"He's on a mission this year. He's playing great basketball. He wants to win a championship, and you can see it."
And what happened in the 2011 NBA Finals against the Dallas Mavericks?
"It can happen to anybody. He'll be fine. I'm not worried about him. He's going to win more than one championship."
Now that's he won one, Parker is poised to stop him from winning a second.
If James was the MVP of the Eastern Conference bracket this postseason, Parker was a strong contender for the same commendation in the West. He's averaging 23.0 points, 3.9 rebounds and 7.2 assists, doing so while facing Stephen Curry and Mike Conley in the past two rounds.
Parker has a quickness advantage against Mario Chalmers, who must at least make Parker work by playing aggressively on offense, something Chalmers did manage to do against the Indiana Pacers.
But the Miami Heat won't leave it to Chalmers alone.
In fact, it's possible that Norris Cole gets half, or more, of the point guard minutes.
Cole started in Chalmers' place on March 31, and he played exceptional man-to-man defense against Parker, even down the stretch of that Heat victory. Cole denied Parker's drives without fouling. Of course, at that stage, Parker was still dealing with a gimpy ankle.
Lately, he's been dealing dimes and getting buckets.
And, in the end, in the closing minutes, Miami has one more option: James.
Don't be surprised to see that.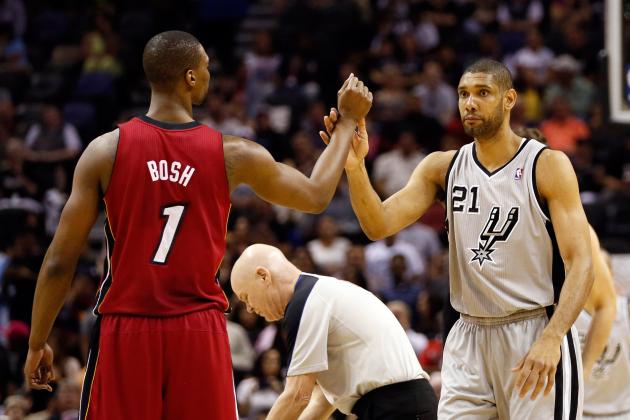 USA TODAY Sports
Chris Bosh respects Tim Duncan, but he's also played well against him.
Long before he was in the NBA, Chris Bosh posterized Tim Duncan.
He didn't do this by dunking over him.
Rather, the young Texas teen cut Duncan's action shots out of Slam magazine and stuck them on his bedroom wall.
"That was another lifetime," Bosh recently said, laughing.
Duncan is still going strong.
But here's the good news for Miami Heat fans: this is actually a matchup that can go the Heat's way.
After all of his struggles against the burlier Indiana Pacers—failing to grab more than five rebounds in any contest until Game 7, shooting 37.7 percent from the field, and feeling the need to apologize to teammates—Bosh should welcome the change of opponent.
He has consistently played well against the San Antonio Spurs, most recently scoring 23 points with nine rebounds and hitting the game-winning three-pointer on March 31. In that game, Bosh carried Miami, with LeBron James and Dwyane Wade sitting.
In fact, Bosh has outscored Duncan in their past five meetings, and been outrebounded only once in those games, dating back to when Bosh played for Toronto.
That doesn't mean Bosh will dominate him now, and certainly not if his confidence remains in its current diminished state. Still, this might not be a matchup to fear, even against a three-time Finals MVP. Bosh, eight years younger, should have fresher legs, legs now freed from planting against Roy Hibbert in the post.
"Yeah, I've thought about it—just what they've done over the years," Bosh said of the Spurs. "We feel it's our time now."
And if he arrives late into these playoffs, it's better than never.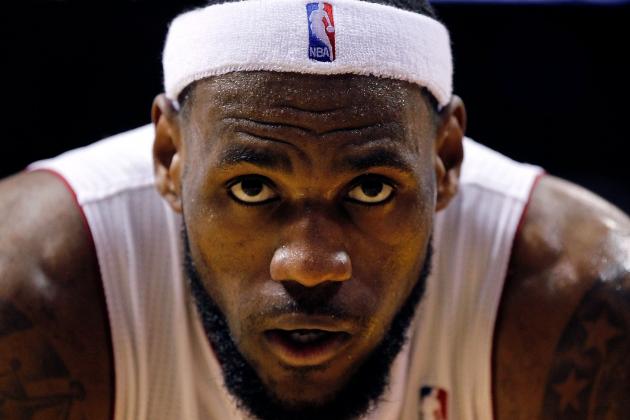 Mike Ehrmann/Getty Images
In LeBron James, the San Antonio Spurs will face a player at his peak.
LeBron James always knows his numbers.
The Miami Heat forward can often cite his statistics without looking at a stat sheet.
So it seems safe to trust his math when he uses it to measure his growth since getting swept out of the 2007 NBA Finals by the San Antonio Spurs:
"I'm a much better player. I'm 20, 40, 50 times better than I was in the '07 Finals."
Certainly, it would be a stunner to see a repeat of his performance in that forgettable series, when he averaged 22.0 points on just 35.6 percent shooting, as the Cavaliers averaged just 80.5 points per game.
He reads defenses better now.
He anticipates actions better now.
He shoots from the perimeter now.
He works in the post more often, and better, now.
And, of course, his teammates are better now; no disrespect to Boobie Gibson and Sasha Pavlovic.
He's also been through the frustration of the 2011 NBA Finals against the Dallas Mavericks, when he shrunk in the final three games.
"I think the zone and the comfort level I'm in right now happened because Dallas beat us...I just went back to the basics. I went back home, went back to Ohio, I worked out with my high school coach. I went back to my high school gym, and just put myself in the mindset of what made me fall in love with the game. And it's because I had a lot of fun with it."
He's maintained that mindset since, so it would be a stretch to expect him to lose it now.
Unless he does, it remains a chore for any team, even the poised, balanced Spurs, to deal him four losses in a series, let alone four straight like in 2007.