Belmont Stakes Entries 2013: Projecting How Top Horses Will Finish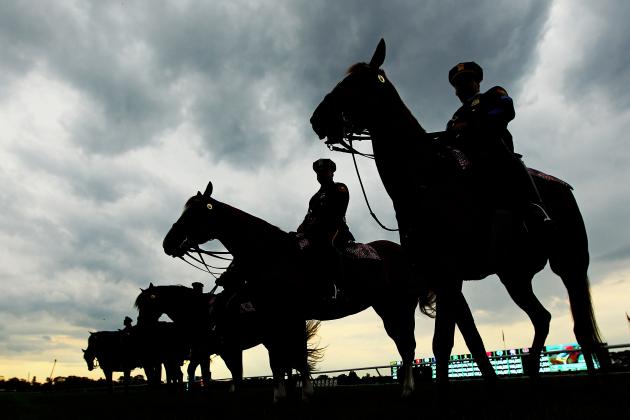 Al Bello/Getty Images
This Saturday is the Belmont Stakes
Though there is no Triple Crown in the line in this Saturday's Belmont Stakes, the race has shaped up to be a deep, competitive one with several new shooters vying for their place in history alongside some familiar faces from the Kentucky Derby and Preakness Stakes.
Orb, the Kentucky Derby champion, will try to avenge his disappointing loss to Oxbow in the second jewel of the Triple Crown. Neither colt will have an easy task, however, with several fresh faces ready to test their stamina in the 1-1/2 mile contest.
Here is a look at the top contenders heading into Saturday's Belmont Stakes and how the race may unfold for them.
Begin Slideshow

»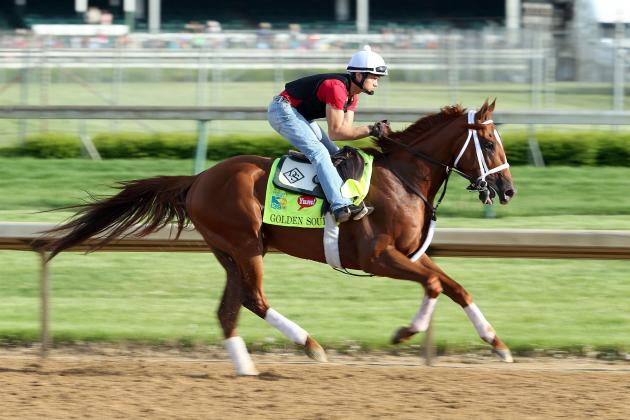 Andy Lyons/Getty Images
Golden Soul
Belmont Outlook: There was no horse at Churchill Downs the first Saturday in May that benefited more from an off track than Golden Soul. As a horse with a serious pedigree for the mud, he was able to capitalize and close, turning in an effort that may have looked more impressive than it actually was.
Oftentimes, horses that closed well in the Derby generate steam heading into the Belmont Stakes. The notion is that if they were closing so well, all they needed was more stretch and they would have caught the winner. That often actually is not the case and those big closer types wind up being non factors at Belmont Park.
Predicted Finish: 7th, unless it rains
Belmont Outlook: Freedom Child could not have been more visually impressive in his 13-1/4 length romp in the Peter Pan Stakes at Belmont Park in his prep for his date with history. He caught an incredibly sloppy track that day and seemed to excel over it.
Over a fast track, he is relatively unproven against stakes company. His race in the Wood Memorial is a complete throwaway—he was declared a non-starter after the gates opened before he was prepared and he broke in a tangle, losing all chance. Beyond that, all he has is a maiden victory to his credit.
The question remains how much did the off track move him up. With a slight chance of rain in the forecast for Saturday, that could give him a bigger chance, but otherwise he seems in over his head.
Predicted Finish: 6th
Belmont Outlook: This filly is nearly guaranteed to be over bet. The novelty of a filly taking on the boys in a Triple Crown race is enough to garner some attention, and in addition, this filly will have horse racing's sweetheart, Rosie Napravnik, in the irons. Napravnik is as good as any rider around currently, but her presence brings down the price and the "girl power" angle may be tough for casual fans to ignore.
Though Unlimited Budget does seem to have some real talent, she may have one limit—distance. Her female family lacks depth and stamina and that will catch up with her.
Her trainer, Todd Pletcher, won the Belmont Stakes once before with the filly Rags to Riches. At this point, Unlimited Budget is no Rags to Riches
Predicted Finish: 5th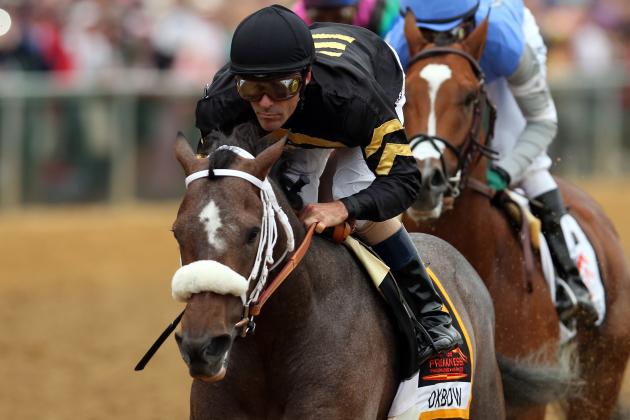 Matthew Stockman/Getty Images
Oxbow and Gary Stevens
Belmont Outlook: Gary Stevens and D. Wayne Lukas outsmarted everyone in the Preakness with Oxbow. At first glance, both Oxbow and stablemate Titletown Five looked like they were in there to be rabbits for Will Take Charge, setting the race up out front for their come-from-behind stablemate.
As it turned out, Oxbow and Stevens stole the race on the front end, coasting through soft fractions with an uncontested lead. As the saying goes, "Fool me once, shame on you. Fool me twice, shame on me." In the Belmont, no one is going to let those two have everything their own way out front again.
Oxbow ran a credible race in the Derby but ran out of gas in the 1-1/4 race. While the Preakness was a manageable distance, the 1-1/2 miles of the Belmont Stakes may be too far for him after such a tough spring campaign.
Predicted Finish: 4th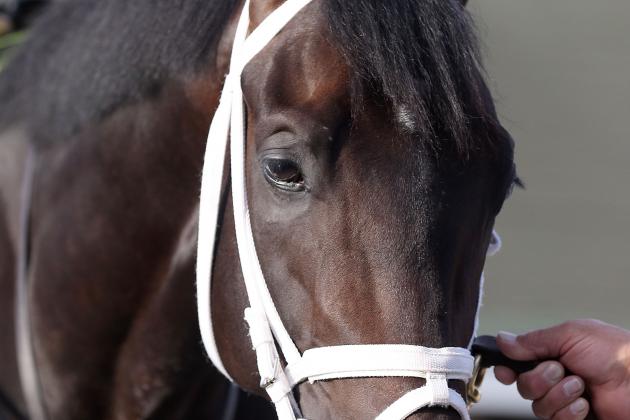 Andy Lyons/Getty Images
Revolutionary
Belmont Outlook: Though Revolutionary was not finishing as strongly as some in the Kentucky Derby, his third-place finish was a good one. This colt is a total professional and is the type of horse that can overcome adversity and find ways to be competitive.
He has shown himself to be a one run sort of closer and his move from off the pace will have to be perfectly timed or he will risk flattening out in Belmont's famously long stretch. He has an explosive turn of foot and can accelerate very quickly. That, combined with a pedigree with plenty of stamina, makes him very appealing in the third jewel of the Triple Crown.
One thing to keep in mind is that the Calvin Borel magic that is so famous at Churchill Downs has not been quite as effective at Belmont Park.
Predicted Finish: 3rd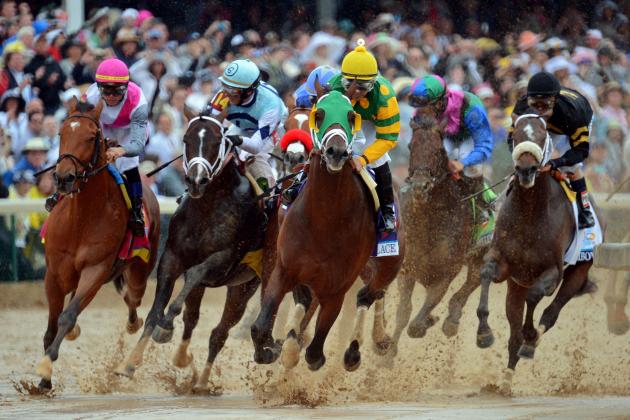 Michael Heiman/Getty Images
Palace Malice set suicidal fractions in the Derby on the lead
Belmont Outlook: Todd Pletcher learned the hard way in the Kentucky Derby that the biggest race of a horse's career is not always the best time to try something new. In the Derby, Palace Malice wore blinkers for the first time and they caused him to show significantly more speed than he had ever shown before in a race.
For the Belmont, the blinkers are back off and the old Palace Malice should be back in action. This colt is by Curlin, who was defeated in the Belmont Stakes in 2007 by the filly Rags to Riches, and has plenty of stamina and depth in his pedigree. He skipped the Preakness and comes in fresh and his tactical speed and stamina will be formidable here.
Predicted Finish: 2nd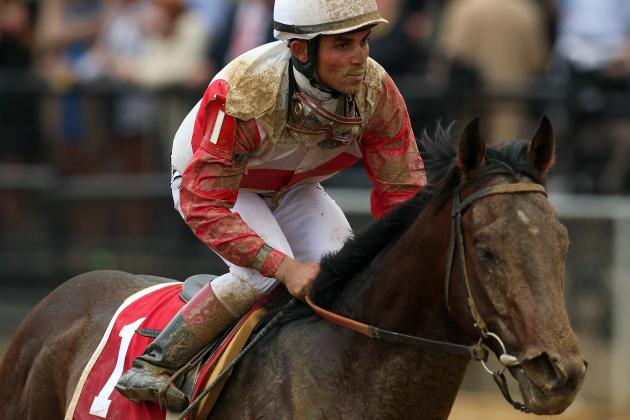 Matthew Stockman/Getty Images
Orb, post Preakness, seeks redemption in the Belmont Stakes
Belmont Outlook: The real question going into Saturday's Belmont Stakes is which Orb shows up? Will the colt that had everyone dreaming of a Triple Crown after the Kentucky Derby resurface or will the disappointing effort in the Preakness prove to be the real deal?
Orb is a better horse than his race in Maryland may indicate and he has a lot going for him in the Belmont Stakes. Unlike many of his rivals, the grueling distance of 1-1/2 miles is ideal for him and he has a home-track advantage having spent much of his career training at Belmont Park.
While it is incredibly difficult to campaign a horse through all three legs of the Triple Crown, trainer Shug McGaughey has done so before. In 1989, Easy Goer finally defeated rival Sunday Silence in the Belmont after finishing second in the Derby and Preakness.
Predicted Finish: 1st