The Good, the Great and the Awesome from Raw 6/3/2013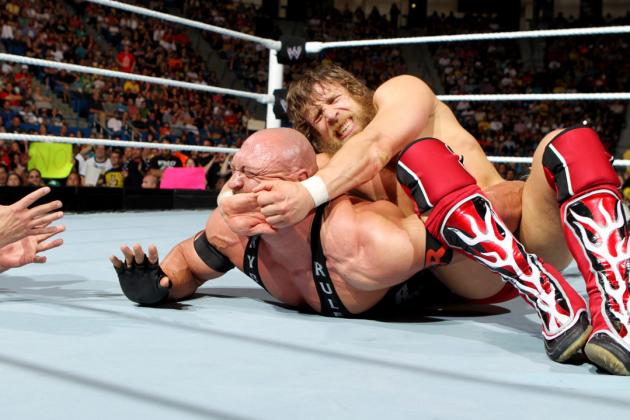 Photo Credit: WWE.com
On the road to WWE Payback, the Superstars of World Wrestling Entertainment rolled through Hartford, Connecticut, for this week's Monday Night Raw.
The tension continued to build between WWE champion John Cena and No. 1 contender Ryback as they continued for a Three Stages of Hell match, with one man interjecting physicality into the build to their monumental rematch.
Daniel Bryan set out to prove he was not the weak link of Team Hell No and, in the process, delivered show-stealing performances in two separate bouts.
Sheamus continued his recent rivalry with Damien Sandow, Alberto Del Rio won the rubber match in his war with Big E Langston, The Usos made a rare Raw appearance, and the upcoming bout between Chris Jericho and CM Punk was made official in a contract signing.
The June 3 edition of Raw is in the books, and here, now, is what was good, great and awesome about this week's show.
Begin Slideshow

»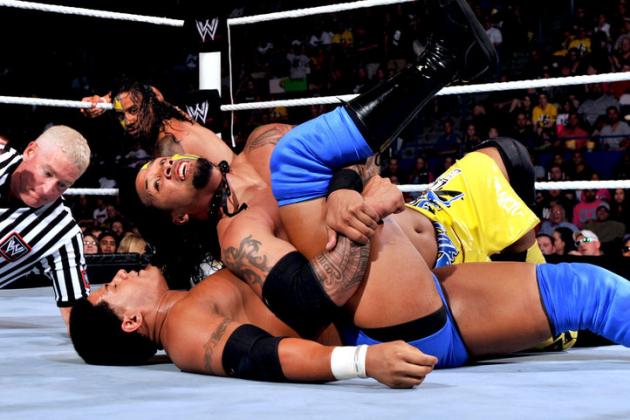 Photo Credit: WWE.com
Payback is a...
On the May 6 episode of Raw, AJ Lee teamed with the Bella Twins to face Divas champion Kaitlyn and the Funkadactyls in Divas tag action. Late in the match, AJ attempted to tag in one of her partners, but Brie and Nikki both dropped off of the apron, leaving AJ to fend for herself in what would ultimately be a losing effort.
On Raw, AJ repaid the favor, dropping off the apron and leaving Nikki to suffer a spear at the hands of Kaitlyn and, ultimately, a loss. Post-match, AJ stared down the champion before marching up the ramp.
A solid Divas tag match that accomplished two things: continued to set up a future Divas title clash between AJ and Kaitlyn all the while recalling something that happened a month ago.
See, the creative team does pay attention.
The Usos vs. The Prime Time Players
Tag team action was highlighted, both in the opening six-man bout and in the night's second match, which featured Jimmy and Jey Uso taking on Titus O'Neil and Darren Young. Throughout the match, Michael Cole continued to point out that the winner of the contest would likely be in title contention, perhaps pointing at the first challengers for Roman Reigns and Seth Rollins' WWE Tag Team titles.
Both teams delivered solid performances in what turned out to be a competitive match that kept the attention of a hot Hartford crowd, despite the fact that neither team is consistently featured on the Monday night program.
The Usos picked up the win and put themselves in position to earn a future title opportunity.
Del Rio-Langston Rubber Match
The Alberto Del Rio-Big E Langston placeholder feud came to an end on Monday's Raw as the former World Heavyweight champion out-wrestled his less-experienced rival and gained momentum heading into a title clash with current World champion Dolph Ziggler in the very near future.
Having worked with a skilled performer such as Del Rio will only prove to have helped Langston in the future, while having Big E at the ready provided the No. 1 contender with something to do until Ziggler was cleared to compete.
The fact that Langston and AJ Lee, who was instrumental in the competitiveness of the rivalry, are aligned with Dolph helped make the side rivalry make sense.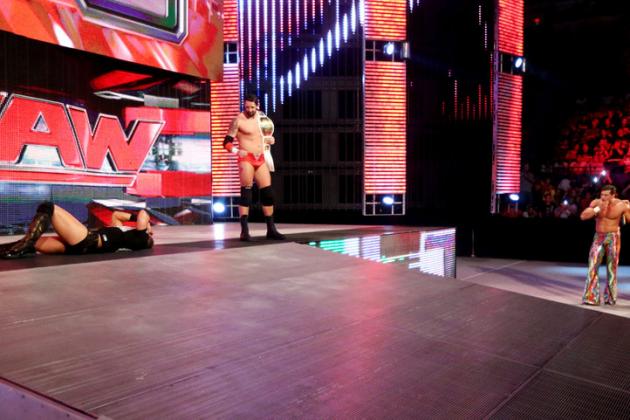 Photo Credit: WWE.com
The Miz, Wade Barrett and Fandango
The three-man program for the Intercontinental title has done wonders for the popular secondary title.
The Miz and Barrett have been engaged in a rivalry over the championship for months now, and the inclusion of the breakout Superstar Fandango has only helped bring attention to a title that certainly deserves it.
On Monday night's Raw, The Miz tried to prevent Fandango from walking out on a match with Great Khali, only to be attacked and assaulted by Wade Barrett, who utilized the Bull Hammer to knock out Miz. Moments later, after a quick break, Miz was able to defeat Barrett after a momentary distraction from Fandango lead to the Figure Four.
The three-way storyline, featuring three very talented mid-card performers, has proven to be entertaining thus far. Whether the subsequent matches can deliver is an entirely different question for a different article.
Signed, sealed and delivered...to Heyman's pants
Chris Jericho and CM Punk's representative, Paul Heyman, signed the contract to make the upcoming match between Jericho and Punk at WWE Payback official, but not before each man had a few words for the other.
Jericho and Heyman traded barbs with one another before Y2J got the upper hand, humiliating Heyman by stuffing the signed contract down his pants.
The two extremely talented individuals have done a solid job of building a rivalry, despite the fact that one of the two men involved in the rivalry, CM Punk, has not appeared on WWE television in recent weeks.
On Monday's show, Heyman brought up the fact that Chicago will be a very biased and vocal crowd in support of CM Punk. Jericho offered to make the match for New York or Los Angeles but Heyman refused, which did not seem to upset Jericho.
Y2J's willingness to make a fool out of Heyman shows that he has the great confidence in his own abilities and does not fear any repercussions from Punk.
Photo Credit: WWE.com
Daniel Bryan
In recent weeks, the creative team has done a tremendous job of reminding fans that Daniel Bryan is more than a comedy figure and, in fact, is a hell of an in-ring performer that can hang with any Superstar, big or small, on any given night.
Monday, he did just that, delivering show-stealing performances in both of his matches and creating a crowd environment that added to each bout. In particular, his No Lock on Ryback created a crowd frenzy and had fans legitimately believing he could make the massive No. 1 contender tap out.
Since his bid to prove he was not the weak link of Team Hell No began, Bryan has once again become one of the most over stars on the roster. His ability to mix technical skill with high-flying, fast-paced offense brings a dynamic to his matches that is difficult for any other Superstar to match.
Six-Man Tag Team Match
It seems like every time The Shield competes in a six-man tag match, it ends up in the "awesome" section of this article. Monday night was no different.
Randy Orton joined Team Hell No to battle Ambrose, Rollins and Reigns in the opening match of the night, and as usual, the match was a chaotic mix of power, speed and brawling, all leading to Dean Ambrose catching Daniel Bryan with an inverted DDT for the win.
In the same vein as the Four Horsemen over 25 years ago, The Shield continues to be a faction that is both over with the audience and capable of delivering quality matches every time they take to the ring. All three men will be stars, and it will be because of the way the company has handled them thus far
Stephanie McMahon returns
The "Billion Dollar Princess" made her return to Raw on Monday night. I was happy to see her back. That is all.