How Each Coach in the NHL Conference Finals Has Got Their Team This Far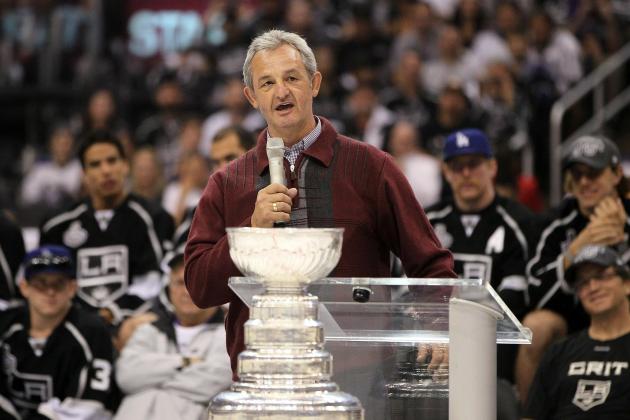 Victor Decolongon/Getty Images

Players pile up goals and assists, but the ins and outs of game action are orchestrated from the bench. Head coaches work with their respective staff and scouts throughout the season to put their squad in a position to succeed.
Evolution and improvisation are necessary tools of the trade, and each leader's ability to adapt on the fly has helped the final four teams survive to this point. Conference finals action is underway, and the Stanley Cup is squarely within reach for each of the organizations remaining in the mix.
The journeys have varied for Chicago, Los Angeles, Boston and Pittsburgh. Savvy roster decisions and exceptional game-planning serve as a commonality among the group.
Here's a look at how each coach has collected enough victories to advance to one step away from a Stanley Cup title clash.
Begin Slideshow

»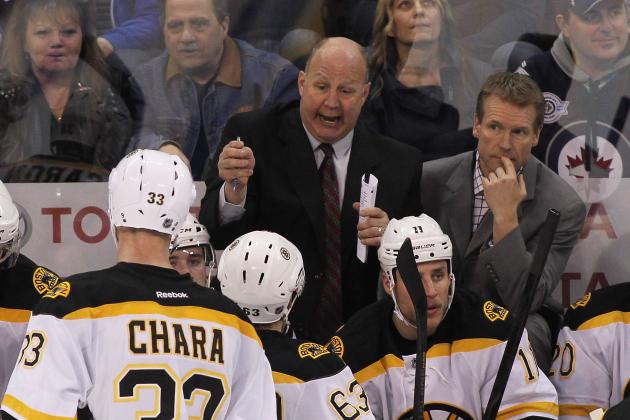 Marianne Helm/Getty Images

Just two years removed from his team's Game 7 Stanley Cup Final victory over Vancouver, Claude Julien has the Boston Bruins surging at the right time yet again. Much like that memorable title run, Boston's 2013 postseason journey began with humble expectations.
Boston built a 3-1 lead over Toronto in the first round before dropping two straight. The Bruins rebounded from a 4-1 deficit in the third period of a decisive Game 7, providing further proof of the incredible mettle this squad has displayed under the leadership of Julien.
He has been able to develop an exemplary rotation that features an impressive fourth line. That group combined for four goals during a second-round showdown with the rival New York Rangers. Julien is a leader who shows trust in his roster, from aging veterans like Jaromir Jagr to a group of rookie defensemen headlined by Torey Krug.
He is unwavering when it comes to standing by his players and decisions. Some perceive this as stubbornness, but based on his track record, confidence is more appropriate description.
Boston isn't a very explosive squad on offense, but rarely gives up real estate on the defensive end. After finishing the regular season ranked third in goals against (2.2), the Bruins have trimmed that average to an even two goals per game through 14 playoff matchups.
Julien has his team playing sharp, displaying an especially excitable demeanor during this postseason, a refreshing change of pace from his typically reserved attitude. Perhaps, he senses there's something special about this version of Boston.
A return trip to hockey's mountain top is certainly within reach for Julien's Bruins.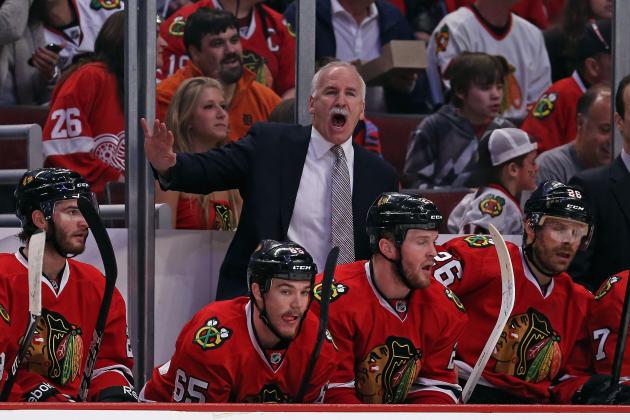 Jonathan Daniel/Getty Images

Affectionately known as "Coach Q," the NHL lifer has been involved in professional hockey as a player or coach since 1975. Joel Quenneville has led a franchise resurrection in the Windy City in five seasons, claiming a pair of division titles and the 2010 Stanley Cup.
He is a fiery figure beloved by players and fans. Quenneville took over a team built around a young core and oversaw immense growth within the Chicago Blackhawks organization while adding a crucial collection of veteran stalwarts.
The endearing leader has led Chicago to three Western Conference Finals appearances since taking over the team in 2008. Quenneville has managed to keep a star-studded locker room in check without allowing egos to take over, a detriment that routinely dooms Stanley Cup contenders.
He led the Blackhawks to a league-best record (36-7-5), stealing the early-season spotlight with a 24-game point streak to start the lockout-shortened campaign. Quenneville is a finalist for the Jack Adams Award, handed out annually to the head coach who contributes the most to his team's success.
Coach Q guided significant playoff runs in St. Louis and Colorado, but he has undoubtedly hit his stride at the helm in Chicago.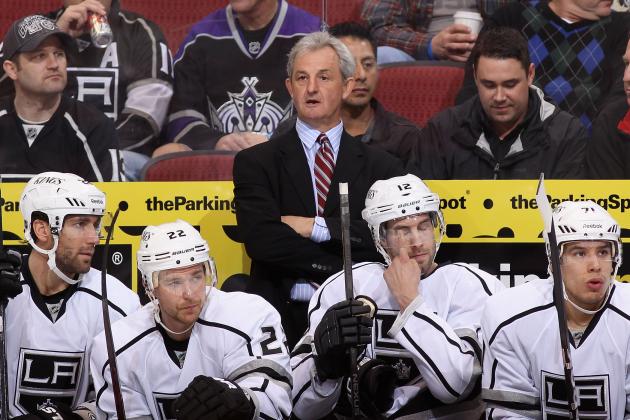 Christian Petersen/Getty Images

Darryl Sutter comes off as a calculating coach, cloaked in silence. The coach is calm, direct and determined, leaving little room for confusion when it comes to what he expects from his players.
A member of hockey royalty, the veteran bench general jumped around the league as a head coach before asserting himself in Los Angeles. Sutter spent time in Chicago (the team he suited up with throughout his career), San Jose and Calgary, where he led the Calgary Flames to a 2004 Stanley Cup Final appearance.
He took over for Terry Murray midway through last season, dealing with a roster in flux. Star players Mike Richards and Jeff Carter were freshly acquired from Philadelphia, while 26-year-old goaltender Jonathan Quick had yet to prove himself as a viable postseason netminder.
Sutter eased the growing pains, instilling a revamped mentality within the team. His foundation principles of hard practices and attention to detail ultimately led the Kings to gel during the latter stages of the season, setting the stage for a remarkable Stanley Cup title run as a No. 8 seed.
The former left winger has tremendous respect for the game, and despite a soft-spoken disposition, brings an abundance of enthusiasm to the bench. He is an excellent in-game adjuster and rarely allows his team to be outmatched in consecutive frames.
After reaching just one conference final during his first 11 seasons as a head coach, the journeyman is right at home in L.A. Under Sutter's guidance, the Kings have reached consecutive Western Conference title series for the first time in franchise history.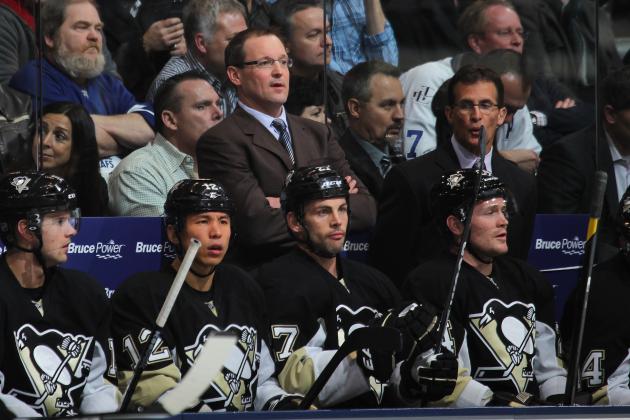 Claus Andersen/Getty Images

Dan Bylsma is on an unending quest to tinker with his team. He refuses to settle for mediocrity for even slight stretches, leading him to pick apart a rotation packed with premier playmakers.
The 42-year-old has been identified as an outside-the-box thinker since he broke into the league as Pittsburgh's head coach in 2008. Bylsma brought glory back to the Pittsburgh Penguins with a league title in 2008 and owns 58 playoff victories through five seasons.
It would be easy for a young leader to put things on cruise control while coaching this collection of current Penguins standouts. Sidney Crosby, Evgeni Malkin and Jarome Iginla headline an assortment of accomplished NHL stars residing on Pittsburgh's roster, which doesn't lack for leadership.
Instead, Bylsma keeps the squad on its toes by constantly tweaking his lines and evolving the roles of several players. A group of puck-hungry standouts coexist, taking turns shouldering the load and adding diversity to an intimidating attack.
Bylsma entered a bit of hot water with consecutive first-round knockouts in 2011 and 2012 but another run to the Eastern Conference Final has him back in good graces with the Steel Town faithful. Due to his early success, it can be hard to appreciate what the coach has accomplished during his short career.
In April, Bylsma became the fastest NHL head coach to accumulate 200 career wins. A second Stanley Cup title would be a monumental feat for a man who remains younger than the league's oldest player (Teemu Selanne).