Big Ten Football: 6 Weakest Depth Charts in the Conference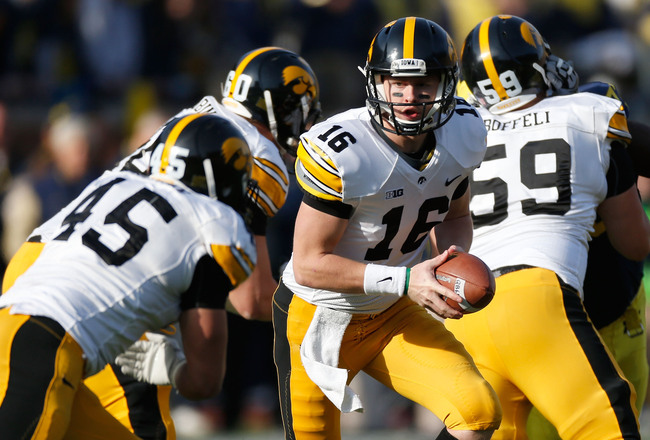 Gregory Shamus/Getty Images
The Big Ten is still in the midst of rebuilding itself to its former glory. The usual suspects, Michigan and Ohio State, are leading the way, joined by a few atypical Big Ten powers, like Northwestern and newcomer Nebraska. But as the top teams begin to flex their muscle on the national scene, there are still quite a few Big Ten programs languishing in mediocrity.
Not every team in a conference can be great all at the same time, but the programs that land on this particular list suffer not only from a lack of success, but a lack of depth—which may be directly tied to any future success.
While the top programs in the Big Ten may be able to start competing with the best the rest of the nation has to offer, the conference will need a big recruiting push from these programs if the Big Ten as a whole will be able to lay claim to those oft-coveted "top-to-bottom" comparisons with the SEC and Big 12.
Penn State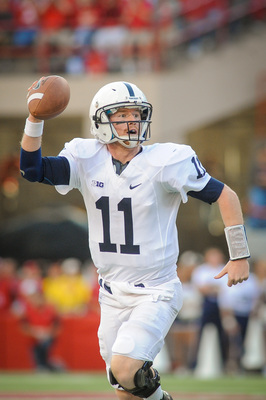 Eric Francis/Getty Images
The Nittany Lions of Penn State start off our list of weak depth charts in the Big Ten. Sure, Penn State defied expectations last season with eight wins, but as the Paterno era fades into the past, so too will all of the talent JoePa recruited to the program.
We're not saying Bill O'Brien is incapable of recruiting talent, but you have to acknowledge that tough sell playing at Penn State will be to most top prospects these days. No bowl games are bad enough, but scholarship limitations will also hinder O'Brien's ability to load the program with the kind of talent to which Penn State fans have become accustomed.
The first glaring weakness of the depth chart is the lack of a single upperclassman at the quarterback position. Steve Bench, a sophomore, was the only QB with any experience, and he's thrown just eight passes in his college career (with two completions for 12 yards)—and he's transferring to South Florida.
A young linebacking corps also raises some concerns, especially when we talk about a position group that has traditionally been a strength for the Nittany Lions.
Even at positions where Penn State fields some talent—running back, safety and the offensive line—there's a concern about depth. An untimely injury at a particular position could really hamper Penn State's ability to stay competitive this season, which is why we've placed them on our list of weakest depth charts.
Minnesota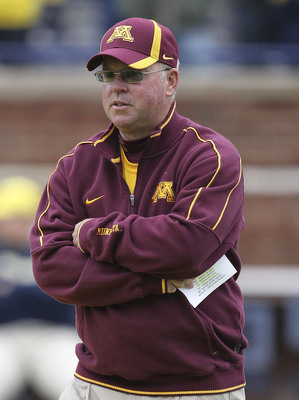 Leon Halip/Getty Images
Next we come to Minnesota. Last season, the Gophers took a small step towards relevance in the conference, winning six games for the first time since 2009. Minnesota also came within a hair of knocking off Texas Tech in the Meineke Car Care Bowl of Texas, losing 34-31.
Of course, the six wins on the season last year included just two against Big Ten opponents—Purdue and Illinois—while the Gophers were manhandled by the conference's power programs like Michigan, Wisconsin and Nebraska.
Last season, Minnesota may have been headlining a list of the Big Ten's weakest depth charts. The 2013 season, however, could be another small step back towards competitiveness in conference play with a good deal of experience taking the field for Jerry Kill.
The Golden Gophers will return 10 offensive starters and six defensive starters for 2013, and that experience should be good for perhaps one more win in conference play. With a laughable nonconference schedule (which includes UNLV, New Mexico State, FCS Western Illinois), returning to a bowl game should be first on the list of goals for 2013.
This is all dependent on a healthy roster. Minnesota's clear weakness lies in a stark lack of any depth at almost every position on the field. With few exceptions, most positions will have untried underclassmen on the two-deep, and Minnesota's defensive backfield looks particularly vulnerable to injury. Projecting out the Gopher secondary's two-deep, we find just three seniors in the whole grouping (corners Martez Shabazz and Jeremey Baltaza along with backup safety Brock Vereen).
Minnesota was fourth in the Big Ten last season, giving up just 186.6 passing yards per game. This season's lack of experience in the secondary will make that performance difficult to duplicate, and any injuries could expose this thin depth chart.
Purdue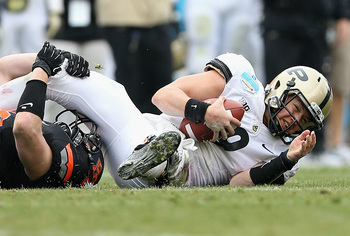 Ronald Martinez/Getty Images
In 2012, Purdue had one of the most experienced offenses in the Big Ten; every single player that started in Week 1 on offense was a senior. Even so, Purdue finished with a 6-7 record, which concluded with the firing of Danny Hope as head coach.
In comes Darrell Hazell, fresh off an 11-win season at Kent State. Not only will Hazell have a program to build, he'll have to start fresh on day one with a roster full of fresh-faced greenhorns.
In addition to the near complete revamp of the offense, Hazell will need to rebuild Purdue's defense, as well. Eight starters from 2012 have exhausted their eligibility, and at least four more from Purdue's 2012 two-deep are also departing.
Expect a plethora of freshmen and sophomores on the depth chart after fall camp. Until Hazell can find his footing on the recruiting trail, Purdue fans may have to be content with the status quo for at least the near future—if the Boilermakers can even manage to do that well, which is by no means certain.
Indiana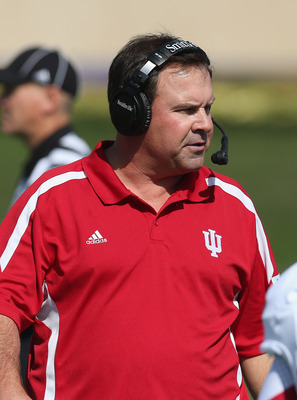 Jonathan Daniel/Getty Images
When Kevin Wilson was hired as Indiana's head football coach prior to the 2011 season, he made it clear to anyone and everyone that he was intent on restoring pride in Hoosiers football. His rant on local sports radio, targeting two local sports talk hosts—who eventually hung up on Wilson, and for good reason—instantly became an Internet sensation.
The only problem is Wilson's Hoosiers then proceeded to churn out a 1-11 season, followed by a 4-8 performance in 2012. No one said this was going to be easy, especially since football is an afterthought in hoops-crazed Bloomington.
Season three in a coaching stint is often used as a litmus for the coach's future prospects and the overall direction of the team. If that's going to be the case with Wilson's tenure at Indiana, he may be in a bit of trouble heading into 2013.
There's plenty of returning starters on the roster for the upcoming season. But based on past performances, that could be part of the problem. Indiana wasn't particularly terrible with the football last season, averaging 442.0 yards per game (second in the Big Ten, 34th in the FBS), but the defense was another story entirely.
The Hoosiers were easily the worst team in the conference, giving up a whopping 463.5 yards and 35.3 points per game (106th and 104th in the nation, respectively). Clearly, any changes to Indiana's success rate will need to start with changes on defense.
First, the bad news. There are only three full-time starters returning for 2013, none of which are on the defensive line. The initial reaction is to say, "Hey, the defense was so bad last season, isn't a changeover in personnel a good thing?" Ordinarily, we'd agree. But what kind of talent is replacing the departing players?
Indiana at the No. 11 recruiting class in the Big Ten in 2012 according to Rivals.com. Clearly, the talent level for the upcoming troupe of redshirt freshmen is in doubt.
Wilson fared quite a bit better recently, with Rivals.com's No. 4 recruiting haul in the Big Ten. But even the top recruit, 4-star defensive back Antonio Allen isn't likely to see the field until at least 2014.
That leaves the 2013 Hoosiers with some depth issues, at least enough to earn a spot on our list.
Illinois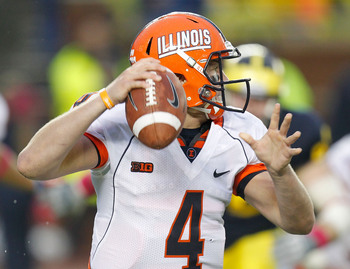 Gregory Shamus/Getty Images
In 2012, there weren't many teams nationally that were worse than the Illini, so it stands to reason that they were also the worst team in the Big Ten. Illinois was the worst offensive team in the conference last season, and finished with the No. 10 overall defense—a perfect recipe for an 0-8 conference record.
But what has really changed for head coach Tim Beckman heading into his second season? Is there any ray of hope on the horizon for Illinois?
If we were to only look at the "ones" on the depth chart, we might be fooled into thinking that Illinois actually has a decent shot at making quite a leap in terms of wins in 2013. Statistical leaders from last season are returning at nearly every skill position, including the top quarterback, top rusher, top receiver and top tackler. That kind of experience should serve Illinois well, and we're betting against another winless season in conference play.
But when you scratch just below the surface, you find a depth chart loaded with mediocrity and inexperienced underclassmen, many fresh out of high school. With just one exception (senior backup tight end Evan Wilson), the "twos" and "threes" on the projected 2013 depth chart is full of inexperienced sophomores and more than a few freshmen.
There's bound to be a transition period when a new head coach takes over, and we're probably seeing the initial stages of Beckman bringing in the kind of players he wants to see on the field in a few seasons. But for right now, those guys are callow and young.
In a season or two, Illinois could be in a position to start climbing up the long conference standings ladder, but for right now, the Illini are just fighting to keep their heads above water.
Iowa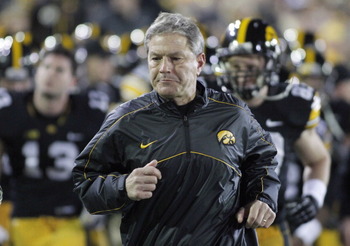 Matthew Holst/Getty Images
Iowa always seems to be in the midst of rebuilding and 2013 won't be any different.
Kirk Ferentz and the Hawkeyes posted their worst record since 2000 with a disappointing 4-8 finish to 2012. To add insult to injury, Ferentz has been unable to attract the kind of talent to Iowa necessary to pull the program out of the doldrums. Rivals.com ranked Iowa eighth in the Big Ten after the most recent recruiting cycle, and that followed a No. 6 ranking for the class of 2012.
Iowa will also be fielding a very young team in 2013, headlined by just nine seniors amongst the 22 starting positions. What's more, current two-deep projections show just one additional senior, wide receiver Jordan Cotton (12 receptions, 172 yards, 1 touchdown in 2012). The rest of the depth chart shows a plethora of freshmen and sophomores, almost none of whom have any game experience.
Were we analyzing the chances of the starting lineup to earn a bowl berth in 2013, we'd still have our concerns. But given the fact that we're looking at the strength of the depth chart, we can't help but fear for an Iowa team's chances if its forced to look beyond the starters for meaningful contributions at any point during the conference schedule.
Follow @davidrluther on Twitter!
Keep Reading