Tim Duncan's Greatest NBA Finals Performances
Ronald Martinez/Getty Images

The San Antonio Spurs are set to make their fifth NBA Finals appearance since 1999 and look like they've yet to break a sweat.
Their 37-year-old centerpiece, Tim Duncan, is probably okay with that.
San Antonio needed just 14 games to punch its final ticket, a pair of four-game sweeps over the Los Angeles Lakers and Memphis Grizzlies sandwiched around a six-game defeat of the Golden State Warriors.
For some players, a championship appearance represents their greatest chance to write their basketball legacy. For Duncan, though, it's simply an opportunity to punctuate what's already one of the finest careers the league has ever seen.
Duncan's Spurs are a perfect 4-of-4 in the championship series with the big man garnering Finals MVP honors three different times (1999, 2003 and 2005). If the moment has any effect on him this time around, it will only be to elevate his level of play.
In order to create a new entry on this list, though, he'll need some serious spa time in the fountain of youth. After all, his past magical moments have the set the bar at a ridiculously high rate.
In 22 NBA Finals games, he's averaged 22.7 points, 14.4 rebounds, 3.4 assists and 3.0 blocks. Those numbers aren't built on single-game dominance alone, but here's a look at the five games that did the heaviest lifting.
Begin Slideshow

»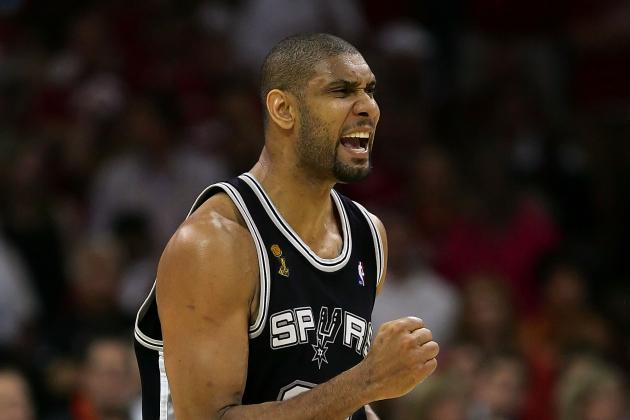 Lisa Blumenfeld/Getty Images

In terms of NBA championship series, the 2007 NBA Finals has almost reached mythical status.
Despite being LeBron James' first title foray, the series wound up being a broadcasters' nightmare. It managed a record-low 6.2 TV rating.
Those fans that chose to stay away don't know what they missed.
While the series wasn't close—San Antonio swept the Cleveland Cavaliers—it wasn't short on dominant individual efforts, either.
Duncan didn't have to be the man in the 2007 Finals.
San Antonio's Big Three (Duncan, Tony Parker and Manu Ginobili) were playing some of the best basketball of their collective careers. All three averaged between 16.5 and 20.0 points per game during the regular season, the only three Spurs players to average double figures that year.
But before his teammates could leave their mark, Duncan dealt the first devastating blow of the series.
He poured in 24 points on 10-of-17 shooting from the field to go along with a game-high 13 rebounds (five on the offensive end), five blocks, two steals and an assist.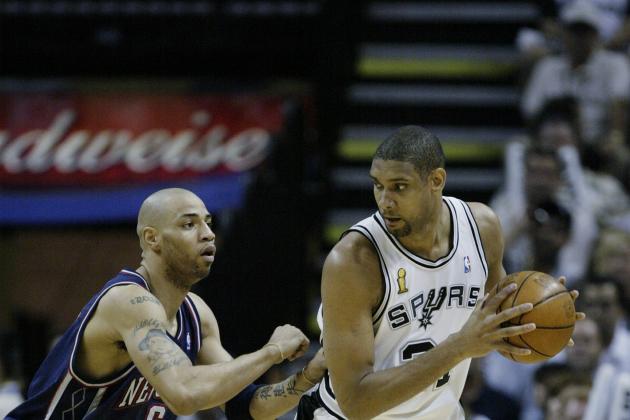 Ezra Shaw/Getty Images

The Spurs were a team in transition in 2003.
A pair of postseason legends, David Robinson and Steve Kerr, were making their final basketball rounds. And a future dynamic duo, Parker and Ginobili, were still getting their feet wet in the NBA waters.
But San Antonio had Duncan, perhaps at his very best.
The 2002-03 season earned him his second straight MVP award, and the bright playoff lights only elicited more dominant efforts.
This NBA Finals accounted for three of the five entries on this list, and separating one heroic effort from the next is like choosing your favorite Michael Jordan dunk—you can't go wrong.
Game 5 was a pivotal moment between the Spurs and the New Jersey Nets, with the teams splitting the first four contests.
Clearly the game's importance was not lost on its biggest star. Duncan blitzed the New Jersey interior to the tune of 29 points (10-of-18), 17 rebounds, four blocks, four assists and a steal.
The Spurs clawed out a 93-83 victory, setting the stage for the next game to make this list.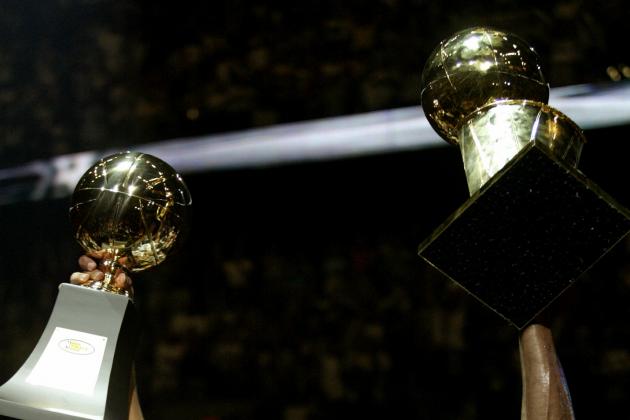 Jed Jacobsohn/Getty Images

The series shifted to San Antonio for Game 6, but the Nets stunned the hometown crowd with a commanding 25-17 first-quarter lead.
The Spurs struggled to find an offensive rhythm early. Well, every Spur not named Duncan, at least.
He chipped in with seven of San Antonio's 17 points in the period, then added another seven over the next 12 minutes as the Spurs trimmed the lead to three.
He lightened his scoring load in the second half, finishing the game with 21 points, and committed himself to stuffing the rest of his stat sheet.
The result was a triple-double which nearly qualified for a quadruple-double.
A 21-point, 20-rebound game is impressive in itself, particularly when considering this proved to be a series-clinching 88-77 San Antonio win.
But he didn't stop with just racking up points or controlling the glass. Instead he dished out a game-high 10 assists (never an easy feat when Jason Kidd's on the floor) and added a game-high eight blocks, picking up just two personal fouls in 46 minutes of work.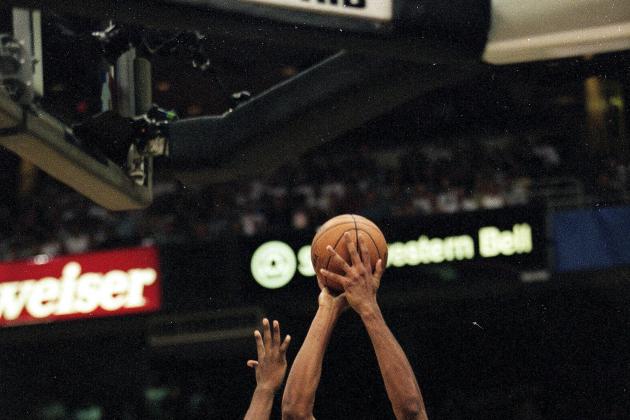 Todd Warshaw/Getty Images

The grandest postseason stage should shake young players.
The layoffs between games and series get longer. The crowds grow more hostile, and the watchful eyes of the media take longer, deeper looks at all participants.
Of course, Duncan was anything but a typical young star. He played out all four college seasons at Wake Forest, despite having top-pick potential after only two.
He stormed onto the NBA landscape with Rookie of the Year and All-NBA first-team honors in 1997-98. San Antonio transformed from a 20-win team before his arrival to a 56-win unit in his rookie year.
In his sophomore season, the Spurs made their first NBA Finals appearance.
And that grand stage didn't faze Duncan one bit.
His first taste of championship hoops was one of the sweetest the league had ever seen. He took 21 field-goal attempts en route to his game-high 33 points. He padded his stat line with 16 boards, two swats, two thefts and two dimes.
Not bad for a debut, right?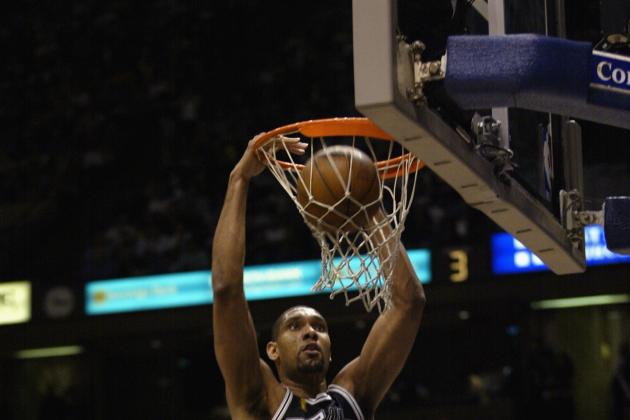 Jed Jacobsohn/Getty Images

If you haven't noticed, Duncan's not a big fan of wasting time.
As soon as the opening tip is thrown up, he's ready to make his mark.
That's exactly what the Spurs needed in 2003, matched up against a Nets team still feeling the sting of an NBA Finals defeat from the previous season.
And that's exactly what the Big Fundamental delivered.
His performance didn't grab the top spot on this list for the numbers alone—although they were incredibly impressive—but rather for the systematic efficiency he used to garner those lofty stats.
Take his shooting line, for instance. He piled up 32 points on a sweet-shooting 11-of-17 effort from the field, 10-of-14 from the line.
Or his game-high 20 rebounds, the result of his tracking down nearly 24 percent of available boards while he was on the floor, via Basketball-Reference.com.
Or the six assists he dished out while giving away just one turnover. Or the seven blocks he compiled while picking up just one personal foul in 44 minutes. Or even the three steals he had that accounted for nearly half of New Jersey's eight turnovers.
You might disagree with these rankings, or even the game slotted in this top spot. But with a resume as accomplished as Duncan's, that's the beauty of it.
There is no wrong answer here.