Mexico: Roster Analysis and Predictions for Confederations Cup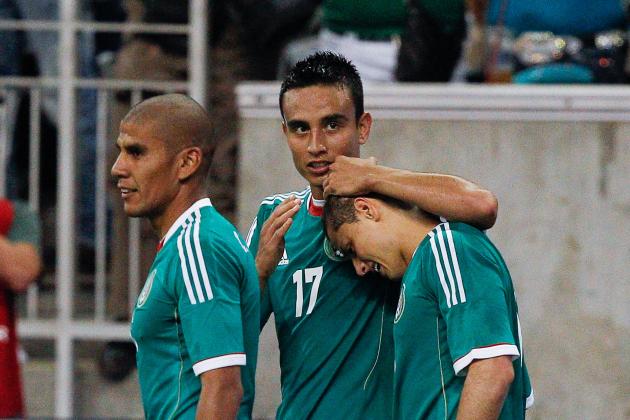 Bob Levey/Getty Images

Mexico scored twice against Nigeria on Friday—a modest achievement, but one that should have them in good spirits ahead of Tuesday's crucial World Cup qualifier against Jamaica.
Goals have been hard to come by for El Tri of late. Through three rounds of CONCACAF's tricky Hexagonal tournament they have managed only two, and both came in a 2-2 draw against Honduras. They played to scoreless draws against each of Jamaica and the United States—both at the Azteca—and also drew Peru 0-0 in San Francisco in April.
In six matches this calendar year, Mexico have managed only five goals, four of which have come from Javier Hernandez. But while the Manchester United hitman has been in excellent form for his country, the same cannot be said for fellow striker Aldo de Nigris and attackers Giovani dos Santos, Andres Guardado and Pablo Barrera.
Manager Jose Manuel de la Torre has attempted to address his problems in front of goal by calling Club America forward Raul Jiminez into his 23-man squad, and on Friday the 22-year-old replaced Hernandez with 17 minutes to play.
But given the persistent lack of offense, Carlos Vela's continued absence is something of a surprise, especially as the 24-year-old scored 14 goals and assisted nine others as his Real Sociedad side qualified for the Champions League.
Vela has been kept to the margins of the Mexico setup since he was caught partying after a September 2010 friendly against Colombia, but he scored only four fewer goals than Hernandez this past season and would surely have provided the national team with a much-needed shot in the arm.
His absence is just one of the big questions facing de la Torre ahead of Tuesday's match and the Confederations Cup later in the month. Another involves the goalkeepers—Guillermo Ochoa and Jose de Jesus Corona. Ochoa played well in recent qualifiers, but it was Corona—widely regarded as the best 'keeper playing his club football in Mexico—who got the nod against Nigeria.
These matters and more will be playing in de la Torre's mind over the next few days, weeks and months as he looks to get Mexico into a sixth successive World Cup finals. And over the next few slides we'll examine his squad more closely, outline some possible Confederations Cup scenarios and provide a prediction for their performance at the competition.
Begin Slideshow

»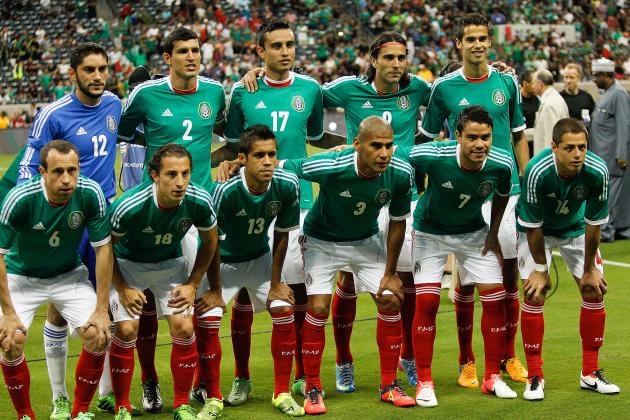 Bob Levey/Getty Images

Goalkeepers
Jose de Jesus Corona, Cruz Azul
Guillermo Ochoa, Ajaccio
Alfredo Talavera, Toluca
Forecasted starter: Corona
Defenders
Gerardo Flores, Cruz Azul
Severo Meza, Monterrey
Hiram Mier, Monterrey
Hector Moreno, Espanyol
Jorge Torres Nilo, Tigres
Diego Reyes, America
Francisco Rodriguez, America
Carlos Salcido, Tigres
Forecasted starters: Rodriguez, Reyes, Meza, Salcido
Midfielders
Javier Aquino, Villarreal
Pablo Barrera, Cruz Azul
Andres Guardado, Valencia
Hector Herrera, Pachuca
Jesus Molina, America
Angel Reyna, Pachuca
Gerardo Torrado, Cruz Azul
Jesus Zavala, Monterrey
Forecasted starters: Guardado, Torrado, Zavala, Barrera
Forwards
Javier Hernandez, Manchester United
Raul Jiminez, America
Aldo de Nigris, Monterrey
Giovani dos Santos, Mallorca
Forecasted starters: Hernandez, dos Santos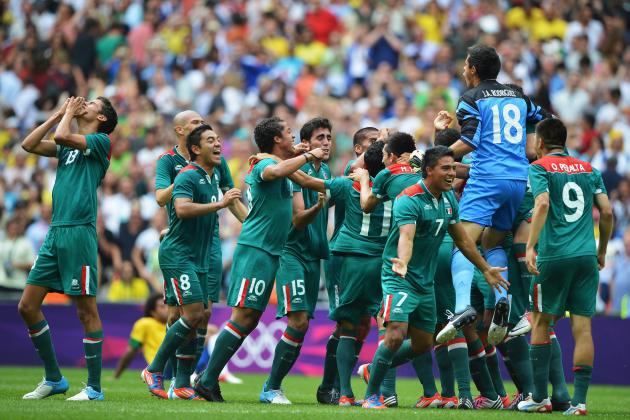 Jeff J Mitchell/Getty Images

Winners of the 1999 Confederations Cup and semifinalists in 2005, Mexico will open the 2013 installment of the tournament against Italy at the Maracana before facing Brazil in Fortalenza and Japan in Belo Horizonte.
It's an extremely difficult group, and one El Tri will be hard-pressed to get out of, especially on current form.
But anything short of a semifinal appearance would be considered a disaster for head coach Jose Manuel de la Torre, especially following last summer's gold medal at the Olympic Games and comfortable, back-to-back victories at the CONCACAF Gold Cup.
An ideal scenario for the 47-year-old would be for Hernandez to not only keep scoring, but also be helped out in the offensive department by at least one of his fellow strikers—preferably De Nigris.
Mexico have been excelling at all levels of international football in recent years, and the current senior side might be the best they have ever produced. They need to get out of their funk and re-establish themselves as a dark-horse contender for World Cup glory just over a year from now.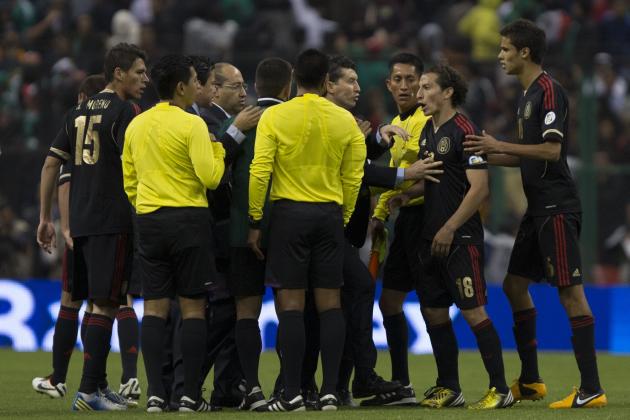 Miguel Tovar/Getty Images

A worst-case scenario would see Mexico continue to struggle in front of goal, with Hernandez's production falling off as well. And, if it could get any worse from there, a defensive meltdown from a typically reliable group would see everything go pear-shaped.
El Tri continue to have self-belief—a level of confidence built up by recent successes at the Under-17 World Cup, Toulon Tournament, Gold Cup and Olympics—but a poor showing in Brazil this month would no doubt see some panic start to set in.
Mexico need to get out of their group at the very least or risk a tailspin that could threaten their presence at the World Cup finals.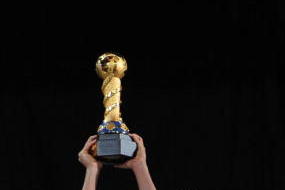 Gallo Images/Getty Images

The Confederations Cup serves as a trial run for the World Cup hosts. Stadiums, transport routes and general infrastructure are put to the test, and typically the football has been enjoyable as well.
But the tournament, like any spell of matches played close together, is also a momentum generator, and to that end Mexico need to avoid a slump that could end up threatening their bid for a sixth successive appearance in world football's most prestigious competition.
They need to look at the Confederations Cup as an opportunity.
World Cup qualifying has not been kind to them thus far, but a good showing in Brazil could reverse that momentum as they head into The Hexagonal's home stretch.
A handful of players could use a good tournament as well—among them de Nigris, dos Santos, Jiminez, Barrera and Guardado.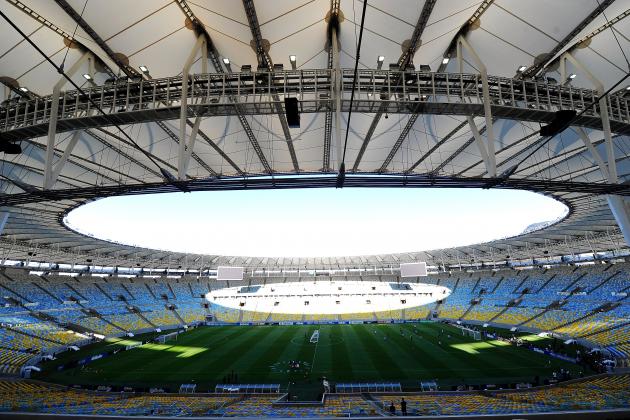 Laurence Griffiths/Getty Images

Mexico will not win the Confederations Cup, but they will get out of their group alongside Italy. From there they will likely face one of Spain and Uruguay, although just getting out of their bracket will be a significant achievement.
Prediction: elimination in the semifinals.