The 2013 NBA Finals are set.
The Miami Heat defeated the Indiana Pacers 99-76 in Game 7 of the Eastern Conference Finals. The San Antonio Spurs will now head to South Beach Thursday night for Game 1.
The Heat busted things open in the second quarter, leaving little doubt from that point on.
They demolished the Pacers defensively, forcing 21 turnovers, and held their own in the paint, matching Indiana's 30 points.
The Heat attacked Roy Hibbert and David West like they were unable to do in Game 6, hitting 33-of-38 free throws. Miami also out-rebounded Indiana, 43-36.
As the game wore on and Heat announcer Michael Baiamonte's syllables got longer, the Heat just kept piling on the lead. Then it was time for The White Stripes chorus to kick in. A party ensued through the fourth quarter of this elimination game, as Miami's fans sent them off to their third straight championship series.
LeBron James didn't register a field-goal attempt until the 4:45 mark of the first quarter. His objective was to get his teammates involved early. Dwyane Wade took to that, finishing 7-of-16 from the field for 21 points. Wade was active on both ends and looked like a new man in comparison to his past few games.
James got himself going eventually, tallying a game-high 32 points and eight rebounds. He got to the line 16 times, hitting all but one. James' play in the painted area early set a tone for the remainder of the game. He didn't shy away from the interior scoring and the Heat were able to nullify that Pacer advantage.
The Pacers struggled through serious foul trouble, but Hibbert overcame much of it. He finished with 18 points and eight rebounds. West scored 14 points, but Paul George fouled out with just seven points to his name. He was just 2-of-9 from the field.
The Heat turned 15 Pacer turnovers into a 52-37 halftime lead. Miami outscored the visitors 33-16 in the second quarter, with James going for 12 of those points. George started a disappointing 1-of-6 from the field.
This is brutal, really. Worse than score. Indiana offense just got overmatched physically on the perimeter for past 12 minutes.

— Jared Wade (@8pts9secs) June 4, 2013
The Heat had more of the same in the third quarter, forcing Indiana into bad shots and attacking the rim on offense. Wade picked up his fifth offensive rebound, earning an and-1 on the put-back. The free throw put Miami ahead 64-49 with 5:24 to go in the quarter.
That Wade ORB And-One was just hard work. Hill watched the shot after challenging it, Wade darted in front of him for the board. Work.

— Zach Lowe (@ZachLowe_NBA) June 4, 2013
Right in a row, Wade, James and Chris Bosh went to the line one-by-one. The Heat's Big 3 were attacking the basket on every possession. They went 7-of-7 from the line during a late third-quarter stretch. The fouls they drew came from George (No. 3), Hibbert (No.4) and West (No. 3).
Wade goes right at Hibbert. Everything that hasn't happened in this series happened there.

— Ethan J. Skolnick (@EthanJSkolnick) June 4, 2013
Shortly after, Hibbert was forced to the bench after picking up his fifth personal foul on the offensive end. Bosh drew the foul with 2:09 remaining and his team up 70-53.
Roy Hibbert to the bench with five fouls. Pacers down 17. Feels like this is it.

— Tom Haberstroh (@tomhaberstroh) June 4, 2013
If the wind wasn't already gone from the sails of the Pacers, James drew George's fifth foul just before the quarter ended. That sent George to the bench with Hibbert, while a pair of freebies pushed the Heat ahead 76-55 entering the final frame.
James topped the 30-point mark on a jumper with 8:19 left. On the very next possession, Chris Andersen drew George's sixth personal foul. Andersen's free throws moved Miami ahead 84-61.
LeBron got better of Paul George in the end, as he does most. But they will meet again.

— Brian Windhorst (@WindhorstESPN) June 4, 2013
Gerald Green started getting some run for Indiana in the fourth quarter, but was unable to find any success. Instead, Norris Cole tossed in a three as the Heat neared a 30-point lead, up 89-63 with 6:01 left.
James and Wade got their separate standing ovations while subbing out inside the 5:07 mark. The duo combined for 53 points and 17 rebounds on the night. They were also 22-of-23 from the free-throw line.
As he checks out...LeBron James in four career Game 7's...33.8 ppg. The highest Game 7 scoring average in @NBA history. (At least 2gp)

— Sean Grande (@SeanGrandePBP) June 4, 2013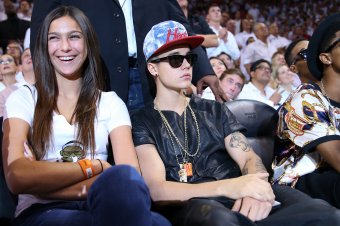 Mike Ehrmann/Getty Images
With 2:07 remaining, reserves Jeff Pendergraph and Cole got into a bit of an altercation. Both were ejected along with what appeared to be rapper Flo Rida's manager. Flo Rida was giving Justin Bieber a run for most talked about courtside celebrity.
Remaining Pacers fans were treated to some brotherly love late, as a Ben Hansbrough rebound led to a layup for his brother Tyler at the other end. An Orlando Johnson layup with 14 seconds left was the final horn on Indiana's 2012-13 season.
Officials now setting up a rope perimeter for the Eastern Conference championship trophy celebration. Yes, there actually is such a thing.

— Ira Winderman (@IraHeatBeat) June 4, 2013
Now begins an offseason of attempts to improve. The Pacers will need more to get over the hump in the East next year. All that can wait, however, as the Heat advance and will play the San Antonio Spurs in what is sure to be a dynamite series.