Yuriorkis Gamboa vs. Darley Perez: Preview and Prediction for Lightweight Bout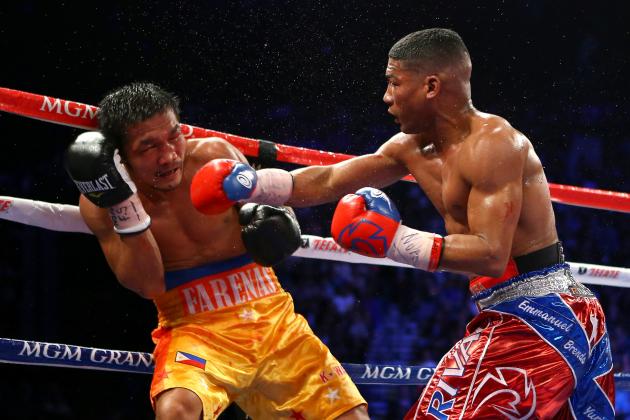 Al Bello/Getty Images
Gamboa's all-action, no-defense style makes him fun to watch.
The interim WBA lightweight championship will be on the line this Saturday night from the Bell Centre in Montreal, as two undefeated Latin American fighters seek to add to their resumes.
Cuba's Yuriorkis Gamboa was once considered one of the fastest rising stars in boxing. With an all-action style that leaves himself open to getting hit more than he'd like, he's just as likely to go down as put his opponent on the floor. But that's what makes him exciting and can't-miss TV.
His opponent Darley Perez is likewise undefeated, but hasn't yet faced anything close to the level of opposition he'll see this Saturday. He has good power and is looking to make a name for himself in the United States after spending much of his early career in his native Colombia.
Read on for our complete preview and prediction for the fight.
Begin Slideshow

»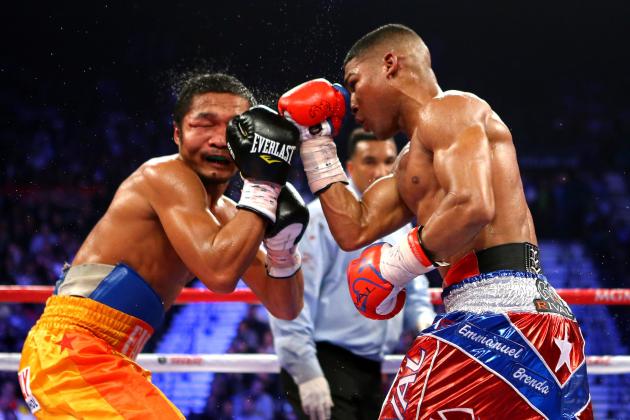 Al Bello/Getty Images
Gamboa returns this past december against Michael Farenas.
At 31 years old, Yuriorkis Gamboa's days as a prospect, and rising star, are now over. The time is now for the Cuban former featherweight champion, who spent over a year outside the ring after an impressive victory over Daniel Ponce de Leon catapulted him up the pound-for-pound ranks.
Though still undefeated, and with wins over Ponce de Leon, Jorge Solis and Orlando Salido, there is a sense that Gamboa could be on the verge of failing to live up to his massive potential.
Darley Perez is a relative unknown outside of his native Colombia, whom he represented at the 2008 Olympic Games in Beijing. He has good punching power, though hasn't faced anyone of the caliber of Gamboa in his professional career.
A win would obviously do wonders for him and give him the sort of exposure he's lacked up to this point. He has both more wins, and knockouts, than Gamboa but hasn't beaten anyone of much consequence.
Record:

Gamboa

22-0, 16 KO

Perez

28-0, 19 KO

Height:
5'5"
5'7"

Reach:

65"

68 1/2"
Weight:
135
135
Stance:
Orthodox
Orthodox
Hometown:
Guantanamo, Cuba

San Pedro de Uraba, Colombia

Rounds:
109
125
http://standnfight.com/wp-content/uploads/2012/04/DarleyPerez2.jpg
For Yuriorkis Gamboa, the storylines are clear. After more than a year outside the ring, mostly caused by a promotional dispute, the clock is ticking to live up to his potential. After thoroughly dismantling, and dominating, the rugged Daniel Ponce De Leon many felt Gamboa was primed to make a run to the top.
But 15 months outside the ring, combined with a less than stellar return against Michael Farenas in December, have led many to question whether the ship has sailed for the Cuban. He is a good boxer, with good power, but he often leaves himself open and has a questionable chin of his own. If Perez can punch for real, that could make things very interesting.
Darley Perez is here to make a name for himself. He has more professional fights, more wins and more rounds than Gamboa, and like him also represented his country in the Olympics. But his level of competition has been nothing close to what the Cuban has seen, so it's hard to gauge whether he's for real or just hype.
His record would indicate he can punch, and with Gamboa's notoriously shaky defense and chin, he will need to check his chin early and often.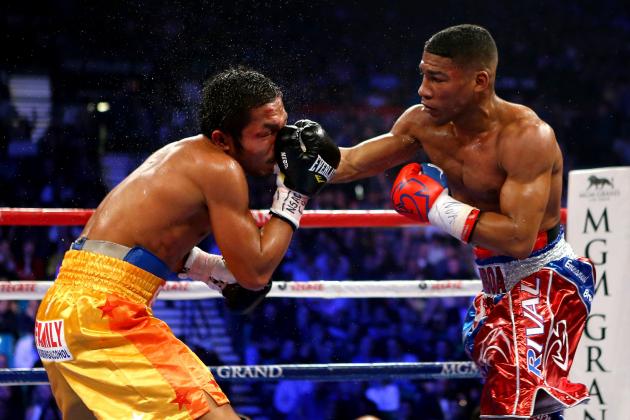 Al Bello/Getty Images
Gamboa likes to hit, but also gets hit a lot.
Yuriorkis Gamboa has shown the ability to compete on a world-class level. He's a 2004 Olympic gold medalist and is a former featherweight world champion. He will be moving up in weight for the second time in two fights and has shown the speed and skill to batter world-class opponents into submission.
Gamboa has good hand speed and power in both hands, which helped make him a star in the featherweight division. His experience, and particularly that against higher quality opponents, gives him an advantage heading into this fight
Darley Perez has the huge advantage of competing at his natural weight. He's been there for most of his career, is comfortable and will enter the ring as the bigger fighter with a height and reach advantage over the smaller Gamboa.
Thus far in his career, he's shown good power, but hasn't faced the quality of fighters that will show us whether his power is legitimate or the product of weak opposition.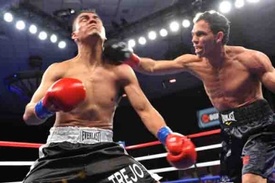 http://www.antena2.com.co/noticias/atl-ntico/04-12-11/exitosa-presentaci-n-de-darley-p-rez-y-jonathan-romero-en-california
Yuriorkis Gamboa is never in a boring fight, but for him that's not necessarily a good thing. He has good power and can hurt you when he lands clean, but his defense is suspect, as is his chin. He's been knocked down, and hurt, on more than one occasion and is susceptible to fighters with good power.
In his last fight he moved up to 130 pounds and struggled with the unheralded Michael Farenas, who despite being outclassed dropped Gamboa to the mat. He would seem to be a little small for the lightweight division, where he will be facing fighters who are bigger and punch harder. That's a potentially dangerous mix given his past chin issues.
Darley Perez is a fighter on a mission to prove that he belongs. But that's not enough to win you fights, especially on this type of stage.
Despite having more fights, and more rounds boxed as a pro, his resume is light, very light. There really aren't any fighters of note that he's beaten, and it's safe to say that Yuriorkis Gamboa will be able to throw some things at him that he's never seen before.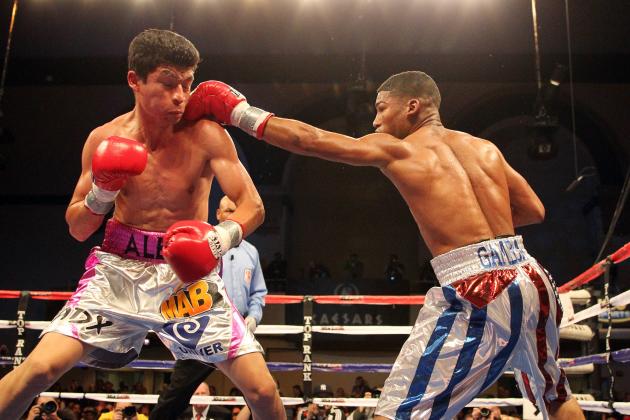 Hunter Martin/Getty Images
Fight smart, protect chin.
Yuriorkis Gamboa will win this fight if he's able to protect his chin and fight smart. Lots of action and fierce exchanges make for good television, but aren't necessarily the best idea for a guy with a questionable chin facing an opponent, who at least on paper, has good power.
He's a more than capable boxer, and with this being his first foray at lightweight, where he should be undersized, it would be a good idea to do more of that and less trading.
Gamboa is clearly the more experienced fighter on this level, and he should use that to his advantage, setting traps and forcing his younger opponent into situations he's never faced before.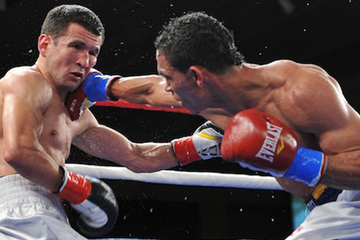 http://thompsonboxing.com/news/?p=736
For Darley Perez the equation is relatively simple—check Gamboa's chin.
With 19 knockouts in his 28 professional wins, it would appear that Perez has good power. And he will enter the ring knowing that Gamboa has a history of leaving himself open to big counters and has been dropped and hurt in the past.
Perez will enter the ring as the bigger fighter and will possess advantages in both height and reach. He will need to use his size advantage to pressure Gamboa and hope he makes the mistake that leaves him open to a chin-checking counter.
http://www.eluniversal.com.co/cartagena/deportes/darley-perez-peleara-por-titulo-mundial-de-boxeo-de-la-amb-115841
This is more of a gut instinct pick than anything else, but Darley Perez will win this fight by middle rounds stoppage
There are just too many factors lining up against Gamboa in this fight. His inactivity, his suspect defense and chin, and the potential problems faced by fighting so far outside his natural weight class. It's hard to see how he finds success this far north after struggling against smaller fighters.
Darley Perez is a bit of an unknown, but he's bigger, likely stronger and should be able to land punches through Gamboa's porous guard. In his last fight, a weight class below, the Cuban was dropped hard by little known, and badly outclassed, Michael Farenas.
Look for Perez to do the same, but close the deal, and win a shocking stoppage victory.