Michigan Basketball: 5 Biggest Reasons to Buy Wolverines as a 2014 Contender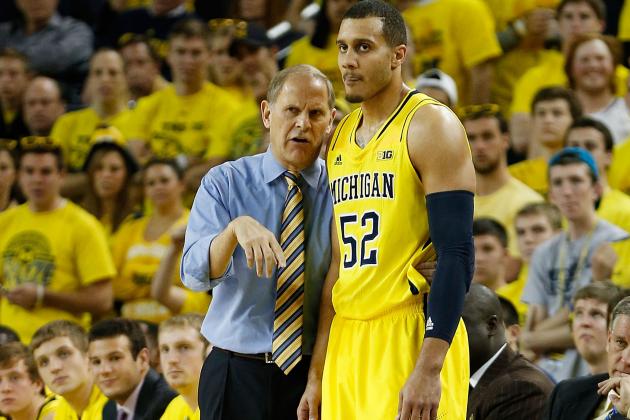 Gregory Shamus/Getty Images
Why should you believe Michigan can contend for a Big Ten Conference and national title once again? You're about to find out.
With the season opener still months away, the Michigan basketball program can only imagine how successful the 2013-14 campaign will be. All signs point to the Wolverines being a contender both in the Big Ten Conference and nationally.
Another trip to the Final Four is not out of the question. Neither is an outright conference crown. There is plenty of waiting left, but right now five things Michigan has make it a legitimate contender.
If the Maize and Blue faithful are having doubts, those need to be put to rest. The Wolverines are here to stay even if they will be without All-American Trey Burke and first team All-Big Ten shooting guard Tim Hardaway Jr.
Begin Slideshow

»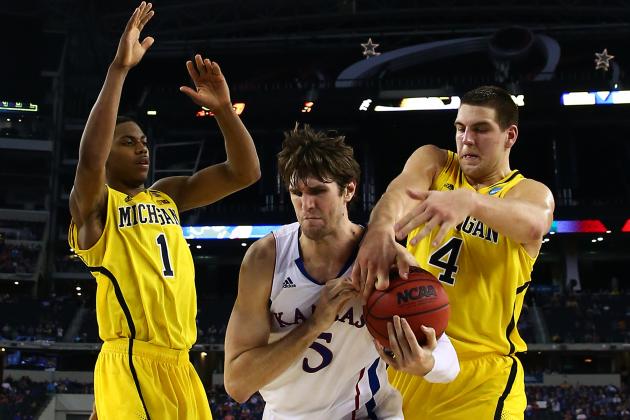 Tom Pennington/Getty Images
Mitch McGary and Glenn Robinson III are ready to take ownership of this Michigan team.
Had it not been for the breakout performances by Mitch McGary and Glenn Robinson III in the 2013 NCAA tournament, the Michigan Wolverines would not have ended their Final Four drought. It is also those stellar performances that establish the Maize and Blue as a contender this season.
McGary struggled with some dieting issues as a freshman. This is part of the reason why it took so long for McGary to play up to his full potential. A preseason foot injury also contributed to the slow start.
Nevertheless, he picked the best possible time to blossom into an elite big man. During Michigan's postseason run, McGary averaged 14.3 points, 10.7 rebounds and shot 67.8 percent from the field. Even more impressive were McGary's 2.0 steals and 1.2 blocks per game.
There is no reason to believe the 6'10", 250-pounder cannot put up those kind of numbers throughout the entire 2013-14 campaign. The proof is still forthcoming, but things appeared to finally click for McGary at the end of last season.
Robinson's story is much of the same. At times during Big Ten Conference play, Robinson played hesitantly and was not aggressive. This led to single-digit scoring efforts in all but two of the Wolverines' league contests against ranked opponents.
Once the NCAA tournament began, though, Robinson returned to life. The St. John, Ind. native piled up 12.7 points on 64.6 percent shooting, 5.5 rebounds and 1.2 steals in six postseason games.
The scary part is, both McGary and Robinson could be even better after a full offseason of work. The latter can take the time to polish off a jump shot, while the former could come back with an impressive post-game.
Both will have to adjust to new positions. However, they are natural fits at the 3 and 4. This will make the transition a bit easier.
Michigan can win a Big Ten title and make another Final Four appearance if McGary and Robinson develop into stars this year.
Streeter Lecka/Getty Images
Michigan will have to deal with the Cameron Crazies this season.
Unlike the 2012-13 campaign, the Michigan Wolverines will be better prepared for the challenges of Big Ten play.
When Michigan carried its 16-0 record into a road tilt the Ohio State Buckeyes, little time passed before everyone could see it was a bit inflated. The fact the Wolverines played just one ranked opponent in non-conference play hurt them in Columbus. Michigan fell behind by as many as 21 points early.
Games against overmatched foes like Binghamton, Central Michigan, Eastern Michigan and Western Michigan could not prepare the Wolverines for the game they had to play at Ohio State.
By the time the Maize and Blue face a marquee conference opponent this season, they will be ready.
Non-conference clashes at Duke and Iowa State will prepare Michigan for hostile road environments. They'll take a trip to the Puerto Rico Tip-Off, which features a top-notch field. Auburn, Charlotte, Florida State, Georgetown, Kansas State, Long Beach State, Northeastern and VCU are the other teams the Wolverines will have to contend with at the tournament.
The crown jewel of the non-league schedule is a clash with the Arizona Wildcats in Ann Arbor. It will be the first leg of a home-and-home and should showcase a pair of Final Four contenders.
Playing a more difficult schedule prior to Big Ten play will better prepare the Wolverines to contend for a conference title.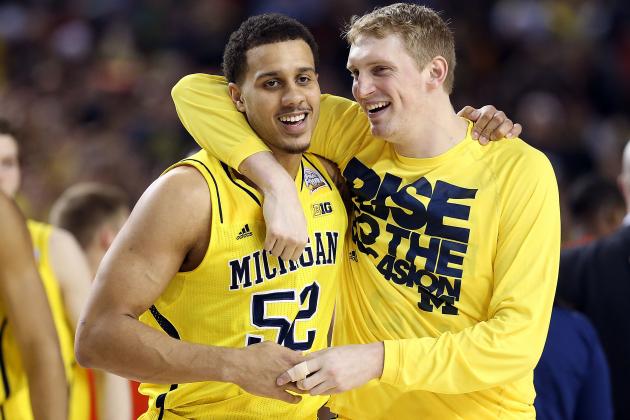 Streeter Lecka/Getty Images
Jordan Morgan will take the leadership reigns for Michigan this season.
Team captain Josh Bartelstein ran out of eligibility at the end of the 2012-13 season. The leadership provided by Tim Hardaway Jr. and point guard Trey Burke is gone as well.
This means the burden of leading will fall squarely on the shoulders of Jordan Morgan.
Glenn Robinson III and Mitch McGary will be the top players, which is going to provide the Michigan Wolverines with a different kind of leadership.
The rest of these responsibilities will be entrusted to Morgan, who is the lone senior on the 2013-14 roster. This makes Morgan the most likely candidate to be this year's team captain.
Although Morgan lost his starting spot to McGary following an ankle injury and poor performances late in the season, he has a great opportunity for a comeback. John Beilein is considering a starting lineup featuring two big men. One spot will go to McGary. The other is going to either Morgan or Jon Horford.
Morgan made some critical plays at the defensive end in the Sweet 16 and Final Four. There is also no doubt Morgan is Michigan's best defender in terms of being in position and avoiding silly fouls.
Inserting the University of Detroit Jesuit product back into the starting five will give the Wolverines a veteran presence on the floor. Morgan's leadership and experience is going to help Michigan make another run at a Big Ten title.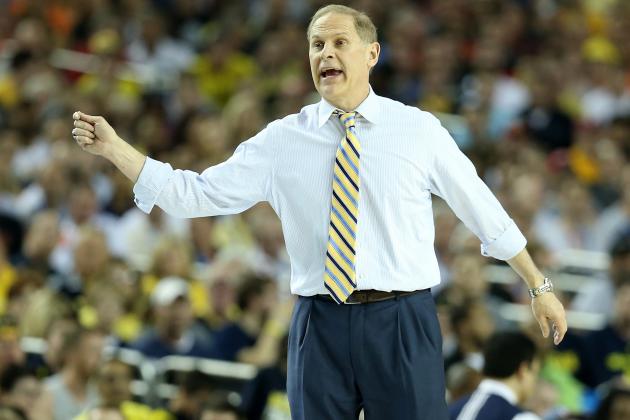 Streeter Lecka/Getty Images
John Beilein is one of the best coaches in college basketball and has more talent than ever before.
John Beilein has been praised throughout his lengthy coaching career for winning without an abundance of athleticism and talent. Last season's roster had plenty of both.
With the nation's No. 12 recruiting class coming in, Beilein should have no problem keeping the Michigan Wolverines on the national stage.
The only knock on Beilein prior to last season was the fact he had never taken a team to the Final Four. Those critics were quieted in April. A second straight deep run in the postseason could be on the horizon as well.
Sure Trey Burke is gone, but a similar transition occurred when point guard Darius Morris departed for the NBA after the 2010-11 season. Incoming freshman point guard Derrick Walton is a perfect fit for Beilein's offense. Spike Albrecht will be a great complementary piece in the rotation behind Walton.
Tim Hardaway Jr. will not be back either, though efficient shooters like Nik Stauskas and newcomer Zak Irvin will more than make up for the loss.
There has never been a big man with the potential to dominate the paint like Mitch McGary on one of Beilein's teams either. McGary gives Michigan's offense new ways to attack. Glenn Robinson III's athleticism and ability to play above the rim will be showcased in Beilein's scheme this year, too.
On paper, this year's group of Wolverines may not be better than the 2012-13 team. Still, no one is better at overachieving than Beilein when all the right pieces for his offense are in place.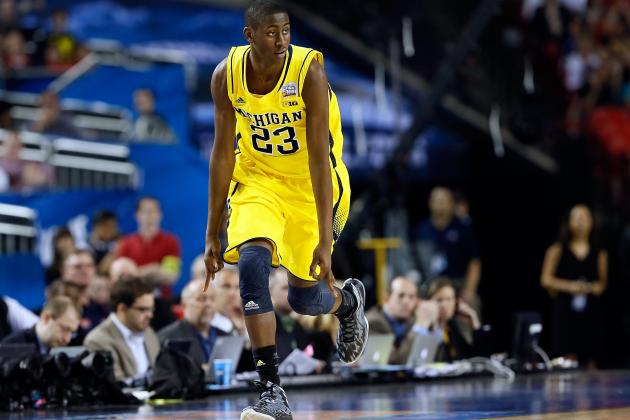 Kevin C. Cox/Getty Images
Caris LeVert is one of several talented players who will come off of the bench this season.
Although the Michigan Wolverines' top two players are departing, they will have more depth this year than they had last season.
Derrick Walton is likely going to be the starting point guard, which means Spike Albrecht can play multiple roles coming off the bench again. Albrecht spent some time at the 2 in 2012-13 and will do so again this season. Expect to see Albrecht at the point more as well since Walton will not eat up as many minutes as Trey Burke did.
Shooting guard is a position of great depth. Nik Stauskas started there for all of last season, but Caris LeVert will push him. Either one is capable of starting. Backing up both of them and being an immediate sub at the 3 will be prospect Zak Irvin.
Depth at forward will be better than ever. Mitch McGary is going to occupy one spot in the starting five.
Both Jordan Morgan and Jon Horford will fill out the rotation. One will have to be a reserve, though there should not be a significant drop-off when either comes out of the game. Incoming freshman Mark Donnal is capable of hitting shots all over the floor, which gives the Wolverines' rotation of big men some diversity.
Michigan will be less dependent on its starting five during the 2013-14 campaign. The added depth will have the Wolverines in contention for a second Big Ten title in three seasons.