Early Predictions for the Biggest Fights Scheduled in 2013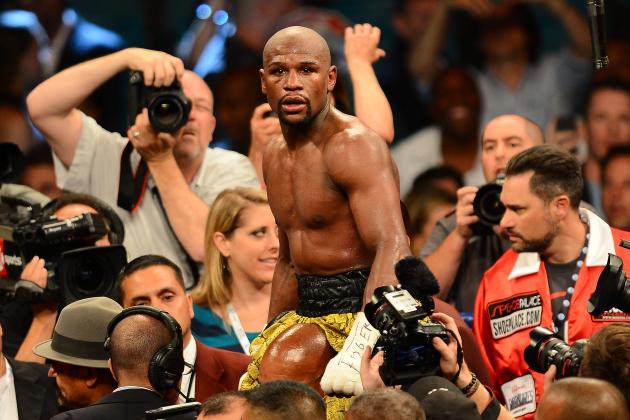 Ethan Miller/Getty Images

This year is halfway home and it's been a stellar one for the sweet science. We've had thrilling fights like Rios vs. Alvarado and Bradley vs. Provodnikov, the disarming of Nonito Donaire, and the triumphant return of the sport's best fighter, Floyd Mayweather.
Carl Froch avenged his 2010 loss in another excellent fight against Mikkel Kessler, while Lucas Matthysee pounded Lamont Peterson silly in a shockingly one-sided affair.
But there are several big fights looming. We'll take a look at the biggest fights remaining and predict the outcome of these marquee matches. Keep in mind, a few big-name fighters like Miguel Cotto and Amir Khan have yet to announce opponents, so they're obviously not on this list.
Also not on the list is Golovkin vs. Macklin, but the feeling here is that Golovkin is going to do terrible, terrible things to Macklin's face.
We're looking at the big fights that are booked and ready to be delivered in the next six months. Here they are in chronological order.
Begin Slideshow

»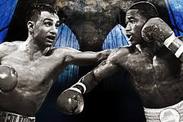 badlefthook.com
If Floyd Mayweather gets credit for building his own legacy, Paulie Malignaggi certainly should get credit for talking his way into big fights. For a guy who is known as a slick boxer with no punching power, he sure can sell a scrap.
He somehow got the attention of rising star Adrien Broner, who jumped two weight classes to make the fight happen. And he did it the way he does most things—with a whole lot of smack talk. This thing has been about as ugly as it gets in terms of pre-fight buildup. Ex-girlfriends got involved.
Talks of abuse, taunts and menacing threats have been exchanged like emails. It even grabbed the attention of the New York Post, which was clearly disgusted by the sight of these two men who make a living using their fists to beat other men engaging in potty language.
When the vitriolic language ends and the fight begins, what's going to happen?
Malignaggi certainly has the advantage in experience, but little else. Broner is younger and hits much, much harder. Their hand speed is pretty close. Broner is coming up in weight, but Malignaggi isn't exactly a gigantic welterweight.
The fight should play out with both fighters looking to establish their jabs. Broner will use his power to bother "The Magic Man" enough that he'll stop jabbing and Broner will take control.
Both men are lighting quick, but both are there to be hit. It's just that Broner brings a cannon while his opponent brings a pop gun.
Broner will emerge from the fight undefeated, having bested the iron-chinned Malignaggi by wide decision.
And then they'll insult each other again.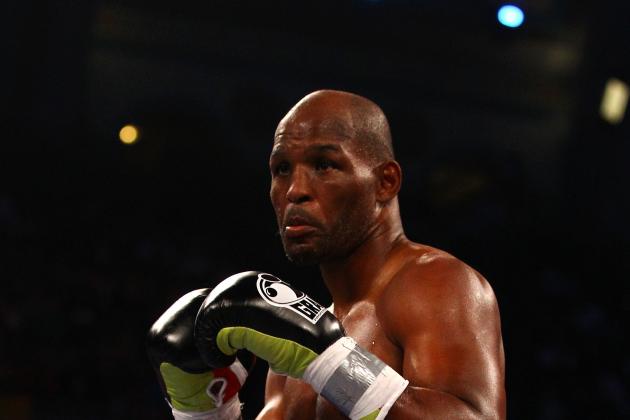 Al Bello/Getty Images

Bernard Hopkins took Tavoris Cloud to school this past March, and he'll look to defeat another young lion in Murat on July 13th in Brooklyn. The 29-year-old Murat is best known for his stoppage loss to Nathan Cleverly in 2010. He somehow became the mandatory challenger for Hopkins' title after stopping Ray Robinson-clone Sandro Siproshvili last June.
Clearly, it's not the greatest fight ever put together on paper, but every time Hopkins fights, it's historical. True, his style is cautious at best and is as sleep-inducing as an Ambien with a Johnnie Walker chaser at its worst, but the guy is 48. He should be getting ready to fill out his AARP forms, not fighting for light heavyweight championships.
But that's what he'll do against Murat. He'll try to defend his title against a guy who would have just been starting kindergarten when Hopkins entered the ring for the first time. And guess what? He's going to win. Again.
This isn't one of those back-against-the-wall, nobody-believes-in-me fights that Hopkins thrives on, but he won't need the extra incentive.
Not with guys like Carl Froch out there ready to try to send him into the rocking chair for good. There's huge money ahead for Hopkins if he wins, and that will be incentive enough for him.
He'll smother the German Murat's power punches; he'll land that sneaky straight right at will, and he'll successfully defend his title to win his 54th professional fight.
What will you be doing when you're 48?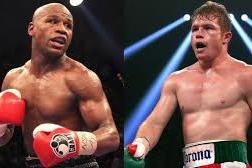 bet.com
It's happening. Floyd is taking on Canelo Alvarez in the most anticipated fight of the year. Can Alvarez use his size, youth and power to finally take that zero from Mayweather's record?
Mayweather is at that age where it is possible to grow old overnight, and he'll be fighting for the second time this year in two months. He hasn't had two fights in a year since 2007; will that adversely affect his performance?
The way Mayweather looked in May, it's hard to envision the 22-year-old Alvarez having a lot of success in actually making contact with him, but it may not be impossible. The fight is at 152, and the only two times Mayweather has fought over 147, he's looked somewhat less impressive than usual.
Perhaps the added weight makes Mayweather feel the need to sit down on his punches more, causing him to be hit more than usual. It makes the fight pretty compelling.
Floyd no longer throws ridiculous combinations. He doesn't keep his hands moving the way he used to at the lighter weights, but he just doesn't have to. He makes you miss, and he buzzes you with that nasty right hand. Over. And over. And over.
Alvarez may become the best pound-for-pound fighter in the world someday, but he won't beat the best in the world on September 14th. He'll take too many punches from Floyd, who will once again claim victory in a closer-than-expected contest.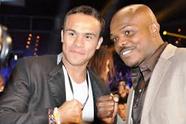 thesweetscience.com
The battle of Pacquiao conquerors will commence on October 12th. There are questions surrounding both Juan Manuel Marquez and Timothy Bradley at this point.
Did Marquez spend all he had in slaying his nemesis? Does he still have the drive and determination? Will his freakish recuperative powers still be there at 40 when he faces Bradley?
For Bradley, how much did the epic brawl he had with Ruslan Provodnikov take out of him? He barely made it out of that fight; how will he handle Marquez, who is planets better than Provodnikov?
We know Bradley will not fight Marquez the same way he fought this past March. Going bombs away against one of the greatest counterpunchers of all time would be suicidal. If he uses his speed and movement, he could make things rough for the Mexican legend.
Marquez is masterful at timing his opponent, so for Bradley to win, he has to switch speeds and give him multiple looks. If Marquez doesn't get comfortable, he's not the same fighter.
For Juan Manuel, he'll look to throw a diverse arsenal of punches at Bradley while trying to counter Bradley's faster shots.
Marquez may now be complacent, but we're betting he's still got some hunger in him. He is after all, going for history.
Bradley is one of the hungriest, most dedicated fighters to come around in a long time, but he's just not as good as Marquez.
We're taking Marquez by late knockout as he puts the finishing touches on an incredible career.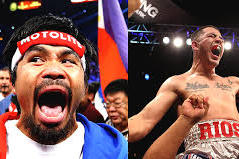 elitedaily.com
The last big fight of the year could be the biggest bloodbath.
Rios has been involved in two epic fights with Mike Alvarado, winning the first by stoppage and then narrowly losing the second by decision. Pac Man is on a two-fight losing streak, punctuated by being face-planted last December by Juan Manuel Marquez.
Rios is coming up in weight to meet Pacquiao for the biggest payday of his life. If Pacquiao isn't shell-shocked from the Marquez KO, Rios may also be in for the worst beating of his life.
Rios comes straight forward and wings bombs. His defense is iffy and he's there to be hit. Pacquiao is at his best when his opponent tries to go toe-to-toe with him, and for Rios, toe-to-toe brawling is game plan A, B and C.
The feeling is that the first couple of rounds will be blistering, with both guys landing massive shots. By the fourth round though, the Filipino will start wearing down Rios by landing his straight left with ease.
We're not projecting a one-punch KO; Rios' chin is ridiculous. Pacquiao will instead wear down his man and eventually stop a valiant but ultimately overmatched Rios.