Ranking the 10 Most Lethal Goal-Scorers in the 2013 NHL Draft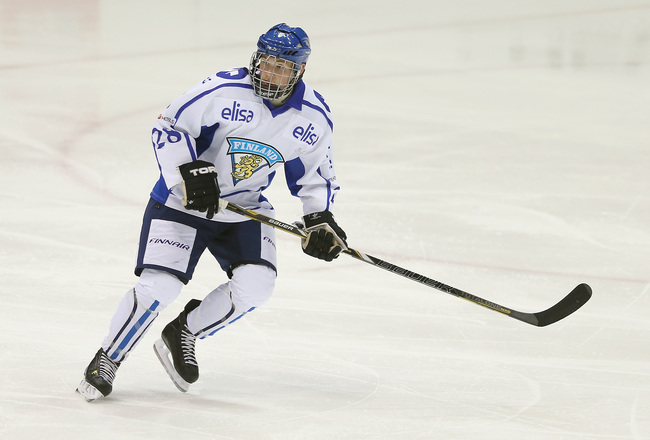 Arturri Lehkonen is one of the most lethal goal-scoring forwards available at the 2013 NHL draft.
Bruce Bennett/Getty Images
The 2013 NHL draft is less than a month away, and there is increasing anticipation about who will go first overall in Newark, New Jersey: Nathan MacKinnon or Seth Jones.
Who goes where comes down to filling team needs for the most part, and there isn't a team in the league that will claim that it scores enough goals. As such, it should come as no surprise that a premium is put on goal scorers come draft time.
Defensive-minded forwards are solid and necessary selections as well, but if defense was more highly valued than offense it's likely that Bo Horvat would be a top-five lock and Elias Lindholm could likely break into the top-three.
Those two happenings are possible—anything is possible come draft day—but unlikely. So who are the most dangerous goal scorers that are available in this draft?
10. Valentin Zykov

Valentin Zykov turned some heads during his first season in North America.

Valentin Zykov eased the minds of scouts when he decided to bring his game to North America instead of playing through his pre-draft years in Europe. Odds are he didn't expect the transition to go as well as it has.
The 6'0'', 200-pound Russian posted 40 goals during his first season in North America, and was the second-leading scorer for Baie-Comeau. Zykov's team finished second overall in the QMJHL and continued to roll through the playoffs.
The Drakkar won their first 10 playoff games while Zykov posted four goals and added five assists.
9. Adam Erne

Adam Erne is a power-forward that has an outstanding shot.

More of a power forward than a sniper, Adam Erne still has boatloads of finish. His shot from the slot is outstanding, as is his willingness to drive to the net with speed to try and bury his chances.
While most of the players on this list tend to hang out in the peripheral areas looking for one-timers and open sections of ice, Erne stands out because of how he uses his body to create chances for himself and his teammates.
Whether he's blowing his shot by goalies or charging by defenders, Erne is always dangerous. He posted back-to-back 28-goal seasons in the QMJHL, and will receive a lot of attention from teams looking for a sizable finisher in the draft.
8. Pavel Buchnevich

Pavel Buchnevich really made some noise during the WJC this year.

After dominating the MHL for two years, Pavel Buchnevich finally made his debut in the KHL in 2013. While it took him a while to score his first goal playing up against professional players, he began to settle in nicely towards the end of the season.
Prior to the promotion, Buchnevich notched 23 goals in 69 games with the Almaz Cherepovets, and really made some noise during the 2013 WJC tourney.
He scored five goals and added six assists for Russia en route to a bronze medal.
7. Nicolas Petan

If Nicolas Petan was 6'1'' he'd likely be a top-five selection at the draft.

To say that Nicolas Petan has asserted himself as one of the more elite point-getters available in this draft would be an understatement. Playing on a loaded Portland Winterhawks team, the diminutive center proved that his game is everything but small.
During his two full-time seasons with Portland, Petan posted 60 goals in 135 games while playing up against the rough and tumble forwards that the WHL tends to produce.
If it wasn't for the 5'9'' frame it's likely that Petan would be challenging for a top-five spot in the draft. Instead the prolific point producer is considered a risk due to his lack of size.
6. Artturi Lehkonen

Artturi Lehkonen is one of the better pure goal scorers available at the draft.

Teams digging for a pure goal-scoring forward toward the middle part of the first round likely won't have to look farther than Artturi Lehkonen. His hockey sense is well above-average and his goal-scoring touch is unquestioned by scouts.
Despite standing at 5'10'', Lehkonen has shown his willingness to get to the dirty areas to score goals frequently. He's as much of a threat storming out of the corner after winning a puck battle as he is sniping from the tops of the circles.
He made his debut in the SM-liiga last season, posting two goals and two assists through 18 games while adjusting to the higher level of competition. In 2013 he performed better, putting up 14 goals through 45 games.
5. Hunter Shinkaruk

A silky-smooth forward with a ton of finish, Hunter Shinkaruk is one to keep an eye on at the 2013 draft.

Aside from Jonathan Drouin and Nathan MacKinnon, there may not be a more dangerous goal scorer available in this draft. Hunter Shinkaruk is a lock to be a top-10 selection in the draft, and he'll provide his new NHL club with some pretty, pretty goals somewhere down the road.
He's a hard-working forward that happens to bring a silky-smooth game to the ice on a nightly basis.
Shinkaruk has played for the WHL's Medicine Hat Tigers for three years now, scoring 100 goals through 193 games with the club.
4. Valeri Nichushkin

Valeri Nichushkin draws comparisons to Evgeni Malkin. With plays like this it's easy to see why.

Scouts usually shy away from comparing upcoming draftees to established NHL stars. But for whatever reason, Valeri Nichushkin can't seem to escape the comparisons to countryman Evgeni Malkin.
The combination of size, speed and skill is apparent, regardless of whether or not Nichushkin ever evolves into one of the best players in the world.
He's played against some tough competition in the KHL while skating with Traktor Chelyabinsk. He scored four goals through 18 games played in the top league outside of the NHL—not too shabby for a teenager.
On top of his solid play with Traktor, he was also outstanding at the WJC tourney, posting six goals in 12 games while performing as Russia's most noticeable forward. If there's anyone who can throw a monkey wrench into the top-three, it's Nichushkin.
3. Anthony Mantha

Anthony Mantha was the QMJHL's top goal scorer in 2013.

Anthony Mantha was the top goal scorer in the QMJHL in 2013, beating out the likes of Jonathan Drouin and Nathan MacKinnon en route to the scoring title.
While he isn't as dynamic with the puck as those two, there's little doubt that Mantha can finish with the best of this draft class. Through 132 games played in the Q, he scored 72 times (including 50 goals in 2013 alone).
Capable of scoring on the rush and from the dirty areas of the ice, Mantha will be an enticing pick after the top six or seven players are off the board come draft day. His combination of finish and size is outstanding.
2. Jonathan Drouin

Jonathan Drouin is arguably the most dynamic goal scorer available in the draft this year.

The press may well be running out of ways to describe Jonathan Drouin's abilities with the puck, and the guy hasn't played a game in the NHL yet. He's an electric goal scorer, capable of end-to-end rushes that will bring fans to their feet every time.
He has an unteachable knack for getting to the soft areas of defensive coverage, and once he has a foot or two of free space he rarely makes a mistake with the puck.
Drouin will likely be one of the first players taken in the 2013 draft, and with good reason. He scored 41 goals this year for the Halifax Mooseheads, and actually seemed to elevate his game when teammate Nathan MacKinnon went down with an injury.
1. Nathan MacKinnon

Nathan MacKinnon could very well end up as the first player selected at the draft in 2013.

Nathan MacKinnon began 2013 as an impressive player, and finished it as a dominating presence for the Halifax Mooseheads.
Any doubt about his big-game ability was erased during the Memorial Cup playoffs, as MacKinnon put on a show for much of the tourney. While he's known primarily as a setup man, this guy can finish as well.
He sets up his own chances with incendiary speed and lightning-quick hands, as evidenced by his 41 goals through 49 games played in 2013. As dynamic as an offensive player can be as a teenager, MacKinnon has established himself as the most offensively-talented player in this draft.
Keep Reading