3 Things We Learned from New York Giants OTAs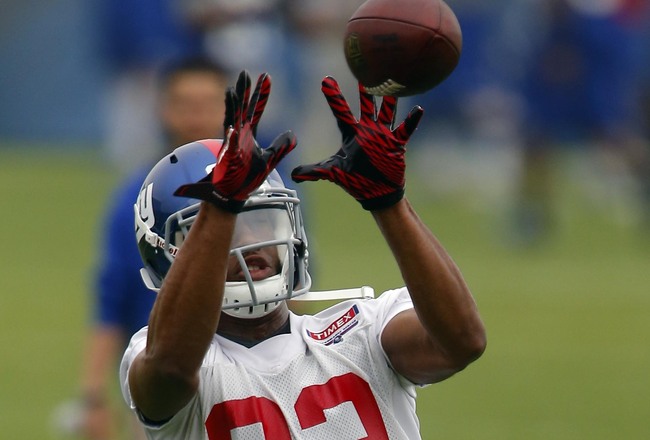 WR Rueben Randle hauls in a pass during OTAs.
Jim O'Connor-USA TODAY Sports
The New York Giants are two-thirds of the way through organized team activities, with the final practices taking place this week (June 3-7). Now, five months removed from the Giants' 42-7 victory over the Philadelphia Eagles in the 2012 season finale, we are catching the first glimpse of what's to come in 2013.
The Giants coaching staff is currently working with a very fluid version of the 90-man roster it will bring to training camp, where it will eventually be cropped to 53. That doesn't mean, however, that the staff has all 90 members in attendance—OTAs are voluntary, and some players have been elsewhere during the early summer workouts.
The offseason practices are quickly picking up steam, and the '13 Giants are starting to take shape. This article will highlight three things we've learned from New York Giants OTAs thus far.
New-Look WR Corps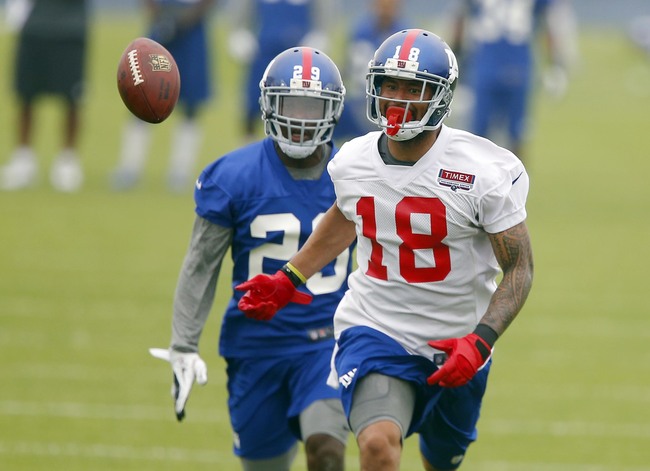 WR Louis Murphy (18) is the newest addition to the Giants receiving corps.
Jim O'Connor-USA TODAY Sports
In the midst of a contract dispute, wide receiver Victor Cruz was not expected to show up at the team facilities for OTAs. The absence of Hakeem Nicks, on the other hand, was completely unexpected. Just ask head coach Tom Coughlin.
"At one point, Hakeem told me that he was going to be here, and then he was not here," Coughlin told Ebenezer Samuel of the New York Daily News. "Now, the strictest interpretation, as everybody knows is it's a voluntary program."
Still, that hasn't stopped Coughlin from being a little ticked off that his top two receivers are missing out on valuable, chemistry-building workouts. In their absence, however, some less experienced pass-catchers are enjoying the additional exposure and first-team reps.
Rueben Randle, a second-round selection in the 2012 NFL draft, is taking advantage of the opportunity. The 6'4" receiver who likes to snag the ball at its highest point is looking to improve upon a rookie season in which he caught only 19 passes (298 yards, three TDs). He has been testing the waters as quarterback Eli Manning's No. 1 receiver during OTAs.
"I'm a lot more confident in what I do," Randle told Ohm Youngmisuk of ESPN New York. "Going out there and making more plays, understanding the offense and more on the same page with Eli. And also, getting more trust from the coaches, and going out there and getting more reps so I can show my ability more."
Opposite Randle, newly acquired speedster Louis Murphy is fitting right in. Murphy, a 26-year-old with four seasons of experience spent with both Oakland and Carolina brings to New York an explosiveness that the Giants have not had since the departure of Mario Manningham, according to offensive coordinator Kevin Gilbride (via Paul Schwartz of the New York Post).
"He's [Murphy] come in and worked really hard," Manning told Patricia Traina of Inside Football. "Back in early April, going over to Duke and working those days and learning the offense and asking questions and being here in the offseason [have benefited him]. He can really run, he can stretch the field and he's got the desire and commitment to be a good player and to bring another threat to this offense."
In a make-or-break year, Jerrel Jernigan is enjoying some extra work as the Z, or slot receiver, with Cruz out of the mix. Even Ramses Barden found his way back onto the roster after looking like a goner just a month ago. Manning's go-to target for 2013 could be forged in the coming weeks.
More Uncertainty at LB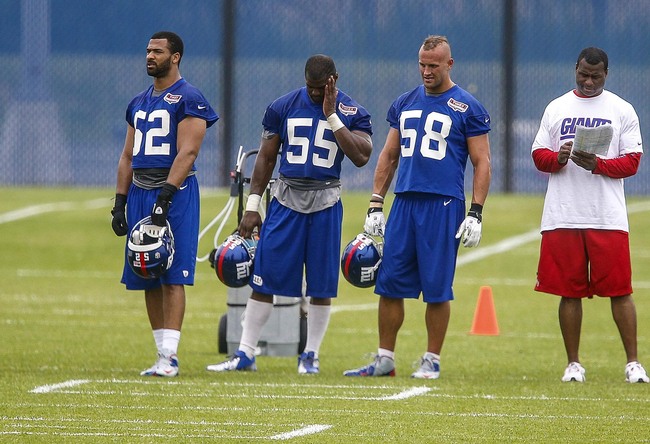 The Giants' first-team LBs at OTAs: Spencer Paysinger (52), Keith Rivers (55) and Mark Herzlich (58).
Jim O'Connor-USA TODAY Sports
Despite an overwhelming outcry for a franchise linebacker, the Giants did not select one to groom in any of the seven rounds of the draft earlier this spring. New York's additions through free agency have left much to be desired, too, as none look poised to seize a starting job outright.
In the early practices, Mark Herzlich has manned the middle of the Giants' first-team linebacker unit, with Spencer Paysinger and Keith Rivers lined up on the outsides. Dan Connor, one of the Giants' biggest acquisitions in free agency, is expected to compete with Herzlich for the job eventually, but right now he is taking a crash course on defensive coordinator Perry Fewell's schemes.
Former fourth overall selection (2009) Aaron Curry landed with the Giants after the draft concluded, as he searches to live up to the potential he left unfulfilled in Seattle and Oakland. Curry and Rivers (ninth overall selection, 2008) have similar backgrounds, and both are in the mix for strong-side duties. Both players have lengthy injury histories, so the starter may end up simply being whomever is healthiest.
Still, despite adding Connor and Curry, the Giants were not satisfied. Kyle Bosworth, a Jacksonville Jaguar in 2012, was signed on Saturday, May 29 to complete a trio of newly acquired linebackers. Bosworth has versatility to play all three linebacker positions in the Giants' base 4-3 defense, but with only 37 tackles for the Jags last year, he doesn't jump off the page statistically.
Perhaps the most troubling development has been Jacquian Williams' progress, or lack thereof. Williams, the closest thing to an incumbent the Giants have, suffered a knee injury (PCL) last season but decided against offseason surgery. Five months of rest haven't been enough, though, as Williams hasn't fully participated yet in OTAs.
"Just kind of taking my time with it," Williams told Ohm Youngmisuk of ESPN New York. "It is a day to day thing. It is getting better. Definitely better than it was. That's all."
With Michael Boley out of the picture, the Giants need an impact player to step up at the linebacker position. Williams' ability makes him the most viable candidate, but he has had trouble with lingering injuries in the past. Patience is quickly wearing thin for the 24-year-old 'backer.
Running Back Roles Settled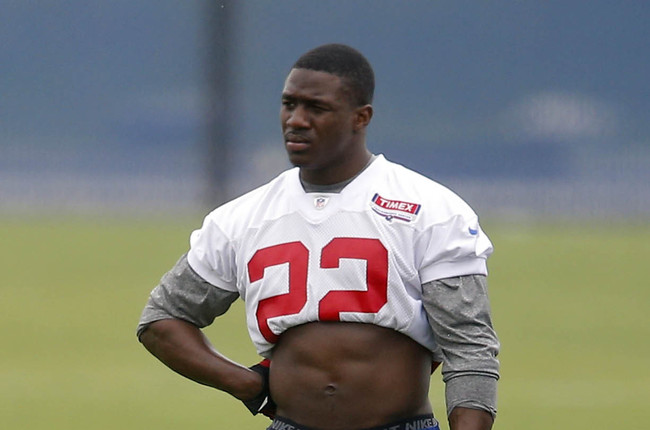 RB David Wilson will be the Giants' feature back in 2013.
Jim O'Connor-USA TODAY Sports
When the Giants released veteran running back Ahmad Bradshaw, scorer of the go-ahead touchdown in Super Bowl XLVI, New York's most seismic backfield shift since Tiki Barber's retirement appeared imminent.
In his second season, Virginia Tech product David Wilson is expected to take on a much larger role. The electric runner won't have as short a leash in 2013, as ESPN's Ed Werder reports that Wilson will "absolutely" be the Giants' feature back (via Rotoworld.com).
The Giants rarely unleashed Wilson during his rookie season. His contributions steadily increased, however, after his breakout game against the New Orleans Saints in Week 14, in which he set an NFL record for all-purpose yards. The elusive back carried the ball 15 times, a season high, for 75 yards against the Eagles in the 2012 season finale.
Wilson will have to prove that he's ready to take on more. The wear and tear of the game will weigh on him more as his attempts pile up. And although Wilson only fumbled once last season, an increased workload will give him more opportunities to put the ball on the carpet. Coughlin will be quick to field a substitute if his primary ball-carrier develops a fumbling issue.
Behind Wilson, Andre Brown will attempt to make a healthy return from a broken fibula that ended his breakout 2012 season after Week 12. Brown will be the Giants' goal-line back in 2013, according to Ohm Youngmisuk of ESPN New York. The 227-pound hammer excelled on the goal line last season, collecting eight touchdowns, all from short distance.
Brown's biggest downfall, however, has been his durability. He will sustain many punishing blows as the team's short-yardage back, so the Giants must make a concerted effort to keep him healthy. Although Brown averaged 5.3 yards per carry in 2012, Coughlin would be smart to limit his touches in an attempt to preserve his easily wounded body.
Neither runner will be effective without a powerful lead blocker, though, and fullback Henry Hynoski is out of commission until at least Week 1. Hynoski, who developed into one of the league's top fullbacks in his second year as a pro, severely damaged his knee on the very first practice of OTAs (MCL, chip fracture).
In Hynoski's place, 6'5" tight end and iron man Bear Pascoe is filling in. Pascoe has been forced into fullback duties before, so the team knows what it can expect from him. It is not an ideal situation, but it is one in which the Giants will make do until Hynoski is able to recover fully.
Keep Reading

New York Giants: Like this team?