After two months of playing poorly, the Los Angeles Dodgers are finally ready to compete after calling up their top prospect, outfielder Yasiel Puig.
Ken Gurnick of MLB.com broke the news:
Puig called up. Magill optioned.

— Ken Gurnick (@kengurnick) June 2, 2013
Los Angeles promoted Puig from Double-A Chattanooga, needing some sort of spark to turn the team's season around. The Dodgers entered Monday nine games under .500, 8.5 games out of first in the NL West and owners of the fifth-worst record in MLB.
While the Los Angeles pitching staff has been hard to watch at times, it's the offense that really needs a jump-start.
The Dodgers have the 19th-best offense in baseball in terms of WAR, according to FanGraphs. The main problem is that some of the team's biggest stars have failed to produce.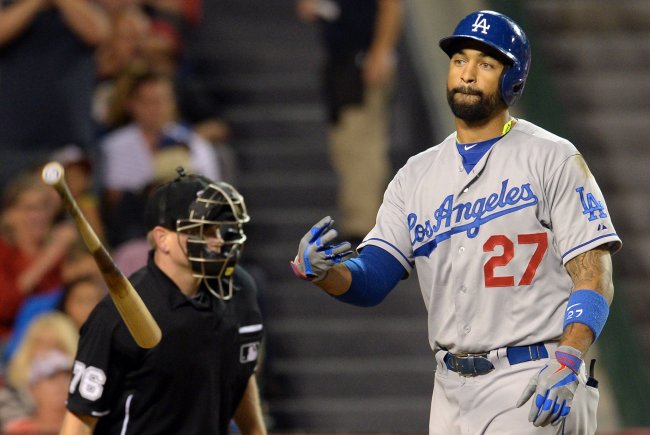 Jayne Kamin-Oncea-USA TODAY Spor
Matt Kemp, arguably the team's most talented position player, has been non-existent for Los Angeles this year, hitting .251/.305/.335 with just two home runs and 17 RBI. Kemp has been battling a hamstring issue lately, resulting in the Dodgers putting him on the 15-day disabled list, according to Mark Saxon of ESPN Los Angeles.
Carl Crawford, who has been surprisingly good this year, hurt his hamstring in Saturday's game, as Bill Plunkett of the Orange County Register noted on Twitter:
Official announcement -- Carl Crawford left with a left hamstring cramp. So they've got that going for them. #Dodgers

— Bill Plunkett (@billplunkettocr) June 1, 2013
With Kemp on the disabled list and the Dodgers likely wanting to play it safe with Crawford, there was an opportunity to promote Puig. Through 40 games, the Cuban defector was hitting .313/.383/.599 with eight home runs, 52 RBI and 26 runs.
The Dodgers signed Puig to a seven-year, $42 million deal last June, per Enrique Rojas of ESPN Deportes. The club hoped that he would eventually turn into as big a star as fellow countryman Yoenis Cespedes.
In 23 games between Rookie ball and Single-A, Puig hit .354/.442/.634 with five home runs, 15 RBI and 20 runs. In spring training, he started to show the Dodgers and the rest of the baseball world what he was capable of, hitting .516/.500/.828 with 10 extra-base hits in 27 games.
But while Puig hit well during the spring and was on fire in the minors, will he be able to single-handedly make the Dodgers contenders?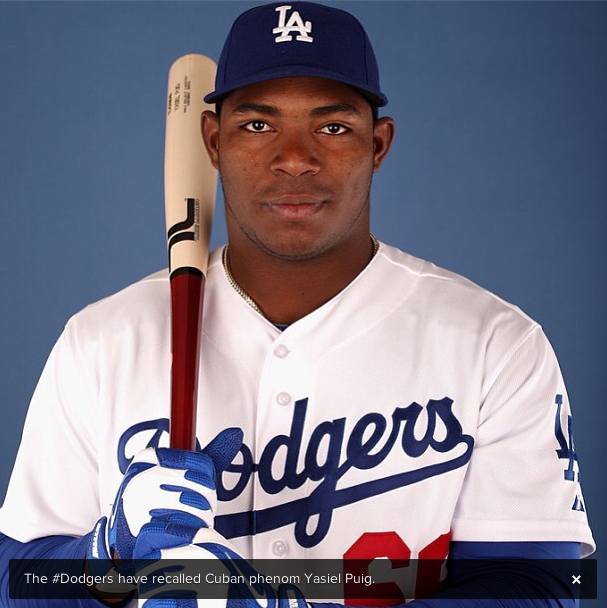 No, not single-handedly.
Puig will, however, make a significant impact that should get the rest of Los Angeles' 25-man roster ready to start winning again.
The Dodgers have a fantastic chance to get back on track right away, as they start a three-game series at home against the San Diego Padres.
A sweep would do wonders for the team's confidence.
Will the Dodgers make the playoffs?
Los Angeles will certainly be tested throughout the remainder of the first-half of the season, playing nearly every series against a contender.
But with Puig in the every day lineup, anything is possible.
It's important to keep in mind that the last-place Dodgers have nothing to lose by calling up Puig—at worst, they will remain at the bottom of the division.
At best, Puig will become an instant star and lead the team to a remarkable turnaround and a postseason appearance.
Los Angeles isn't that far out of the race yet. If the Dodgers can win the next couple of series they will be right back in the hunt.
Puig can—and will—get them there.