Stock Up, Stock Down for Chicago Cubs' Top 10 Prospects for Week 9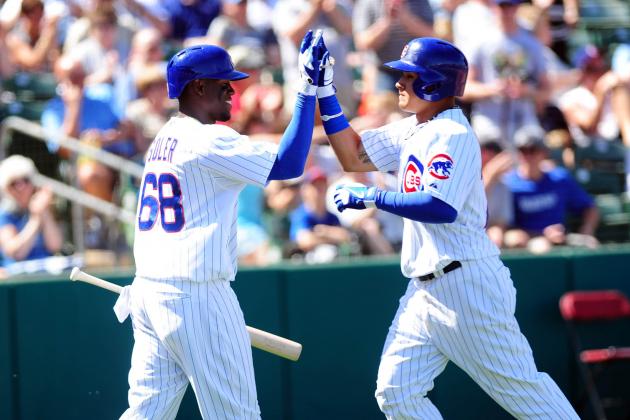 Jennifer Hilderbrand-USA TODAY Sports

It was a good week to be a Chicago Cubs fan, as the team took all three games they played against the crosstown rival Chicago White Sox on their way to a 4-2 week.
That puts their record for the season at 23-32, as they currently sit two games ahead of the Milwaukee Brewers in fourth place in the NL Central.
Despite their improved play of late, they remain a rebuilding team, and they'll be looking to bolster their prospect pool with some aggressive selling at the trade deadline.
As it stands, their farm system is vastly improved over the previous season, and here's a look at how the team's top prospects performed over the past week of play.
Note: Top Prospects according to Baseball America Prospect Handbook
*No. 4 prospect SP Arodys Vizcaino (Tommy John surgery recovery) is currently sidelined and will not be included until he's active.
*No. 9 prospect RP Kyuji Fujikawa is not included since he is currently playing at the major league level.
*No. 11 prospect SP Juan Carlos Paniagua is currently dealing with visa issues, according to Baseball America, and will not be included until he is stateside and playing.
Begin Slideshow

»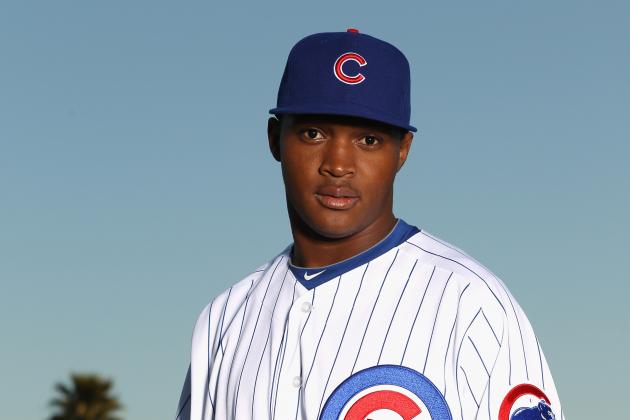 Ezra Shaw/Getty Images

2013 Stats
11 GS, 5-2, 3.70 ERA, 25 BB, 66 K, 65.2 IP
Overview
Sent to Double-A to be stretched out as a starter after making 25 appearances out of the Cubs bullpen last season, Alberto Cabrera has looked great, so far, this season and could be in Iowa before long.
Seven of his 11 starts have been quality starts, and while his 9.0 H/9 and .264 BAA need to improve, it has been an all-around positive season for the 24-year-old so far.
Last Week's Stats
1 GS, 6 IP, 1 ER, 6 H, 3 BB, 7 K, W
Stock
Up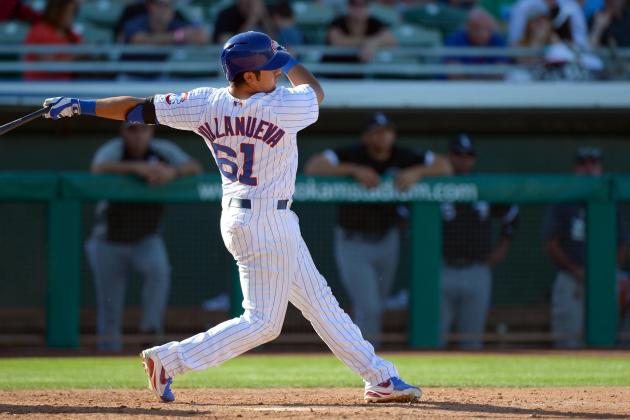 Jake Roth-USA TODAY Sports

2013 Stats
.259/.319/.429, 18 2B, 1 3B, 4 HR, 29 RBI, 21 R
Overview
Signed out of Mexico by the Texas Rangers in 2009, Christian Villanueva entered last season as the No. 100 overall prospect, according to Baseball America. He was acquired in the deadline deal that sent Ryan Dempster to Texas.
It's been a slow start to the season for him after he hit .279 with 24 doubles and 14 home runs at High-A last season. However, last week was easily his best week of the season to this point, and he may have finally turned a corner in 2013.
Last Week's Stats
8-for-23, 3 2B, 1 3B, 1 HR, 4 RBI, 5 R
Stock
Up
2013 Stats
.281/.350/.482, 11 2B, 1 3B, 9 HR, 28 RBI, 28 R, 15 SB
Overview
After hitting .302 with seven home runs and 25 steals in a full season at High-A last year, Arismendy Alcantara moved into the Cubs top prospect picture for the first time this season.
He has hit .343/.439/.771 with four home runs and seven runs scored over the past 10 games, and while he is still a raw all-around prospect, he has made adjustments quickly at the Double-A level.
Last Week's Stats
8-for-22, 1 3B, 1 HR, 3 RBI, 4 R, 1 SB
Stock
Up
2013 Stats
.259/.344/.360, 17 2B, 1 HR, 17 RBI, 24 R
Overview
Lauded for his advanced approach at the plate, despite still being only 19 years old, Jeimer Candelario has a .380 on-base percentage over three minor league seasons to this point in his pro career.
His future in the field remains to be seen, as he could wind up at second base long-term, but for now, he will continue to hone his offensive skills and slowly work his way through the system.
Last Week's Stats
7-for-24, 1 2B, 1 RBI
Stock
Even
2013 Stats
.283/.346/.448, 11 2B, 8 HR, 37 RBI, 26 R
Overview
A second-round pick in 2011 on the strength of his incredible raw power, Dan Vogelbach hit 21 doubles and 17 home runs in 245 at-bats last season for a 1.051 OPS.
After a 10-game homerless drought, Vogelbach flashed that power once again this past week as he had three long balls in six games. Power is his ticket to the big leagues, and he'll need to continue to hit like this moving forward.
Last Week's Stats
7-for-25, 1 2B, 3 HR, 7 RBI, 5 R
Stock
Up
2013 Stats
10 GS, 3-4, 2.89 ERA, 15 BB, 60 K, 53 IP
Overview
Selected with the No. 43 pick in last year's draft, Pierce Johnson was drafted more for his polish and high floor than he was for his future ceiling. He's not going to be an ace at the big league level, but he looks like as safe a bet as any to make an impact as a middle-of-the-rotation arm.
A tough-luck loser in his last start on Wednesday, Johnson has been great since allowing five earned runs in 2.1 innings of work in his first start of the season. He is 3-3 with a 2.13 ERA and 9.8 K/9 in nine starts since.
Last Week's Stats
1 GS, 5.2 IP, 4 H, 1 ER, 1 BB, 7 K, L
Stock
Up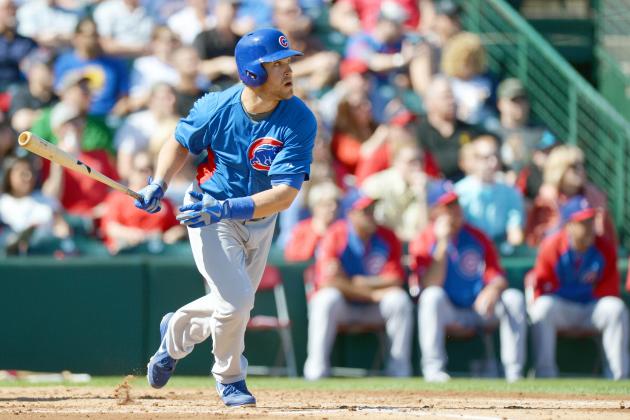 Jake Roth-USA TODAY Sports

2013 Stats
.228/.315/.372, 6 2B, 3 3B, 3 HR, 14 RBI, 17 R, 5 SB
Overview
The Cubs' top prospect entering last season, according to Baseball America, Brett Jackson has the offensive tools to be a 20/20 player at the big league level and looked to be on the fast track.
However, an inability to make consistent contact has hampered his development, and he struck out a whopping 217 times in 527 at-bats last season. He's already piled up 45 strikeouts in his first 145 at-bats this season, and he's hitting just .129/.243/.258 in his last 10 games.
Last Week's Stats
3-for-21, 1 2B, 1 HR, 2 RBI, 3 R, 6 K
Stock
Down
2013 Stats
.294/.365/.503, 11 2B, 1 3B, 8 HR, 30 RBI, 35 R
Overview
Signed to a nine-year, $30 million deal last June after defecting from Cuba, the signing of Jorge Soler could very well wind up being one of the most memorable moves of Theo Epstein's tenure with the team.
He has hit in 12 of his last 13 games and has eight RBI and 10 runs scored over his past 10, though his power has tailed off a bit after a hot start. Regardless, he has provided little reason to think he'll be anything but an impact bat at the big league level.
Last Week's Stats
7-for-26, 1 HR, 4 RBI, 6 R
Stock
Even
2013 Stats
.475/.523/.625, 6 2B, 4 RBI, 8 R
Overview
The Cubs' top pick, and the No. 6 selection overall last June, Albert Almora made his 2013 debut on May 22 after suffering a broken hamate bone this spring. He is expected to move quickly as one of the more polished high schoolers in recent memory and should bring a little bit of everything to the table as a big leaguer.
The 19-year-old got off to a scorching start to the 2013 season, going 14-for-26 with five doubles in his first week of play. A hamstring injury limited him last week, but he went 5-for-8 to close out the week.
Last Week's Stats
5-for-14, 1 2B, 2 R
Stock
Down
2013 Stats
.281/.322/.519, 15 2B, 4 3B, 9 HR, 36 RBI, 39 R
Overview
The No. 16 prospect in all of baseball entering the season, according to Baseball America, Javier Baez and Daytona teammate Jorge Soler are a big reason why the future in Chicago is looking significantly brighter these days.
The 20-year-old had a huge week last week, raising his average nearly 20 points and recording six extra-base hits. Those numbers were boosted by a monster game on Saturday when he went 5-for-6 with three doubles, a home run and six RBI.
Last Week's Stats
10-for-26, 3 2B, 3 HR, 11 RBI, 7 R
Stock
Up