2013 MLB Draft Grades: Full Day 1 Report Card and Results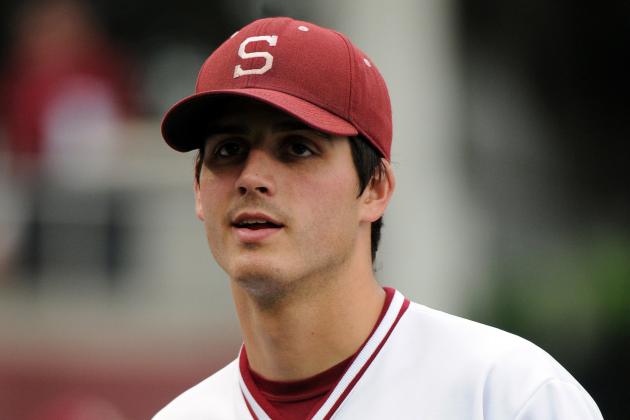 Melina Vastola-USA TODAY Sports

Whew! The first round is officially in the books.
Or, to be more specific, the first round, Compensation Round A, Competitive Balance Round A, second round and Competitive Balance Round B are in the books.
Little fanfare accompanied the top three selections—Stanford's Mark Appel to Houston, San Diego's Kris Bryant to Chicago and Oklahoma fire-baller Jonathan Gray to Colorado—although the order wasn't exactly what draft experts expected.
Pick No. 8 is where things got hairy, with the Royals going off the board to select Stephen F. Austin shortstop Hunter Dozier.
The rest of the night was a flurry of activity, with teams having to think on their feet for the duration of each of the five respective rounds.
Here are our final draft grades for each team that made a selection during the first day.
Begin Slideshow

»
Pick 1.15: Braden Shipley, RHP, Nevada
Grade: A
A former shortstop who won all-conference honors as a freshman, Shipley successfully made the conversion to pitching and emerged atop the second tier of college starters in this year's draft class.
He's an exceptional athlete without much wear on his arm. He can dial up his fastball into the mid- to high 90s and complements the pitch with a solid breaking ball. The D-Backs' pick gets bumped up into the "A" range due to the simple fact that Shipley was available at pick No. 15.
Competitive Balance Round A, Pick 36: Aaron Blair, RHP, Marshall
Grade: B-
It's only fitting that two college pitchers (Blair and Shipley) who spent the majority of the season bunched closely together on draft prospect lists would end up on the same team. Blair's stuff lost some luster as the season wore on, but he's a mid-rotation starter that works in the low 90s and flashes an above-average changeup at best and a sterling reliever at worst.
Pick 2.52: Justin Williams, OF, Terrebonne HS (La.)
Grade: B-
Williams is basically a feast-or-famine hitter. He offers more power than any high school hitter in this year's class, but holes in his swing tend to lead to big strikeout numbers. His arm is a weapon and he's athletic enough to handle an outfield spot, but most of his value lies in his bat.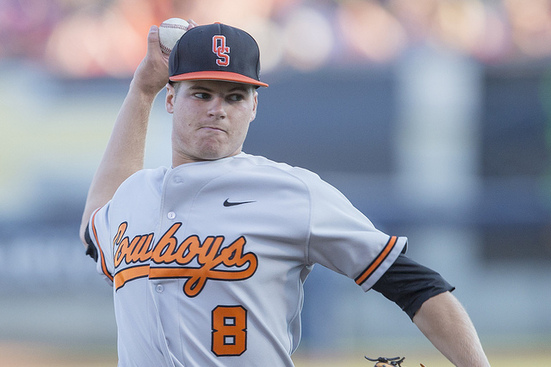 Photo courtesy of Oklahoma State University
Compensation Round A, Pick 31: Jason Hursh, RHP, Oklahoma State
Grade: B
Hursh fought back from Tommy John surgery two years ago to land a spot in the first round this year. His biggest plus is his fastball. He fires 93-96 mph bullets and complements his heater with a solid breaking ball. He's a top-notch competitor who has a ceiling as a No. 3 starter.
Pick 2.65: Victor Caratini, C, Miami Dade Community College South
Grade: C-
Caratini played alongside 2012 No. 1 overall pick Carlos Correa for the Puerto Rican Baseball Academy before taking his talents to South Beach. He's shown the ability to make consistent contact and has flashed some impressive raw power. Behind the plate, he's raw and he didn't get much playing time there this season for Miami Dade.
Pick 1.22: Hunter Harvey, RHP, Bandys HS (N.C.)
Grade: B
The O's passed over a number of seasoned college pitchers in favor of the upside and projection of Harvey, son of former major leaguer Bryan Harvey.
A true power pitcher, Hunter didn't pitch much last summer and didn't even bother committing to a college in anticipation of his professional career beginning. He has No. 2 or 3 starter potential and a good chance to surpass his father's big league accomplishments.
Competitive Balance Round A, Pick 37: Josh Hart, OF, Parkview HS (Ga.)
Grade: B-
Another incredibly toolsy outfielder from the high school ranks, Hart caught some late helium and even warranted first-round consideration heading into the draft. The first thing that jumps out is his speed, which grades as above average. He offers good raw power and hitting ability and incredible defensive ability in center field.
Hart should remind O's fans of Xavier Avery and has even drawn some Andrew McCutchen comps.
Pick 2.61: Chance Sisco, C, Santiago HS (Calif.)
Grade: C
The O's were interested in a catcher and they got their guy in Sisco, who spent the majority of his high school career at shortstop. He has the tools to stick behind the plate. In the batter's box, he has shown a smooth swing capable of making consistent contact.
Sisco still has some growing to do, but the O's are hoping he does that under their watchful eye, and not at the University of Oregon.
Pick 1.7: Trey Ball, LHP, New Castle HS (Ind.)
Grade: B+
There isn't anything wrong with selecting Ball with the seventh overall pick, although it should be noted the Red Sox didn't hit paydirt the last time they went the two-way player route (Casey Kelly). Ball has first-round potential at the plate, but he's destined for the mound in Boston. He's been favorably compared to Ross Detwiler on the mound.
Pick 2.45: Teddy Stankiewicz, RHP, Seminole State College
Grade: C-
Stankiewicz has great potential, but so far he hasn't flashed much more than a plus fastball. His curveball and changeup need a ton of work for him to be anything more than organizational filler. He chose to attend Seminole State instead of Arkansas so he could be draft eligible again after going in the second round last year. He might have benefited from another year or two in college.
Pick 1.2: Kris Bryant, 3B, San Diego
Grade: A+
There are only three sure-fire big leaguers in this year's draft (Jon Gray, Mark Appel and Bryant), so the Cubs should be glad that they got one of them. Bryant's power is tops in this year's class, and he may have the best power stroke we've seen in the last 10 years. He might have to slide back to the outfield at some point in his career, but his bat will play anywhere.
Advised by Scott Boras, Bryant should command nearly all of the $6.7 million the Cubs are allotted for the second overall pick.
Pick 2.41: Rob Zastryzny, LHP, Missouri
Grade: C-
The latest in a long line of Mizzou pitchers who have gone early in the draft, Zastryzny is what scouts like to call a crafty lefty. He rarely tops 93 mph, but his fastball has great sinking action. He has three other offerings, each of which should grade out as big league average. He's a back-end starter at best.
Pick 1.17: Tim Anderson, SS, East Central Community College
Grade: C+
The run of shortstops started, and within two picks the only two with first-round potential were gone.
A bit of an overdraft, Anderson didn't get much love coming out of high school, and he went undrafted after his first year at ECCC. Like J.P. Crawford, he's an exceptional athlete with fluid movements at the position. He should have no problem sticking at short. He fits the mold of athletic, toolsy and raw that Chicago seems to prefer.
Pick 2.55: Tyler Danish, RHP, Durant HS (Fla.)
Grade: C-
Danish has "future reliever" written all over him, from his funky delivery that screams "injury waiting to happen" to his lack of a third offering. His fastball has proven to be an excellent offering and his slider has above-average potential, but there's not much else to see here.
Pick 1.27: Phil Ervin, OF, Samford
Grade: B-
Ervin isn't flashy, but he has done nothing but produce results during his collegiate career. He has good power and hitting ability and possesses all the necessary tools to succeed as a big league outfielder.
Ervin is widely regarded as a player who has 20-homer, 20-steal potential and has been compared to Denard Span and even Ron Gant.
Competitive Balance Round A, Pick 38: Michael Lorenzen, OF, Cal State Fullerton
Grade: C
Scouts seem to be torn on Lorenzen's abilities. Some think that he's a table-setter atop the lineup with decent pop and great defense; others think he's better off sticking on the mound. He was Fullerton's shut-down closer this season.
Lorenzen will need a ton of polishing if he's going to be anything more than a fourth outfielder.
Pick 2.67: Kevin Franklin, 3B, Gahr HS (Calif.)
Grade: C
A well-built corner infielder, Franklin will be hard to sway from his commitment to Arizona State. He's got incredible raw power that he's just starting to tap into, and he projects as a slightly above-average defender at the hot corner. He is plagued by doubts about his hitting ability, however.
Pick 1.5: Clint Frazier, OF, Loganville HS (Ga.)
Grade: A
As if receiving comparisons to Mike Trout isn't enough, Frazier now has to deal with the scrutiny that comes with being a top-five pick. He's a pure gamer through and through and has tools oozing out of his you-know-what. Power, check; speed, check; superior defensive ability, check.
The Indians couldn't have done much better with their only pick of the first day than they did by selecting the 2013 Gatorade National Player of the Year.
Pick 1.3: Jonathan Gray, RHP, Oklahoma
Grade: A+
The Rockies would have preferred Kris Bryant here, but they'll happily scoop up Gray, who many expected to go No. 1 overall. He has great size, a triple-digit fastball and a devastating breaking ball and could give Colorado its first true franchise pitcher.
The Rockies' allotment for this pick is $5.6 million; Gray could easily require all of that total in order to sign.
Pick 2.42: Ryan McMahon, 3B, Mater Dei HS (Calif.)
Grade: B
McMahon is Colorado's consolation prize for having Kris Bryant snatched from their grasp. While he obviously isn't as polished, he has similar potential. Offensively, he has great potential. He's growing into his power and he's a good pure hitter. Defensively, he should be better than Bryant.
McMahon will be hard to sway away from a commitment to USC, but Colorado should have the cash to give him a run for his money.
Competitive Balance Round B, Pick 70: Alex Balog, RHP, San Francisco
Grade: B+
Picking up Balog with pick No. 70 is a miracle for Colorado. The right-hander had first-round helium a few weeks ago. The results haven't always been there for Balog, but he has great size and three potential above-average offerings, including a heavy sinking fastball. His ceiling is as a No. 3 starter.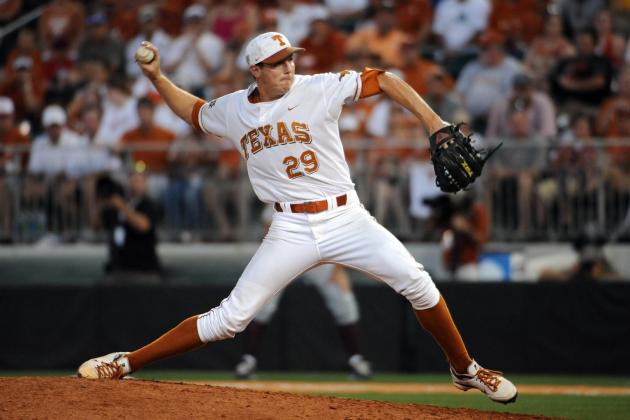 Brendan Maloney-USA TODAY Sports

Pick 1.20: Jonathan Crawford, RHP, Florida
Grade: C
A terrible, inconsistent season caused Crawford to drop from top-five consideration all the way to pick No. 20. He does have great velocity, although his fastball has rarely gone higher than 95 mph this season, and his slider should grade out as an above-average offering. Whether he can establish any kind of fastball command will be key to his development.
Competitive Balance Round A, Pick 39: Corey Knebel, RHP, Texas
Grade: B-
The Tigers have quite a penchant for going after relievers early in the draft, and that streak continues with Knebel, who is easily the Longhorns' best closer since Huston Street.
Possessing a high-90s fastball, there's a good chance Knebel pitches in the majors this season. Even if he doesn't, he should be one of the first players from this year's draft to reach the big leagues.
Pick 2.58: Kevin Ziomek, LHP, Vanderbilt
Grade: C
The Tigers made it 3-for-3 with college pitchers on day one of the draft. Ziomek doesn't offer as much upside as Crawford, but he should be a reliable back-end starter. He has low-90s heat and great secondary pitches and commands all of his pitches very well.
Pick 1.1: Mark Appel, RHP, Stanford
Grade: A+
In selecting Texas native Mark Appel, the Astros picked up the player widely regarded as the top talent in each of the past two drafts. He's experienced, has great stuff and should be a fixture atop the Astros rotation for years to come.
Unfortunately, Appel will eat up a sizable chunk of the $11.7 million Houston is allotted for their picks selected in the top 10 rounds.
Pick 2.40: Andrew Thurman, RHP, California-Irvine
Grade: C
The Astros' second pick of Day 1 isn't quite as inspired as their first, but Thurman is a quality back-end starter who will give their organization some depth. He threw a no-hitter last year and flashed that kind of unhittable stuff at times this season as well. He has good command of a four-pitch repertoire and a fastball that can reach 95 mph.
Pick 1.8: Hunter Dozier, SS, Stephen F. Austin
Grade: D
Dozier has great talent, but he doesn't offer much projection. Simply put, he's a money pick, designed to allow the Royals to spend less than the slot for pick No. 8 and use those leftover funds to sign their other picks.
Scouts appear to be torn on whether he'll be able to stick at shortstop or if he'll have to move to third base. He has a good bat, but those who wish to compare him to some of the top offensive shortstops in baseball (Troy Tulowitzki, J.J. Hardy, Jhonny Peralta) are dreaming.
The Royals' slot is $3.1 million, half of which you can expect to be spent on Dozier.
Competitive Balance Round A, Pick 34: Sean Manaea, LHP, Indiana State
Grade: B+
The only reason to take a player like Dozier with the eighth overall pick is if you're going to take a player like Manaea with your next pick. The Royals will likely be able to apply half of the $3.1 million from Dozier's slot on Manaea, who had No. 1-pick helium earlier this year.
For his part, Manaea has great size, a blazing fastball and multiple secondary offerings, each of which has at least average potential. Like Anthony Ranaudo, who endured a similar drop a few years ago, Manaea has the talent to anchor a pitching staff.
Pick 2.46: Cody Reed, LHP, Northwest Mississippi Community College
Grade: B
Reed had some first-round helium at different points throughout the season. Undrafted out of high school, Reed dominated the JUCO ranks, tossing 10 complete games in two seasons. He also has a no-hitter to his name. He features mid-90s velocity and has a strong breaking ball.
Reed has drawn comparisons to some of the game's top lefties, including David Price.
Pick 2.59: Hunter Green, LHP, Warren East HS (Ky.)
Grade: C
Another projectable lefty with low-90s stuff, the Angels are banking on Green adding more bulk to his lanky frame and with it, more velocity. He throws a solid curve and has shown an above-average changeup, but he commands neither offering consistently.
Pick 1.18: Chris Anderson, RHP, Jacksonville
Grade: C
Anderson is the next in a long line of pitchers whom the Dodgers have selected in the first round. He has great size, a good four-pitch repertoire and a decent amount of projection left. It will be nice to see what he can accomplish with a good team behind him.
Anderson should be an innings-eating workhorse who will slot in nicely behind Clayton Kershaw, Hyun-jin Ryu and Zack Greinke.
Pick 2.56: Tom Windle, LHP, Minnesota
Grade: B
Windle is an ideal pick for Los Angeles, which prides itself on developing lefty pitchers. Windle is one of just a handful of pitchers with a no-hitter to his name this year. He's shown low-90s velocity and great command of his fastball. His slider and change both project as above-average offerings, so he could be looking at a No. 3 starter ceiling.
Pick 1.6: Colin Moran, 3B, North Carolina
Grade: A
In Moran, the Marlins get one of the most complete players in this year's draft. He's a seasoned hitter who offers good power and incredible plate discipline. He's also a solid fielder with soft hands.
While he wasn't as highly regarded as former teammate Dustin Ackley coming out of college, Moran has a higher ceiling. He should fit both of Miami's requirements for this year's first-round selection: a franchise-caliber third baseman and a relatively inexpensive signee.
Competitive Balance Round A, Pick 35: Matt Krook, LHP, St. Ignatius Prep (Calif.)
Grade: B-
Krook burst onto the scene early in the 2013 season, flashing great velocity and an above-average breaking ball. He was wildly inconsistent for the remainder of the season, dropping him on everyone's draft board. When he's on, he's a top-20 talent, which means signing him will be hard for a cash-strapped Miami organization.
On talent alone, Krook's selection gets an "A," but it's hard to not envision him playing for Oregon next year.
Pick 2.44: Trevor Williams, RHP, Arizona State
Grade: C
Williams is one of the most confounding prospects in this year's draft. Based on stuff alone, he's a top-20 pick. Unfortunately, he was terribly inconsistent this season, alternating strong starts with duds. Regardless of the results, he excelled at going deep into games.
If Williams can regain his command, he could be a No. 3 starter.
Competitive Balance Round B, Pick 73: Colby Suggs, RHP, Arkansas
Grade: B-
A legitimate reliever prospect, Suggs has the stuff to close games at the big league level. He possesses a sinking fastball that can reach as high as 97 mph and a curveball that he has used to devastating effect in the SEC.
Pick 2.54: Devin Willliams, RHP, Hazelwood West HS (Mo.)
Grade: B-
An incredibly raw pitcher with tons of projectability, Williams barely tops 160 pounds on the scale. Fortunately, he does crack 90 mph on the mound, and with more meat on his bones, he could have a lot more velocity in his arm.
His secondary pitches aren't much to speak of, and as a result he'll likely need five or six years in the minors, but he's a very interesting prospect.
Competitive Balance Round B, Pick 72: Tucker Neuhaus, SS, Wharton HS (Fla.)
Grade: C+
A well-built athlete, Neuhaus will likely move over to third base as he continues to fill out. Power is his greatest tool, although right now he lacks the pure hitting ability to make that power usable. Once that develops, he could be an everyday player.
Pick 1.4: Kohl Stewart, RHP, St. Pius X HS (Texas)
Grade: A
After the big three (Appel, Gray, Bryant), there seemed to be no consensus on the top available player. The Twins, however, pounced on Stewart in a move that many had expected for weeks. In him, they get a hard-throwing right-hander who has drawn comparisons to the Cardinals' Shelby Miller.
It's hard to envision Stewart signing for much less than the slot of $4.5 million.
Pick 2.43: Ryan Eades, RHP, Louisiana State
Grade: B-
The Twins came into this draft wanting to rebuild their pitching depth, and with Stewart and now Eades, they're off to a great start. Eades has a higher floor than Stewart, likely as a No. 3 or 4 starter. He possesses a low-90s fastball and complements it with a changeup and curveball, although neither has the consistency to be an above-average big league offering yet.
Pick 1.11: Dominic Smith, 1B, Serra HS (Calif.)
Grade: A
Smith is the most seasoned of all the high school hitters, and he offers superior defensive value to boot. His ability to hit for power and average has drawn comparisons to Astros prospect Jonathan Singleton, although Smith has a ceiling as a Paul Konerko type.
Smith's defensive ability is what puts him over the top, as he is arguably the most polished first baseman to emerge from the high school ranks in at least a decade.
Pick 2.48: Andrew Church, RHP, Basic HS (Nev.)
Grade: C-
Church has potential, but he hasn't had much opportunity to showcase his stuff, missing chunks of time for various reasons during his high school career. When he has made it to the mound, he's flashed a low-90s fastball and great feel for a curve and changeup.
He has mid-rotation stuff, but he's also committed to San Diego, where I'd put money on him going.
Pick 1.26: Eric Jagielo, 3B, Notre Dame
Grade: B
One of the top hitters on the Cape Cod League circuit last summer, Jagielo put up fantastic numbers for Notre Dame this year. He's an on-base machine who should hit for a ton of power, especially at Yankee Stadium.
Jagielo will have to work hard to stay at third, but if he can, he's the long-term replacement for A-Rod. He was an excellent first selection for New York, which had two of the next seven picks.
Compensation Round A, Pick 32: Aaron Judge, OF, Fresno State
Grade: B-
Judge is a massive guy with massive tools. No doubt he has 30-homer potential, although holes in his swing might lead to big strikeout numbers as well. In terms of pure hitting ability, he's relatively raw, but he has the potential to be a .260-.270 hitter.
Judge runs well for a guy who is 6'7'' and 255 pounds, and he has a cannon that would be a definite weapon in a corner spot.
Compensation Round A, Pick 33: Ian Clarkin, LHP, Madison HS (Calif.)
Grade: B+
The Yankees have to be thrilled to get Clarkin, who was widely expected to go in the 15-25 range. He has great velocity and an above-average curveball, but his fastball command is holding him back from reaching his ceiling.
Comparisons to Clayton Kershaw are way too generous, but Clarkin does have No. 2 or 3 starter potential.
Pick 2.66: Gosuke Katoh, 2B, Rancho Bernardo HS (Calif.)
Grade: C
From three well-known, highly regarded players to a guy named Gosuke. The Yankees have scouted the hell out of Katoh and have clearly seen something. Maybe it's his ability to make contact on a consistent basis, or maybe it's his above-average speed.
Pick 1.24: Billy McKinney, OF, Plano West HS (Texas)
Grade: B-
For the second year in a row, the A's went after a toolsy, high-upside high school hitter. McKinney doesn't have the ceiling of Addison Russell, but he's a solid, all-around talent who has a smooth swing and good power potential. If the A's drafted him, that says a lot about what they think of his ability to get on base.
Pick 2.63: Dillon Overton, LHP, Oklahoma
Grade: B-
The Robin to Jonathan Gray's Batman, Overton began the season as the Sooners' staff ace. He was quickly replaced, despite putting on just as impressive a performance as the team's Saturday starter. He's not a big-velocity guy, but he commands his fastball well. His curveball has above-average potential, and he's flashed a solid changeup.
If there's a place to make the most of his back-end starter potential, it's Oakland.
Competitive Balance Round B, Pick 71: Chad Pinder, SS/3B, Virginia Tech
Grade: B-
Another player who fits the Oakland mold, Pinder has shown great ability at the plate this season. He is an on-base machine who offers great hitting ability and power. He's not going to win any Gold Gloves for his play at shortstop, but he could be an agile defender at third base.
Pick 1.16: J.P. Crawford, SS, Lakewood HS (Calif.)
Grade: B+
Crawford is easily the best all-around shortstop in this year's weak class. Has the potential to be a top-of-the-order presence with the ability to eventually replace Jimmy Rollins at short. There have been some questions about his bat, but you can't argue with the pick here.
Pick 2.53: Andrew Knapp, C, California
Grade: C
Knapp emerged as the top college catcher in this year's class with a strong performance that showcased both his offensive and defensive ability. He hasn't shown everyday catcher tools, but he could be a starter for a second-division team. He certainly isn't going to be the long-term answer in Philly.
Pick 1.9: Austin Meadows, OF, Grayson HS (Ga.)
Grade: A-
The Pirates scooped up Meadows with the pick they recouped from not signing Mark Appel last year. Once rumored to be in the running to go No. 1 overall, Meadows has shown incredible tools, including above-average power and defensive ability.
Meadows has great size and sensational athleticism and will likely require all of the Pirates' $3 million slot.
Pick 1.14: Reese McGuire, C, Kentwood HS (Wash.)
Grade: A-
The highest-drafted high school catcher since 2008, McGuire has all the tools to succeed behind the plate, including a strong arm, good footwork and a quick release. At the plate, he has above-average potential as well. This pick signals the end of the Tony Sanchez era, which never really got started in Pittsburgh.
Somehow, the Pirates must figure out how to split their bonus pool of $8.9 million between Meadows, McGuire and nine other players.
Pick 2.51: Blake Taylor, LHP, Dana Hills HS (Calif.)
Grade: B-
Taylor's name shot up draft boards as the event drew closer, and for good reason. He's a projectable lefty with low-90s velocity and good feel for his curveball. He doesn't offer much in terms of a changeup, but if he can develop even an average change, he should be a solid back-end starter.
Pick 1.13: Hunter Renfroe, OF, Mississippi State
Grade: B
Despite putting up rather pedestrian numbers during his first two seasons for the Rebels, Renfroe has always shown tools worthy of a first-round selection. He started to produce this year, and with that came a shot of draft helium. He has power potential and great fielding ability.
Pick 2.50: Dustin Peterson, SS, Gilbert HS (Ariz.)
Grade: B
The younger brother of first-round pick D.J., Peterson also has great hitting ability and the chance for above-average power. Unlike his brother, he has solid defensive value, although he'll likely be forced to move to third base from shortstop. The younger Peterson is committed to Arizona State.
Competitive Balance Round B, Pick 69: Jordan Paroubeck, OF, Serra HS (Calif.)
Grade: C
A toolsy outfielder from the same squad as first-round selection Dominic Smith, Paroubeck should get plenty of love as well. He has a nice smooth swing from both sides of the plate and generates great power from both sides as well. He has great range in the outfield.
Paroubeck is committed to Fresno State.
Pick 1.25: Christian Arroyo, SS, Hernando HS (Fla.)
Grade: D
The early run on shortstops leads us to the true surprise of the first round. Arroyo was not regarded as a first-, second- or third-round selection. He's committed to Florida, but considering he was likely expecting to be selected three rounds from now, he'll likely sign with San Fran.
The legacy of high school shortstops from Florida is well documented, but Arroyo will have the deck stacked against him from Day 1. He's a good athlete who should be able to stick at shortstop. His hitting ability is nothing special, although he has shown good raw power.
Credit the Giants for sticking to their guns, but this is definitely an overdraft.
Pick 2.64: Ryder Jones, 3B, Watauga HS (N.C.)
Grade: C
Another player who went higher than he was projected, Jones is the son of the Appalachian State baseball coach. From what I've seen, that usually means the player is headed to college—in Jones' case, that's Stanford.
He's an athletic two-way star who has flashed low-90s heat on the mound. His power potential at the plate, as well as his smooth actions in the field, should ticket him for third base.
Pick 1.12: D.J. Peterson, 3B, New Mexico
Grade: B
There's no denying Peterson's ability at the plate. He's hit well over .400 the past two seasons and has shown incredible power. He'll slot nicely into the middle of the Mariners' lineup, although it's too soon to tell whether he'll man third or first base.
Peterson will have to work extra hard to stick at the hot corner, but his bat is nearly big league ready. He's drawn comparisons to Michael Cuddyer.
Pick 2.49: Austin Wilson, OF, Stanford
Grade: A
Another incredibly polarizing player, Wilson has immense talent, but he has yet to show his full potential on the field. His power is on par with Kris Bryant's, but he has holes in his swing that have led to some huge strikeout numbers. His arm strength is a big league weapon, and he's an incredible athlete for such a big guy.
If Wilson can put it all together, he could be a Giancarlo Stanton-type talent. The Mariners get extra credit for managing to score Wilson so late in the draft.
Pick 1.19: Marco Gonzales, LHP, Gonzaga
Grade: B
Gonzales is about as safe a pick as any, especially this late in the first round. Not for the Cardinals, however, who haven't drafted a lefty pitcher in nearly 20 years.
He's an incredible athlete that led the Zags in both hitting and pitching. He's not too flashy, but his baseball I.Q. is off the charts. His fastball rarely jumps above 94 mph, but he commands it and his other pitches so well that he might reach his ceiling as a No. 3.
Compensation Round A, Pick 28: Rob Kaminsky, LHP, St. Joseph's Regional HS (N.J.)
Grade: B-
The Cards have done their best to purge their distaste for lefties in the first round, selecting yet another with this pick. Kaminsky doesn't have elite velocity (90-93 mph), but he's looked good everywhere he's pitched, especially on the showcase circuit last summer. His curveball is one of the best in this year's draft, regardless of class.
Pick 2.57: Oscar Mercado, SS, Gaither HS (Fla.)
Grade: C+
The Cardinals have shown a gift for developing infielders, and Mercado should give them plenty to work with. Defensively, he's a stud, possessing all the tools necessary to be a standout defender at the big league level. His bat, however, is far behind his glove, although he has shown good raw power.
Pick 1.21: Nick Ciuffo, C, Lexington HS (S.C.)
Grade: B+
Ciuffo is the perfect balance of need and the best player available. If he can fulfill his potential he should give the Rays the first franchise backstop in team history. He's brimming with ability (behind the plate and at it) and confidence. He's the top catcher drafted out of South Carolina since Matt Wieters.
Compensation Round A, Pick 29: Ryne Stanek, RHP, Arkansas
Grade: B+
Once again, the Rays pick up a player with top-10 potential near the bottom of the first round. This time around that player is Stanek, who flashed electric stuff the past two years but has had a real issue with inconsistency. If Tampa can straighten him out and get him to be more consistent, he has No. 2 starter potential.
Pick 2.60: Riley Unroe, SS, Desert Ridge HS (Ariz.)
Grade: B
The Rays rounded out their Day 1 performance with a risky pick. Unroe has incredible talent at the plate and in the field. He switch-hits and shows good pop from both sides of the plate. Toss in above-average speed and he's a prototypical Rays draft choice.
Unfortunately, Unroe has a strong commitment to USC and could require a seven-digit bonus to sway him.
Pick 1.23: Alex Gonzalez, RHP, Oral Roberts
Grade: B-
Arguably the top college pitcher on the board at pick No. 23, Gonzalez has flashed mid-rotation stuff for Oral Roberts. He has a solid low-90s fastball and two potential above-average secondary pitches. He throws strikes and has shown the ability to pitch deep into games.
Gonzalez has drawn comparisons to Matt Cain, although that seems awful lofty.
Compensation Round A, Pick 30: Travis Demeritte, 3B, Winder-Barrow HS (Ga.)
Grade: C
An incredibly raw but extremely toolsy prospect, Demeritte fits the profile for players the Rangers have drafted the past few years. He's athletic enough to play shortstop, but as he continues to grow into his body and his power, he might need to move to third base or an outfield corner.
A commitment to South Carolina will make it tough to sway him.
Pick 2.62: Akeem Bostick, RHP, West Florence HS (S.C.)
Grade: C-
One of the most impressive athletes in this year's draft, Bostick comes from great stock. At 6'5'' and 185 pounds, he has plenty of growing left and therefore much more projection. He already throws in the low 90s and has shown good feel for a changeup.
Bostick is a work in progress, but the end result could be worth a second-round pick.
Pick 1.10: Phil Bickford, RHP, Oaks Christian HS (Calif.)
Grade: A
The epitome of a late riser, Bickford shot up draft boards in the final month. He put an exclamation mark on his season with an 18-strikeout performance in his final start. His 96 mph fastball no doubt excites the Blue Jays, who have been more willing to take a chance on high school talent than any other organization in baseball the past few years.
Pick 2.47: Clinton Hollon, RHP, Woodford County HS (Kent.)
Grade: C
A pitcher with a small frame, Hollon has some serious velocity. He's been clocked in the mid-90s and has at times flashed an above-average breaking ball. He throws a changeup too, but both that and his curve need some work.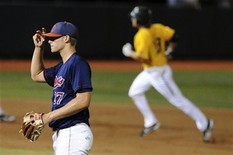 Courtesy of the Associated Press
Pick 2.68: Jake Johansen, RHP, Dallas Baptist
Grade: C
An impressive specimen checking in at 6'6'' and 235 pounds, Johansen has yet to pitch to his full potential. He's shown flashes for DBU, but he's been mostly inconsistent. When he's on, he flashes a solid four-pitch mix, anchored by a low-90s fastball and a curveball that has shown above-average potential. He seems best suited for a bullpen role.