Zenit St. Petersburg's Difficult Path to Russia's Cup
May 1, 2009
SAINT PETERSBURG—Zenit St. Petersburg jumped back into second place in the Russian Premier League after a 4-2 domination of cellar-dwellers Khimki.
But it sure won't be an easy task to stay there, as they prepare to run the gauntlet through Russia's finest.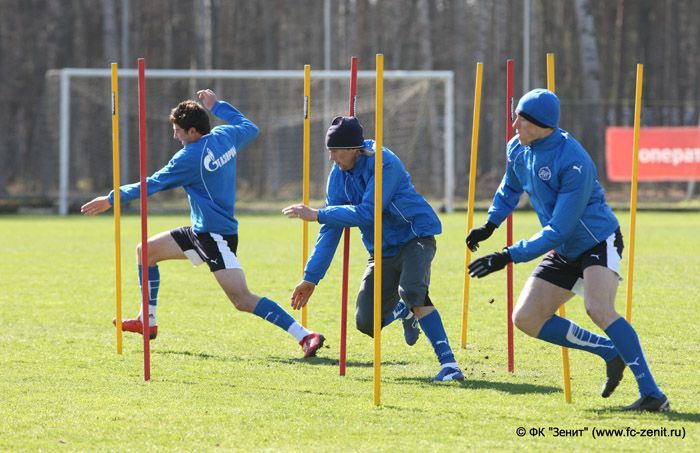 Captain Anatoly Tymoschuk, who was used as a substitute, was pleasantly shocked by the effort and play of Khimki, who played with 10 men from the 15th minute on, after midfielder Oleg Kozhanov was ejected.
"I think we should have played with a cool head after 2-0. But due to a conceded goal in the end of the first half, the game got nervous and challenging. Khimki showed good play with 10 men, on this field they tried to play with long balls, and they were not at all too bad at that. They scored twice." -Anatoly Tymoschuk
Zenit took a 3-1 lead a mere two minutes after Tymoschuk came on in favor of defenseman Ivica Krizanac. A motivated Khimki squad would score again before the end of the match, but the one-goal lead would not stand for long.
Pavel Pogrebnyak bagged the match for good with a goal in the 87th minute after a perfect assist by veteran midfielder Konstantin Zyryanov. After the match, Pogrebnyak had some very kind things to say about his fellow teammate.
"I would like to thank Konstantin for the marvelous pass, he was the one who made most of this goal. I shot, hoping for luck, and luck was with me this time." -Pavel Pogrebnyak.  
Victory is sweet indeed. But the road gets much more challenging for the powder blues. They travel to eighth-place Rostov on Sunday, then come back home to take on 1st-place Krylia Sovetov.
They will then get a tour of Moscow, taking on struggling Dynamo and high-octane CSKA to add to the enjoyment.
Coach Dick Advocaat knows that the team must improve after a slightly bothersome series of events. After ties with Perm and Lokomotiv, many people would not have expected a 4-2 result against a 10-man Khimki squad. This is especially true, given all the scoring opportunities handed to Zenit, namely Danny.
"Danny, as example, should have scored three goals in 10 minutes. Our game wasn't easy, but I am happy with a win. I am happy with the result, but it wasn't our best game." -Dick Advocaat.
Turkish delight Fatih Tekke scored his third goal of the season in four games, and is tied for the Russian League lead. Mainly used as a substitute previously, he got his first start of the season against Khimki in place of Pogrebnyak.
Pogrebnyak should back in his normal starting role against Rostov, however, as well as Tymoschuk. It is possible that both Tekke and Pogrebnyak start though.
FK Rostov has been going with starting formations including three or four strikers more often. In their 1-2 victory over CSKA Moscow, they got goals from two of the four, Igor Lebedenko and Yong-Jo Hong. Both will start against Zenit.
But that also leaves a back end very vulnerable to Zenit's offense-from-defense midfield.
In what figures to be a high-scoring affair, Zenit can also score, as they are tied with CSKA for the RPL lead in goals.
Kickoff from Olympic Stadium in Rostov will be 12:15 PM GMT.