1 Play That Defines Each NHL Conference Finalist's Greatest Strength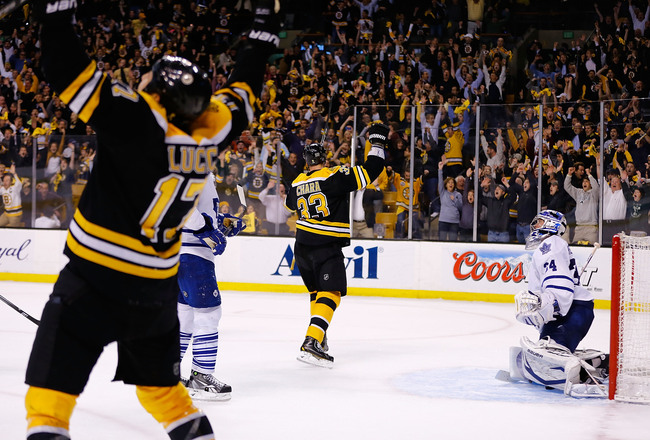 Jared Wickerham/Getty Images
The Stanley Cup Final Four is underway, presenting the opportunity for two teams to break through into the title bout with big performances. The last squads left standing have each enjoyed thrilling journeys en route to conference championship clashes.
The ebbs and flows of a postseason odyssey are impossible to predict, providing an array of amazing moments and memorable developments. Boston, Chicago, Los Angeles and Pittsburgh have each won an NHL title since 2009, so this playoff stretch has set the stage for many familiar playoff performers to step up yet again.
It took eight victories for all four teams to reach this point. Here's a look at plays that ultimately helped propel each squad to league semifinal action.
Boston Bruins: Bergeron Brings Team All the Way Back vs. Toronto
Considering the challenge Boston faced in Game 7 of its first-round series against Toronto, this team is the most unlikely member of the NHL's Final Four. The Bruins trailed 4-1 with slightly more than 10 minutes remaining in the third period, seemingly destined for a disheartening defeat on home ice.
Boston opened the series with a commanding 3-1 advantage but failed to pick up a victory in consecutive potential close-out games. The Bruins, just three years removed from surrendering a 3-0 series lead against Philadelphia, were in bad shape during the late stages of an ensuing do-or-die matchup.
As portions of the Boston crowd slumped toward the exits, the team mounted a miraculous comeback.
Nathan Horton pulled the Bruins withing two goals near the midway point of the final frame of regulation, and Milan Lucic cut the Maple Leafs' lead to 4-3 as the game clock approached one minute.
That opened the door for a season-saving goal by Patrice Bergeron, who fired a laser past Toronto goalie James Reimer. Zdeno Chara provided an excellent screen in front of the net, and the puck reached its destination with just 51 seconds remaining in regulation.
Bergeron went on to tally the series-clinching score in overtime. Boston clearly entered the extra session with momentum following the late-game rally and improved to 10-4 under coach Claude Julien when facing elimination.
Chicago Blackhawks: Toews Steps Up at the Right Time
Blackhawks captain Jonathan Toews endured a frustrating scoring drought to begin his latest postseason run. The star center managed just three total points—all assists—through nine games before breaking out with his first score in a pivotal Game 5 showdown against Detroit in the Western Conference semifinals.
Chicago entered the contest trailing 3-1 in the series, fresh off three straight defeats. Toews didn't tally a point while picking up three penalties in the trio of losses.
The Blackhawks led Detroit 2-1 late in the second period against the Red Wings when Toews scored a power-play goal and provided his team with a two-goal advantage. Chicago went on to win, 4-1, and ultimately rallied to upend the Red Wings in seven games.
Toews is unquestionably the team catalyst, and that long-awaited goal seemed to get him back in the flow during a pivotal moment of playoff action. He followed with a two-assist effort in a 4-3 Game 6 victory.
Los Angeles Kings: Quick Closes Door on San Jose in Game 7 of Western Semis
Jonathan Quick is a different netminder in the postseason. The Kings goaltender has taken his game to another level yet again during the 2013 Stanley Cup playoffs,
The 27-year-old now owns seven career postseason shutouts after blanking San Jose twice in the Western Conference semifinals. He made several highlight-reel saves against the Sharks while competing opposite of Vezina Trophy finalist Antti Niemi.
Quick capped off another impressive playoff series by standing tall in the closing minutes of Game 7.
He made 25 saves in the contest and preserved a 2-1 lead when he dove to the left to make an instinctual snag on Joe Pavelski's short-range shot attempt.
San Jose players appeared visibly stunned after the jaw-dropping stop. The 2012 Conn Smythe Trophy winner never allowed the Sharks to even things up as Los Angeles advanced to the conference finals for a second consecutive season.
Quick's sprawling snatch stopped San Jose's best scoring chance during the final moments of Game 7, as the Kings improved to 22-0 when scoring at least two goals during the past two postseasons.
That statistic is another tip of the cap to what the goalie has been able to accomplish in net on the game's biggest stage.
Pittsburgh Penguins: Crosby Returns to Ice in Top Form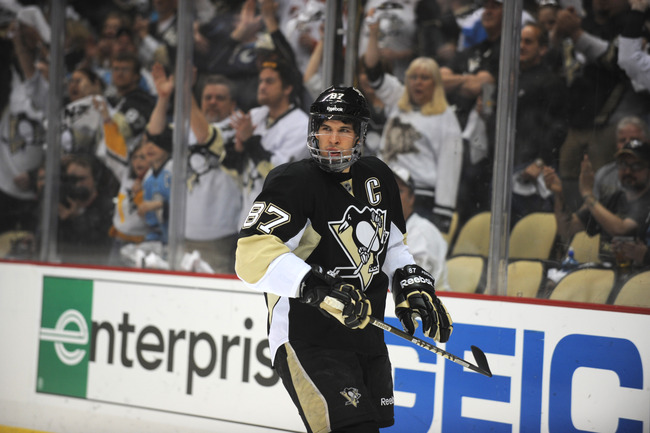 Vincent Pugliese/Getty Images
Pittsburgh surged into the postseason playing as well as any team in the NHL. The Penguins earned the Eastern Conference's top seed despite playing without superstar franchise cornerstone Sidney Crosby.
The prodigious center missed the final 12 games of the regular season with a fractured jaw, unnerving Pittsburgh fans who have watched him deal with a multitude of serious head injuries. Crosby was unable to suit up for the opening game of a first-round collision against the New York Islanders.
He returned to action in Game 2. Although it was a contest the Penguins ultimately lost, Crosby came back resilient and added a lethal dimension to an already-potent Pittsburgh attack.
Sid the Kid connected on a power-play score just 3:19 into the game, giving NHL fans an early glimpse of the game's biggest star in his return from an ugly injury. Playing with protective head gear, Crosby confirmed that he was indeed ready to contribute in a major role as his squad seeks a second Stanley Cup since 2009.
He added another goal four minutes later and now has 15 points through 11 playoff games.
Keep Reading