The Chicago Blackhawks offense erupted in their 4-2 win against the Los Angeles Kings as they took a 2-0 series lead in a dominant performance in front of their home crowd.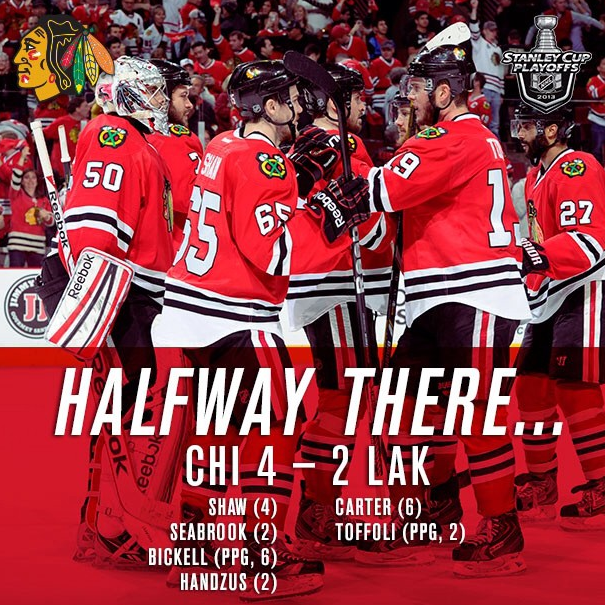 It was an impressive performance for the Blackhawks. The defending champion Kings had not allowed four or more goals in a postseason game since 2011.
USA Today colorfully tweeted the result:
The Blackhawks storm the Kings early for a 4-2 win and 2-0 series lead. pic.twitter.com/n5r85ZMDAx

— USA TODAY Sports (@USATODAYsports) June 3, 2013
While the Blackhawks deserve a lion's share of the credit, Kings goalie Jonathan Quick was not at his usual postseason best.
After allowing four goals, Quick was pulled from a postseason affair for just the second time in his career. While the Blackhawks were effective, the first two goals were ones that Quick would normally stop. It looked like the reigning Conn Smythe Trophy winner, who likes to rely on his legs, was fatigued from Saturday's Game 1. He finished Game 2 with a save percentage of just .765.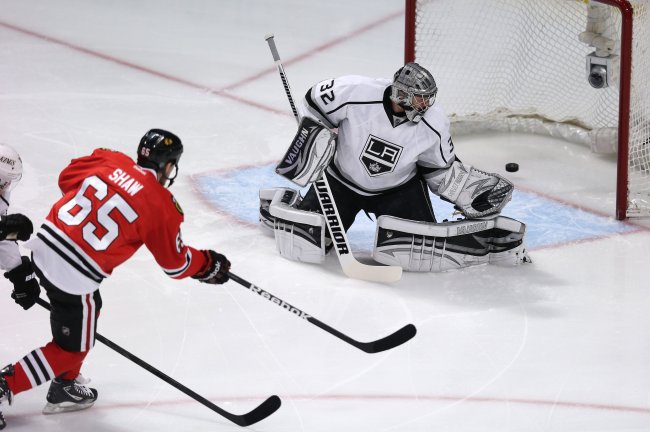 Jonathan Daniel/Getty Images
The Blackhawks took the series opener 2-1. Chicago earned both of its goals in the second period of that contest, but tested Quick all game.
Combine that with the strong goalkeeping of Corey Crawford and amazing power-play defense, and it was enough to hand them the victory on Saturday. Crawford had another fine performance on Sunday, as he is clearly outshining Quick in this series. He had a .935 save percentage in Game 2.
What goalie would you rather have for the postseason?
It didn't take Chicago long to jump out to an advantage in this one. Less than two minutes into the contest, the Blackhawks were on the board.
Brandon Saad made a nifty play to keep possession for the Blackhawks and help set up winger Viktor Stalberg to send a backhanded pass to Andrew Shaw. The low shot beat Quick for the 1-0 lead.
The Blackhawks happily tweeted the results of this play:
SHAWZAM! GREAT play by Saad to keep possession, Shaw finds the back of the net! 1-0 #Blackhawks, not 2 minutes into this one! #CHIvsLAK

— Chicago Blackhawks (@NHLBlackhawks) June 3, 2013
As the Edmonton Sun's Derek Van Diest tweeted, that play was just part of a strong start for Saad, as he narrowly missed adding a goal himself a little bit later in the action:
Brandon Saad turns Drew Doughty inside-out and gets a good shot off on Quick. Don't see that happen too often to Doughty. #Kings #Blackhawks

— Derek Van Diest (@SUNdvandiest) June 3, 2013
What has made Chicago's offense in the opening two games of this series so impressive, is the diversity of attacks and team play. ESPN highlights that with this stat:
The Blackhawks have had 6 different players score in the conference finals, none of them named Jonathan Toews or Patrick Kane

— ESPN Stats & Info (@ESPNStatsInfo) June 3, 2013
The Kings didn't let the goal deflate their sails. They remained aggressive and took more shots than the Blackhawks in the first, but it was all for naught. In fact, their deficit grew.
As the first period was nearing an end, Chicago right wing Marian Hossa sent a nice pass to defenseman Brent Seabrook. Seabrook launched a low shot to the right of Quick, and the Kings goalie was unable to stop it.
The Blackhawks took a 2-0 advantage into the second, but they were not content with that. In the seventh minute of the second period, Patrick Sharp had a shot denied, but teammate Bryan Bickell was there to collect it.
Bickell got off a backhanded shot as Kings defensemen Robyn Regehr and Drew Doughty converged to defend, but served only to make Quick's job harder, as no one was able to stop the shot. The Blackhawks took a 3-0 lead.
A little over two minutes later, they were back at it.
Center Michal Handzus hit a solid wrist shot to beat the weary Quick and give the Chicago a 4-0 lead.
At this point, Kings coach Darryl Sutter replaced Quick with Jonathan Bernier, and Twitter noticed. A quick scan (pun intended?) of tweets revealed a host of jokes almost as terrible, and unsurprisingly similar, to the one I just attempted. Like the one offered up by this fan:
I guess you can say they were quick to pull Jonathan Quick... ? #iDidItAgain

— Imperial Intern (@Imperial_Intern) June 3, 2013
This is when the weary Kings fans were offered at least a glimmer of hope. With just over a minute left in the period, forward Jeff Carter finally got his team on the board, but Los Angeles still entered the final period trailing by three.
The third period passed without anymore action on the scoreboard until there was just one minute left in the game. Tyler Toffoli netted a goal that had little to no impact in the game itself, but is a nice bit of confidence for the Kings, especially considering it came on the power play. It was the first power-play goal the Kings have mustered against Chicago this postseason.
Also, things got a little testy on the ice at times. The Kings may be on the ropes, but they certainly proved they aren't going to lay down.
They were physical and feisty to the final whistle. Now we'll see if they can turn that into some better results as they return to Los Angeles.