A Complete Guide for NFL Quarterbacks to Avoid a Sophomore Slump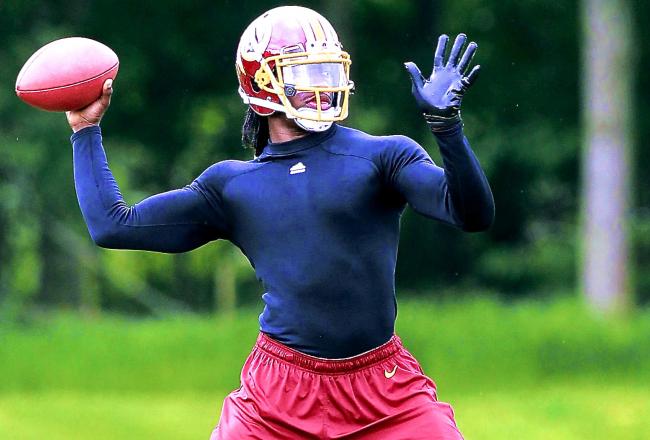 There was a time when rookie quarterbacks were rarely expected to take the field. It was customary to have young passers, even those taken at the top of the draft, sit behind a veteran to ease their transition to the next level, just as the Bengals and Giants did with Carson Palmer and Eli Manning.
Those days are over.
Now, there is more pressure than ever for young quarterbacks to start and deliver results in their first season. Not only are these quarterbacks able to win starting jobs as rookies, they are producing as if they were in the NFL for five years already.
USA TODAY Sports
In 2012, Andrew Luck, Russell Wilson and Robert Griffin III shifted the balance of power in the NFL with their spectacular play, taking their respective teams into the postseason.
Now comes the hard part.
As rookie passers become more successful, there are newfound expectations that are nearly impossible to meet as they enter their next season.
Now, they no longer have the "rookie" label to fall back on when they do make mistakes. We often forget just how young these quarterbacks are when they play so well so early in their careers, so when they do play like their experience would indicate, they suddenly enter "slumps."
How exactly can these promising signal-callers avoid the dreaded "sophomore slump?"
Stay Healthy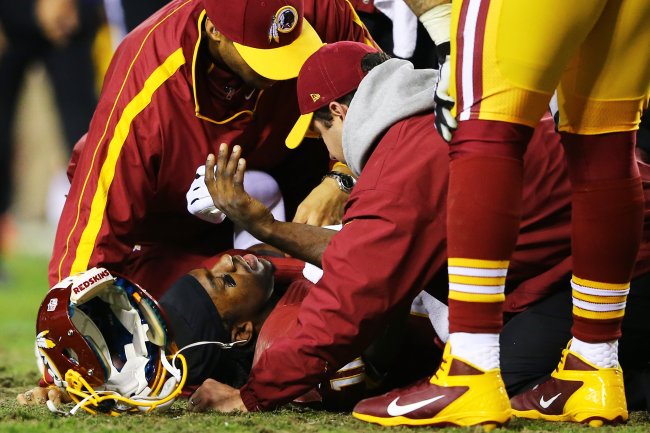 Al Bello/Getty Images
While this is rather obvious and applies for every single one of the thousands of players in the NFL, but maintaining good health can be particularly tricky for players making the transition out of the rookie realm.
When the final buzzer sounds in the final game of the season, these now-former rookies have endured (for most) what would be the most grueling 30 or so months of their athletic lives.
In the fall of 2011, Andrew Luck was preparing for the upcoming season at Stanford while maintaining his 3.48 GPA as a mechanical engineering major.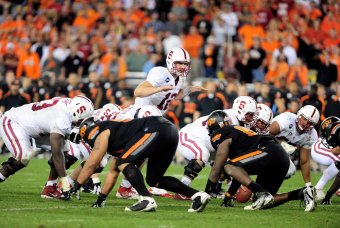 Jennifer Stewart-USA TODAY Sports
After enduring a grueling college football season that ended in early January in the Fiesta Bowl, Luck then had to endure intense physical training to prepare for the combine and Stanford's pro day. Shortly after the draft, Luck was headed to minicamp to start the offseason program.
With the exception of less than two months of downtime between minicamp and training camp, Andrew Luck would not put down a football until January 6th, 2013—369 days after losing to Oklahoma State in the Fiesta Bowl.
By then, Luck (and every other sophomore player) was worn down to a knob—leaving their bodies vulnerable to further injury. Veteran NFL players have several months following the season to repair their bodies—unlike hopeful rookies, who have to ramp up their training program after the season is over.
Andrew Luck is "lucky" in terms of his build and how he is able to absorb hits. At 6'4" and 230 pounds, Luck has the ideal build of an NFL quarterback that can take such a beating.
On the other hand, the wiry RGIII, who is hoping to be ready for the start of the upcoming season as he recovers from an ACL injury, has a much more difficult battle to fight.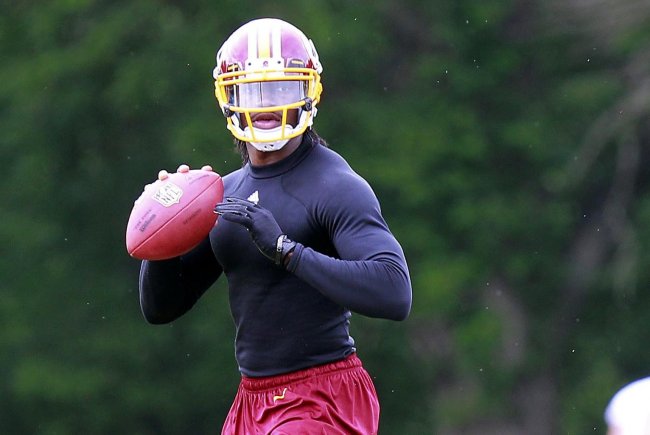 Geoff Burke-USA TODAY Sports
As exciting as it is to watch Griffin make big plays with his feet, there are obvious risks that come along with carrying the football, especially for quarterbacks. Defenders put a little more sauce on their hits on quarterbacks, as they often try to knock them out of the game.
There has been much debate in Washington as to how much more running RGIII will be doing going forward—enough to get Griffin's father, Robert Griffin Jr., to call for more passing in the future.
After all, the debate as to how much Robert should be running becomes moot if he can't stay on the field in the first place.
Develop Pro Passing Skills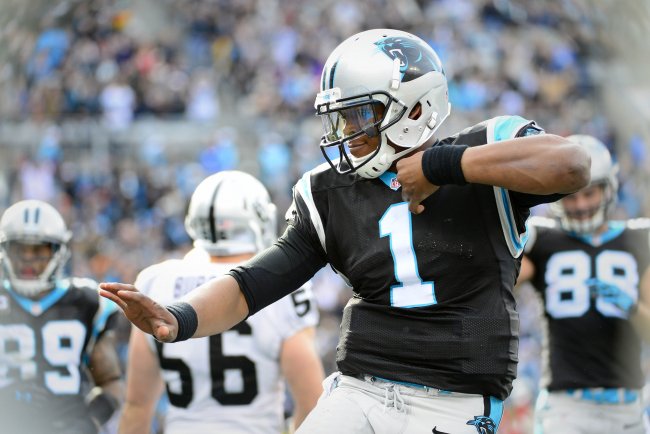 USA TODAY Sports
Cam Newton had a slow start to his sophomore campaign, and the Panthers stumbled to a 1-5 record that cost longtime general manager Marty Hurney his job.
At the time, the Panthers were using a lot of read-option concepts with little success. Despite carrying the burden of the highest-paid backfield in football, the Panthers had just the 24th-ranked rushing attack in the league with these college concepts.
Also watched Cam Newton: Problems are mechanical. Reason: Read option.

— Pete Prisco (@PriscoCBS) October 24, 2012
New general manager David Gettleman publicly expressed his concern about using too much of the read-option, calling it just an "option" and that "at the end of the day your quarterback has to make plays from the pocket. And if he can't, you're going to struggle."
Gettleman is dead-on—the option and other college schemes can have success at times. Still, at the end of the day, making throws from the pocket is the best way for sustained success on the offensive side of the ball.
Since the front office shakeup, Cam Newton is back on the right path of development. He finished the season with 3,869 yards and a 58-percent completion percentage, and the Panthers won six of their last 10 games to save Ron Rivera's job.
More importantly, Newton gained invaluable experience in the pocket that cannot be replicated with a red non-contact jersey on.
Not only does using the read-option and other gimmicky offenses leave a quarterback vulnerable to injury, but it takes away emphasis from the essentials of playing the position. Everything from mechanics to making proper reads is put on the back burner in favor of short-term solutions.
Using the read-option can be an effective additional element for an offense if it is executed properly, as evidenced by Colin Kaepernick's success with the 49ers last season.
However, as is the case with every offensive innovation, defensive coordinators just need a few months in a dark film room to solve the puzzle and revert the NFL to being a league tailored for pocket-passers.
#Packers defensive coordinator Dom Capers talked about an emphasis on defending pistol/read option today. Quote: http://t.co/QPEF5eeUbH

— Jason Wilde (@jasonjwilde) May 28, 2013
As effective as they were making plays with their feet last season, Russell Wilson and Colin Kaepernick will have to eventually be comfortable dropping back over 30 times per game and delivering the ball without having to dodge linebackers to do it.
Tame Expectations
The final and most important ingredient to avoiding a sophomore slump is to have the proper mindset, both in terms of preparation and during the season.
Luck, Wilson and Griffin have already reached heights it takes most veterans years to accomplish by making the playoffs.
However, this historic success comes with great expectations that are never going to lessen. Fans of once-losing teams are excited about the possibility of their team becoming a perennial winner, now that they are armed with stud young quarterbacks. A flurry of free-agent spending from the Colts and Seahawks has only added to the pressure of winning now.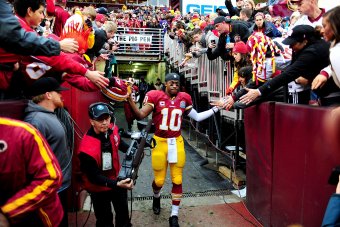 Evan Habeeb-USA TODAY Sports
As exciting of a time as this is for these respective teams, it is easy to lose sight of the fact that these young quarterbacks are still a bunch of kids in their early 20s that are prone to making mistakes. Now, these players have a year's worth of tape for defensive coordinators to dissect.
At some point, these rookies are going to show signs of weakness, and they must have the correct mindset to deal with the inevitable drama.
Generally, second-year players should approach this upcoming season in the same way they did as rookies: unassuming, humble, willing to learn and not too aggressive when taking on leadership roles.
Simply doing more of the same sounds easy on paper, but when you have been showered with praise months on end, maintaining levelheadedness becomes entirely more difficult.
Still, by most accounts, the three are all classy characters with a tireless work ethic—you would have a hard time finding a group of young players better suited mentally to survive in the NFL.
49ers QB Scott Tolzien on Kaepernick: "You should see him in the weight room. He's an animal. In a couple years he's gonna look like Tebow."

— Ben Volin (@BenVolin) February 2, 2013
The future is bright for these second-year starters. With the right approach, some good coaching and a little bit of luck in the health department, there is no reason to think that they will enjoy anything less than long, prosperous careers.
This article is
What is the duplicate article?
Why is this article offensive?
Where is this article plagiarized from?
Why is this article poorly edited?