2013 French Open: Marathon Men of Week 1 at Roland Garros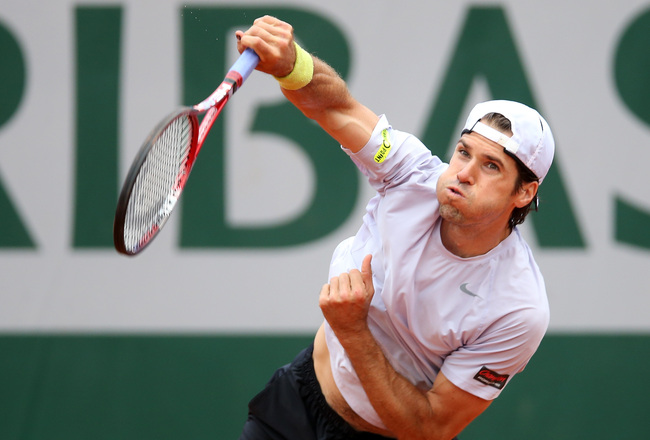 Matthew Stockman/Getty Images
The opening week of the 2013 French Open has been nothing short of spectacular.
Matches have been physical, play has been impressive and some athletes have come out of nowhere to amaze us.
Clearly, the winner of the entire event will be more recognized for his efforts than a lesser-ranked player enduring a solid, deep run.
Still, the major has a week left until a winner can be officially seen, and the talk of the media and sports blogs has been solely on the ridiculously good entertainment that we have been witnessing.
There were several marathon matches already, and here are the men who grew in our hearts.
Rafael Nadal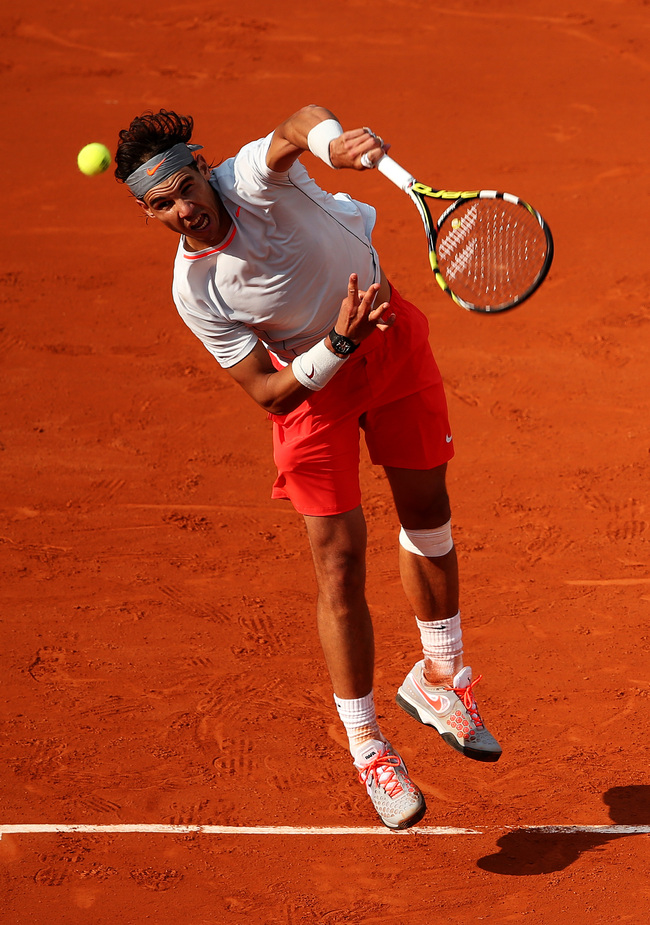 Clive Brunskill/Getty Images
Well, I bet you weren't expecting to see this name under a list of marathon men.
Still, Rafael Nadal's first three matches were quite rough and edgy—even for the members of his camp.
He dropped the opening set in both the first and second rounds to (very much) unseeded players—though they did bring their A-games.
Then, he looked to be in trouble in the first set of his next match against Fabio Fognini.
Nadal has never been tested this much in his first three matches of this tournament. Maybe the wear and tear from these matches could be foreshadowing the conclusion of the story.
He still is the favorite to win the championships, but maybe it isn't as safe a bet to make anymore.
John Isner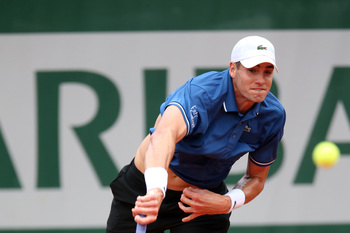 Matthew Stockman/Getty Images
Of course the official Marathon Man himself, John Isner, had to be in this compilation.
For a guy who doesn't move all too well and is playing on red clay—where a serve can become neutralized—Isner had an outstanding showing at the French Open.
Isner's first match was an easy, straight-set affair, but his next one against Ryan Harrison was tricky. He had to fight off a two-sets-to-love deficit, ultimately winning 5-7, 6-7 (7), 6-3, 6-1, 8-6.
He sure does love those extended fifth sets.
Then, he may have done some more damage to his body with a very arduous comeback attempt against Tommy Haas.
Haas won 7-5, 7-6 (4), 4-6, 6-7 (10), 10-8 but needed a record 13 match points to put the American away.
Both men were great fighters and Haas still has a chance to make the quarterfinals here for the first time.
Gilles Simon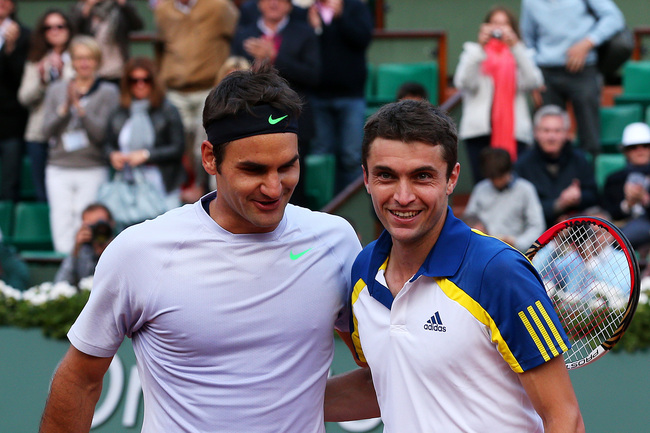 Clive Brunskill/Getty Images
Gilles Simon has played the most sets out of anybody in this tournament (yes, even Tommy Robredo) up until Sunday.
In the first round, he endured a very sluggish start against Lleyton Hewitt but dug deep to win 3-6, 1-6, 6-4, 6-1, 7-5.
The easiest match he had was a four-set win in the next round against Pablo Cuevas, wherein each set but the first was a breeze.
Sam Querrey put up a great test in the third round (it is evident that the Americans and Frenchmen performed wonderfully this year) but lost to Simon 6-2, 3-6, 6-2, 6-7 (2), 2-6.
Finally, Sunday, Roger Federer ousted him from the tournament 6-1, 4-6, 2-6, 6-2, 6-3.
So, out of a potential maximum of 20 sets he could have played, Simon took part in 19—in just one week's time.
Now that is a marathon man.
Tommy Robredo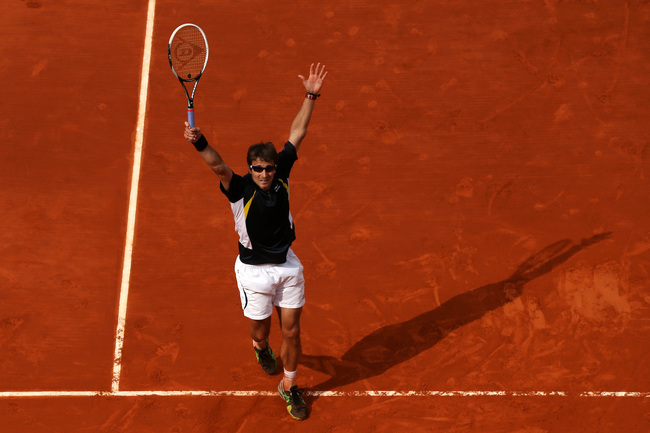 Matthew Stockman/Getty Images
The biggest story of the French Open championships is that of Tommy Robredo's journey to the quarterfinals (and potentially beyond them).
His first round was far from a struggle, but he engaged in three consecutive comebacks from two-sets-to-love down.
This marks the first time in the Open Era that this has happened and just the second time ever in history.
Who knows? Maybe he'll pull it off again Tuesday against fellow countryman David Ferrer.
Follow B/R Tennis Community Leader and Featured Columnist, Jeff Cohn, on Twitter.
Keep Reading