French Open 2013: Underdogs with Potential to Continue Winning Ways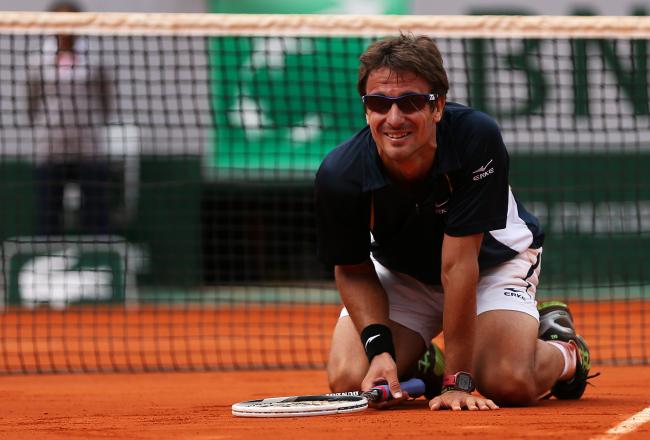 Clive Brunskill/Getty Images
Most of the top seeds are still alive, but beyond that, the 2013 French Open has been anything but chalk.
Even if we haven't seen a Roger Federer or Novak Djokovic go down, or Serena Williams look vincible, a number of underdogs have made Roland Garros their own this year.
Some of these dark horses aren't long for this tournament; they will be overwhelmed by the stage and the opponent across from them, then go down with a whimper.
But a number of the remaining underdogs might have what it takes to keep on plowing forward. Here's look at three of them:
(29) Mikhail Youzhny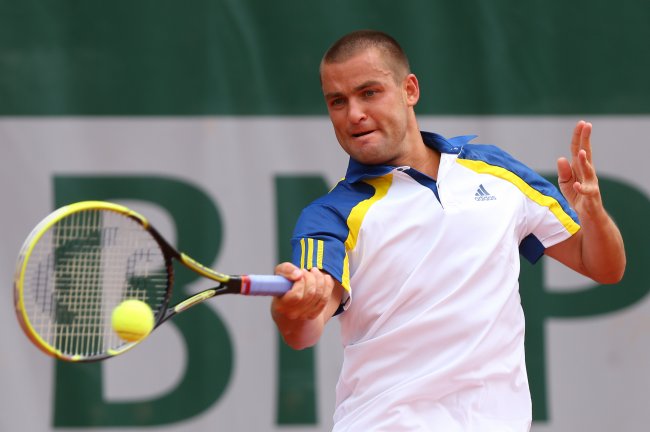 Getty Images/Getty Images
Youzhny has been toiling around above-averageness for a while now, but he's certainly no stranger to this position. He's made the quarterfinal round of every single Grand Slam tournament, even reaching the semis of the U.S. Open twice, in 2006 and 2010.
Most recently, he reached the quarterfinals of Wimbledon 2012 and is only three years removed from making the same round here at Roland Garros in 2010. He's got something else working in his favor here, too: his opponent.
Tommy Haas isn't an easy opponent by any stretch, but he's certainly a beatable one—especially for a player who beat higher-ranked Janko Tipsarevic in the same round at Wimbledon last year.
Even further than that, Haas is coming off a marathon contest against John Isner, a match that lasted nearly five hours. Sure, he had a day off to rest on Sunday, but Haas is 35 years old—his recovery rate has slowed to the point where he might yet still be below full strength.
Youzhny played his best match of the tournament in Round 3, sweeping No. 8 Janko Tipsarevic out of yet another Grand Slam tournament, 6-4, 6-4, 6-3. He may be seeded 17 spots lower, but Youzhny will enter this match with no fear, as if he belongs on the same line, expecting to win the match.
That's the best trait an underdog can have.
Update: Tommy Haas defeated Youzhny 6-1, 6-1, 6-3 this morning...so basically, ignore everything you just read.
(32) Tommy Robredo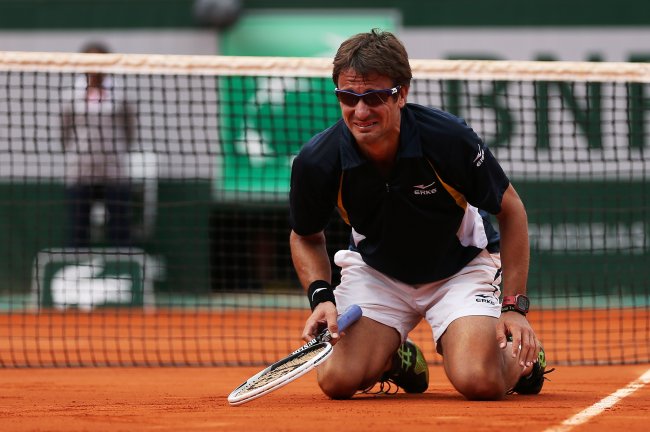 Clive Brunskill/Getty Images
Is 2013, the year Tommy Robredo finally breaks his curse at Roland Garros? It might well be.
Every other year between 2003 and 2009, Robredo made it just this far in the French Open. He's a four-time (now a five-time) quarterfinalist in this tournament, but has never been able to clear that hump and make the semis—and hasn't in any other Grand Slam either.
The losses have gotten more and more lopsided, too:
2003: Playing as the 28th seed, Robredo took the first two sets against (9) Albert Costa, then lost the next three in quick succession to bow out of the tourney.
2005: Playing as the 15th seed, Robredo went five sets against (12) Nikolay Davydenko, losing the final frame, 6-4.
2007: Playing as the ninth seed, Robredo rebounded from a lost first set with a 6-1 win against (1) Roger Federer, before losing the match in four.
2009: Playing as the 16th seed, Robredo lost in straight sets to (5) Juan Martin Del Potro.
So why is this year different? Karma, I guess. Robredo was barely in the top 500 a year ago, and his bounce-back tournament has been magical. Per SI.com's Jon Wertheim, he became "the first man since 1927 to come back to win from two sets down in three straight matches," doing so against Gael Monfils and Nicolas Almagro, breaking down in tears after each win.
He's lost his past three clay matches to David Ferrer, but beaten him twice on this surface in his career. With karma on his side, staring down an opponent he knows he's capable of beating, this could be the year Robredo finally reaches the semis.
Bethanie Mattek-Sands and Jamie Hampton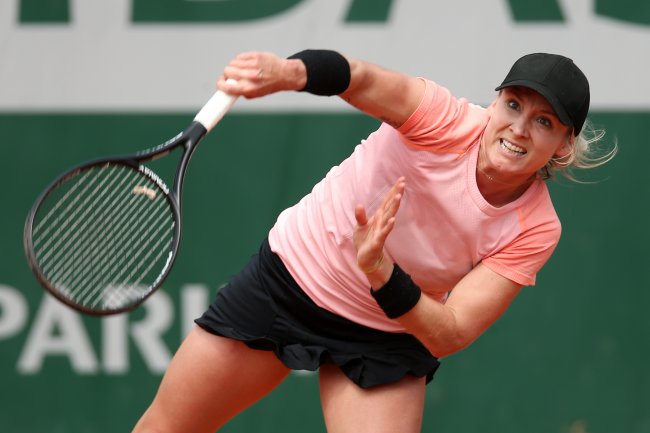 Matthew Stockman/Getty Images
It's hard to say which one has the better chance, since each's run has been so unpredictable in its own regard. But far be it from me to pick against something this magical.
Four American women made the Round of 16 this year which, again according to Wertheim, hasn't happened since the 2004 U.S. Open. Serena Williams was as close to a given as they come, and Sloane Stevens isn't much of an upset either. But these two? No one could have predicted this.
(12) Maria Kirilenko and (18) Jelena Jankovic are far from unbeatable opponents, and though it would take another feat from Mattek-Sands and Hampton, they've made it this far...right?
Sign my name next to this one: At least one of those two will make the quarterfinals.
This article is
What is the duplicate article?
Why is this article offensive?
Where is this article plagiarized from?
Why is this article poorly edited?