Best and Worst-Case Scenarios for the Edmonton Oilers 2013 Draft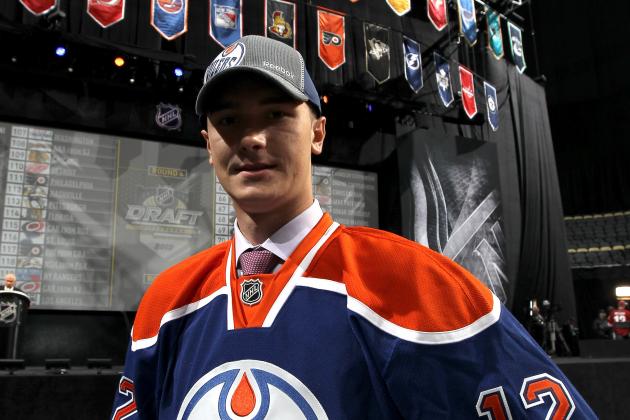 Bruce Bennett/Getty Images

The 2013 NHL entry draft will be an interesting one for the Edmonton Oilers, who, after finding themselves drafting the first overall choice the previous three seasons, now hold the seventh pick in the upcoming draft.
With Seth Jones, Nathan MacKinnon, Jonathan Drouin and Alexander Barkov almost guaranteed to go in the first four picks, the Oilers will have some difficult decisions to make when their turn to draft comes up on the board.
The Oilers could keep the pick, they could try to trade up by including a roster player, or they could trade down in the draft in hopes of adding a player and a later pick, all of which present different possibilities to the team.
One thing is a guarantee: that the Oilers need to improve in 2014, and new GM Craig MacTavish will likely start helping the team get on track at the draft in June.
Here are the best- and worst-case scenarios for the Edmonton Oilers' draft in 2013.
Begin Slideshow

»
Bruce Bennett/Getty Images
Barkov is a big talented center, something the Oilers currently lack on their squad.
While it is highly unlikely that Aleksander Barkov, formally of Tappara of the Finnish Elite League, would be a available when the Oilers draft at seventh overall, if Edmonton somehow found themselves with the opportunity to draft Barkov he would be an amazing addition.
At 6'2" and 205 lbs., Barkov combines size with amazing skill with an uncanny hockey sense. Large talented centers are coveted in the NHL, so the only way the Oilers would be able to land the gifted Barkov would be if they were to trade up into the top five picks.
Barkov has proved that he can play, as his success playing against men in the Finnish Elite League has demonstrated, so he should have a relatively smooth transition to the NHL game and could make an immediate impact on whatever team is lucky enough to land him.
Richard Wolowicz/Getty Images
While it's hard to predict whether or not Darnell Nurse would make an NHL team right out of training camp, the defender would be a nice fit for the Oilers.
If the Oilers decide to hold on to their pick, this could finally be the year that they use their first-round selection on a defender. Unfortunately, it won't be the premier defender available in the draft, Seth Jones, but at seventh overall, the Oilers could still land a player who could have a significant impact for years to come.
Darnell Nurse of the Sault Ste. Marie Greyhounds is currently ranked sixth in the International Scouting Service's (ISS) pre-draft rankings and will be a player the Oilers will surely look at should he still be available.
Nurse, the nephew of former NFL quarterback Donovan McNabb, is a big-bodied defenseman who has shutdown capabilities as well as a strong offensive upside.
While Nurse will still have to mature physically and grow into his 6'4" frame, he could very well be exactly what the Oilers need.
Edmonton could also look at selecting Nikita Zadorov or Rasmus Ristolainen to bolster their defensive ranks. Both are big defenders who have an edge to their games and can provide a little nastiness to a relatively soft Oilers side.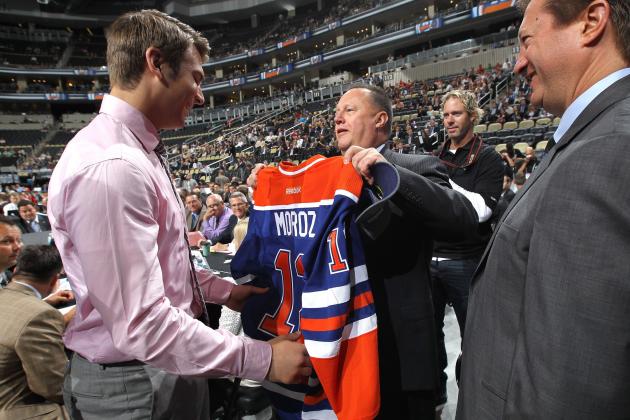 Bruce Bennett/Getty Images
Trading down in the draft is always risky but could be a shrewd move should Edmonton fill holes in the process.
Edmonton may look to try to add an NHL player to their roster as well as a lower first-round draft pick by moving their seventh overall pick.
While this could help fill some of the glaring holes currently on the roster, the Oilers could miss out on a potential star player by moving down.
It may appear as if the Oilers are currently just outside of range to draft one of the star players in this year's draft pool, but with such a deep draft, the team would almost certainly get an excellent player at the seventh pick.
Edmonton also risks trading down and losing out on a player it had hoped would be around should it move down. While the Oilers would likely have a list of names that they would want to choose, it would be supremely disappointing if a coveted player gets drafted before they have a chance.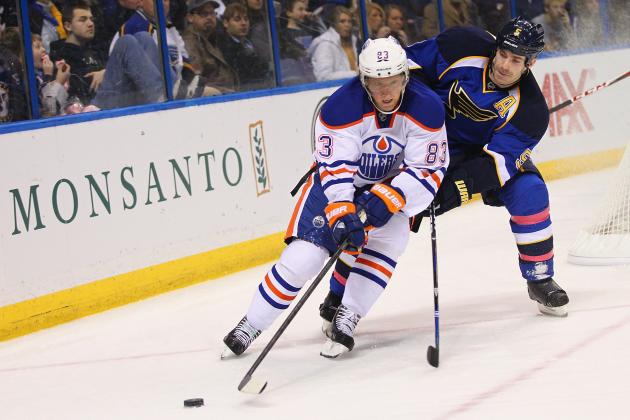 Dilip Vishwanat/Getty Images
It will be interesting to see whether or not Ales Hemsky is still an Oiler after draft day.
Ales Hemsky's name has been common fodder for trade speculation for almost four years now, and with such a deep draft this season, Edmonton could very well look to move the veteran winger out for another draft pick.
It is all dependent on what kind of return they could get for the player, but it could be a strong possibility that Hemksy is moved out on draft day as Edmonton looks to stockpile assets.
Magnus Paajarvi is also a player who could be moved depending on whom the Oilers select with their seventh overall pick. If the team takes a forward, Paajarvi could very well be moved, even though it has appeared that the talented Swede has finally started to turn the corner in his career.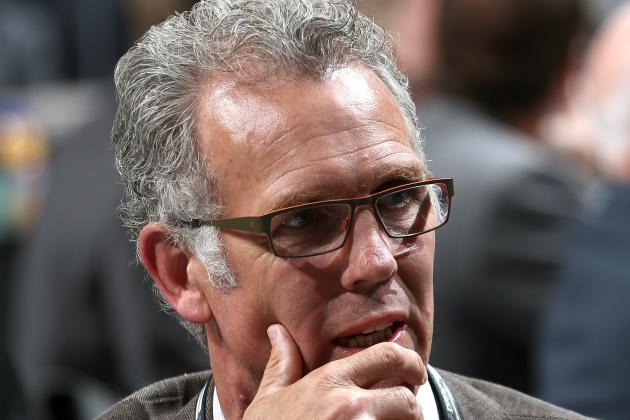 Bruce Bennett/Getty Images
Craig MacTavish will want to set the tone at the NHL draft.
One thing that new GM Craig MacTavish cannot do in the 2013 draft is go "off the board" and take an unexpected player or a project player with their seventh overall pick.
With so much talent available in the 2013 draft, it is extremely important for the Oilers to draft a player who will either fill a need immediately or will eventually come onto the roster and make an impact.
Defensemen are generally longer-term project players who need some seasoning in the AHL to develop comfort and confidence to be able to compete at the NHL level, but there are two or three defenders ranked around the seventh overall selection who could very well grow into great players.
MacTavish doesn't want to make waves and lose any fan support by making an risky selection, and seeing as this will be one of his first real NHL duties as Oilers GM, this move will go a long way of establishing his credibility with fans and the media in Edmonton.
While some may argue that the Oilers do not need to draft another forward, it can never really hurt to have talented young forwards amongst your ranks. Though Sean Monahan may not have gotten the same publicity as some of the other forwards in the draft, the center could have a big impact at the NHL level.
Monahan might not be the most offensive forward, but he has a very refined two-way game and is more than capable in his own zone. His size at the center position can't be ignored.
With a late 1994 birthday, Monahan has had that extra little bit of time that may provide him with an advantage heading into training camp. He could very well compete for a roster spot going into next season.