Ranking the Top 10 Wings in the 2014 College Basketball Recruiting Class
image courtesy of 247sports.com
The ink is still drying on the letters of intent for the 2013 college basketball recruiting class (Andrew Wiggins, like any good guest of honor, was fashionably late), but it's already time to turn our attention to the class of 2014 (yes, the offseason is quite long).
There are a number of ways to break down the immense talent in this group, but let's give the wing players a little love today. After all, they are the ones who throw down most of the exciting dunks and hit the game-changing threes.
For the purposes of this article, a player qualified as a wing if his listed position via Scout.com was either shooting guard or small forward. There may be a bit of a clash there with today's age of the stretch-four, but the parameters had to be defined for this exercise.
With that in mind, read on to see the top 10 wings in the class of 2014.
Begin Slideshow

»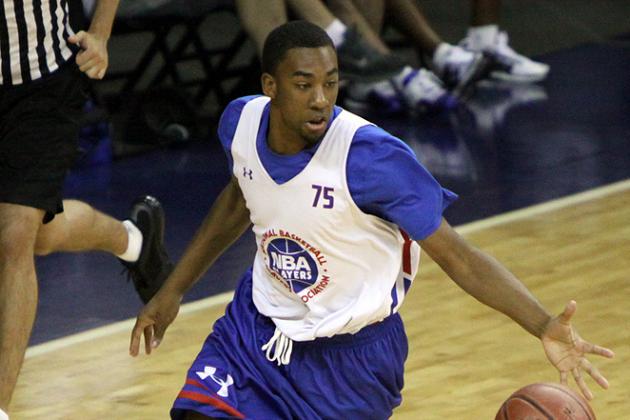 photo courtesy of 247sports.com
One of the most interesting things about recruiting, especially primetime recruiting for 5-star prospects, is when fierce rivals get to battle outside the lines. The wooing of Jalen Lindsey has pitted a handful of rivals against each other.
Lindsey has received interest from Duke and North Carolina, Kentucky and Louisville and Tennessee and Vanderbilt. The Tennessee native is undoubtedly familiar with the disdain the schools of his home state feel toward each other, and the clashes between the Blue Devils and Tar Heels and the Cardinals and Wildcats are familiar to basketball fans everywhere.
Whichever school lands Lindsey will get an incredibly athletic wing who can jump out of the building. He will provide highlight plays in transition but also utilize his length and quickness on the defensive end and in the rebounding department.
Look for Lindsey to compete for playing time right away, even at a powerhouse program.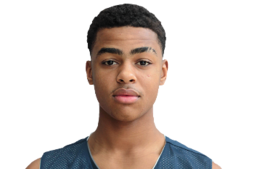 photo courtesy of espn.com
In terms of pure shooting, it doesn't get much better than D'Angelo Russell in the class of 2014.
This shooting guard from Louisville lives up to the moniker perfectly with his smooth left-handed stroke and range that extends well beyond the three-point line. He is also capable of driving the lane and hitting from mid-range, or even dishing to open teammates when defenders crash on his shot.
Russell is improving his defense and should be ready to contribute right away for whichever program lands his services. Kentucky, Indiana, Ohio State, Michigan State, Memphis, Georgetown and his hometown school of Louisville have all shown varying degrees of interest.
Russell would pair best with a premier big man in this class so he can make defenders pay for doubling down in the post.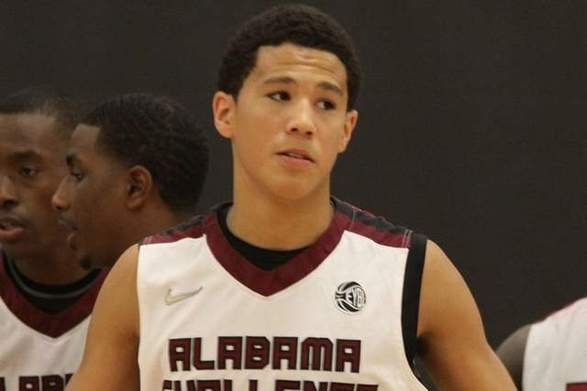 photo courtesy of detroitnews.com
Devin Booker plays his high school ball in Mississippi right now, but he used to reside in Michigan. Michigan and Michigan State (the Wolverines in particular are going after Booker hard) are hoping those hometown ties help stave off recent interest from powerhouses Duke and North Carolina.
Booker is a scoring machine who can handle the ball, drive the lane, post up smaller defenders and hit from the perimeter. He will be a wing at the next level, but he has some experience playing point guard as well and is an effective distributor who has a great feel for the game.
There is some room for improvement with Booker's athleticism, but he has been somewhat of a late bloomer in the recruiting world and will likely continue to get better the more he plays. His father was a terrific player as well, so even the genes are in place.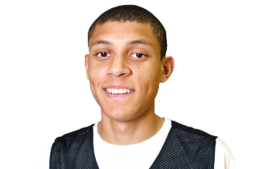 photo courtesy of espn.com
North Carolina's 2014 class should be a special one, and Justin Jackson is a primary reason why.
The 6'6" wing is an impressive rebounder for his size (largely due to his wingspan) and is solid in transition once he grabs the board. Those same aspects that help Jackson hit the boards come into play when he is playing defense. His length and athleticism make it hard for opponents to get clean looks, and he often gets blocks as a result.
Jackson is more than just a solid defender though. He has an impressive scoring touch around the basket and is an improving ball-handler. He needs to improve his jump shot before he reaches the next level, but Roy Williams will certainly help him make strides in that area.
If Jackson does begin to hit his jumpers, incoming point guard Joel Berry will rack up a number of assists alongside his 2014 teammate.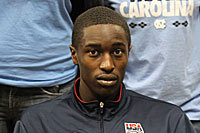 photo courtesy of northcarolina.scout.com
Tom Crean and Indiana thought they were going to land Theo Pinson, but the North Carolina native decided to join fellow wing man Justin Jackson and stay close to home. The Tar Heels' 2014 class will be absolutely loaded and Pinson and Jackson will likely compete for early playing time, but they certainly have the ability to play alongside each other as well.
Pinson is very athletic, which will fit in perfectly with the smaller and quicker lineups Roy Williams often utilizes. Look for Pinson to score in transition by attacking the basket and finding open lanes.
He is also a solid rebounder for a wing and plays impressive defense. It would do Pinson some good to add some strength to his frame before he begins to mix it up in the new-look and dangerous ACC, but he has plenty of time to do so.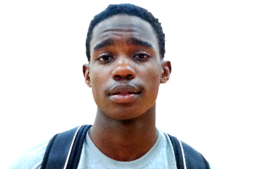 photo courtesy of espn.com
There's just something about the neon lights of Las Vegas that attracts people from all over the country. They even lure in elite basketball prospects from the East Coast such as Dwayne Morgan, who committed to UNLV instead of hometown Maryland or nearby Georgetown.
Morgan will help the Runnin' Rebels live up to their name on the break. He has no issues getting out in transition and can finish above the rim with the best of the 2014 class.
Morgan's offensive versatility will fit in perfectly with a team that likes to score at an up-tempo pace. He has a jump shot that extends beyond the three-point line, which will help in the half court and on the break, and is a solid post up man for a wing scorer.
Look for Morgan to contribute right away to a dangerous UNLV squad.
photo courtesy of espn.com
Many special players at the high school and collegiate levels excel on one end of the floor and just get by on the other end (think defensive stalwart Aaron Craft or scoring machine Doug McDermott). Stanley Johnson has a chance to buck that trend and be outstanding on offense and defense for whichever school he attends.
Johnson is a lengthy defender who utilizes his size and quickness to rack up steals and blocks. He would fit alongside a combination of pesky guards perfectly in a full-court press or even matchup zone.
On offense he has the ball-handling ability and jump shot necessary to score from almost anywhere, and his strength allows him to post up smaller defenders as well. He is a solid rebounder and could see the floor as a freshman because of it.
Kentucky, Florida, Duke, Arizona, Oregon, USC and UCLA are all interested in Johnson's services. Don't be surprised if this California native stays out West.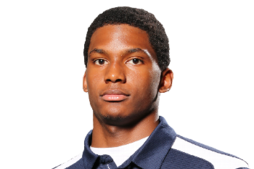 photo courtesy of espn.com
Wing players are known for their athleticism and versatility on the basketball floor, but Justise Winslow may be the most athletic shooting guard/small forward on this entire list.
In terms of versatility, he is capable of playing anything from the point guard role to the small forward spot. He has shooting range that extends beyond the three-point line and the ball-handling ability and quickness to get to the lane against the majority of defenders. If he improves his mid-range game, he will have the entire offensive package.
Throw in the fact that he is listed at 6'6" and 210 pounds and is a terrific distributor, and whichever program lands Winslow will be in good hands. There are a number of powerhouse schools that have reached out to Winslow, including Duke, Arizona, Florida, Ohio State, North Carolina, UCLA and Michigan.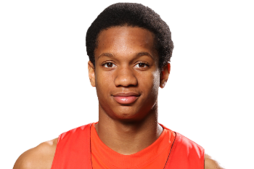 photo courtesy of espn.com
Rashad Vaughn is an illustrative case study in why it is so difficult for mid-tier programs such as Minnesota (which is the state Vaughn is from) to consistently challenge the nation's elite teams.
The Golden Gophers have shown heavy interest in Vaughn, but bluebloods such as Kentucky, Louisville, Kansas, North Carolina, Syracuse, UCLA and Duke are also listed as schools of interest. Frankly speaking, even with the hometown advantage the chances that Minnesota beats out these powerhouses are slim at best.
Whichever coach lands Vaughn will be getting one of the best pure scorers in the entire class of 2014. He is strong for his size and has an excellent wingspan, which allows him to get in the lane rather easily and finish over taller defenders.
His ball handling is also improving and he has a solid jump shot in tow. Vaughn will be a game changer no matter where he chooses to attend.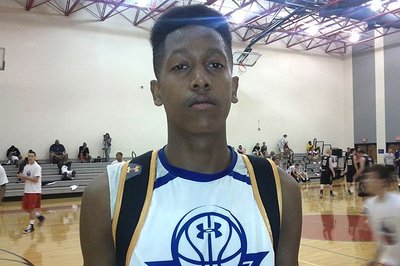 image courtesy of sports.yahoo.com
If you were to ask a college basketball coach to list the attributes he would want in an ideal small forward, chances are Malik Pope would possess a lot of them.
He has noticeable quickness, both with his first step and overall speed in transition. He can handle the ball like a guard, jump out of the gym and has athleticism to spare. Throw in the fact that he is a solid rebounder (he is listed at 6'7') and can shoot from mid-range and we are talking about a prototypical small forward.
The California native has drawn interest from a ton of West Coast schools, including Arizona, UCLA, USC, UNLV, Washington, Gonzaga, San Diego State and California. Whether he elects to remain close to home remains to be seen, but these programs are certainly hoping he does.
If he adds some strength to go along with his height, Pope can be really special at the next level.
Follow college basketball writer Scott Polacek on Twitter @ScottPolacek.