6 Things We Learned from the Detroit Lions OTAs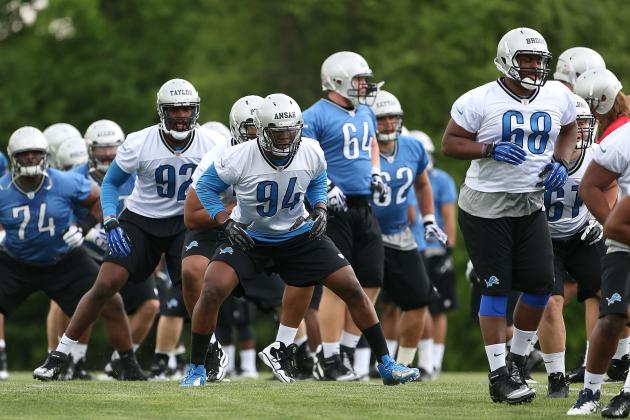 Leon Halip/Getty Images

The Detroit Lions are not exactly what you would call back "in the thick" of football activities, but they've started to rev the engine, and trends are starting to emerge.
We have a little under two months before training camps start up across the country, and until that happens, we have little else to go on besides inferences and small scraps of information.
It's not much, and that's why this is the slow time of year for football. But rather than dwell on the lack of excitement, let's instead talk about what information is available.
It may not be much, but it's a lot closer to real football action than mock drafts are. At least now we can talk about actual on-field performance instead of just speculation and college film study—even if those performances don't involve pads or contact yet.
Here are six key things to take away from the Detroit Lions' recent organized team activities.
Begin Slideshow

»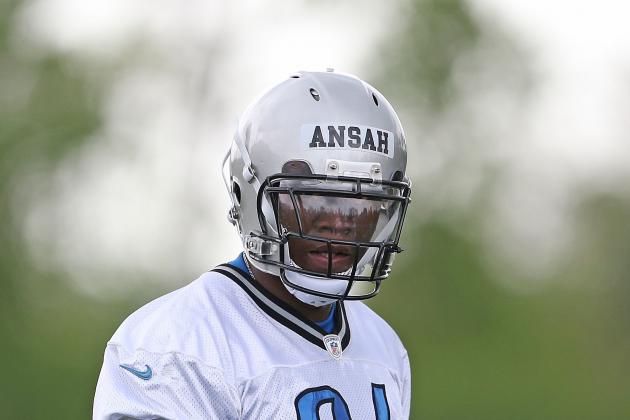 Leon Halip/Getty Images

Before the draft, Ziggy Ansah was considered a highly athletic prospect with an extremely high ceiling but very little experience.
Now that the Lions have him in the fold, he has been doing exceedingly well in athletic workouts and drills. Yet, as noted by Tim Twentyman on the team's website, he has had to work extra hard to pick up the finer points of the game.
So basically, nothing has changed, other than having further proof of his athletic prowess.
The good news is, Ansah has proven to be a fast learner at every level—whether at BYU, in the Senior Bowl, or, now, in the Lions' OTAs. The only question regards whether or not he can learn fast enough to become an impact rookie, or if his transition will be a bit slower.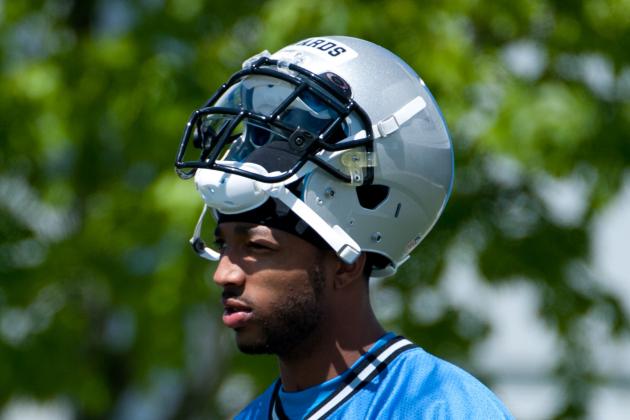 Tim Fuller-USA TODAY Sports

Wide receiver Patrick Edwards was a player of interest during the 2012 training camp and preseason.
An undrafted free agent out of Houston, Edwards seemed to match up pretty well with fellow rookie (at the time) Ryan Broyles in terms of skill set and athleticism. Better yet, Edwards had return ability.
Unfortunately, some lackluster preseason performances (and his undrafted status) dropped Edwards onto the practice squad, and a leg injury kept him from being called up when the Lions were paper-thin at receiver late in 2012.
However, one of Edwards' more vocal teammates (I bet you can guess who) has given him a big vote of confidence, according to Tim Twentyman of the Lions' official website.
Now to be fair, Nate Burleson is the same guy who gave similar votes of confidence to Titus Young last year, which is what veteran leaders tend to do. His judgement of character might not exactly be league-leading, though.

Still, this has precedent. Edwards looked potentially worthy of a roster spot in 2012, and a year on the practice squad should only make him even more worhty as he continue to fights for his chance to make an impression.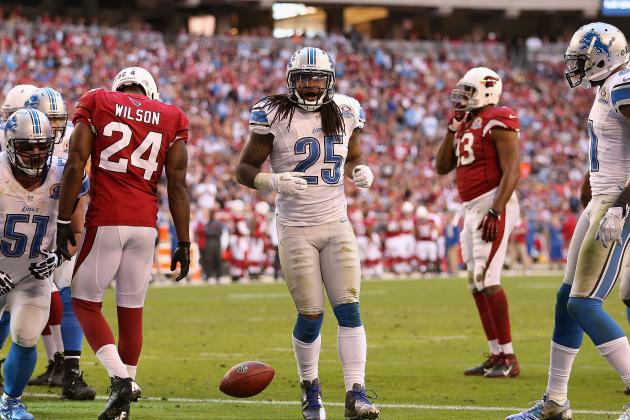 Christian Petersen/Getty Images

Last week, I pointed out how Louis Delmas was out with an injury, and that it is pretty bad.
Delmas' injury is lingering from last year, which is both good and bad. It's good that he hasn't sustained any new injuries, but it's bad because he's healing slowly and his knees have been a chronic problem for him.
But moving on from him, Mikel Leshoure, Devin Taylor, Darius Slay, Ryan Broyles and Corey Fuller were all recently missing from OTAs with various injuries as well, according to MLive.
For those keeping count, that's three players from the 2013 rookie class, one from 2012 (Broyles) and one from 2011 (Leshoure).
Many of these are no surprise. Broyles is still recovering from an ACL injury, while Slay was known to have a meniscus tear in his knee when the Lions drafted him in April.
Leshoure's injury, a hamstring pull, is a bit more troubling. There is certainly no evidence that this hamstring pull is severe, though, or that it has any relationship to the Achilles injury that kept him out of his entire rookie year in 2011.
But still, for a player who missed a year due to injury and spent the next year effectively building his strength back, injuries of any kind are discouraging.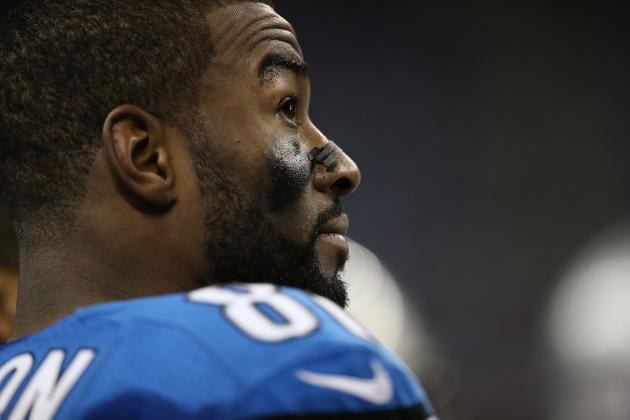 Leon Halip/Getty Images

Part of what makes Calvin Johnson a great receiver is his work ethic.
Offseason OTAs are among the least important things a team can do together all year, and yet Johnson is out there making plays like the team just made it back to the playoffs.
Just a few days after laying out for a couple of deep balls, Johnson made an adjustment to grab a pass right out of cornerback Jonte Green's arms. According to Justin Rogers of MLive, Green was reportedly in good position on the pass, but Johnson just outworked him for it.
That's what makes Johnson one of the best. It's rare to get a player with his outstanding physical talent, but it's even more rare to find one who has that talent and still works as though he doesn't.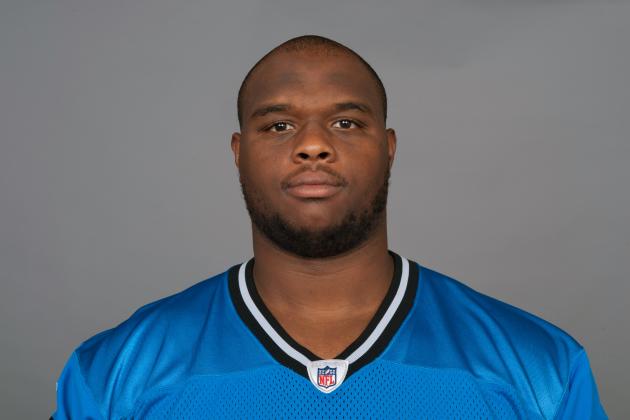 Handout/Getty Images

According to a tweet from the Detroit Free Press' Dave Birkett, the Lions put Corey Hilliard and Rodney Austin in with the first team offensive line last week.
Hilliard isn't a surprise—since he's currently engaged in a relatively even battle for the right tackle position this season with Jason Fox—but Austin?
Austin is a 2012 UDFA who spent the entirety of last season on the practice squad, but is now getting reps in front of third-round pick Larry Warford and eighth-year veteran Dylan Gandy. If that doesn't show just how wide open the Lions are on the depth chart, nothing does.
And this doesn't just apply to right guard, either. This is a microcosm of the way things are going throughout the entire team.
And yet there's something important to keep in mind here...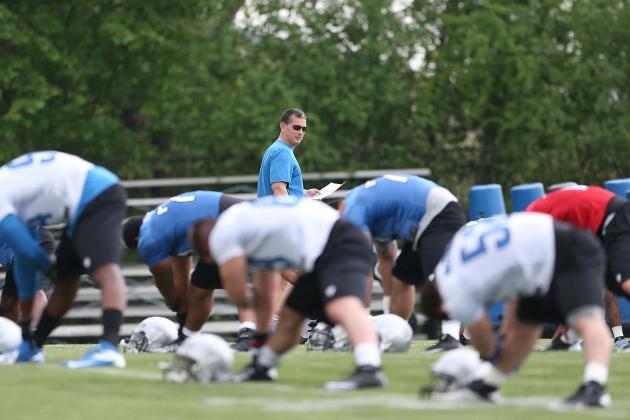 Leon Halip/Getty Images

Realistically, OTAs aren't built to give us any lasting impressions about the team. At the midpoint of the regular season, nobody will be talking about that great catch that the UDFA rookie made in that one unpadded practice during the previous offseason.
It isn't that OTAs aren't important or should be ignored; it's just that they're extremely preliminary. Saying a player is in for a big season because he is doing well in OTAs is like filling out a Harvard application for a third-grader who just learned their times tables. Sure, you may ultimately be right, but it's WAY too early to know for sure.
In effect, OTAs are about practicing for practice. They are to training camp what the preseason is to the regular season. There is absolutely nothing wrong with getting some takeaways out of them, but just don't expect anything to stay constant. Position battles haven't truly gotten underway yet, and everything is moving at half-speed.
So, yes, there are some players that have looked good thus far, and there are some that have not. Some are injured when they shouldn't be, and some are higher or lower on the "depth chart" than they really should be.
As long as we all understand that most of that won't matter in two months, though, then we can continue to speculate anyway. That's effectively what this part of the offseason is for.