6 Things We Learned from Carolina Panthers OTAs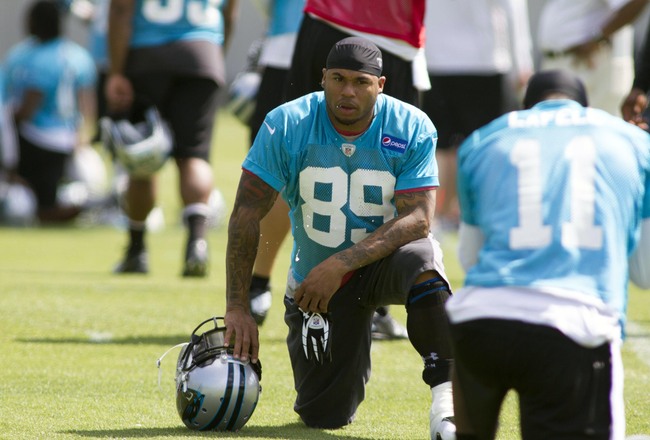 Jeremy Brevard-USA TODAY Sports
The Carolina Panthers have completed two of their three organized team activities (OTAs). They will conclude with final session June 4-7, and then the veterans will conduct their minicamp June 12-14. This year's OTAs have been what a fan expects from their team preparing for the season—full of hard work and getting ready for the 2013 season.
While nothing is set in stone, the past few days have revealed what could be in store this upcoming season. A lot of work is being put into each aspect of the team, but competition battles have begun to heat up at certain positions.
Each season begins with offseason workouts prior to the start of training camp. Here are the things we know about this year's Carolina OTAs.
Competitive Wide Receiver Battle Taking Shape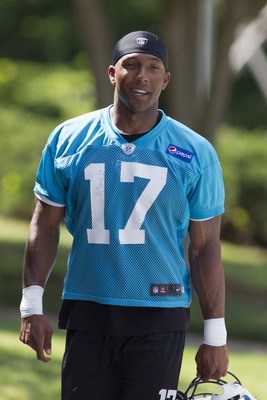 Jeremy Brevard-USA TODAY Sports
Steve Smith has been the primary go-to receiver for the past decade. Unfortunately, Carolina has not been able to find him solid help that would alleviate consistent double-teams every Sunday.
However, good news may be on the horizon for the fiery veteran and the team.
It seems as though the competition at wide receiver has been generating a lot of buzz among the coaching staff, and head coach Ron Rivera is pleased by the effort being put forth. According to Bryan Strickland of Panther.com, Rivera said:
There's a lot of competition at that position. Right now Brandon LaFell is our number two, and we've got a couple of guys that have shown very well since they've gotten here. I'm thrilled with (Domenik) Hixon and (Ted) Ginn. Those are veteran guys, explosive players that have had success.

There's also a group of young guys that have done some really good things. Kealoha Pilares has done a nice job, as has Armanti Edwards. You also can't pass over David Gettis, who has done some nice things over the last couple of days. He's shown up every day, and that's what we need.
That's good to know, since the Carolina Panthers really don't have anyone they can turn to in the clutch outside of Smith. Hixon and Ginn look to be solid contributors, but the young guys will need to step up too.
A lot is expected of Gettis, Pilares and Joe Adams this season. Edwards may have one more chance at making a good impression in order to keep a roster spot.
Nothing will be known for certain until training camp opens and the preseason games begin. That will really test the effectiveness of this receiver group. If the Panthers are to be successful on offense, they will need a good showing from all of these guys.
Ted Ginn Wants to Be More Than a Return Specialist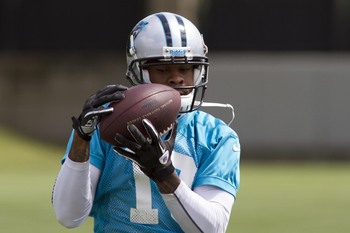 Jeremy Brevard-USA TODAY Sports
While on the subject of Carolina receivers needing to step up, new acquisition Ted Ginn Jr. wants to be more instrumental in the offense. Ginn is established as a good return specialist, but he would like to be able to get some reps with the offense.
As noted on the previous slide, the competition behind Steve Smith and Brandon LaFell is pretty fierce, and Ginn is doing his part to get noticed. He has certainly caught the attention of Ron Rivera, who has been impressed with the effort he has seen by the veteran receiver. Per Max Henson of Panthers.com, Coach Rivera said:
Watching Ted's speed, his quickness, his route running – he's catching everything right now
Ginn may be catching everything in camp, but it's what he does in an actual game that will be the difference. He wasn't a factor last year in the San Francisco offense; he caught two passes for one yard. His best season was 2008 when he had 56 receptions for 790 yards and two touchdowns.
Still, one has to like the potential he brings to the Carolina offense.
If anything, he can be a valuable asset who can rotate in and out during each series. This would allow the receiving corps to stay fresh, and if he can do enough to put the defense's focus on him, it could create opportunities for big plays involving Smith.
Rookies Are Doing Well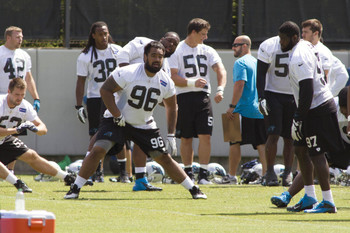 Jeremy Brevard-USA TODAY Sports
The Carolina Panthers can rest easy this summer knowing they have locked up all of their draft picks. They won't have to worry about the headaches associated with weeks of contract negotiations that tend to go nowhere.
If anything, this group of rookies is doing their part to learn the playbook and adjust to the pace of the NFL.
Granted, they are all works in progress, but the guidance of the veterans has them taking steps in the right direction. Everyone is doing their part to help get this year's crop of rookie players ready for Week 1 and their introduction to professional football.
Ron Rivera has seen his veterans taking initiative and mentoring the young guys, according to Strickland of Panthers.com:
It's great to see the rookies working with the veteran players. When you see Steve Smith talking to the young guys, DeAngelo Williams talking to Kenjon Barner, Jordan Gross and Ryan Kalil talking to the young offensive linemen, Charles Johnson with the young defensive ends - that's very satisfying.
There is still a lot of work to be done, but it seems as though this group of rookies are all utilizing a strong work ethic and are doing everything they can to prepare for the preseason and, for some, a spot on the final 53-man roster.
Cam Newton Wants to Be a Captain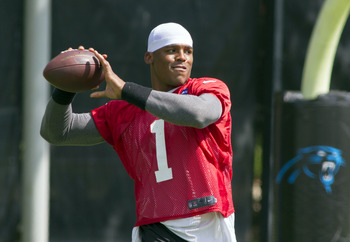 Jeremy Brevard-USA TODAY Sports
This is the time of year that most don't give too much consideration for choosing a team's designated captains, but Cam Newton has not been shy about expressing his feelings toward it.
It seems he may need a year to prove he has matured enough to be viewed worthy of the captain designation, but even so, the Panthers have been represented on offense by Steve Smith and Jordan Gross for the past few seasons.
A lot will depend on how Newton performs over the summer and during the preseason. His actions and his ability to present himself as a team leader will greatly influence his teammates to determine if he is ready to take up the mantle of team captain.
Newton feels he is ready, and he clearly understands what it means to be a team captain, according to Henson of Panthers.com:
Team captain is up to your peers. That's a big responsibility on the field and off the field. Everybody around the league knows that when you're a team captain, that's not just a patch on your jersey. You're holding yourself to a higher standard. I'm going about it each and every day, trying to make that happen.
However, some members of the team think Newton should be wearing the captain's patch in 2013. One of them is defensive captain Jon Beason:
#Panthers LB Jon Beason tells @siriusxmnfl that he'd be "shocked" if Cam Newton isn't a captain this yr, and he's glad Newton mentioned it.

— Joe Person (@josephperson) May 31, 2013
He does go on to say that it will not be easy for Newton be named to the position given the presence of Smith and Gross in the offense:
In the next breath, Beason acknowledged how hard it will be for Newton to unseat Jordan Gross and Steve Smith as offensive captains.

— Joe Person (@josephperson) May 31, 2013
It's premature to start thinking about this year's team captains, and if Newton really wants it as bad as he says he does, then he will have to prove himself during workouts, training camp, preseason and the regular season.
Kuechly Asserting Himself as a Defensive Leader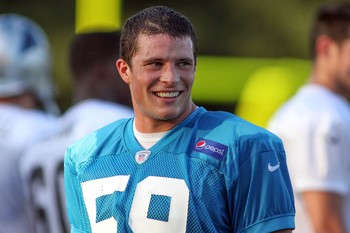 Jeremy Brevard-USA TODAY Sports
While not unexpected, Luke Kuechly is ready to repeat the success of his rookie campaign and lead the Carolina defense to a top-tier ranking. So far during OTAs, he has been Cam Newton's biggest tormentor, and it's what Kuechly is able to do on the field that has gotten the attention of the third-year quarterback.
The impact made by the young Boston College product has earned considerable praise from the 2011 AP Offensive Rookie of the Year, according to Henson of Panthers.com:
(Luke) has so much control of that defense. I don't think he made a step, he made a leap this offseason. That's good for our team.
There is no doubting what kind of work ethic Kuechly has, and to be getting this kind of favorable attention early in the offseason could set the tone for 2013. Carolina's defense has a lot of proven players, but Kuechly looks to be the glue of the unit.
He is working with the young guys and making the necessary steps to be a successful linebacker in the NFL. The success of the defense will depend greatly on him to be both a leader and a tackling machine. So far, that doesn't seem to be a problem.
Battle in the Secondary Could Be Focal Point This Offseason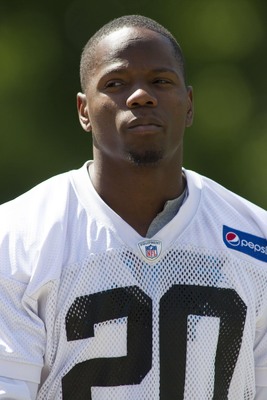 Jeremy Brevard-USA TODAY Sports
There is no denying the weakness that is Carolina's secondary. It has a lot of glaring the holes to the point that when the Panthers did not draft a defensive back in last April's draft, it raised a few eyebrows. However, they were able to bring in a few talented safeties and cornerbacks through free agency.
Veteran acquisitions like D.J. Moore, Mike Mitchell, Colin Jones and Drayton Florence look to give Haruki Nakamura, Captain Munnerlyn and Josh Norman a run for their money.
That being said, don't count out safety Robert Lester and cornerback Melvin White, who were both signed as undrafted free agents.
The secondary is crowded, and all of them have been putting on a good show during OTAs. If this same kind of performance is delivered during camp and the preseason, Ron Rivera and Co. will have a hard time deciding on who to let go.
Carolina's defense could benefit from a solid secondary, and even though the front seven should create a lot of problems for opposing offenses, it's comforting to a team knowing the pass defense is in good hands.
Keep Reading

Carolina Panthers: Like this team?