Final Grades for Every OKC Thunder Starter in 2012-13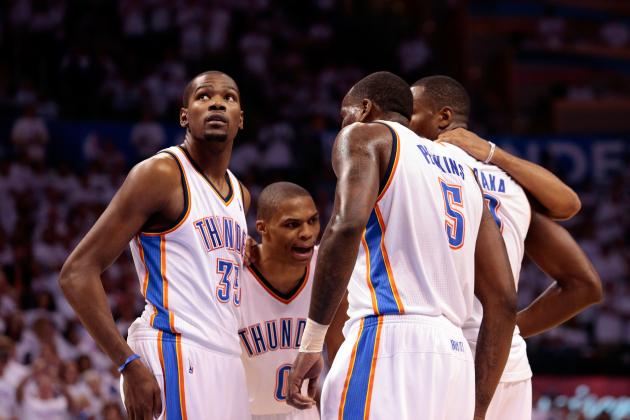 Brett Deering/Getty Images

We are officially in reflection mode for the Oklahoma City Thunder's 2012-13 campaign as we await the draft in the coming weeks.
This season ended as a bittersweet one for OKC, as the Thunder had great success in the regular season only to have their championship contention hopes dashed by a Russell Westbrook knee injury.
While every member on the roster contributes in his own way (usually), the guys getting big minutes make the biggest impact. As a team, the Thunder were impressive this season, especially after trading James Harden just days before opening night.
However, the starters for Oklahoma City take in most of the spotlight. That attention also comes with the heavier burden of criticism, so let's break down the Thunder starters from this season and give them one last assessment.
Begin Slideshow

»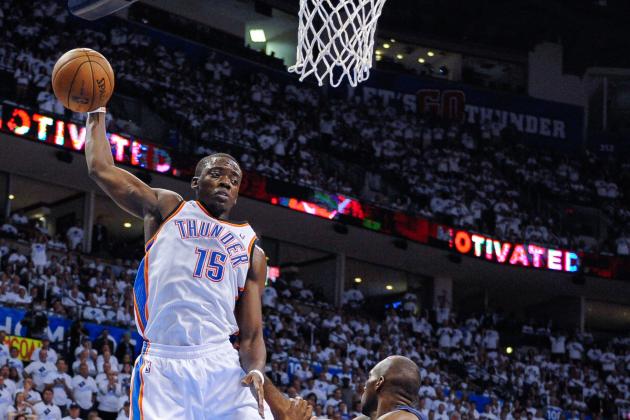 USA TODAY Sports

Although the second-year point guard out of Boston College started no games in the regular season, he was thrust into that role during the postseason in the absence of Russell Westbrook.
In the 70 games he played before the playoffs, Jackson showed a lot of growth. He stumbled a bit last season when he inherited the backup point guard role due to an Eric Maynor ACL tear, but Jackson managed to beat out a healthy Maynor this season and earned the spot outright.
His averages demonstrated a bit of his improvement (5.3 points, 1.7 assists, 2.4 rebounds, 45 percent field-goal percentage). However, Jackson's growth was really seen between the numbers with how much more confident and in control he looked on the court.
Rather than looking intimidated when handling the ball or unsure in his decision making, Jackson was much more poised and displayed a firmer grasp on the team offense and his teammates' playing styles.
Once Maynor was dealt to the Portland Trail Blazers near the trade deadline in February, it was clear that Scott Brooks trusted Jackson. That clarity became a bit murky, though, when the Thunder decided to bring in the wily veteran Derek Fisher for a second consecutive season.
This shift in playing time and role didn't shake Jackson too much, and the signing of Fisher proved to be crucial in the playoffs when Westbrook went down.
When his number was called to enter the starting lineup, Jackson answered. His averages bumped up with the increase in minutes (13.9 points, 3.6 assists, 4.9 rebounds, 47.9 field-goal percentage).
In addition to that, he made some Westbrook-esque plays: some great and some not so great.
Overall, Jackson seized his starting opportunity nicely this postseason and gave us a glimmer of how good he can be in this league. This young gun has plenty of room to grow, but his campaign showed a lot of promise.
Final Grade: B
Ronald Martinez/Getty Images

In the span of this entire season, Kendrick Perkins managed to lose a lot of supporters. The outcry to amnesty/trade/cut him is growing daily and rightly so.
It's been a miserable year for the guy who was supposed to push the Thunder to new heights with his toughness and championship experience. While he has contributed a lot of the intangible stuff like grit and leadership, that stuff will only carry a team so far. Sooner or later, OKC needs actual numbers to come out of Perkins, but that just didn't happen this season.
While he managed to stay healthy and play in 89 out of 93 games (playoffs included), his stats were dreadful for any player who calls himself a starter. Perkins mustered averages of just 4.2 points and six rebounds and shot 45 percent from the field.
His play got worse in the postseason, where his numbers lowered to 2.2 points, 3.7 rebounds and a face-palm-worthy shooting percentage of 26 percent.
Perkins just didn't look the same this year, and his poor play hurt the Thunder against teams with elite big men, such as the Memphis Grizzlies.
We don't know what Thunder GM Sam Presti has in store to alleviate Perkins' decline in production, but we can look back on what has been an awful season for Perkins.
Final Grade: D-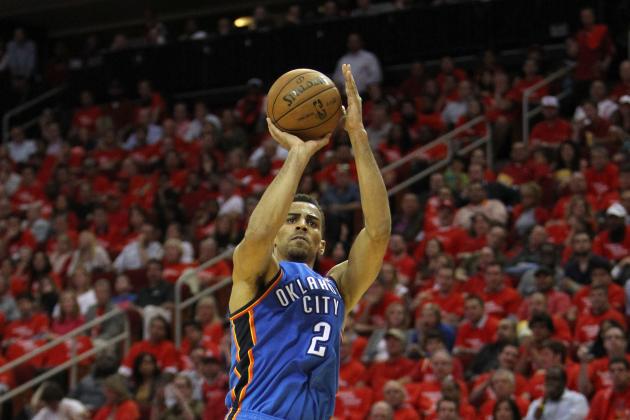 Brett Davis-USA TODAY Sports

On the flip side of Kendrick Perkins' decline, Thabo Sefolosha showed some substantial growth this season.
Normally a defensively-minded player, Sefolosha proved that he could pitch in with some scoring with his career-high average of 7.6 points per game. The bump was due to an increase in three-point attempts (3.2 per game), which was nearly double his former career high of 1.7 attempts per game last season.
While Sefolosha's role still remained primarily on plugging up scoring threats, his ability to knock down open shots and create some points gave his teammates a nice boost on the court.
Kevin Durant and Russell Westbrook are dangerous on their own, but it was nice to see Sefolosha develop into a better two-way player and provide an offensive spark when needed.
Defensively, he was great as usual. Sefolosha played his usual tough coverage and averaged a solid 1.6 steals per game as a result.
Unlike Perkins, Sefolosha filled his role in the starting lineup and then some. His work can often go unnoticed, but he is a crucial part of Oklahoma City's team success.
Final Grade: B+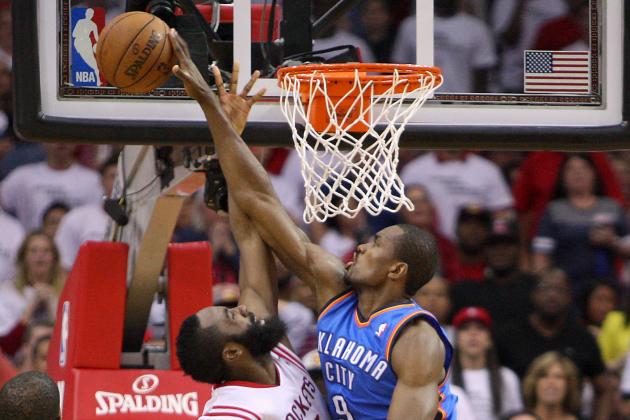 Troy Taormina-USA TODAY Sports

The NBA's Sultan of Swat lived up to his expected output this season, leading the league once again with 242 blocked shots.
On offense, Ibaka also diversified his game by increasing his shooting range to the three-point line. In turn, his scoring averaged was bumped to a career high 13.2 points per game. His field-goal percentage also saw an increase to a nice 57 percent.
When the decision was made to sign Ibaka to a hefty long-term contract extension last offseason, the Thunder put a lot of faith into this young big man, and he has produced.
Although I have been knocking on Kendrick Perkins a lot, he and Ibaka do complement each other on defense between the blocks. Perkins' ability to effectively guard a big man backing him down allows Ibaka to roam, where he can rise up and go for blocks or grab rebounds.
This season, Ibaka demonstrated that he was comfortably settled into his role as a shot-blocker and explosive dunker with a nice shooting touch. Even though some may criticize the Thunder's decision to pay Ibaka before re-signing James Harden, Ibaka has proved his worth as a franchise cornerstone in Oklahoma City.
Final Grade: B+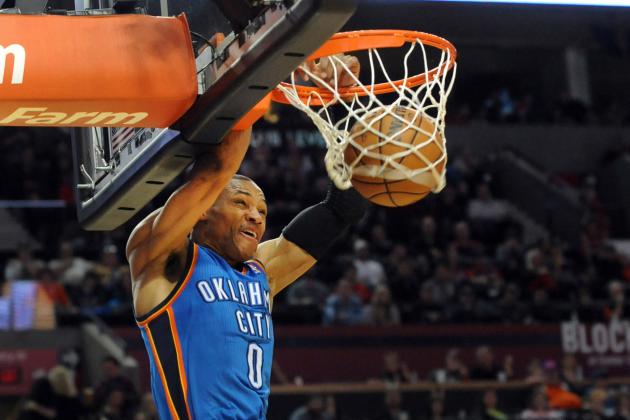 Steve Dykes-USA TODAY Sports

Oh haters, where art thou?
Russell Westbrook managed to shed a lot of naysayers this season not just from his play during the regular season but also from his absence during the playoffs.
Entering the playoffs, Westbrook was coming off a great year with 23.2 points, 7.4 assists, 5.2 rebounds and 1.8 steals. All the while, the criticism continued that the Thunder would be better off without him by letting Kevin Durant run the show.
Those in favor of a sans-Westbrook Thunder got their wish this postseason. However, while Durant did manage to turn in some spectacular performances, the weight of carrying the team proved to be too unfamiliar and overwhelming, resulting in a second-round exit against the Memphis Grizzlies.
It was tough for Westbrook to miss these important games, especially considering he hadn't missed a single game since his high school days. However, the silver lining was that it proved his value to Oklahoma City and its ability to contend for a championship.
Knowing that he'll come back next year to put up more big numbers resulting in a lot of OKC victories is what helps Thunder fans sleep at night, even after a disappointing end to this season. Overall, it was a great year for Westbrook in the regular season, but it took a painful postseason to prove the doubters wrong.
Final Grade: A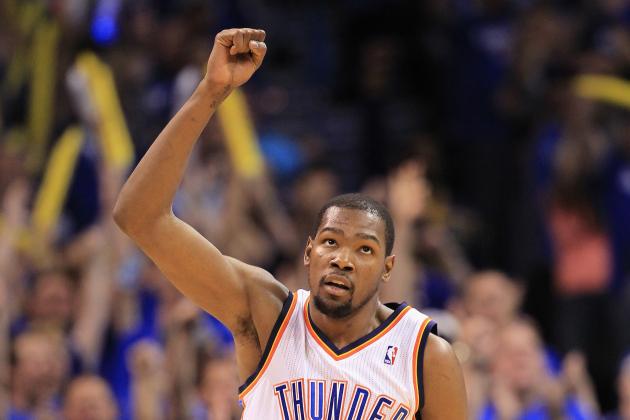 Ronald Martinez/Getty Images

I could just post the final grade for Kevin Durant, and you would understand why it's so high. But I shall elaborate.
It wasn't an MVP season for Durant. He didn't even claim his fourth consecutive scoring title. However, Durant showed monumental improvement in his efforts to be the all-around superstar that a true championship team needs.
Plenty of players can put up big scoring numbers, but how many of them can make the right passes or pull down rebound after rebound? Not many.
That's what separated Durant from other scorers this season. In addition, he improved on the defensive end.
Durant has become a versatile weapon for the Thunder, since he's able to help out in just about every way possible. No longer is he the guy you can count on for 20-30 points on any given night, but you can also count on him stuffing the box score with assists, rebounds, steals and blocks.
If that weren't enough, Durant has also stepped up on scoring efficiency by becoming just the sixth member of the exclusive 50-40-90 club. That means he shot at least 50 percent from the field, 40 percent from three and 90 percent from the line. This is something people in the basketball field would refer to as "not that easy to do."
In the playoffs, Durant was forced to become the one and only star for the Thunder. With Westbrook watching from the sidelines, Durant did everything in his power to carry his team as far as possible.
However, his inexperience in a scenario like this swept over him, and lacking a reliable second option on offense led to some forced shots and frustration.
You can't knock Durant for not carrying the Thunder farther than he did, though, considering he was playing without his wingman against a quality defensive team in the Memphis Grizzlies.
As a whole, it was another fantastic year in the still young career of Durant. But none of these numbers or accolades mean nearly as much as the sweet taste of championship gold, which is what he and the Thunder are aiming for next season.
Final Grade: A+