Hang on, which team is the one loaded with superstars?
Let's count.
The Indiana Pacers apparently have two in Paul George and Roy Hibbert.
And how many do the Miami Heat have? It looks like only one.
LeBron James received little help in the Heat's 91-77 loss to the Indiana Pacers in Game 6 of the Eastern Conference Finals on Saturday.
Gruesome nos. from Heat's 91-77 loss: Heat shoot season-worst 36.1%; Wade 10 pts (3 for 11); Bosh 5 points (1 for 8); Allen 6 pts (2 for 8)

— Barry Jackson (@flasportsbuzz) June 2, 2013
Dwyane Wade and Chris Bosh went missing to a most extreme degree in the loss, combining for 4-of-19 shooting and just 15 points. That's the lowest dual output from the Heat's "other superstars" since all three joined forces in the summer of 2010.
Injuries or no injuries, Game 6 certainly begs the question of whether this Heat team is far and away better than James' Cleveland Cavaliers squads.
The San Antonio Spurs—and their two (or three) longstanding superstars—have enjoyed that finals matchup already.
LeBron James has 171 points in this series. Dwyane Wade and Chris Bosh combined? 155.

— Tom Haberstroh (@tomhaberstroh) June 2, 2013
When the Big Three formed, it was undoubtedly the fusion of a trio of superstars. Bosh had averaged 24 points and 10.8 rebounds per game in his last season with Toronto in 2009-10, while Wade averaged 26.6 points and 6.5 assists with Miami.
Now, the show clearly belongs to James, and it is hard to understand how Wade and Bosh have fallen off so quickly.
Certainly, this Pacers matchup is a bad one for Bosh. The Heat's undersized center is too short for the 7'2" Roy Hibbert and too lean for the strength of David West. Bosh is averaging just 11.3 points and 3.7 rebounds per game in the conference finals.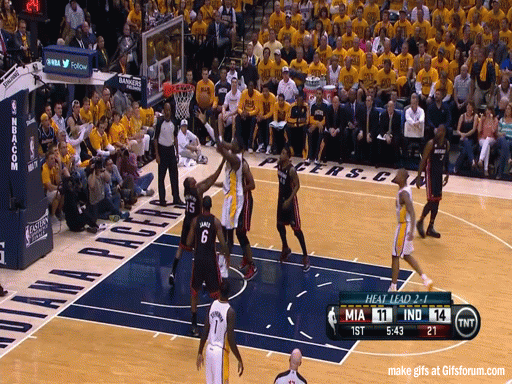 Wade, who has been battling a knee injury, said after the game he didn't want to talk about the injury. But it's the only explanation for why Wade doesn't look like himself. Wade has averaged 14.5 points in the first six games of the series.
Wade didn't want to talk about his knee: "I've been talking about it for 2 months."

— Ethan J. Skolnick (@EthanJSkolnick) June 2, 2013
It's too dramatic—even for the Heat—to begin comparing this Miami team to the groups James ran with in Cleveland. Those teams never featured the quality of talent this Miami team carries.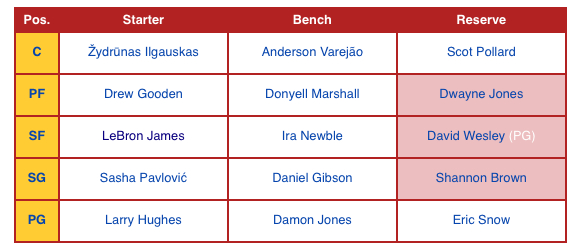 But it's not as dramatic to conclude that James still might have to do it himself in Game 7, just as he did with the Cavaliers in his first finals appearance in 2007, a sweep to the Spurs.
Both Bosh and Wade have taken increasingly secondary roles since playing alongside James, but in Game 6, the two couldn't even manage that. The high shooting percentages of both Wade and Bosh during the regular season have decreased drastically this postseason.
After watching Wade and Bosh in person, Grant Hill has decided to end his retirement. Same with Shaq and Kenny. Charles, though, is too old.

— Frank Isola (@FisolaNYDN) June 2, 2013
Just as bad, neither Bosh nor Wade seem to bring any fire. It's as if they are playing spoiled, unmotivated or somehow frustrated. There seems to be no urgency.
The saving grace of the Heat has been their increased bench production (more than 30 points per game), which has nearly doubled in scoring compared to last postseason (18.2 points per game).
This Miami team, however, is not playing like a superteam, at least not in this series against the Pacers.
Much can still change in a dramatic Game 7 showing in Miami, but as of now, it looks like James is going to have to carry the Heat—just as he did for the Cavaliers.