San Antonio Spurs vs. Miami Heat: Who Has the Edge at Every Position?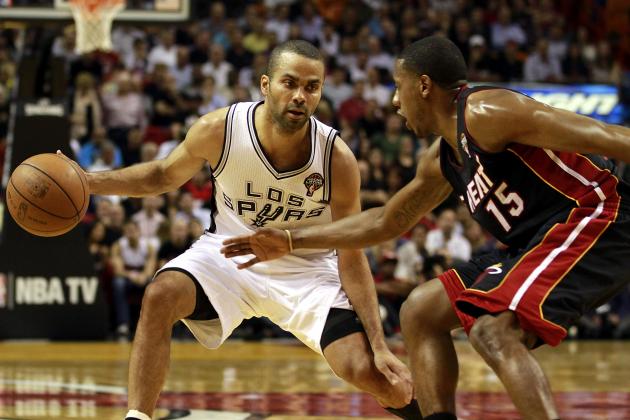 Marc Serota/Getty Images

After surviving their seven-game series against the Indiana Pacers, the Miami Heat take on the well-rested San Antonio Spurs in the 2013 NBA Finals.
This series is chock-full of intriguing matchups.
When the title round tips off Thursday evening, elite stopper Kawhi Leonard will have the challenge of corralling LeBron James. Meanwhile, Tim Duncan and Tiago Splitter will tangle in the post with Chris Bosh and Udonis Haslem. The bench matchups should also prove to be exciting, with both teams posing different problems for the opponent.
But who has the advantage at each spot?
Begin Slideshow

»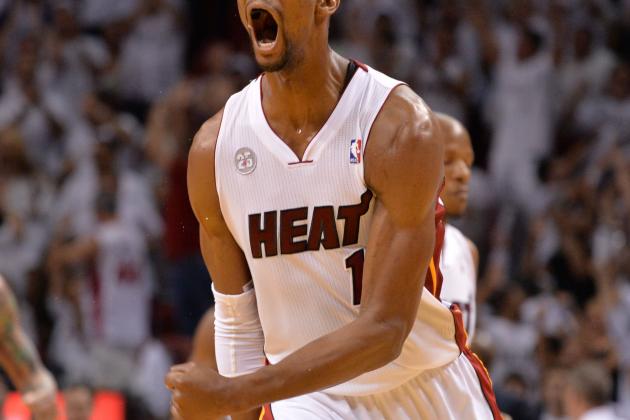 Steve Mitchell-USA TODAY Sports

While Tiago Splitter and Chris Bosh are technically the centers in this series, they won't be exclusively guarding each other. Bosh will spend plenty of time on Duncan, and Splitter will battle Udonis Haslem and Chris Andersen sporadically.
From an overall skills standpoint, Bosh is far superior. He can spread defenses thin with his jump shot or attack the rim, and he's a threat to score 15 to 20 if he gets in a groove.
In this postseason, he's been largely underwhelming, scoring a shade over 12 points per game, including an 11-point average in the conference finals on 38 percent shooting.
Splitter cannot impact the game as a shooter like Bosh can, but he handles other offensive tasks quite well, moving efficiently without the ball and dishing it off to open shooters if he's covered.
The Brazilian big man isn't an explosive finisher nor is he a prolific rebounder (3.7 boards per game in playoffs), so his contributions do have a ceiling.
Advantage: Heat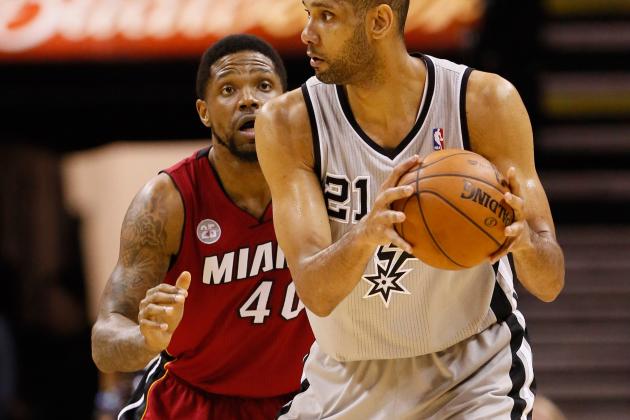 USA TODAY Sports

Before we dive in, let's remember Tim Duncan will operate against Chris Bosh quite a bit. Regardless, Duncan is still one of the best post players in the game and will be a tough matchup for whoever guards him.
He's not as productive as he was in his prime, but he still rebounds consistently, protects the rim and exploits other big men's weaknesses. Duncan's footwork, passing and low-post touch will foil Udonis Haslem, Chris Andersen and Bosh more often than not.
Miami's starting power forward, Haslem, is much more of a wild card. His playing time and involvement in the Heat rotation are inconsistent. He's a scrappy defender and a good rebounder for his size, but Indiana's height overwhelmed him for most of the conference finals.
Offensively, Haslem cannot be trusted. His mid-range jumper is his only tool, and he hasn't scored in double figures more than twice in any series this spring.
Advantage: Spurs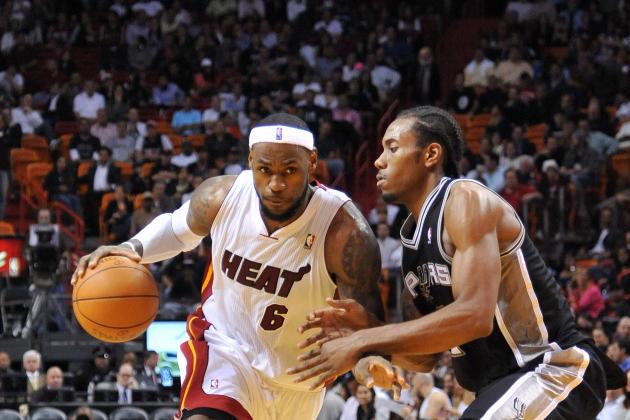 Steve Mitchell-USA TODAY Sports

This is the matchup that has everyone buzzing. Can San Antonio Spurs forward Kawhi Leonard really contain LeBron James enough to alter the series?
Probably not. No one can consistently slow James down throughout a seven-game series. Just ask elite stopper Paul George, who yielded 29.0 points, 7.3 rebounds and 5.3 assists to James in the conference finals.
James' ability to balance scoring and facilitating is phenomenal. Few players in the history of the game have been able to flirt with 30 points nightly and also have an assist rate above 30 percent (via Basketball Reference).
Leonard is certainly the inferior challenger in this comparison, but he's no slouch, and he's much more than a defender. He's scoring 13 points per game this postseason, balancing his outside shooting (42 percent from three) with his interior scrapping (8.0 rebounds per game).
If Leonard can keep James in the 25-point, five-assist range while scoring 15 points of his own, he would give the Spurs a big lift.
Advantage: Heat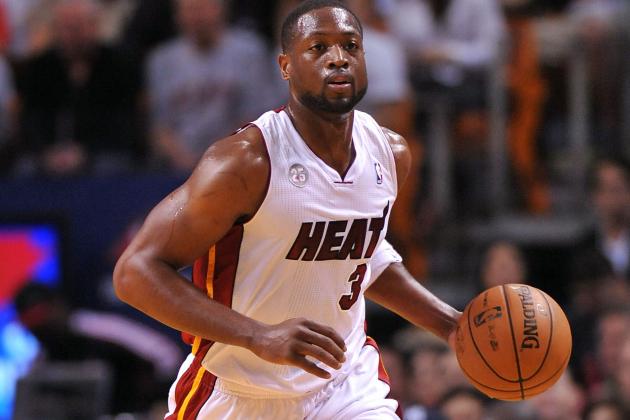 Steve Mitchell-USA TODAY Sports

Both Danny Green and Dwyane Wade have been inconsistent this spring, and it's extremely difficult to gauge the contributions they'll make in the Finals.
What we do know is that Wade holds the upper hand, if he's healthy.
Both players are great defenders who can provide pesky on-ball pressure at the perimeter, and they can also play the passing lanes and thrive as off-ball helpers.
Offensively, though, Wade is in a higher tier because he can create his own shot as a slasher. He's cagey, knows how to draw contact and finds the creases in the defense to score.
Green isn't as dynamic, but he's an excellent distance shooter who loves running off double screens to find open triples. He shot 47 percent from long range in San Antonio's sweep of the Memphis Grizzlies.
Advantage: Heat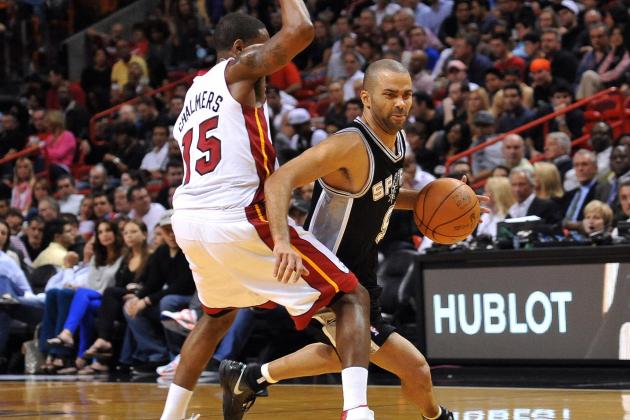 Steve Mitchell-USA TODAY Sports

Considering the way he's playing lately, there's not a point guard matchup in the basketball world that doesn't suit Tony Parker.
He got what he wanted against a tough Memphis Grizzlies club, scoring 24.5 points per night and dishing 9.5 dimes. Parker always poses the danger that he'll get to the bucket, and he knows how to use the defense's fear of that to set up his teammates and his own jump shot.
Mario Chalmers will cover him for much of the series, but Dwyane Wade and LeBron James will take their turns, too. Parker committed four turnovers per game against Memphis, so keep an eye on how many the Heat pry out of him.
As for Chalmers' offense, it's somewhat unpredictable but periodically lethal. With San Antonio so focused on the Big Three, he could have a big series if he stays aggressive as a shooter and slasher.
Chalmers is good, but this is no contest.
Advantage: Spurs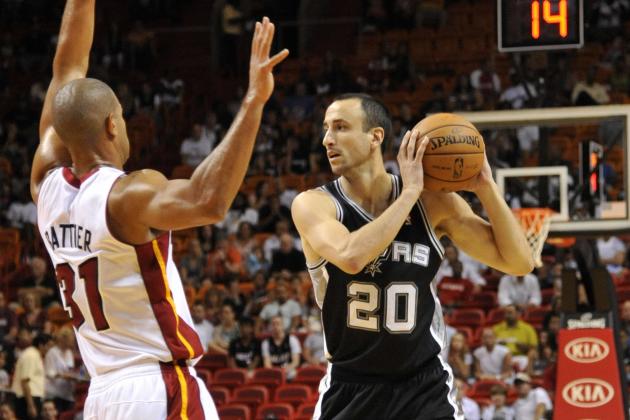 Steve Mitchell-USA TODAY Sports

The sixth man matchup features a couple of veteran champions.
Manu Ginobili has been an effective playmaker off the bench in San Antonio for years, while the Miami Heat counter with sharpshooter Ray Allen.
Ginobili's role this postseason is geared toward facilitating and keeping the supporting cast involved in the offense. His 11 assists in Game 6 of the conference semifinals helped oust the Golden State Warriors, and he's averaging 5.4 dimes in the playoffs.
Miami's sixth-man setup has been less routine, as Erik Spoelstra sometimes uses Norris Cole as his first option off the bench instead of Allen.
A past-prime Allen presents the most offensive firepower of any Heat reserve, and he showed it Monday as he went 3-of-5 from downtown during his 21 minutes.
Allen is good, but Ginobili is better.
Advantage: Spurs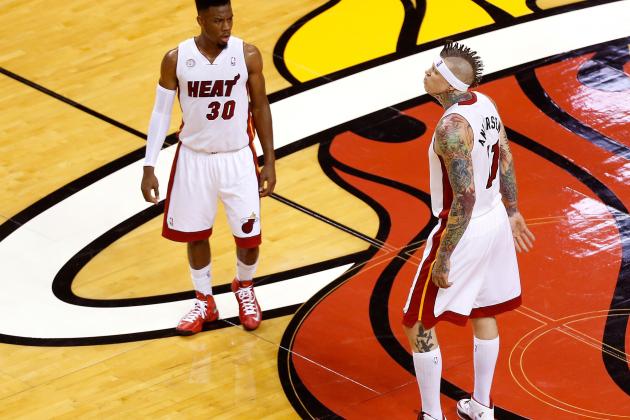 J. Meric/Getty Images

Manu Ginobili and Ray Allen are just the tip of the iceberg when it comes to bench production in this series.
San Antonio's bench is a mile long. It will never run out of shooters or backup point guards, and a multifaceted forward like Boris Diaw is invaluable when you need a big man who can pass and shoot.
What the Spurs don't have is an athletic big-man reserve. DeJuan Blair, Matt Bonner and Diaw do their best, but they're not legitimate towers.
Miami, on the other hand, uses Chris "The Birdman" Andersen to wear down opposing frontcourts with his energy and physicality while Chris Bosh and Udonis Haslem get a breather.
Birdman is complemented by the much-improved Norris Cole, defensive stopper Shane Battier and sniper Mike Miller.
The Heat have the vigor of Birdman and Cole, but the Spurs have a vast set of weapons that keep the attack clicking while Tony Parker and Tim Duncan are out.
Advantage: Spurs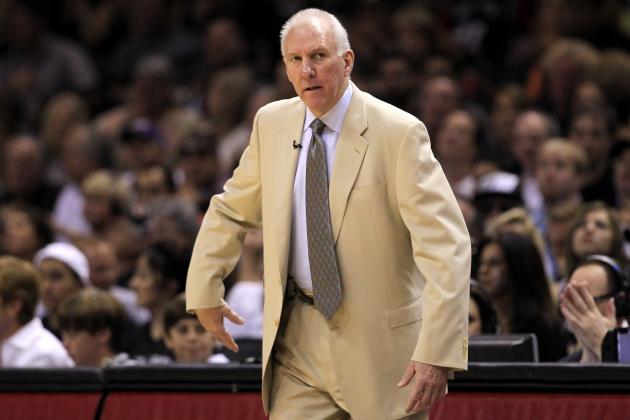 Ronald Martinez/Getty Images

Erik Spoelstra is completing his fifth full season as an NBA head coach, while Gregg Popovich has been running the Spurs for the better part of two decades.
However, Spoelstra is no stranger to the NBA Finals, and this coaching matchup might not be as lopsided as it would seem.
Popovich is going to use Tony Parker to attack the interior while he puts the complementary pieces in the perfect spots to support him. Spoelstra will mix and match plenty of sets from the Big Three and spread the floor every chance he gets.
As an assistant, Spoelstra has nearly a decade of experience, including a 2006 title run. He's also reached the NBA Finals in each of his first three seasons as head coach of the superstar trio. This moment isn't too big for him, and he will maximize his squad's potential.
But Popovich is still a master conductor, always adding new wrinkles to his dangerous schemes.
Advantage: Spurs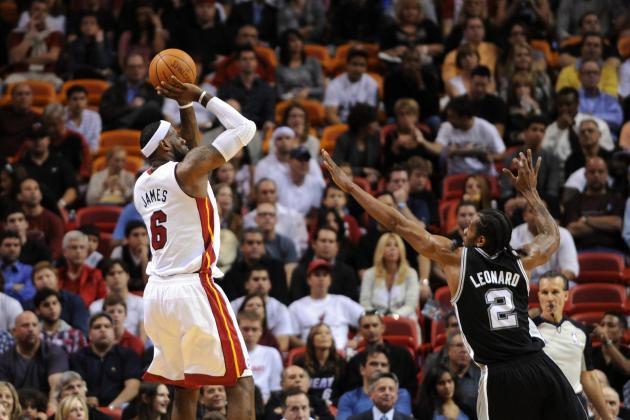 Steve Mitchell-USA TODAY Sports

The Spurs have the edge in five areas, while the Heat have the edge in three. That said, Miami's three advantages are significant enough to win it all.
Even if San Antonio has more depth and title experience among its Big Three and coaching staff, there's no user-friendly formula to stop LeBron James. If James can keep Chris Bosh and Dwyane Wade active, as he did in Game 7 against the Indiana Pacers, it's going to be tough for the Spurs to win four games.
Kawhi Leonard will do all he can on defense, and Tony Parker will keep Gregg Popovich's offense humming. Don't expect Miami to walk all over the Spurs. In fact, I would be surprised if this series doesn't reach a sixth game at minimum.
But after the final buzzer, the Heat will be hoisting back-to-back Larry O'Brien trophies.
Prediction: Heat in seven