Dana White on Roy Nelson: 'He's an Absolute Pain in the Ass'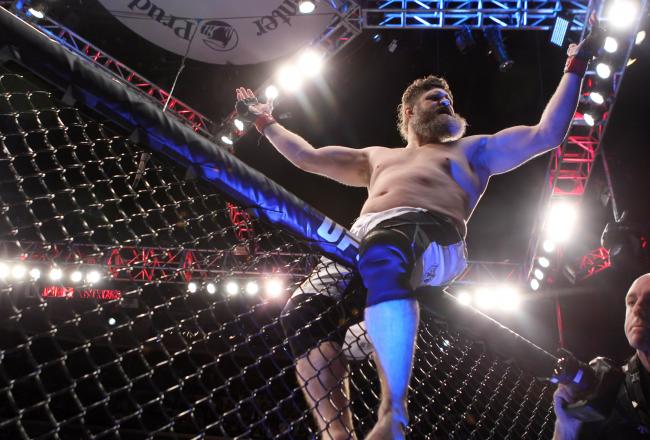 Brad Penner-USA TODAY Sports
The love/hate relationship between UFC president Dana White and his troublesome heavyweight, Roy Nelson, continues. A recent interview with Yahoo! Sports suggests White still thinks Nelson is the most irritating thing in MMA.
This despite Nelson, who today stands as somewhat of a cult hero in the sport, racking up three straight wins in recent UFC appearances.
White told Kevin Iole of Yahoo! Sports that he hasn't precluded Nelson from a possible title fight. However, the fighter still hasn't done enough to endear himself to his boss.
"Roy loves to say I'll never give him a title shot," White said. "But dude, beat someone and then I'll give you the shot. Roy is knocking off these guys ranked six through 10, but when he gets to fighting the top five guys, he can't do the same thing. You're not going to get a title shot for beating No. 6 and No. 8. You have to beat the top guys."
The tempestuous relationship between White and Nelson dates back to "Big Country's" stint on The Ultimate Fighter in 2009—the reality show Nelson eventually won.
From the very beginning, White had few kind words for the Las Vegas native, according to The Examiner, calling him a "moron," an "idiot" and "dumb."
How ironic, then, that Nelson has since begun selling T-shirts on his website with a quote from White exclaiming that Big Country is "The Smartest Guy on Earth."
White set the record straight that the comment was made sarcastically, adding that Nelson's whole "schtick"—the protruding belly, the mullet haircut and the grotesquely overgrown beard—was not an attempt to promote himself as a counter-culture figure in an attempt to curry favour with fans who hate White.
"He's not doing that," White said. "He's not. It's nothing he's thought about and is intentionally trying to do. He's not that smart. Let's be honest. He's just not a smart guy. He's just that guy who is irritating. He thinks he's smart, but he's an absolute pain in the ass.

"He jumped up on the Octagon [after beating Kimbo Slice] and said to me, 'Go get me a Whopper,' as if Burger King or McDonald's would ever want to have a guy who looks like that endorsing [its] product. He thinks he's funny, but to me, he's an idiot."
Nelson, for his part, seems unfazed by this public feud with his boss. He believes that, as a fighter, he's a commodity that can't be easily replaced.
"If there was another Roy Nelson, OK, but there is not…We're not a dime a dozen. Very few people can do what we can do. Very few," said Nelson.
Nelson's recent win over Cheick Kongo, his third first-round KO/TKO in a row, has put him into the top five, but that's still a long way from the title as far as White is concerned.
White said that he'll only earn a shot if he beats another top-five heavyweight, which certainly won't happen after Nelson faces Stipe Miocic—an opponent who isn't even in the top 10—on June 15, 2013, at UFC 161.
This article is
What is the duplicate article?
Why is this article offensive?
Where is this article plagiarized from?
Why is this article poorly edited?