Texas A&M Football: Over/Under 2013 Win Total Predictions for Aggies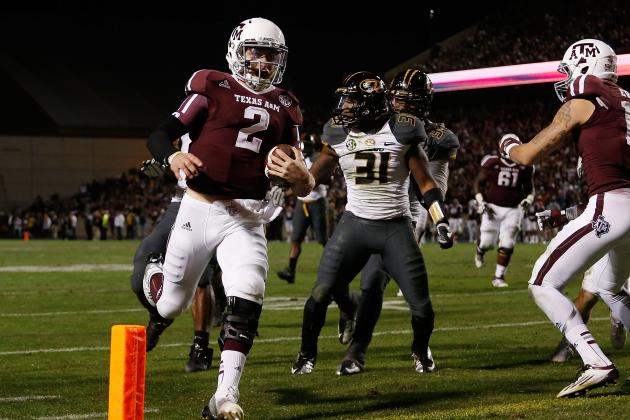 Scott Halleran/Getty Images

The Texas A&M Football team enters the 2013 season with national championship expectations. The Aggies will be one of the dominant teams in the Southeastern Conference and will win 11 games during the regular season.
There are plenty of factors that go into a team's record. Injuries, schedule and team chemistry can all have a major effect on the upcoming season.
The Aggies feature a schedule with eight home games. A year after playing only six games at home, the Ags are rewarded with only four road games in 2013.
There is no way to predict injuries or how they will affect a team. The Aggies have to hope they have enough depth to overcome the inevitable bumps and bruises that accompany every season.
Coaches can talk about leadership and team chemistry until they are blue in the face, but the players are the ones who have to step up and be accountable. The upperclassmen on the team need to set the example during the offseason and when adversity hits during games.
The Aggies have a lot of talent returning in 2013 and will be a major player for the SEC and national titles. Anything less than 11 regular season wins will be considered a disappointment.
This is a breakdown of the Aggies schedule and how they will arrive at the magic number of 11 wins.
Begin Slideshow

»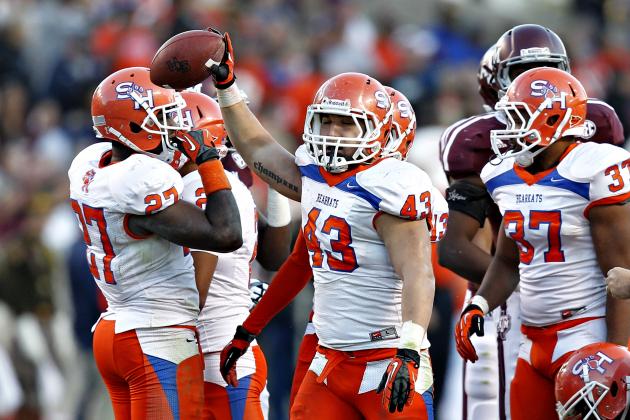 Bob Levey/Getty Images

Teams: Rice, Sam Houston, Arkansas, Vanderbilt, UTEP
Projected Record: 5-0
Every college football team "schedules wins" on their schedule. These are the teams that fans count as wins before the season starts without giving it a second thought.
These are the games that make you bowl eligible with only three or four conference wins. Most of the time, these are non-conference games.
Rice, Sam Houston and UTEP simply do not have the personnel to match up against the Aggies. Those will be games where the Ags are playing their second- and third-string players in the third quarter.
Arkansas and Vanderbilt are conference games, but neither of them have the offense to keep up with the Ags in 2013. Arkansas had been able to compete in the SEC because they had a brilliant play-caller at head coach and tremendous athletes at the skill positions.
That coach is gone, and he has been replaced by Bret Bielema. The former Wisconsin coach favors a more traditional approach to football—winning with defense and a strong running game.
Arkansas will struggle to make the transition to their new philosophy in 2013. Even on the road, that should be a 20-point victory for A&M.
Vanderbilt is a very tough, physical football team. They have one of the best wide receivers in the country in Jordan Matthews. They grind out wins against teams in low-scoring affairs.
The Commodores do not have enough on defense to keep up with A&M. They have never faced a player like Aggie quarterback Johnny Manziel. It will be a shock to their system.
Playing at Kyle Field, Vanderbilt will be another easy victory for the Aggies.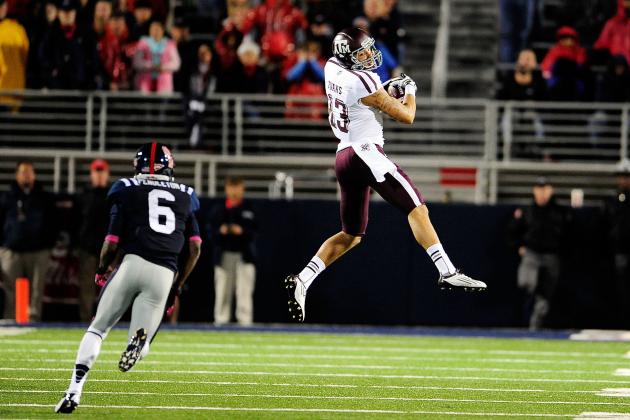 Stacy Revere/Getty Images

Teams: SMU, Ole Miss, Auburn, Mississippi State, Missouri
Projected Record: 5-0
There are teams on the schedule who are likely wins, but will be a threat if the Ags have an off-day. These are teams that can play the Ags to close losses or even pull an upset.
Arkansas fans are going to be upset when they read this, SMU is a bigger threat to A&M in 2013 than the Hogs. SMU quarterback Garrett Gilbert with Hal Mumme and June Jones mentoring him, could be a very dangerous player.
The SMU offense will be able to put up points on anyone in 2013. They could get in a shootout with the Aggies.
Ole Miss nearly beat A&M in 2012. Some late-game heroics by Manziel and Tony Hurd Jr. sealed a win for the Ags in a game in which they committed six turnovers.
The Rebels are going to be a tough test on the road. Bo Wallace has a year under his belt in Hugh Freeze's system, and the talent is improving in Oxford.
Auburn will stay in games because Gus Malzahn is a brilliant offensive coach. He will keep plugging away with the running game until he finds an opening, and then will repeatedly exploit it.
If Mississippi State could get better quarterback play, then they could be a good team. Incoming freshman defensive end Chris Jones will be an immediate defensive force for the Bulldogs.
Missouri is not an easy team to beat on the road. If they are still in one piece at the end of the year, James Franklin and Henry Josey can cause a lot of problems for a defense.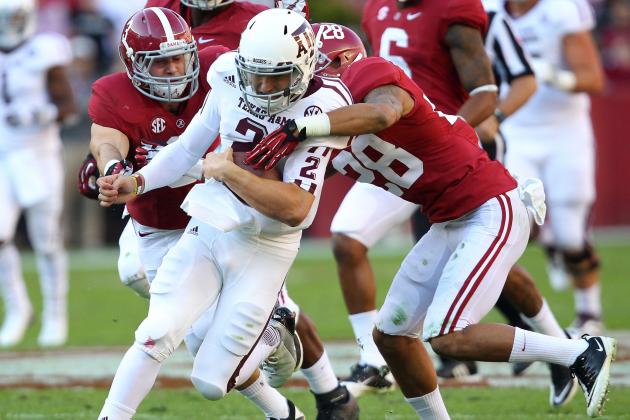 Mike Zarrilli/Getty Images

Teams: Alabama, LSU
Projected Record: 1-1
There are two teams that jump out at you on the A&M schedule as possible losses. LSU beat A&M in 2012, and Alabama is expected to be the top team in the nation once again, according to CollegeFootballNews.com.
LSU lost 11 juniors to early entry in the NFL draft, and star running back Jeremy Hill's status is unknown after an offseason arrest. LSU simply plugs the next guy in there and keeps chugging away.
The Aggies will face LSU in Baton Rouge. Coming out of there with a win is never easy. The Tigers have to answer some major question on their defensive line and in their secondary, but this is a game that Aggie fans should expect to lose.
Alabama is the standard in college football right now. They have won three of the last four national championships and won them in convincing fashion.
The Tide will travel to College Station on September 14 in one of the most anticipated games of the 2013 season. Alabama fans like to point out that Nick Saban has not lost games to the same team in consecutive years.
Saban has also never played a mobile quarterback who runs a hurry-up spread offense like Johnny Manziel does in consecutive years. Saban is 0-3 against quarterbacks like that with losses to Utah, Auburn and A&M.
Expect that record to move to 0-4 after the 2013 contest between the two teams. The nation will learn that the Aggies have quite a stable of running backs behind their all-world quarterback in that game.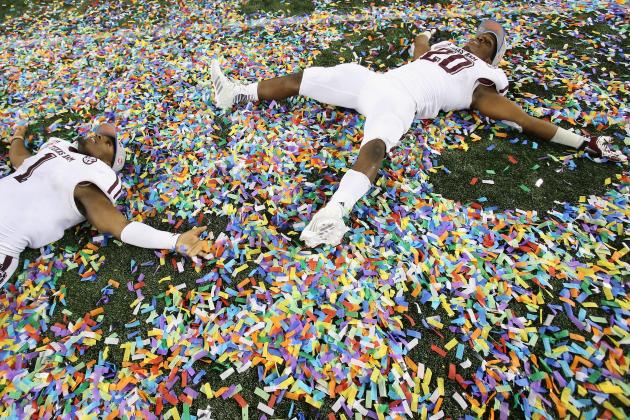 Ronald Martinez/Getty Images

If the Aggies go 11-1 with their only loss to LSU, and the Tigers finish with more than one SEC loss, then A&M will represent the West in the SEC championship game. Right now, it looks like Georgia or South Carolina is the best bet to represent the East in that game.
If the Ags can get by the East challenger, then they will play in their first national title game in almost 75 years. As long as the team stays healthy and some leadership emerges, the Ags have a realistic shot at having a season for the ages.