Alexander Gustafsson Willing to Do Anything to Make Jon Jones Fight Happen
Use your ← → (arrow) keys to browse more stories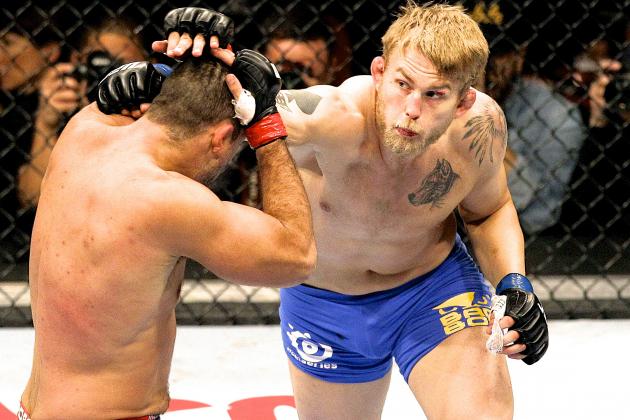 Alexander Gustafsson made his professional mixed martial arts debut in November 2007, earning a second-round submission victory. Following that win Gustafsson ran off seven more victories.
Then the UFC came calling.
Gustafsson made his UFC debut at UFC 105, knocking out Jared Hamman in 41 seconds. He would lose his next bout to Phil Davis, but Gustafsson would recover from that defeat and go on a six-fight winning streak, emerging as a threat to UFC light heavyweight champion Jon Jones.
That's a fight that Gustafsson wants, and if Twitter exchanges mean anything, it's a fight that Jones wouldn't mind accepting either:
Fighting me is not good for your image @AlexTheMauler FYI

— Jon Bones Jones (@JonnyBones) May 24, 2013
@JonnyBones if you think of what is good for your image, maybe you should continue to fight this 185ers??

— Alexander Gustafsson (@AlexTheMauler) May 24, 2013
After that exchange, Jones hinted that he had a big decision to make after seeing his doctor:
Just finished with the foot doctor, got a lot to contemplate today.. Decisions decisions

— Jon Bones Jones (@JonnyBones) May 29, 2013
The tweet left many wondering if that big decision was accepting a fight with Gustafsson.
On Friday, Gustafsson upped the intensity of his pursuit of a fight with Jones. Speaking to MMAFighting.com, he said, "I'm not going to be quiet anymore. I really want this fight. I really want to fight Jones. It's on. It's on. I will do anything I can to make it happen."
Gustafsson has not fought since December, when he earned a unanimous-decision victory over former UFC light heavyweight champion Mauricio Rua. He was set to face Gegard Mousasi in April, but a training camp injury forced Gustafsson from that fight just days before the card took place.
Jones has been out of action since dislocating his big toe in his last fight, a first-round technical knockout victory over Chael Sonnen. The win was Jones' UFC light heavyweight record-tying fifth consecutive title defense. Jones shares that record with UFC Hall of Famer Tito Ortiz.
The stars seem to be aligned for a fight between Jones and Gustafsson. Now we sit, wait and hope.