5 Missing Pieces Keeping Montreal Canadiens from Being a Contender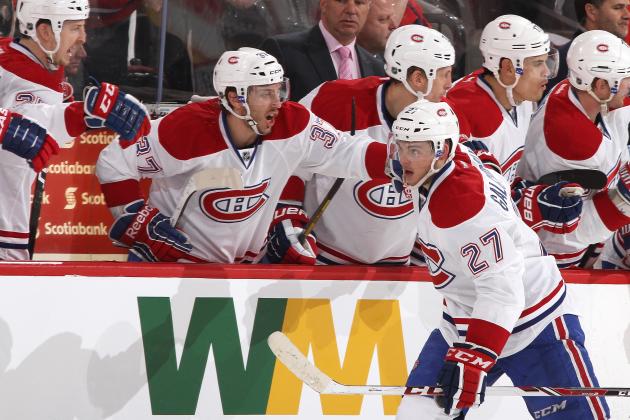 Jana Chytilova/Freestyle Photo/Getty Images
Montreal Canadien Alex Galchenyuk celebrates a goal.
As recently as early April, the Montreal Canadiens were thought to be contenders to, at the very least, make it out of the Eastern Conference. Due to several uncontrollable factors, at least following the trade deadline, it didn't work out that way, though.
It wasn't that much of a stretch to conceive of the Habs' high-flying offense that averaged over three goals per game taking them all the way to the Stanley Cup Final. Then the unthinkable happened. The Habs fell back down to Earth, crushing fans dreams of a league-leading 25th Stanley Cup in the process, losing 4-1 to the Ottawa Senators in the first round.
Looking back at what went wrong over the last stretch of the regular season and in the playoffs, here are five pieces Montreal requires to become a contender next season and beyond.
Begin Slideshow

»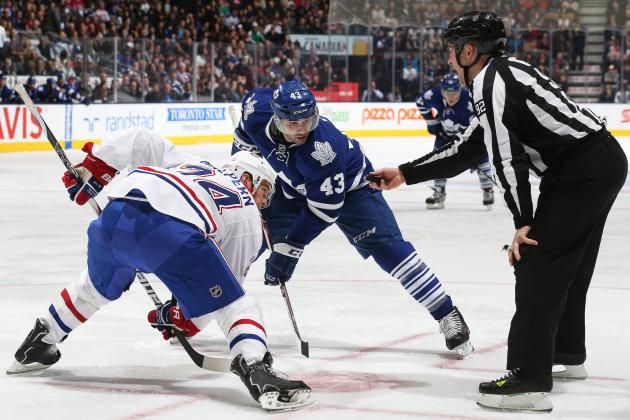 Claus Andersen/Getty Images
Montreal Canadien Jeff Halpern takes a faceoff against Toronto Maple Leaf Nazem Kadri.
To clarify, that would be a faceoff specialist preferably capable of playing top-six minutes.
For example, Boston Bruin Patrice Bergeron, who led the league with a 63.5% success rate taking faceoffs this season. In sharp contrast, of Montreal's three centers who took over 400 faceoffs, Tomas Plekanec led the team with a rather modest 50.6%.
That's a fairly significant drop-off. To put that in perspective, that would place him 41st in the league among faceoff leaders. That's more than enough for each team to have at least one faceoff specialist more capable than Montreal's top guy available to take a critical draw playing against the Habs.
Of course, general manager Marc Bergevin did acquire Jeff Halpern off waivers specifically for this reason, and he, earning a 55.6% success rate taking 207 draws, was relied on successfully down the stretch.
However, Halpern is 37, an unrestricted free agent, and, well, softer than plain vanilla pudding (which can also describe his game as whole). So, chances are good that he won't be back with the team next season for a plethora of different reasons.
Now Gabriel Dumont and Ryan White had success rates of 63% and 54.5% respectively. However, in Dumont's case that was after taking just 46 draws. While White took 167, his 54.5% also corresponded to the chances of him taking a stupid penalty right afterward.
That may be a slight exaggeration, but Montreal's critical need to win more faceoffs isn't, as, with a 49.8% success rate overall, Montreal would have more success flipping a coin.
Of course, Montreal did all right in the faceoff circle in the playoffs (51.7%), pointing to the existence of more crucial needs for the team to address.
Montreal is one of the few teams blessed with a player always ready and willing to drop the gloves and lend a helping hand on the scoresheet as well. Unfortunately, at 6'0", 195 pounds, Brandon Prust isn't exactly the epitome of intimidation preventing other teams from scoring either.
Prust captured the Jacques Beauchamp-Molson Trophy as the team's most unsung hero this past season by fighting a total of 10 times and adding in five goals in 38 games (which translates to over 10 over the course of an 82-game season).
There are few words that can properly convey the value of that type of player, one on whom a coach can rely on for intangible leadership and initiative to stand up for teammates and not have to use sparingly due to a lack of skill. Take away that skill and what do you have? Ryan White…well, Ryan White if you also add a short fuse into the mix.
The point is Montreal has its fair share of fighters, but lacks a veritable heavyweight that can really mess with the psyche of opposing players. Right now, if someone were to drop P.K. Subban with an illegal check from behind (for example), they only know that they're going to have to answer the bell, not have bells ringing in their heads for the next few months.
Prust has been able to hold his own against the likes of then-Toronto Maple Leaf Mike Brown and Washington Capital Matt Hendricks, legitimate tough guys in their own right. However, going up against a guy like Bruin Milan Lucic, Prust fell well short (both figuratively and literally, being four inches shorter).
When Bob Gainey took a chance on Georges Laraque back in 2008-09, he overvalued the need for a heavyweight by paying him $1.5 million per year. The results were less than stellar and the Habs ended up buying him out. The need was still there, though, just like it is now.
Granted, the Habs are paying Prust $2.5 million per year, and he may not be worth nearly that much. He is nonetheless incredibly valuable, just not in the way the Habs need him to be, meaning Prust isn't necessarily the one who's expendable.
If the Habs can find a regular spot for White in the lineup, they sure as hell can for someone much bigger (but just slightly less crazy).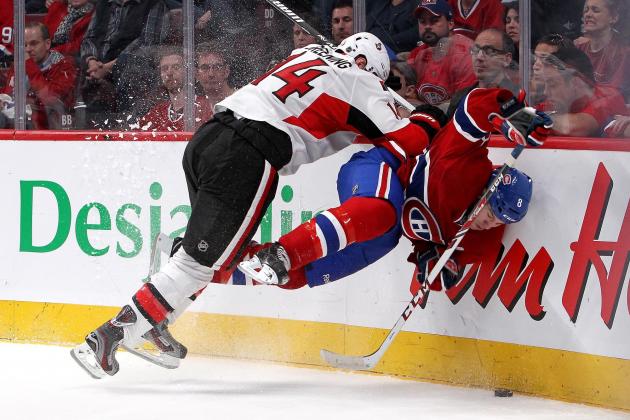 Francois Laplante/FreestylePhoto/Getty Images
Ottawa Senator Colin Greening takes Prust hard into the boards.
Further expanding on the last point, Montreal can always use more size up front and on the blue line. This was evident in the first round of the playoffs when the Habs got pushed around by a Senators defense, which boasted five players above 6'3", and four above 220 pounds.
Montreal, it should be noted, has only two players above 6'3": Goalie Carey Price and the seldom-used Michael Blunden.
Not one of Montreal's defensemen is above 220 pounds, excluding Davis Drewiske (220 lbs exactly), who didn't even draw into the lineup during the first round. Meanwhile, three of Montreal's top six forwards are 5'9" or less and below 180 pounds.
While, during the regular season, this is all fine and good with the Habs free to exploit opposing teams' large, slow-footed defensemen with their speed and skill, it's a different story during the playoffs.
Referees become more afraid of calling penalties for fear of being accused of deciding the outcomes of games. As a result, fewer calls are made and bigger teams are more able to take advantage of their size and physicality.
When Montreal is already starting off at a disadvantage there, it's easy to imagine at least one reason why the Habs lost the way they did to the Sens.
Of course, Montreal drafted Alex Galchenyuk (6'1", 196 lbs) in last year's draft, giving the Habs not one, but two big centers of the future following the emergence of the 6'2", 209-pound Lars Eller.
With Nathan Beaulieu (6'1", 182 lbs) and Jarred Tinordi (6'6", 205 lbs) poised to fill out some on defense as well, the Habs are undoubtedly in good shape, but none of the above are necessarily ready for top-line roles.
As a result, unless general manager Marc Bergevin addresses the aforementioned need through trades or free agency, Montreal will continue to own their current skilled but undersized identity instead of one of size and skill at least for the foreseeable future.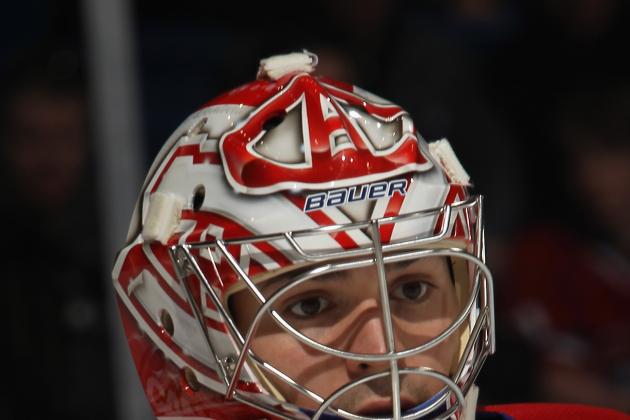 Bruce Bennett/Getty Images
Montreal Canadien Carey Price.
Until Carey Price proves himself in the playoffs, all he'll ever be is a good goalie, not an elite one.
Some Habs fans consider Price a top-five goalie, but it's become readily apparent since 2007-08 (his rookie season when he last won a playoff series) they're thinking in terms of talent and not on-ice performance. Talent alone, as proven in the previous slide, does not win championships.
Price is an elite talent, no doubt, but in four playoffs since then, he has earned a save percentage above .900 once (2010-11 when the Habs lost to the Bruins in the first round). That's not exactly top-five material. And, on the subject of this supposed top five, just who else makes the cut?
New York Ranger Henrik Lundqvist, Nashville Predator Pekka Rinne and Los Angeles King Jonathan Quick must clearly be included. So, that's three right there, but only one current Vezina Trophy nominee (Lundqvist).
If fellow-nominees Antti Niemi and Sergei Bobrovsky are also deserving of top-five recognition, there's just no room for Price. Some might argue on Price's behalf that Bobrovsky may not belong as he's only had the one awesome season. However, so has Price, but back in 2010-11.
Additionally, if that one season, what seems like ages ago, continues to serve as proof as to Price's prowess in the crease, New Jersey Devil Martin Brodeur, the best goaltender of all time, also needs to at least be considered. Sure, Brodeur may be thought of as over the hill, but if one season is all it takes, Brodeur has had more than a couple.
Likewise in regard to the seemingly ready-to-retire Miikka Kiprusoff, who was simply atrocious this year (3.44 goals-against average, .882 save percentage). Still, the Calgary Flame had his last truly great season more recently than Price did (2011-12; 2.35 GAA and a .921 save percentage).
Admittedly, this is pretty absurd stuff. Price is clearly a better goalie than Brodeur or Kiprusoff at this stage of the game, but Price fans can't have it both ways: You either judge a goalie based on his body of work or how he's playing currently, and Price hasn't been playing well going on two years now.
In the very same present, Ottawa Senator Craig Anderson, Detroit Red Wing Jimmy Howard, Boston Bruin Tuukka Rask and Chicago Blackhawk Corey Crawford have similarly proven themselves as being more capable than Price, putting him at best in the league's top 10.
Price is obviously a better goalie than his current stats indicate (2.59 GAA, .905 save percentage), but, all the same, he has yet to show it on a consistent basis. He only did during short spurts this season, and spurts alone, unless they're in the playoffs year after year, do not make a career.
They also do not make the Habs legitimate contenders.
Granted the Pittsburgh Penguins are getting by with average goaltending and they even won it all with Marc-Andre Fleury in net, but it's probably best not to think about that. It serves as reminder of yet one more goalie who, as bad as he's been, has amazingly had more playoff success than Price.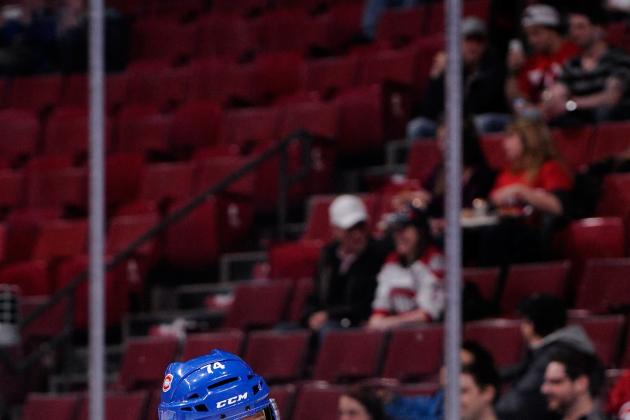 Richard Wolowicz/Getty Images
Montreal Canadien Alexei Emelin, out six months after recent knee surgery.
The Penguins might be getting by with average goaltending, but it's only because of their depth at other positions, something which the Habs already have, or they would were it not for injuries.
The one consistent thread linking each of the preceding four slides together is the fact that Montreal has each "missing" piece in one form or another in its lineup currently. However, without health, it's all for naught.
Look back to the injury to Alexei Emelin back on April 6 for irrefutable evidence of this fact. Before Emelin ran into Milan Lucic, injuring his knee falling to the ice, the Habs were in the midst of contending for the first spot overall.
Sure, the Habs were longshots for the Presidents' Trophy, but they were in the running. One 4-6 stretch (including a mini six-game one where the team went 1-5) later, and the Habs were lucky to place second in the East, winning the Northeast Division on the last day of the regular season as idle spectators.
No one will know for sure what may have transpired had the Habs gotten the Toronto Maple Leafs instead of the Sens in the first round. However, it couldn't have been much worse than watching Canadiens drop like flies from a fan's perspective and the team as a whole bow out in five games largely as a result.
Montreal had just tied Game 1 in the second period when Lars Eller got concussed by Sens defenseman Eric Gryba. Captain Brian Gionta, power forward Max Pacioretty, grinder Brandon Prust, enforcer Ryan White, and Price all followed suit at one point or another, leaving a veritable skeleton squad to take on the Sens in the series' deciding 6-1 Game 5 defeat.
Few can say for certain that the Habs would have won the series had the Senators not manhandled Montreal to the degree they did, but it at the very least was a probability.
Unfortunately, the Habs just couldn't adapt, left licking their wounds, eliminated much earlier than most anticipated a mere one month earlier when public sentiment was the team had a good shot at another Stanley Cup.
That's the takeaway here. The Habs are much closer to being contenders than their 4-1 first-round defeat makes it seem. The missing pieces are within grasp. It's just a matter of them fitting properly into place.