John Cena has transcended the WWE Universe and effectively divided the viewing audience into two general groups. The loudest cheers have a decidedly higher pitch tone while the loudest boos are lower in tone.
This reaction of boos to the "good guy" babyface John Cena has been overtly present in WWE since Rob Van Dam challenged Cena for the WWE Championship in 2006 at One Night Stand.
The opening segment of the May 27 edition of Monday Night Raw continued to exemplify the mixed reaction Cena still receives to this day. Each time Cena's music plays and he comes to the ring, it is no wonder why he has such a huge smile on his face. The reaction he gets means people care.
While the WWE Universe is battling in cheers and boos, Cena can stand back in the adulation of it all and realize that just because of his appearance there is a reaction.
At times he has received middle-fingers and at other times he has received vehement cheers, yet his persona has largely remained the same for the past seven years.
He has only reverted back to rapping on rare occasions.
He has come a long way in the evolution of his persona from being a freestyle rapper.
It does not matter how much one hates or loves John Cena. The sheer amount of noise that he receives is exactly what every pro wrestler wants to have.
John Cena is someone that has earned in his place in the WWE Hall of Fame many times over. Before becoming "Super Cena," he had to earn his place in WWE.
For every comment of hatred directed toward John Cena, it means someone is talking about him. This type of talk helps to cause the vitriolic behavior at live events aimed at Cena from some members of the WWE Universe.
Having very entertaining matches in his career with Kurt Angle, Shawn Michaels, JBL, Edge, Rob Van Dam, The Rock, Triple H, Randy Orton, Umaga and more, Cena has more than proven his worth as not only an entertaining WWE Superstar, but also as a pro wrestler.
The vitriolic hatred of many adult males in particular to Cena only makes him more useful to WWE. As Cena grants more wishes to sick children and continues to get booed by adult male members of the WWE Universe, it only makes his character stronger and more dynamic.
How can someone boo a person who has granted more wishes for the Make-a-Wish foundation than anyone else?
The lack of respect by certain individuals toward Cena helps to make him that much more unique. No one else divides the audience like John Cena, and it is this love/hate relationship that makes him the most popular WWE Superstar since The Rock.
John Cena's ubiquitousness over WWE is much like Hulk Hogan's over WCW in the mid-1990s. The difference is that the hatred for Hulk Hogan's red and yellow Hulkamaniac persona could not adjust to the change in crowd reaction. Hogan needed to turn into a full-fledged heel to stay relevant.
Instead of giving him the traditional heel turn, WWE has successfully made John Cena above the crowd reaction given to him.
He is above the reaction because he reacts to it appropriately with humor, innuendo (remember the "heel turn") and the ability to throw unscripted words in his live promos directed at the audience he is in front of.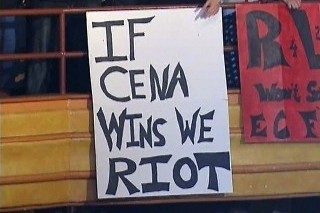 Whether John Cena is loved or hated, it is the reaction that he garners which makes him WWE's top star. We, the WWE Universe, have helped make John Cena into what he is today by our reaction to him.
From the small children and family members nearly head-to-toe in John Cena merchandise chanting "Cena, Cena, Cena" or mostly adult males with signs that read "If Cena Wins We Riot" chanting "Cena Sucks," the fundamental desire of pro wrestling is present when there is a reaction from the audience.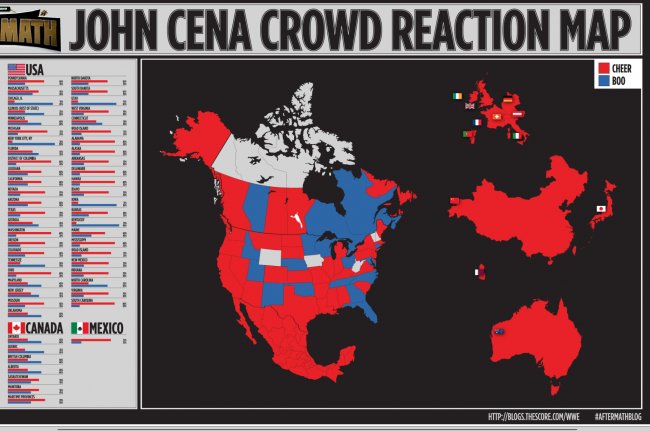 It does not matter whether some believe that "Cena can't wrestle" because he clearly can as demonstrated in the matches he has had with top superstars. Also, it does not really matter if Cena is respected. At this point in John Cena's career, he has amassed a popularity that no one else has been able to attain.
By being the most loved and the most hated WWE Superstar, John Cena is a heel to some and a face to others.
The love and hate relationship that splits the WWE Universe as it concerns John Cena is an extremely rare aspect in the pro wrestling universe.
When Cena garners a reaction, he has done his job and for over a decade, he has done his job outstandingly.
Read more from Sean McCallon on the Double Axe Handle Blog.
Follow Sean McCallon on Twitter @TheBlueMask246