NBA Finals 2013: Areas San Antonio Spurs Must Improve Before Showdown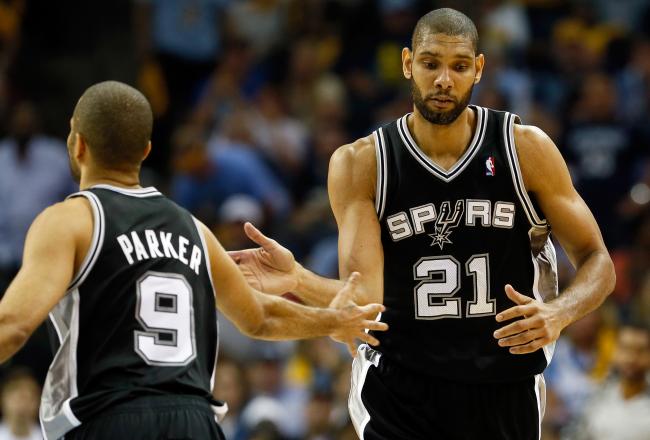 Kevin C. Cox/Getty Images
The San Antonio Spurs are enjoying an extended break before taking on the Miami Heat or Indiana Pacers in the 2013 NBA Finals, but that doesn't hide the fact that they have plenty of issues to shore up beforehand.
The Spurs will have their hands full with whoever they end up playing. If the Heat clinch the series with their commanding 3-2 lead, they'll be facing LeBron James in his undying quest for a repeat. On the other hand, the Pacers have proved they're no pushover and can play 48 minutes against any team on any given night.
If Tim Duncan and Co. try to play at the level that garnered a series sweep over the Memphis Grizzlies, they could be swept themselves. They need to step it up and fix their problems before taking the next step.
Let's take a look at the areas that the Spurs must improve in if they want to claim victory in the 2013 NBA Finals.
Wing Players' Scoring Production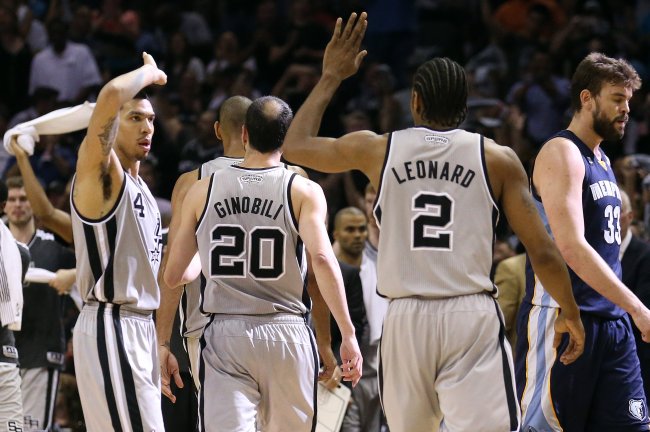 Stephen Dunn/Getty Images
A huge X-factor going into the Spurs-Grizzlies series was the performance of wing players Kawhi Leonard and Danny Green offensively.
It appeared to be a major advantage for San Antonio at first, as the duo combined for 34 points in Game 1 and dropped to 23 points in Game 2.
But in Game 3, the two combined for seven points on just 3-of-11 shooting from the field. They didn't do too much better in the series-clinching Game 4, combining for 16 points. The Spurs were fortunate enough to enjoy heroics from Tony Parker and Tim Duncan to help their team survive with a win in both games.
San Antonio can't afford to have these two players completely drop off in production if it wants to have a chance in this series. With the certainty of playing either Dwyane Wade and LeBron James or Paul George and Lance Stephenson, Green and Leonard will have their hands full defensively, much less offensively.
Both the Heat and Pacers boast formidable matchups on the wing, and the Spurs will have to get big games from these two players for any shot at victory.
Crashing the Offensive Glass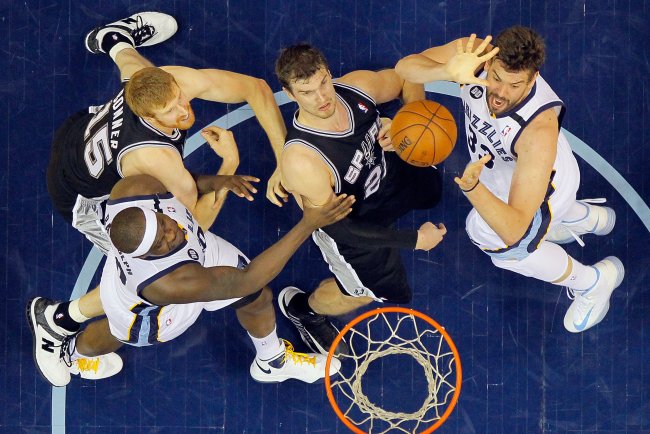 Kevin C. Cox/Getty Images
What the Spurs' series sweep over the Grizzlies doesn't show is the fact that Memphis absolutely handled San Antonio on the offensive glass.
The Grizzlies grabbed 36 more offensive rebounds than the Spurs in their four games. Not 36 in total, 36 more.
In two of their four games, the Spurs totaled just four offensive rebounds.
If they end up playing the Pacers, chalk this up as the most glaring weakness due to the size of Roy Hibbert and David West on the inside. Hibbert has been killing Miami on the offensive glass all series.
Even against the Heat, this issue will cause some major problems. Miami isn't a great rebounding team, and Chris Bosh won't threaten the glass, but James and Wade have been crashing the boards more frequently as of late—and you can bet that intensity will only increase in the finals.
I understand the Grizzlies are one of the best rebounding teams, but the Spurs' problem is much deeper than that. Tim Duncan is their only true rebounder, with Tiago Splitter only picking up 12 boards in the Grizzlies series overall and Leonard's effectiveness changing by the day.
The Spurs will need to take their intensity to the offensive glass in this upcoming series or face the music.
Finding Help for Tony Parker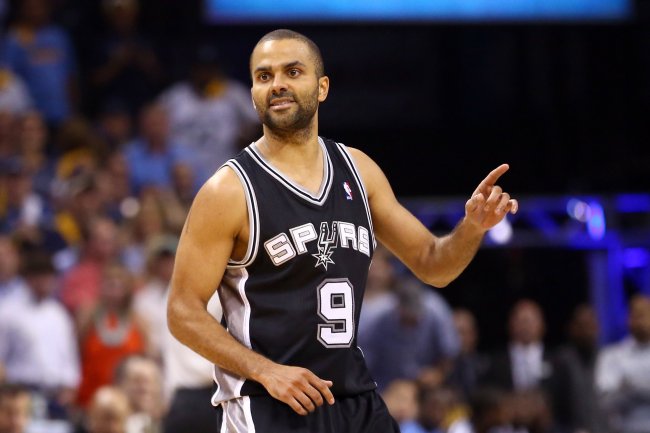 Ronald Martinez/Getty Images
Don't get me wrong, Tony Parker has been incredible in the playoffs. But the reason for that has as much to do with the Spurs' weaknesses as Parker's ability.
Parker receives great backup help from Gary Neal, who always puts in solid minutes. But the two are almost never on the court together, meaning just about every offensive set that Parker sees involves him creating space for his teammates and executing the offense.
He used to be able to turn to sixth man Manu Ginobili on a regular basis, but now the Argentinian's role is diminished as a pure spot-up shooter and cutter. He is rarely asked to create anything off the dribble, which is where Parker makes his impact.
Just look at Game 2 for evidence that Parker is having too much asked of him. He took 20 shots and still managed to finish with 18 assists. That's undoubtedly an incredible feat for Parker, but it's only proof that the Spurs cannot run their offense without Parker getting his teammates open and creating shots.
Parker can't continue to carry this level of responsibility offensively in the NBA Finals against a more physical opponent that will call more of him defensively.
Follow Bleacher Report Featured Columnist Steven Cook on Twitter: Follow @steventerrycook
This article is
What is the duplicate article?
Why is this article offensive?
Where is this article plagiarized from?
Why is this article poorly edited?

San Antonio Spurs: Like this team?