Re-Grading Every Boston Red Sox Offseason Acquisition or Move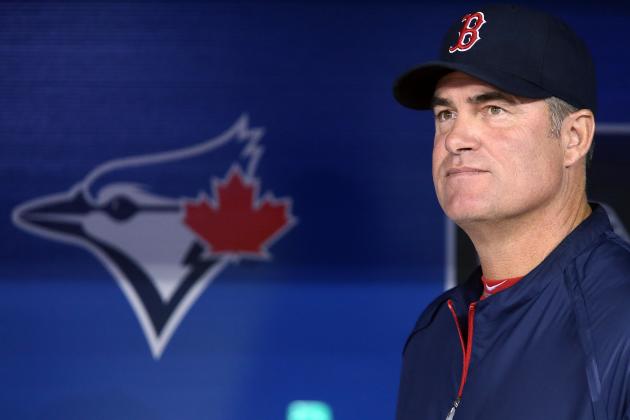 Abelimages/Getty Images
Acquiring manager John Farrell from the Blue Jays was the first move the Red Sox made in the offseason.
The Boston Red Sox were in need of some serious help after their disastrous 2012 campaign, leading to a busy offseason in attempting to solve their problems.
They didn't make any earth-shattering moves in the process, however, leaving nobody to expect them to be where they are now—residing in first place in the AL East.
It's clear that Boston's shuffling during the offseason has had a strong impact, but when looking at each move individually, some have paid off more than others.
Here are the grades for each offseason move the Red Sox made, based on initial expectations and how each player has performed to date.
Begin Slideshow

»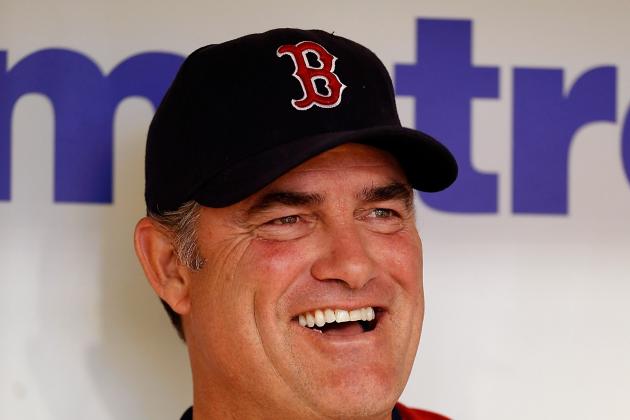 J. Meric/Getty Images

The first thing the Red Sox did the day after the 2012 season ended was fire manager Bobby Valentine after the team went a horrid 69-93 and ended up last in the AL East.
Management brought in former Blue Jays manager John Farrell as Valentine's replacement, the man they had originally recruited for the position after 2011. The Blue Jays wouldn't initially release him from his contract for the 2013 season, but finally agreed to a trade in October, sending Farrell to Boston.
He came into this season with only two years of managerial experience and a 154-170 record at the Toronto helm. However, his familiarity with the Red Sox and many of his former players from four years as Boston's former pitching coach was a large draw in an effort to turn around the cancer-like clubhouse culture at Fenway Park.
Farrell would be hard-pressed to do worse than Valentine, but few expected his team to play as well as it has in the season's opening months.
In April of 2013, the Red Sox went 18-7 in their best start in many years. In 2010-12, it took Boston about that long just to reach .500.
The best part of all of this is the improvement of the starting rotation. Boston pitchers performed horribly in 2012, but now Clay Buchholz has bounced back to a perfect 8-0 start with a 1.62 ERA and is making a strong campaign for the Cy Young Award. Jon Lester has made a 180-degree turnaround and has a 6-2 record.
Farrell has also dealt with the critical Boston media gracefully while handling both his return to Toronto and clubhouse issues with players like Alfredo Aceves and Felix Doubront professionally.
The Red Sox are 36-24 and at the top of the AL East. What more could fans ask for?
Grade: A
Jim Rogash/Getty Images

The Red Sox re-signed Boston fan favorite and designated hitter David Ortiz last Novermber, giving him a two-year $26 million extension with the potential to reach $30 million.
The decision might have been made a little tougher after the 37-year-old missed almost half of last season with an Achilles tendon injury while playing some of the best baseball of his career leading up to the injury, batting .318 with 23 home runs and 60 RBI in 90 games.
As the only player left from the 2004 Red Sox World Series roster, it would have been very hard for fans to say goodbye to Big Papi, even if it was assumed he was beyond his peak, as most players are at his age.
The outlook looked grim for Ortiz when he didn't get into a single spring training game and then was placed on the DL to start the season because he was still feeling pain in his Achilles.
Since his return on April 20, however, Ortiz has proven he's not only just healthy, but that he's still a beast at the plate.
Ortiz is batting .327 with 10 home runs and 39 RBI in 41 games. Despite coming in late, he's already leading the team in home runs and has the second-best batting average of any full-time Red Sox starter behind Dustin Pedroia.
Grade: A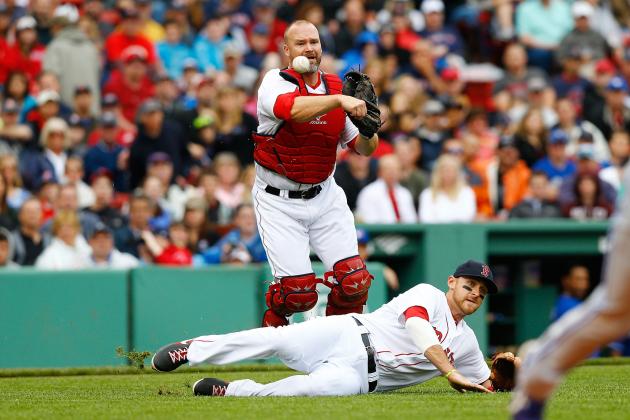 Jared Wickerham/Getty Images

David Ross was signed to a two-year $6.2 million deal as the likely backup catcher to Jarrod Saltalamacchia.
Plus sides to the deal were his veteran leadership, adding depth to the position and his impressive resume of having thrown out 39 percent of opposing baserunners over his career.
A .238 career hitter before this season, Ross has gotten into 19 games for the Sox in 2013 and is batting a lowly .189, although four of his 10 hits have been home runs, including two on April 26 against Houston.
He also spent a week on the disabled list with a concussion.
It is Ross' defense behind the plate that should really makes the grade. In 19 games this season, Ross has thrown out five baserunners for a 28 percent success rate. While that is lower than the 44 percent runners he threw out in 2012, he has also split the same number of runners as Salty, who has played 42 games.
Grade: B-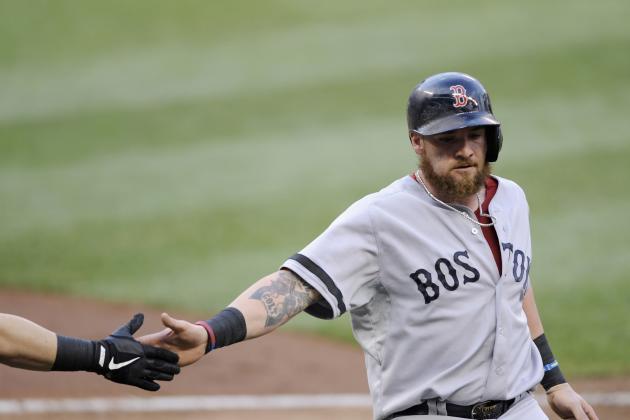 Hannah Foslien/Getty Images

Veteran outfielder Jonny Gomes signed with the Red Sox for two years and $10 million. He is known for his success hitting against southpaws and for his positive attitude.
This move was a pretty average one for the Red Sox, but Gomes' reputable character after a decade in baseball was seen as being a key factor in refortifying a Boston clubhouse that was all but in shambles after the 2012 season.
Unfortunately, that doesn't do much for Gomes' production value. He has never been an above-average hitter, and so far in 2013, he's batting a lowly .173 with three home runs in 46 games.
He's the weakest link in the Red Sox lineup.
Grade: D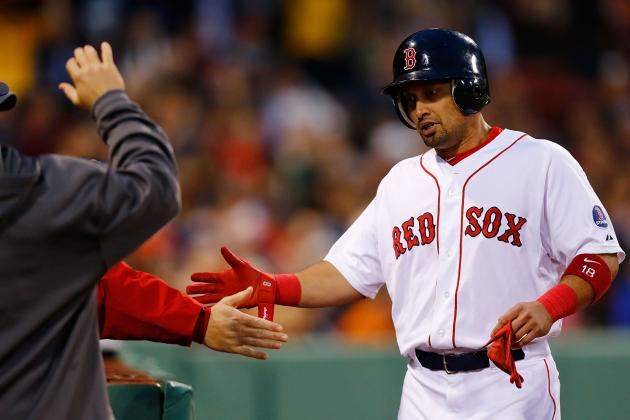 Jared Wickerham/Getty Images

Another Red Sox signing last offseason that was based more on character than performance was that of 32-year-old Shane Victorino, who landed a shocking three-year $39 million deal in Boston.
It was shocking because the switch-hitter's numbers had slumped to the worst of his career in 2012. He batted .255 between stints with the Phillies and Dodgers, though he did steal a career-high 39 bases.
In 2013, Victorino's line is .283/.343/.362 with two home runs and four stolen bases in 127 at-bats. The right fielder has emerged as a bit of a pleasant surprise, showing some serious grit and determination in his play.
On May 20, Victorino was placed on the 15-day DL with a hamstring injury. Though he was set to start rehab assignment this week, those plans were set back after he experienced discomfort while running.
He also missed a week earlier in the season due to a back strain. While his injuries may be a cause for concern, his play is no longer as much of a concern as when he was signed.
Grade: C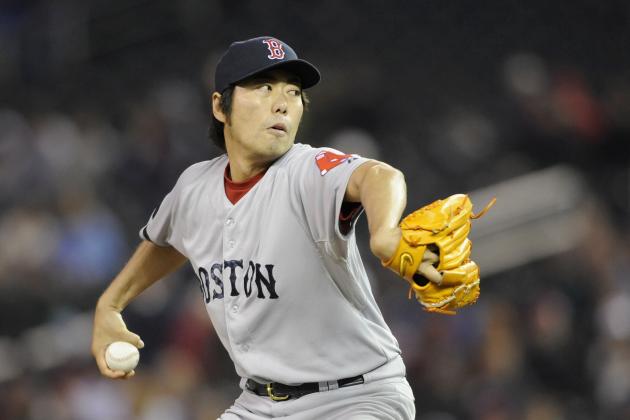 Hannah Foslien/Getty Images

Adding to their robust bullpen, the Red Sox signed reliever Koji Uehera to a one-year, $4.25 million deal.
It has turned out to be a good deal.
Although 37 years old, Uehera has a career ERA of 2.81 with 15 saves and 45 holds. He also has a 7.93 strikeout-to-walk ratio, which is the best among pitchers with more than 35 innings, according to ESPN. Uehera has nearly 200 more innings than that under his belt.
Uehera has lived up to his stellar reputation for the Red Sox this season, sporting a 1.99 ERA over 22.2 innings with 32 strikeouts and 10 holds. He had seven consecutive scoreless appearances in May and has only once allowed more than one run, giving up two runs.
Grade: A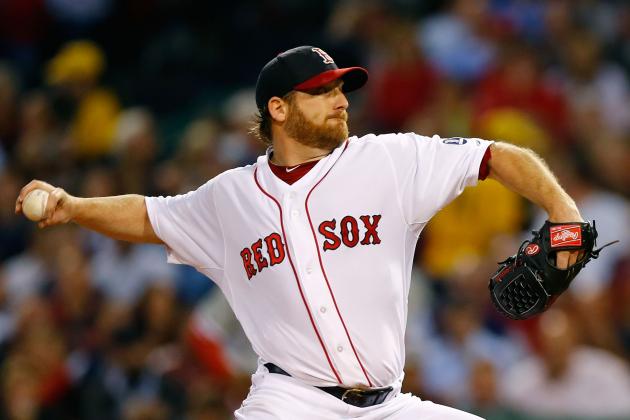 Jared Wickerham/Getty Images

In hopes to help the Red Sox starting rotation rebound, the Red Sox signed Ryan Dempster to a two-year, $26.5 million deal.
Before 2013, Dempster was breaking even with a 124-124 record and 4.33 ERA over his 15-year career.
He was traded to the Rangers in the middle of last season and struggled, posting a 5.09 ERA, which was somewhat of a cause for concern regarding his ability to pitch in the American League.
In 12 starts this season, Dempster is a disappointing 3-6, about on par with John Lackey's 3-5 record. He has a 4.39 ERA, having allowed 60 hits and 12 home runs in 69 innings of work, by far the most on Boston's staff. He has yet to pitch a scoreless outing.
Dempster is topping the Boston pitching staff with 77 strikeouts (Clay Buchholz has the same but in eight more innings), though he also leads in walks with 33.
Only Felix Doubront has been pitching more poorly.
Grade: C-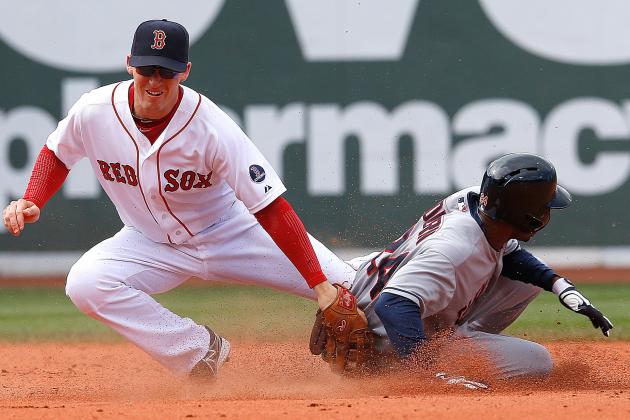 Jim Rogash/Getty Images

Nobody was too excited about the signing of shortstop Stephen Drew to a one-year deal at $9.5 million, but the Sox needed a temporary solution at the position while their prospects still needed more developing.
Overall, Drew's career has been pretty mediocre. Now in his eighth year, he has a career average of .263 and has averaged 10 home runs a year. He hasn't hit over .300 since his first season in 2006 when he only played 59 games.
The season got off to a rough start when Drew started on the disabled list due to a concussion. Upon his return, he didn't win any of the fans over by hitting .154 in April.
In May, Drew's game finally picked up and peaked some interest. He hit .321 for the month with three home runs and 12 RBI. He also hit a grand slam on May 15.
Overall in 2013, Drew is batting .234 with five home runs, including two already in June. His improvement since April is a positive sign, but fans might not be totally convinced yet.
Grade: B-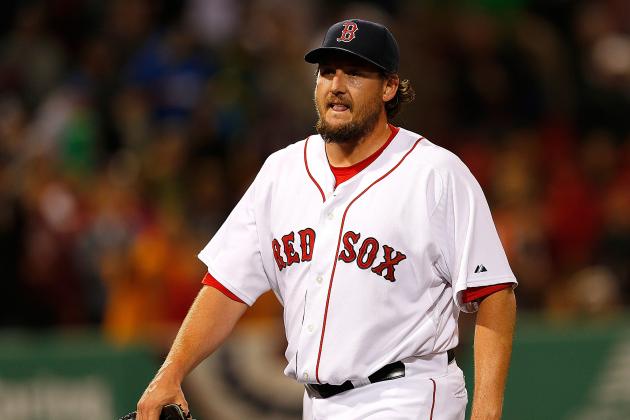 Jim Rogash/Getty Images

If there's a move that backfired the most on the Red Sox in 2013, it's this one.
The Red Sox had been looking to upgrade from the struggles of last year's injured Andrew Bailey at closer so traded for Joel Hanrahan in a deal with the Pirates. The Red Sox also got Brock Holt in the trade for Mark Melancon and a package of secondary prospects.
In his previous two seasons, Hanrahan had totaled 76 saves with a 2.24 ERA and averaged a strikeout per inning, but in 2012, he allowed seven more home runs and 20 more walks than in 2011.
The 31-year-old was likely to only hang around for a year in Boston, but he didn't even make it half of a season.
Hanrahan quickly got himself in deep trouble with a 9.82 ERA and a 2.18 WHIP over nine appearances this season. In 7.1 innings, he allowed eight runs off 10 hits—four of which were homers. He did have four saves, but blew two as well.
In early May, Hanrahan was injured and underwent season-ending surgery for a torn flexor tendon in his right arm. The Red Sox literally got nothing good out of him.
Bailey, on the other hand, has been back at closer and has since collected six saves this season with a 1.65 ERA.
Grade: F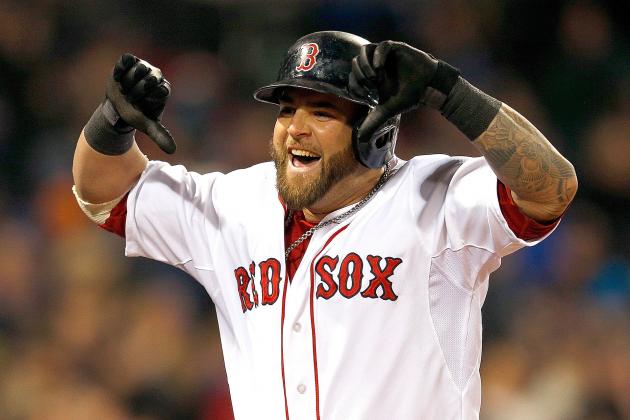 Jim Rogash/Getty Images

The biggest offseason move for Boston was arguably signing catcher Mike Napoli to a one-year $5 million deal that could be worth $13 million with performance bonuses.
The deal was reduced from a three-year $39 million offer when it was discovered that Napoli had a hip condition called Avascular necrosis over the offseason.
The condition was an obvious cause for concern, but the Red Sox intended to make the long-time catcher a first baseman, which would be easier on his hip since he wouldn't be squatting down so much.
Boston also desperately needed some hitting power in its lineup and was hoping the 31-year-old, who has proven that he can smash it at Fenway Park especially, would be the answer they were seeking.
Over his seven-year career, Napoli has batted .260 with 155 home runs and a .506 slugging percentage.
Napoli was slow to get going in spring training, but so far in 2013, he's batting .271 and has hit nine homers, just one behind David Ortiz. He's collected 59 hits in 59 games and even hit a grand slam on Saturday against the Yankees. In the last seven days, he's batting .421.
Grade: A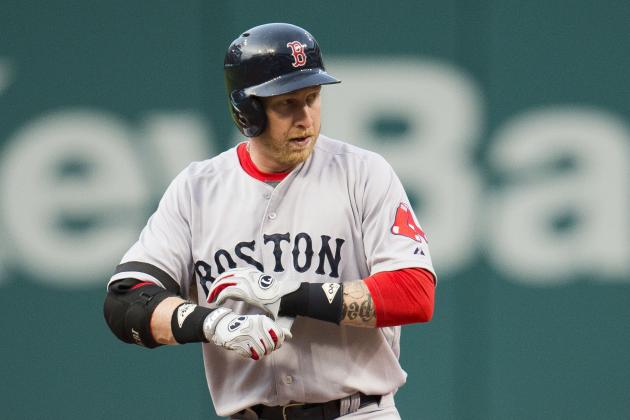 Jason Miller/Getty Images

A late Red Sox addition to the 2013 team, Boston acquired first baseman/outfielder Mike Carp in a trade with Seattle. Carp was thrown into the mix of a big pot of players competing for a spot on the final roster.
The 26-year-old was plagued by injuries last season and was limited to just 59 games for the Mariners, batting 2.13 with five home runs.
Carp made the cut out of spring training in Fort Myers and has been a pleasant addition to the team. In 33 games, he's batting .303 with four home runs. He had a big game against Texas on Tuesday, May 4, going 3-for-4 with one home run and three RBI.
He's turning out to be a dependable fill-in for the Sox.
Grade: A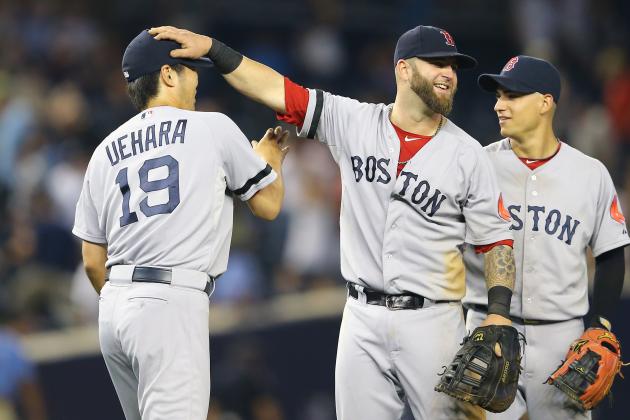 Al Bello/Getty Images

There's no denying that the Red Sox have turned themselves around in a big way from 2012, and some of their offseason moves deserve a big chunk of the credit.
Manager John Farrell has obviously provided solid leadership at the helm and veteran David Ortiz is playing better than ever, and certainly better than most predicted. The Red Sox picked up a few guys like Mike Carp, who are holding up their end of the bargain in smaller roles, and then there are players like Stephen Drew, who are starting to change the minds of initial doubters.
Mike Napoli and Koji Uehera are reaching their high expectations as well.
It's not all perfect though. Hanrahan's injury left the Red Sox right back where they were in 2012 at closer, although Bailey is performing well. The shining personalities of Jonny Gomes and Shane Victorino, however, do little once out on the diamond.
All things considered, the Red Sox are much better off than they were last September.
Grade: B