Larry Drew was removed from his post as the Atlanta Hawks head coach earlier this offseason, but it sure didn't take long for him to find a new gig.
According to Yahoo! Sports' Adrian Wojnarowski, Drew has agreed to become the next head coach of the Milwaukee Bucks:
Larry Drew has accepted Bucks coaching job, GM John Hammond tells Y!

— Adrian Wojnarowski (@WojYahooNBA) May 31, 2013
Drew's contract is for three years with a team option for a fourth, per Wojnarowski.
ESPN provides financial details of the deal:
Drew, who was coach of the Atlanta Hawks the past three seasons, will receive a four-year, $10 million deal, sources told ESPN The Magazine's Chris Broussard.
The 55-year-old Drew spent three seasons with the Hawks, compiling a 128-102 regular-season record and making the playoffs in each year. Atlanta went 44-38 this past season en route to earning the sixth seed in the Eastern Conference. The club was ousted from the first round in six games by the Indiana Pacers.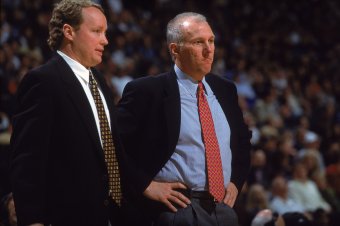 Jamie Squire/Getty Images
While never formerly "fired," Drew was replaced in Atlanta by Mike Budenholzer, the current lead assistant for Gregg Popovich with the Spurs. Budenholzer's hire was lauded in most NBA circles, as he's been one of the league's most respected underlings for the better part of a decade.
Drew will replace interim head coach Jim Boylan in Milwaukee, who was not retained after replacing the fired Scott Skiles midway through the season. The Bucks finished a disappointing 38-44, earning the No. 8 seed in the East before being swept by the Miami Heat in Round 1.
Though Drew's resume makes him an interesting hire, it was a decision Bucks brass reportedly struggled with. According to Gery Woelfel of the Journal Times, Milwaukee was internally "split" about whether to hire Drew or Kelvin Sampson, the other finalist:
Kelvin Sampson left Milw yesterday; Larry Drew today. Scuttlebutt is Bucks brass is still split on a decision.

— Gery Woelfel (@GeryWoelfel) May 30, 2013
Ultimately, the Bucks chose to go where the NBA head coaching experience lied. And it might be the smart call. Though Drew wasn't a Popovichian strategical mastermind, it's fair to say the Hawks' 2012-13 roster sealed his fate before the season even started.
Kevin C. Cox/Getty Images
General manager Danny Ferry took over the Hawks last summer with the express purpose of freeing Atlanta's cap for this summer. Out went long-term deals and in came an assemblage of one-year and expiring contracts—a short-term stop-gap roster that executed Ferry's plan perfectly.
Unsurprisingly, chemistry was hard to find. The Hawks struggled to find consistency in their rotation, and behind-the-scenes issues made them a backpage gold mine. That was especially the case with forward Josh Smith, whose unhappiness and the trade rumors stemming from that made for an untenable situation.
Drew will face a similarly vexing roster quandary in Milwaukee. Brandon Jennings, Monta Ellis and J.J. Redick are all scheduled to be free agents this offseason, and it's unclear which of those guards (if any) will be back. Of the three, only Jennings is a restricted free agent, which means the Bucks can match any outside offer for him.
But ESPN's Marc Stein reported earlier this week that the Bucks prefer bringing back the Ellis-Redick combo over Jennings. It's a situation that could loom over the entire summer, especially considering Jennings is the only player Milwaukee holds any power over.
In other words, Drew may not be on the unemployment line, but his new job has a new set of questions for the future.
Follow Tyler Conway on Twitter: