Detroit Tigers MLB Draft Results: Scouting Profiles for 2013 Picks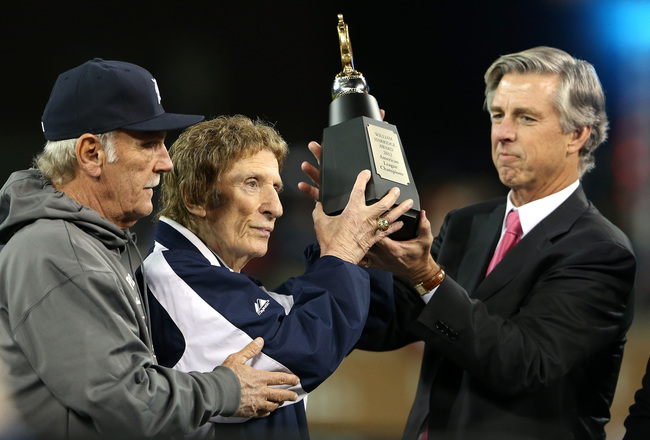 Dave Dombrowski (right) and the Detroit Tigers front office expect to find core players in the 2013 draft.
Leon Halip/Getty Images
The reigning AL champion Detroit Tigers once again have a team talented enough to make a deep run into the postseason. But to ensure similar success beyond 2013, they will need to find effective players in the amateur draft.
A strong farm system indirectly fueled Detroit's most recent pennant. Former first-rounders Cameron Maybin (2005) and Andrew Miller (2006) were centerpieces in the trade that landed eventual Triple Crown winner Miguel Cabrera. Charlie Furbush (fourth round, 2007) and Jacob Turner (first round, 2009) were used to acquire Doug Fister and Anibal Sanchez, respectively. And of course, the Tigers wouldn't have gone far in 2012 without homegrown right-hander Justin Verlander.
General manager Dave Dombrowski and his staff snagged three collegiate pitchers on Thursday night. They selected right-handers Jonathon Crawford (Florida) and Corey Knebel (Texas) with the No. 20 and No. 39 picks, respectively. Vanderbilt southpaw Kevin Ziomek caught their eye at No. 58.
Bleacher Report's own Zachary Ball grades Detroit harshly, giving the team a "C" for these three picks. Consider the following scouting profiles of Crawford, Knebel and Ziomek and come to your own conclusion.
The Tigers continued to emphasize experienced pitching on the second day. Only two of their choices in rounds 3-10 were position players and none came straight out of high school.
The team finalized its draft class with 30 more picks, several of whom have familiar surnames.
Round 1, Pick 20: Jonathon Crawford, RHP, Florida

Crawford breakdown, courtesy of MLB.com

DOB: 11/01/91
Draft history: 42nd round, Florida Marlins (2010)
Over the past decade, the Detroit Tigers have been inclined to take power pitchers atop their draft classes, via Baseball-Reference.com. No reason to break that mold in 2013.
ESPN.com's Keith Law nailed this pick in his final mock draft (Insider subscription required). This excerpt comes from Law's scouting report for the right-hander:
Crawford was a potential top-10 pick coming off his sophomore year when he was hitting 97 mph regularly with a knockout slider and strong results in the SEC, but lower velocity and reduced fastball command this spring have heightened scrutiny of his arm action and track record.

Crawford's delivery is worrisome—he's got a wrist-wrap in back, his stride is short, his arm is late relative to his landing, and he has a rough finish—both for durability and for future fastball command.
Developing of the changeup will be critical for Jonathon Crawford. His strikeout ability won't hold up as a pro starter otherwise. That said, his filthy fastball-curveball combo should translate to a decent career in the later innings.
Bleacher Report's own guru, Mike Rosenbaum, believes Crawford has a "No. 3 starter ceiling" if he gains confidence in the change. Like Law, Rosenbaum has doubts about the right-hander avoiding injury. Crawford "needs to elongate stride" and focus on extending towards home plate to take stress off his shoulder.
Conor Glassey of Baseball America believes he instantly becomes the best pitching prospect in Detroit's farm system.
Statistically, Crawford's junior year (4.03 ERA, 64/33 SO/BB in 80.3 IP) paled in comparison to his sophomore campaign (3.13 ERA, 73/24 SO/BB in 77.2 IP).
Comp Round A, Pick 39: Corey Knebel, RHP, Texas

Knebel breakdown, courtesy of MLB.com

DOB: 11/26/91
Curious about the pronunciation? Carson Cistulli of FanGraphs has you covered (sounds like NEE-bull).
But more so than Jonathan Crawford, Corey Knebel seems destined to spend his major league life in the bullpen.
Mike Rosenbaum does some nitpicking about Knebel, even though he projects a solid career for him as an above-average high-leverage reliever or closer:
Strong, projectable frame at 6'3", 210 pounds; stands to add more strength to lower half; some effort to his delivery; quiet leg lift with tall-and-fall stride; tends to rush upper body and arm; relies on arm pure strength and natural deception; doesn't consistently finish over his front side.
Keith Law had him as the No. 95 overall prospect, and also worries about his max-effort throwing motion (again, Insider subscribers only):
His delivery is rough, starting on the first base side of the rubber, employing little to no windup, rushing toward the plate, and creating arm speed with his upper half more than with his legs. That effort pulls him offline and causes the fastball to sail up more often than you'd like -- he'd be better off sitting 92-93 and staying near the zone, employing less effort in the process.
Knebel's career with the Longhorns got off to a promising start in 2011. The National Collegiate Baseball Writers Association named him "Stopper of the Year." This past spring, he posted to best strikeout rate of his career (11.47 SO/9).
With a fastball that can touch 98 mph and a curve that's clocked in the high 70s, this right-hander should generate plenty of whiffs. The possibility of him ascending to All-Star-caliber will hinge on his command.
The Austin American-Statesman reported that he was suspended for a game this past May. Knebel substituted urine for a teammate who worried about failing a drug test. The closer also missed two mid-April contests. Texas disciplined him for arguing with pitching coach Skip Johnson.
The prestigious program at UT has produced 50 major league pitchers, according to Baseball-Reference.com. Active relievers who came from Austin include Sam LeCure (Cincinnati Reds), James Russell (Chicago Cubs) and Huston Street (San Diego Padres).
Round 2, Pick 58: Kevin Ziomek,LHP, Vanderbilt

Ziomek breakdown, courtesy of MLB.com

DOB: 3/21/92
Twitter handle: @KevinZiomek
Draft history: 13th round, Arizona Diamondbacks (2010)
Kevin Ziomek opted for three years of growth at Vanderbilt, but primarily boosted his draft stock away from school.
Throwing well in the Cape Cod League this past summer did the trick. Ziomek made five starts, going 3-0 with a 1.27 ERA (28.1 IP). He flaunts a changeup and curve, though the latter isn't a legitimate out pitch at this point.
Adam Wells points out that the left-hander will never be mistaken for a power pitcher. He can "change speeds to keep hitters off balance, but doesn't blow you away with anything."
If all goes right during contract negotiations and his ensuing development, Ziomek could be in a Detroit Tigers uniform sometime in 2015.
Round 3, Pick 94: Jeffrey Thompson, RHP, Louisville
DOB: 9/23/91
Twitter handle: @jeffthompson44
Baseball America had Jeffrey Thompson as the 152nd amateur in their pre-draft rankings.
He has a huge physical build: 6'6" and 248 lbs. That size creates an intimidating presence.
Thompson will fit right in with two other large prospects in the Detroit Tigers system:
At 6-foot-6, 248 pounds Jeff Thompson is only the third biggest pitcher in the organization at best. Mercedes & Rondon still tops. #tigers

— Eric Wayne (@PhilCokesBrain) June 7, 2013
His fastball sits in the low 90s, but our own Adam Wells writes in his live draft analysis that the 21-year-old "doesn't trust his heater enough to start." It's complemented by a slider and changeup. A smooth delivery should help him avoid injuries.
A former three-sport athlete at Floyd Central High School in Indiana, Thompson utilizes plenty of ground balls when he's right.
Round 4, Pick 126: Austin Kubitza, RHP, Rice
DOB: 11/16/91
Draft history: 7th round, Pittsburgh Pirates (2010)
Surprise, suprise: for the fifth consecutive pick, the Detroit Tigers add a college pitcher.
Rice University has a rich baseball tradition and Austin Kubitza experienced a good deal of success there. Central Florida baseball writer Bryan Levine became familiar with him during Conference USA play and provides these gaudy stats:
Another CUSA selection — #Rice P Austin Kubitza (4-126, DET). '13 C-USA ranks - 2.02 ERA (2nd), 126 K's (1st), .188 Opp BA (2nd). #MLBDraft

— Bryan Levine (@Bryan_Levine) June 7, 2013
But the consensus among draft experts is that he'll wind up in the bullpen. Adam Wells describes him as having "an ugly delivery," makes a comparison to Craig Stammen (Washington Nationals) and insists it will take a "big leap to get even average command."
Also, Rice has been "notorious for riding starters hard," so there's some skepticism about whether or not Kubitza can endure a heavy workload.
As a reliever, he would be a fastball-slider guy. The changeup isn't a trustworthy third offering at this point because Kubitza hardly gets any separation from the four-seamer.
Round 5, Pick 156: Buck Farmer, RHP, Georgia Tech
DOB: 2/20/91
Twitter handle: @B_Farm09
Draft history:15th round, Milwaukee Brewers (2012)
Exhausting his eligibility at Georgia Tech turned out to be a wise decision.
Buck Farmer's ceiling isn't particularly high, as the Detroit Tigers would be ecstatic if he blossoms into a back-end starter in the majors. Farmer's fastball sits in the high 80s, topping out at 91 mph.
But an above-average changeup helps create a solid differential. Even he it doesn't generate whiffs, many of the balls put in play against him should be weakly hit.
Like the two previous picks, Farmer has sufficient size for an MLB pitcher (6'4", 218 lbs).
He's arguably the best value pick of anyone the Tigers have taken thus far. With relatively little bust potential, this is a fortunate find in the fifth round.
Round 6, Pick 186: Calvin Drummond, RHP, Arizona Christian

MLB.com obtained film from this February bullpen session.

DOB: 9/22/89
Twitter handle: @CalvinDrummnd22
Draft history: 38th round, Oakland Athletics (2012)
One of the oldest amateurs in the entire country, Calvin Drummond attended four different schools in the past five years. He transferred to Arizona Christian, only to find himself ineligible, so he hasn't pitched in a game this year.
Instead, scouts have watched his bullpen sessions. They rave about his mid-90s fastball and wipeout slider. His repertoire also includes a curveball and changeup.
Those latter two pitches will require refinement if the Detroit Tigers intend to use him as a starter. It's more likely that the team embraces Drummond's strengths and grooms him to be a late-inning weapon out of the bullpen.
Round 7, Pick 216: Connor Harrell, CF, Vanderbilt
DOB: 3/24/91
Twitter handle: @ConnorHD20
Draft history: 31st round, Detroit Tigers (2012)
Very cool connection between 2nd-round selection Kevin Ziomek and this toolsy center fielder: they're roommates!
Connor Harrell sent out this congratulatory tweet after Ziomek heard his name called on Thursday night:
Congrats to my roommate and absolute stallion @kevinziomek! I love it, you earned it brother

— Connor Harrell (@ConnorHD20) June 7, 2013
During the MLB.com live stream, Jim Callis of Baseball America said that this was "about where he should go in the draft." Jonathan Mayo agreed and praised Harrell's athleticism and upside.
Scouts believe he has enough range and arm strength to remain in center field at the pro level. The biggest question mark is his contact ability and whether too much swinging-and-missing will prevent Harrell from sticking as an everyday player.
Round 8, Pick 246: Zach Reininger, RHP, Hill JC (TX)

Apologies for the brevity of the video.

DOB: 1/28/93
The youngest player chosen by the Detroit Tigers in the 2013 draft, Zach Reininger has a very repeatable delivery. His junior college stats reflect that (12 BB in 153.0 IP from 2012-2013).
At 6'5" and 190 lbs, Reininger has an athletic build and fastball that can touch 93 mph. His off-speed stuff is under-developed at this point.
While at Smithson Valley High School, he also played shortstop.
Signability is a concern with Reininger, who's committed to Texas Tech.
Round 9, Pick 276: Will LaMarche, RHP, LSU
Kevin Gausman (now of the Baltimore Orioles) was a teammate of Will LaMarche at LSU.
Rob Carr/Getty Images
DOB: 8/07/91
Twitter handle: @will_lamarche36
Draft history: 18th round, Minnesota Twins (2012)
You can never have too many power right-handers, I suppose.
Will LaMarche maxes out at 97 mph and keeps batters off balance with a slurvy breaking ball. The Detroit Tigers will presumably treat him as a reliever during development.
He has already undergone Tommy John surgery and returned to full strength.
LaMarche spent the 2011 season at Long Beach State and 2012 at Chabot Community College before arriving at LSU. He's approximately 6'3" and 220 lbs.
Round 10, Pick 306: Kasey Coffman, CF, Arizona State
DOB: 9/08/91
Kasey Coffman probably lacks the necessary range to remain in center field long term. The Detroit Tigers could shift him to one of the outfield corners, where his above-average power will decide whether or not he reaches the big leagues.
Measured at 6'3", Coffman has one more year of eligibility remaining at Arizona State. He bats from the left side and went unmentioned in the 2013 Baseball America 500.
Rounds 11-20
Fireballer Joel Zumaya was Detroit's 11th-round pick in 2002.
Leon Halip/Getty Images
Round 11: Chad Green, RHP, Louisville (DOB: 5/24/91)
Round 12: Dominic Ficociello, 3B, Arkansas (DOB: 4/10/92)
Round 13: Austin Green, C, San Diego (DOB: 2/22/90)
Round 14: Ben Verlander, RF, Old Dominion (DOB: 1/31/92)
Round 15: Raphael Rhymes, OF, LSU (DOB: 10/22/89)
Round 16: Duncan McAlpine, C, Dallas Baptist (DOB: 4/10/91)
Round 17: Steven Negron, SS, Miami Dade CC South (DOB: 5/13/93)
Round 18: Jonathan Maciel, RHP, Cal State - Long Beach (DOB: 11/17/92)
Round 19: Austin Pritcher, RHP, The Citadel (DOB: 2/13/91)
Round 20: Matt Wotherspoon, RHP, Pittsburgh (DOB: 10/06/91)
Rounds 21-30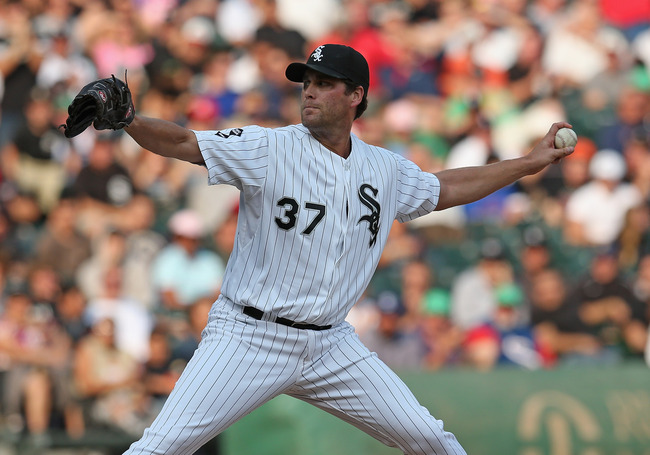 Current Chicago White Sox reliever Matt Thornton was Detroit's 27th-round pick once upon a time (1995).
Jonathan Daniel/Getty Images
Round 21: Curt Powell, SS, Georgia (DOB: 4/30/91)
Round 22: Daryl Norris, RHP, Mississippi State (DOB: 6/12/91)
Round 23: Tyler Alexander, LHP, Carroll HS (DOB: 7/14/94)
Round 24: Chase Edwards, RHP, Hill JC (DOB: 2/04/94)
Round 25: Johnnie Kirkland, RHP, Southeastern (DOB: 8/25/89)
Round 26: Adrian Castano, CF, Benjamin Cardoza HS (DOB: 8/20/95)
Round 27: Joe Mantiply, LHP, Virginia Tech (DOB: 3/01/91)
Round 28: Scott Sitz, RHP, Florida State (DOB: 9/10/90)
Round 29: Charley Sullivan, RHP, Alabama Tuscaloosa (DOB: 10/13/90)
Round 30: Ryan Beck, LHP, New Mexico State (DOB: 12/11/90)
Rounds 31-40
Round 31: Brett Huber, RHP, Ole Miss (DOB: 3/23/90)
Round 32: Tanner Bailey, RHP, Ole Miss (DOB: 7/06/90)
Round 33: John Armstrong, 2B, Bishop Carroll Catholic HS (DOB: 10/25/94)
Round 34: Brad Holland, 2B, Mesquite HS (DOB: 6/16/94)
Round 35: A.J. Puk, LHP, Washington HS (DOB: 4/25/95)
Round 36: Torii Hunter, CF, Prosper HS (DOB: 6/07/95)
Round 37: Nicholas Deeg, LHP, Lake Orion HS (DOB: 6/26/95)
Round 38: Harrison Wenson, C, University of Detroit Jesuit HS (DOB: 4/21/95)
Round 39: Anfernee Grier, CF, Russell County HS (DOB: 10/13/95)
Round 40: Taylor Johnson, 2B, St. Edwards (DOB: 8/21/90)
Keep Reading

Detroit Tigers: Like this team?