Canelo vs. Mayweather: Alvarez Must Hope Money's Skills Erode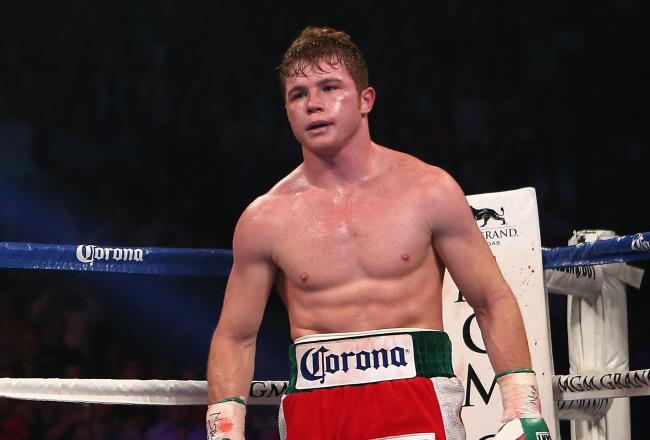 Josh Hedges/Getty Images
If the same Floyd "Money" Mayweather that dismantled Robert "The Ghost" Guerrero shows up to face Saul "Canelo" Alvarez on Sept. 14, the latter has little-to-no chance of winning.
It's true, Alvarez is a better fighter than Guerrero, but he'd have to be a lot better than the Ghost to defeat Mayweather. Money's speed, experience, instincts and in-ring IQ are superior to Canelo's. Unless one or more of Mayweather's gifts abandon him, this could be as Money would say "easy work."
At 36 years old, Mayweather's potential skill erosion isn't a completely ridiculous notion, but judging by what we just saw on May 4, it doesn't appear Money will be experiencing any fall off any time soon.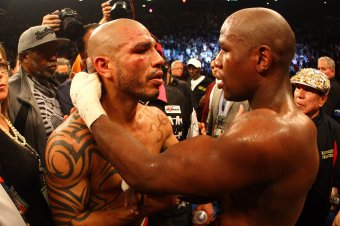 Al Bello/Getty Images
As a power puncher, Alvarez will always have the proverbial puncher's chance. But the odds aren't any more in his favor in that regard than past power punchers Money has faced and defeated.
Canelo has a tad more hand speed than Miguel Cotto, but he isn't as savvy or fluid in his movements. Cotto gave Money his best fight in years, but he couldn't get the job done.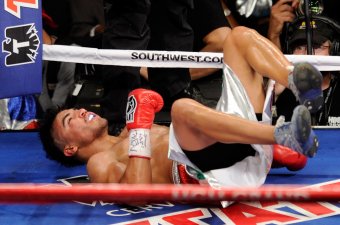 Ethan Miller/Getty Images
Victor Ortiz is a little quicker than Canelo, but he's not nearly as refined or poised. Ortiz was fading fast before frustration led him to headbutt Money in their Sept. 2011 bout.
This famously led to Mayweather reminding Ortiz to protect himself at all times.
At best, Canelo is a mixture of Cotto and Ortiz. That impressive hybrid would beat most fighters, but not Money when he's performing at his peak. Canelo's career has been brought along slowly and intelligently, considering how long he's been in the boxing limelight.
But he isn't the second, third or even fourth-best fighter in the world. He's just one of the biggest names. His decision win over Austin Trout in his last fight was, at most, controversial—but at least very close.
Canelo still has room for growth mentally, but his penchant to take rounds off and perform mechanically will probably never change.
What chance does Canelo have to defeat Mayweather?
Fighting Mayweather in a year or two would have been ideal for him. Even a well-conditioned athlete like Money would have issue remaining on top of his game at 38.
That said, I understand why Canelo took the fight now. Mayweather made it known he wanted to get this fight done, this is why the official announcement came so quickly after his last bout. If Alvarez didn't agree to the bout, it wouldn't have looked good to his fanbase.
Right now, that's the best thing Alvarez has going for him. He can't afford to let them down. His popularity and future as a top-level pay-per-view attraction depends on it. Because of Mayweather's polarity, hardcore and casual fans will always pay to see him.
Only devout fans and admirers will follow Canelo's every move—there is a difference.
Secondly, Canelo stands to make an obscene amount of cash for this fight. Even though the timing isn't perfect, this was too good of an offer to refuse.
Unless some unknown factor changes the dynamics of this bout from now until Sept 14, Mayweather is my favorite to win. Canelo's camp should probably be planning his in-ring image repair plan, because this could be another easy win for Money.
Follow me, because I love boxing and you do too
This article is
What is the duplicate article?
Why is this article offensive?
Where is this article plagiarized from?
Why is this article poorly edited?