Can There Really Be a Happy-Ending Redemption for Notre Dame's Everett Golson?
Use your ← → (arrow) keys to browse more stories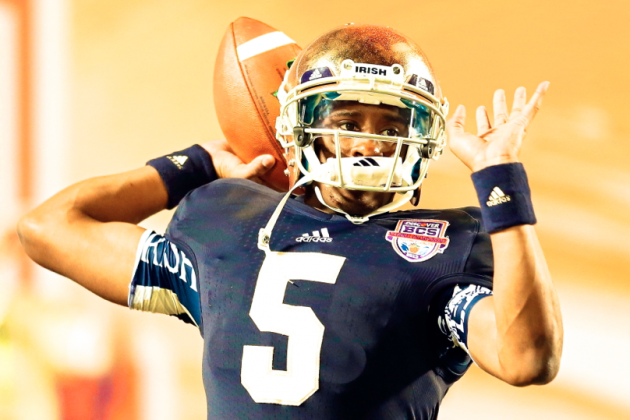 If you are a Notre Dame fan wondering about Everett Golson's future, a South Carolinian rooting for one of your own or just a concerned college football fan, the answer to that question is 100 percent yes. The real question is what redemption looks like to the observer.
As The Subway Domer pointed out, Golson could certainly follow in the footsteps of the likes of Julius Jones and Darrin Walls when it comes to getting a chance to get back on the field. Regardless of what outsiders view as redemption, the first step for Golson is going to come on the academic path, and that means getting back into good standing and, ultimately, back into school.
Julius Jones sat out 2002 with academic issues and returned in 2003
Now comes the tricky part, what qualifies as redemption?
For some, the redemption will be just getting back on the team at South Bend and getting that Notre Dame degree. Yet, for others, Notre Dame matters not; just getting back on the field, and in school, of course, will qualify as redemption.
Meanwhile, for the sticklers, being reinstated as the starting quarterback of the Fighting Irish is the only true redemption.
The second pair of options are pretty straight forward: Golson takes care of his academics and either gets back into Notre Dame and on the team, or he elects to transfer elsewhere once he is able. Plain and simple, quite honestly; although getting the academic ducks in a row to fix missteps can at times be easier said than done.
Certainly, after being dismissed from school, returning and getting your eligibility back qualifies as redemption.
Our third option is where Golson's redemption becomes quite interesting. He can get himself back into the school and, as long as he maintains good feelings with the team, get himself back on the roster. However, where he loses some of the control is at the quarterback position.
To put it bluntly, if your Golson-returning hopes are staked on him coming back to start in 2014 and finish out his last two years at the helm, things will be interesting. Especially since, outside of getting eligible, there is not a thing Golson can do to control it.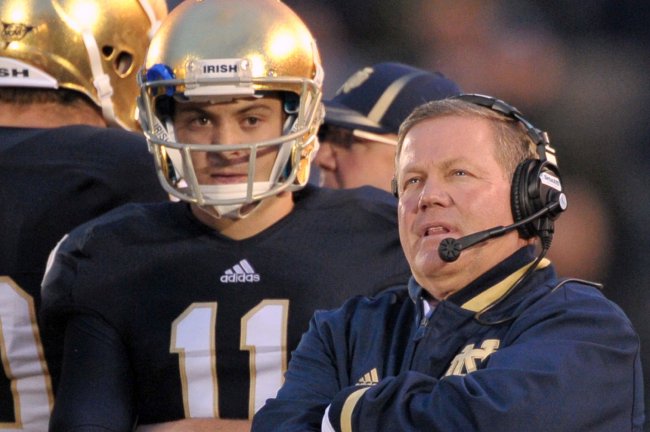 Matt Cashore-USA TODAY Sports
The most direct route for the now-suspended Golson will be if Tommy Rees, the senior quarterback for the Irish, takes the reins in 2013, wire-to-wire, and leaves the Irish with a hole at the end of 2013. The remaining players, Andrew Hendrix, who'd be in Year 5, and Malik Zaire, a sophomore, would have an edge through spring ball, but Golson returning over the summer would give him a shot and more experience than the others.
Where things get hairy is if Hendrix, or more importantly Zaire, wrestles the starting job and the coaches' confidence from Rees during the 2013 campaign. Getting the starting gig is the foundation, but grabbing the true confidence of the coaches—something Golson had prior to his suspension—would be a strong blow to Golson's return to starting.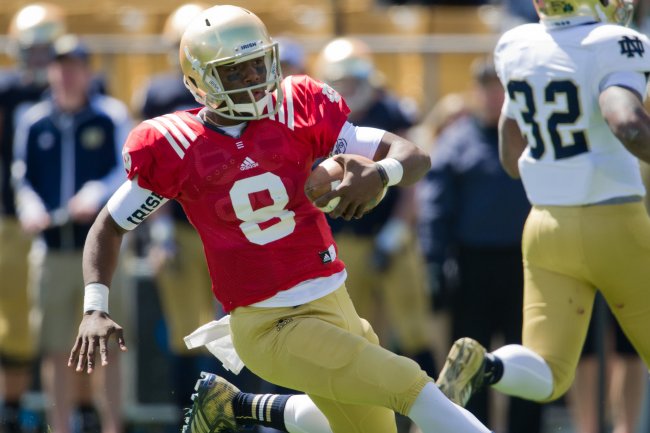 USA TODAY Sports
Hendrix winning the gig in 2013 might not scare Golson; it is a battle that Golson won without a problem in 2012. However, Zaire grabbing the reins and the confidence would make for an interesting situation upon Golson's pending return later in 2014.
What do you think will happen with Everett Golson and Notre Dame?
Zaire is a similar type athlete to Golson, with more eligibility remaining and, like Golson, he's what Brian Kelly wants to run his offense.
Best case scenario here? A dog fight to be the starter as two very similar players work to win the job. It would be Golson with a BCS championship appearance, 12-0 record and a year off up against Zaire having played in the fall, played in spring and been around the team all offseason.
Looking forward, things can get incredibly interesting for the Irish and for Golson. For the quarterback, clearing his academic hurdles is job one. If he cannot make that push then everything else falls off the table.
Redemption comes in many different forms, and getting back into school and on to the, or a, team is a pretty straightforward proposition. However, if getting back into the driver's seat to lead the Irish toward a BCS Bowl is the standard for redemption, the kid from Myrtle Beach is going to have to work hard and will perhaps need a little help.