7 Fantasy Football Players Who Would Benefit from a Change of Scenery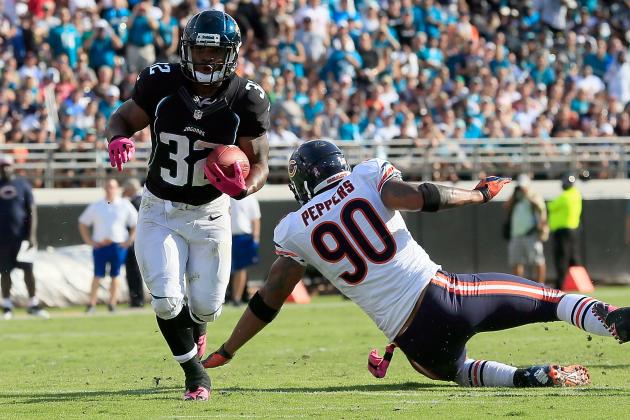 Sam Greenwood/Getty Images

Sometimes all a player needs to revitalize his career is a change of scenery.
Countless stars have had their careers rejuvenated simply by switching teams. Whether it is because they were buried on the depth chart, had a bad supporting cast or clashed with coaches, several elite stars never realize their full potential until they put on a new jersey.
This can have an impact on fantasy football as well. Just think of the possibilities for Percy Harvin and Steven Jackson this year. Now that they are in a better situation, their fantasy value has skyrocketed.
Highlighted in this slideshow will be seven players who can greatly enhance their fantasy stock with a change of scenery.
Begin Slideshow

»
Putting his assault charge aside, Jones-Drew is a guy who could benefit greatly from new surroundings.
For a player who has been part of the Jaguars' organization for seven years, Jones-Drew has struggled of late to carry the anemic Jags' offense.
Between injury concerns and the Jags trying to incorporate the passing game with young stars Justin Blackmon and Cecil Shorts on the roster, Jones-Drew may be tapped out trying to lead this—as of late—perennial losing team.
Just imagine how valuable Jones-Drew can be on a playoff-caliber team?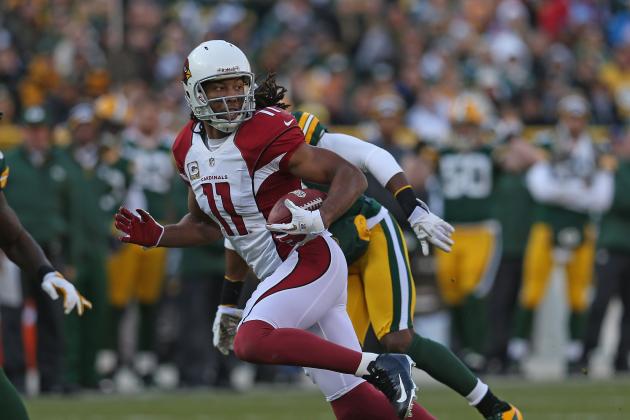 Jonathan Daniel/Getty Images

Don't get me wrong, I love the chance for Fitzgerald to rebound this year with Carson Palmer as his quarterback. However, ever since Kurt Warner retired from Arizona, it seems Fitzgerald has never been the same.
If you go on natural skills, athleticism and physique, Fitzgerald is arguably the game's top wide receiver. Without a doubt, Fitzgerald should be a legitimate No. 1 receiver for fantasy purposes. As long as he continues to toil in the desert, Fitzgerald may be nothing better than a No. 2 option for your squad.
I would love to see what Fitzgerald could do if he had a top-10 quarterback getting him the ball.
Granted, a lot of McFadden's recent troubles are directly tied to his injury concerns, but McFadden is a player who can thrive being a secondary option on a good team as opposed to trying to carry the load for lethargic Raiders' offense.
With the Raiders ushering in a new quarterback (either Matt Flynn or rookie Tyler Wilson) and their receiving options nothing to brag about, McFadden will have a hard time trying to carry this team once again.
On a more established team with better structure, McFadden could thrive in a new environment—given he stays healthy.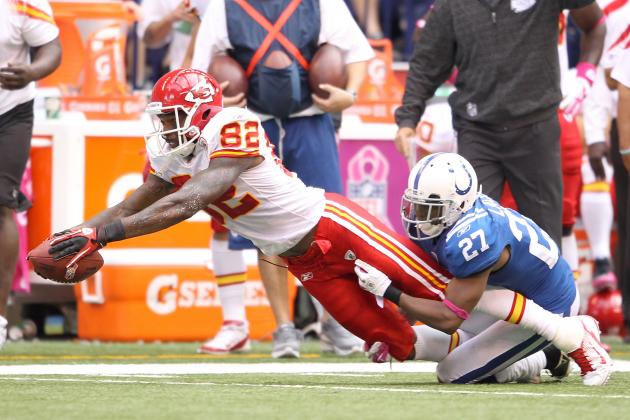 Andy Lyons/Getty Images

Sure, Alex Smith is an upgrade at quarterback for the Chiefs, but for Bowe to really flourish in this league, he can certainly use the help of a bona fide quarterback who can get him the ball on a consistent basis.
Bowe's fantasy value has plummeted in the last couple of years with Matt Cassel and Brady Quinn trying to get him the ball. In the last two years, Bowe has made only 140 receptions for 1,960 yards to go with a measly eight touchdowns.
Again, his value should spike this year, but there is no telling how good Bowe could be if he had a Pro-Bowl quarterback throwing to him.
Johnson is another receiver who is being held back by mediocre quarterback play.
Despite having a so-so quarterback in Ryan Fitzpatrick throwing to him, Johnson has still posted over 1,000 yards receiving in the last three years.
Being part of—for the most part—a lifeless offense, Johnson has still had trouble maintaining consistency, as most teams double- and triple-team him. It would also help if Johnson had another capable receiver opposite him.
If Johnson ever leaves Buffalo and joins a team with a better supporting cast, his value can grow exponentially.
While Ingram's own shortcomings may be at fault for his inauspicious two years in New Orleans, it doesn't help that the run game is an afterthought in the Saints' high-octane pass offense. It also does not help matters that the Saints use a running-back-by-committee and thus diminish the value of their backs.
On a team that likes to use a smash-mouth, ground-and-pound type of approach, Ingram can be a very effective running back. On a vertical offense such as the Saints, Ingram continues to get lost in the shuffle.
If he was on the right team, Ingram could be a serviceable No.2 type running back.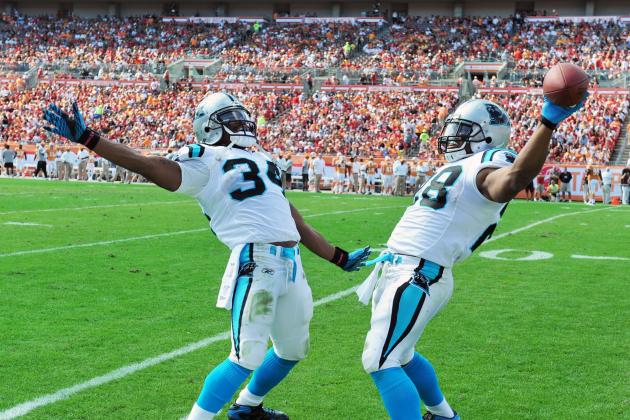 Al Messerschmidt/Getty Images

DeAngelo Williams. Jonathan Stewart. Take your pick.
Between Williams and Stewart sharing carries while also having the rush-happy Cam Newton as their quarterback; the aforementioned running backs may never be fully utilized in Carolina.
Just like Ingram, if placed on a structured offense that likes to run the ball more often, Williams and Stewart could be serviceable.
Granted, the two have also had their share of injuries, but with the way the Panthers use Newton, Williams and Stewart would be best off elsewhere.