Philadelphia Eagles: 5 Players That Will Make or Break the Season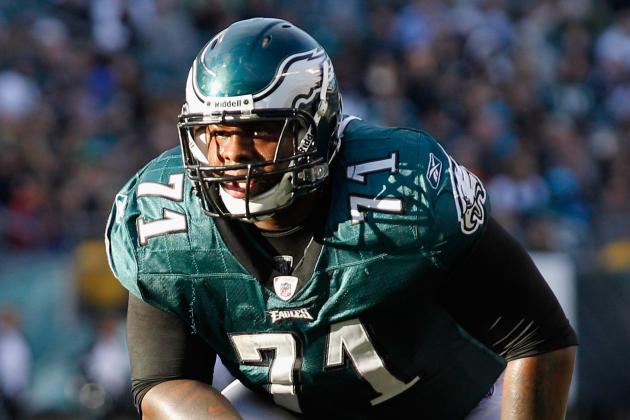 Rob Carr/Getty Images

It's going to be a collective effort for the Philadelphia Eagles to make the playoffs in Chip Kelly's first season as head coach.
The 2012 club under Andy Reid finished 4-12, losing 11 of the team's final 12 games. The offense was decimated by injuries, notably on the offensive line. The defense surrendered a franchise-worst 33 touchdowns through the air, while the ability to pressure the opposing quarterback was lacking.
Fixing that will be no easy process. That being said, the following five players could potentially be the difference between an Eagles team that reaches the postseason in '13 and one that falls just short.
Begin Slideshow

»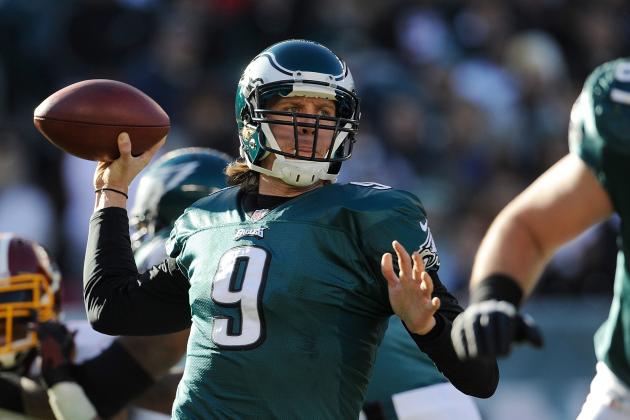 Patrick McDermott/Getty Images

Rather than just putting 'Quarterback', Nick Foles gets the nod.
Michael Vick's $3.5 million bonus in August means he's in no way a lock to even make the roster. If Chip Kelly decides Foles is the best alternative to play quarterback, it's highly unlikely Vick stays as a backup.
Vick has averaged 12 interceptions and 10.5 fumbles the last two seasons, and he's missed nine total contests due to injury. ESPN's Ashley Fox suggested Vick is playing for his last chance to start in this league, and that could be accurate.
Even if Vick does enter the season as the starter, he's bound to get hurt. He hasn't played all 16 games in a season since 2006. He's missed at least three games for each of the last four seasons. When Vick does get hurt, Kelly will likely go with Foles as his backup.
Foles showed glimpses of greatness as a rookie in '12, putting up impressive numbers with a limited supporting cast. He led a heroic game-winning drive against the Tampa Bay Buccaneers, and he should perform much better with the entire offense intact.
A strong season from Foles could push the Eagles into the playoffs. If Foles struggles, the team will very likely miss the postseason. Then again, Kelly could always elect to go with Matt Barkley over Foles.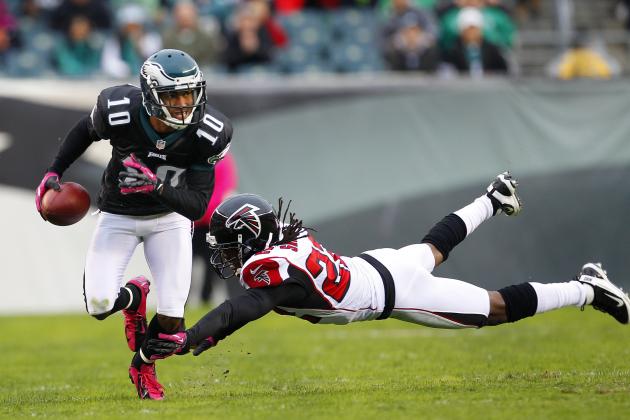 Rich Schultz/Getty Images

The DeSean Jackson of 2011 and 2012 isn't the playmaker that captivated the NFL his first three seasons. Jackson caught just 45 passes for 700 yards and two touchdowns in '12, numbers in no way reflective of a receiver earning over $10 million per season.
Jackson's size suggests he may be best utilized in the slot, although Chip Kelly will likely use Jackson outside while the slot receiver competition works its way out. Jackson still possesses blazing speed, and he dropped just one pass among 75 targets his way last season, per Pro Football Focus.
Lining up next to Jeremy Maclin will make it difficult for opposing defensive backs to cover both. If Jackson regains his early form and puts up 1,200 yards and a handful of 50-yard touchdowns, the Philadelphia Eagles will feature one of the league's top offenses.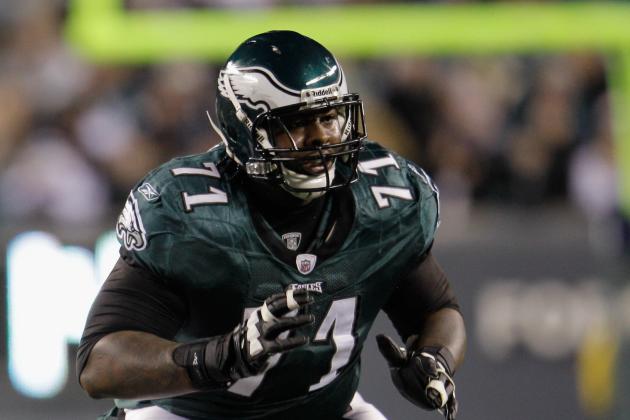 Rob Carr/Getty Images

Jason Peters' injury was the downfall of the 2012 Philadelphia Eagles. Peters was—and is—the best offensive lineman in the NFL when healthy. He's a tremendous athlete capable of protecting the quarterback's blind side while getting downfield to the second level in the running game.
Peters is a full year removed from his devastating injury, and he has been a full participant in organized team activities thus far in the spring. He is 31 years old, and entering his 10th NFL season. There's absolutely no guarantee he will recover from his Achilles tear, which would be a huge loss for the Eagles. But reports do say Peters looks pretty good already.
When Peters is healthy, the running game is substantially better. It's no coincidence that LeSean McCoy saw his yards per carry drop from 4.8 in 2011 to 4.2 in 2012.
The Eagles as a team fell from fifth in rushing and fourth in total offense to 13th in rushing and 15th in total offense. That doesn't reflect all on Peters, but getting a healthy Peters back will do wonders for the '13 club.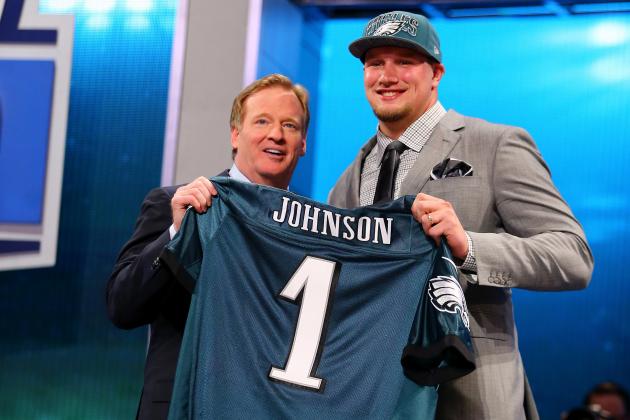 Al Bello/Getty Images

Drafting Lane Johnson fourth overall was a huge risk. He's a ridiculous athlete with top speed, but he's extremely raw. Johnson is essentially a clone of Jason Peters, although he's not as established yet.
Johnson will likely start at right tackle with Todd Herremans moving inside to right guard to replace Danny Watkins. If Johnson struggles to handle the most adept pass-rushers, that's understandable for a rookie.
But if Johnson appears too raw to even make an impact for the Philadelphia Eagles, the team may have to go with underwhelming Dennis Kelly at right tackle. And if Johnson comes right in and shines, the Eagles have two remarkably talented offensive tackles anchoring their line.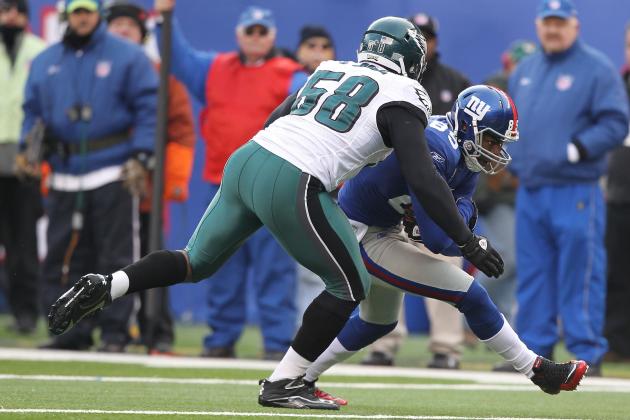 Al Bello/Getty Images

Trent Cole is an incredibly talented football player coming off a career-worst campaign. He's entering his ninth season and he's moving from 4-3 end to 3-4 outside linebacker.
That's an awkward transition for a player that excelled at his role providing the edge-rush from the down position. Now, Cole will be asked to even cover tight ends in pass coverage. He will still rush the quarterback from the outside, but it will be from a standing linebacker position.
Dwight Freeney didn't transition well for the Indianapolis Colts last season, picking up just five sacks. There's also Brandon Graham and Connor Barwin in the mix, and Vinny Curry may see some action as a linebacker given his natural pass-rushing skills.
If Cole can make a smooth transition to linebacker, the Philadelphia Eagles will have a strong seven. If he struggles, it's impossible to deny that his time in Philly is all but over.