2013 Stanley Cup Playoffs: 10 Bold Predictions for Conference Finals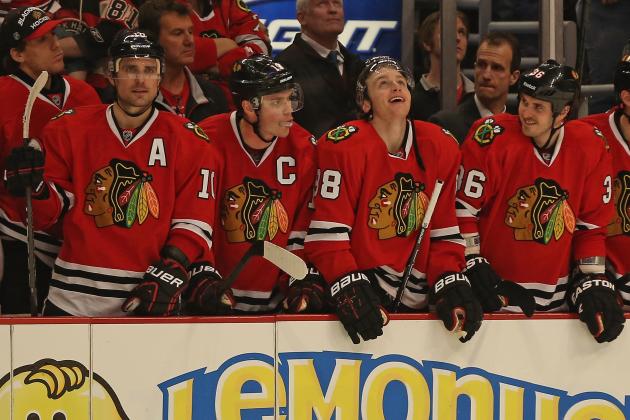 Jonathan Daniel/Getty Images

We might as well call the 2013 Eastern and Western Conference finals the tournament of champions, since the remaining four teams have all hoisted the Stanley Cup since the start of the 2008-09 season.
"I think it's pretty impressive, knowing about parity in the league and how hard it is to get back there," said Boston Bruins head coach Claude Julien on Thursday. "To know that somebody is going to win [the Stanley Cup] twice in, at the most, four years is pretty impressive, I think."
All of the clubs that have advanced past the second round of the playoffs are four-line teams with quality goaltending and great coaching. There isn't much separating them in their respective matchups, which should result in each series going six or seven games.
Let's take a look at 10 bold predictions for the conference finals, which start on Saturday.
Note: All quotes obtained firsthand or from Bruins media website.
Begin Slideshow

»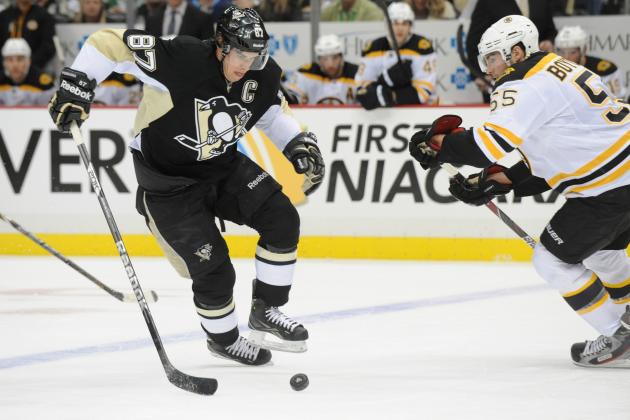 Vincent Pugliese/Getty Images

The Pittsburgh Penguins lead the playoffs in goals scored (47), goals per game (4.27) and power-play goals (13), but they will light the lamp more than three times in a single game just once in their conference finals matchup with the Boston Bruins.
Pittsburgh played three games against Boston during the regular season and scored an average of 2.67 goals per game. The Bruins played very well defensively in Round 2 against the New York Rangers with a 2.00 GAA and an 87.5 penalty-killing percentage.
Boston's depth on the blue line has been bolstered by the emergence of rookie defensemen Matt Bartkowski and Torey Krug, who have played with great poise in the defensive zone and provided scoring production with their power-play contributions.
The Bruins also have the best shutdown pairing in the playoffs with the Zdeno Chara and Dennis Seidenberg duo, who will likely draw the assignment of defending the Penguins' line of Jarome Iginla, Evgeni Malkin and James Neal.
This will not be a high-scoring series. The Penguins have not yet faced an opponent in the playoffs with as much depth and talent on the blue line as the Bruins.
Pittsburgh's high-scoring offense will not maintain its 4.27 goals-scored-per-game average in this series.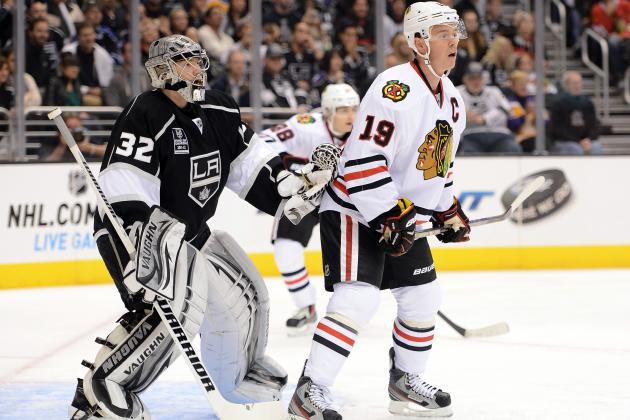 Harry How/Getty Images

The Chicago Blackhawks were not shut out once during the regular season, and their streak of 56 straight games with at least one goal scored ended in the second round when Detroit Red Wings goaltender Jimmy Howard earned a 1-0 victory in Game 4.
The Blackhawks' offense has more depth and skill than any team in the Western Conference, but it struggled at times in the second round (see chart below).
| | | | |
| --- | --- | --- | --- |
| | Reg. Season | WCQF | WCSF |
| GF/Game | 3.1 | 3.4 | 2.22 |
The Red Wings frustrated the Blackhawks with their physical play, fundamentally strong defense and superb goaltending. Chicago will face a similar team in the Western Conference Final, but Los Angeles is a superior team to Detroit in all three of these areas.
The Kings have a deeper and more talented blue line with the best goaltender in the world as its last line of defense.
Jonathan Quick leads all goaltenders in the postseason with a .948 save percentage and a 1.50 GAA. He also ranks first in shutouts with three.
Quick is playing his finest hockey of the season. He's given up two goals or fewer in 11 games through two rounds and will become the first netminder to shut out the Blackhawks two times in 2013.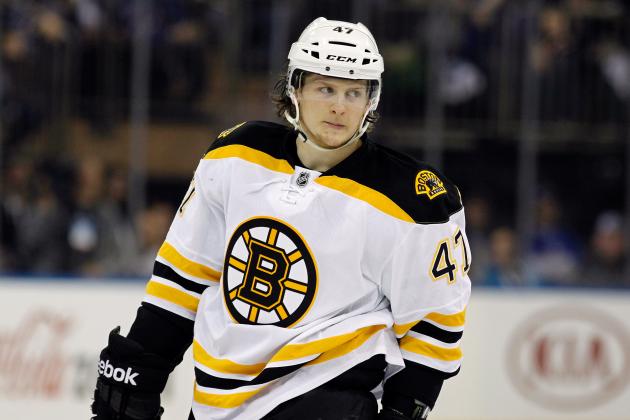 Bruce Bennett/Getty Images

Torey Krug's brilliant offensive play in the second round against the New York Rangers has many Bruins fans wondering why he wasn't with the NHL club all season.
"You always hope that guys can come in and help your team out. There's no doubt [Krug] was magic for us in this series," said Bruins head coach Claude Julien after his team eliminated the Rangers.
"To score that many goals and show the confidence that he showed playing in this series is pretty outstanding. He's a player that we've always felt good about in our organization. As I said, he's shown what he's all about. We said ice in his veins and that's what he's got."
The former Hobey Baker Award finalist made his postseason debut in Round 2 and scored four goals in five games, which put him in a three-way tie for the league lead in goal scoring among defensemen. Bruins defensemen have scored 13 goals in the playoffs, the most of any team's blue line.
As a smooth skater with impressive passing skills and a willingness to shoot in the attacking zone, Krug will lead the Boston blue line in scoring during the Eastern Conference Final.
He led the team in power-play ice time in the Bruins' series-clinching Game 5 victory versus the Rangers, and he will likely play an even larger role with the man advantage in the Penguins series.
Krug is only a rookie, but he plays with the poise and confidence of a 10-year veteran. He will not be intimidated by the conference finals stage or the expectations that fans in Boston have of him following an impressive second-round performance.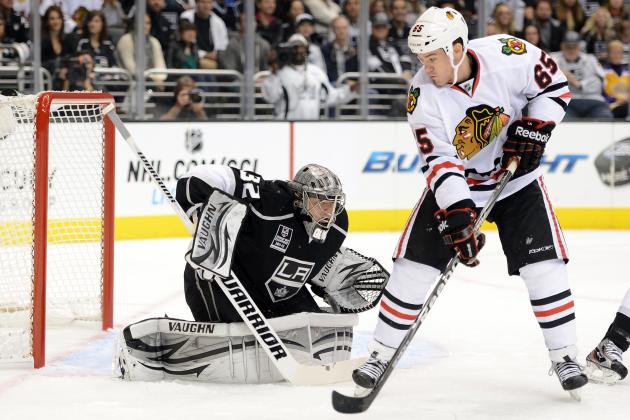 Harry How/Getty Images

The Kings were dominant on the road in last year's playoffs with a 10-1 record en route to the franchise's first Stanley Cup championship. That hasn't been the case this postseason, with the defending champs earning just one win in six games away from the Staples Center.
Since the Blackhawks have the home-ice advantage in this series, the Kings will need to win at least one road game to make back-to-back trips to the Stanley Cup Final.
Los Angeles won all of its road games in last year's Western Conference Final and was victorious in its final regular-season matchup in Chicago (5-4 win on March 25) during the regular season.
Despite the fact that the Kings have struggled on the road through two rounds, starting goaltender Jonathan Quick has not allowed more than two goals in any game away from home in this year's playoffs.
The Kings' offense will give him more support on the road in this conference finals series, which will result in Los Angeles taking one of the first two games at the United Center, as well as the all-important Game 5.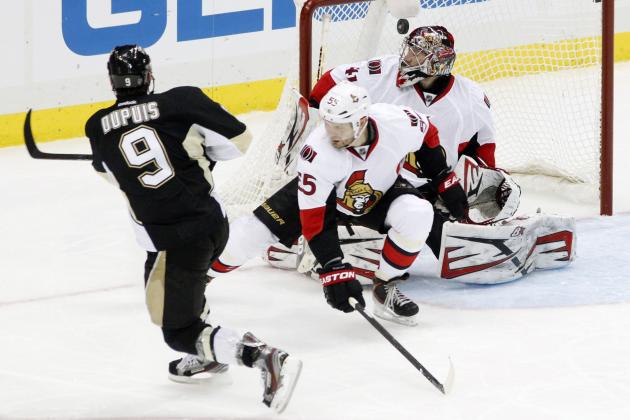 Charles LeClaire-USA TODAY Sport

In the likely event that Bruins shutdown defenseman Zdeno Chara matches up against the Penguins' second line of Evgeni Malkin, Jarome Iginla and James Neal, Pittsburgh's top trio of Sidney Crosby, Chris Kunitz and Pascal Dupuis will have to be productive offensively for its team to win this series.
Dupuis is one of the most underrated forwards in the league and is tied for the playoff lead in goals scored (seven) with Crosby and Blackhawks winger Patrick Sharp. He also leads the postseason in short-handed goals (two).
The 34-year-old forward ranks fifth on the Penguins in scoring with 10 points in 11 postseason games and has gotten on the score sheet in eight of those matchups.
Dupuis' physical style of play and willingness to crash the net and score dirty goals in the opposing goaltender's crease will make him an effective player against a Bruins team that plays a heavy game.
Pittsburgh will need to establish a net-front presence against Boston goaltender Tuukka Rask, and Dupuis will be a focal point of this strategy with his size and impressive skill set.
Since he will probably play most of his shifts away from Chara and have plenty of quality scoring chances as a result of Crosby's world-class playmaking ability, expect Dupuis to lead the Eastern Conference Final in goals scored.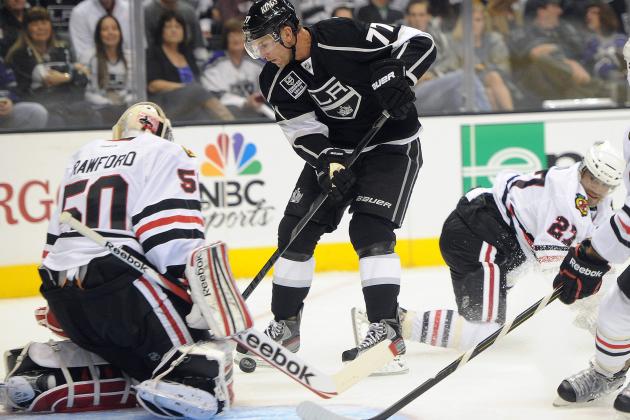 Jayne Kamin-Oncea-USA TODAY Sports

The Blackhawks have the best penalty kill in the playoffs with a 97.6 percent success rate and just one power-play goal against them in 41 short-handed situations. Chicago's ability to kill penalties consistently has played a huge part in its playoff success.
But the Kings are well-equipped to give the Blackhawks penalty kill some problems.
With a group of physical forwards who have size and an impressive amount of offensive skill, the Kings will get plenty of bodies in front of Blackhawks goaltender Corey Crawford and make it difficult for him to see the puck.
Los Angeles also has a mobile defense that has great playmaking ability and the willingness to shoot the puck when the opportunity is present. Slava Voynov is tied for the playoff lead in goals scored (four) among defensemen and ranks fourth on the team in scoring (seven points).
Drew Doughty and Jake Muzzin are also capable of generating offense from the blue line during power-play situations with powerful shots from the point and effective passing skills.
The Kings' power play was not very effective in the first round, but it improved quite a bit in Round 2 with five goals in seven games against the Sharks, including a three-goal performance in a dramatic Game 2 victory.
Los Angeles will score at least three power-play goals in the conference finals.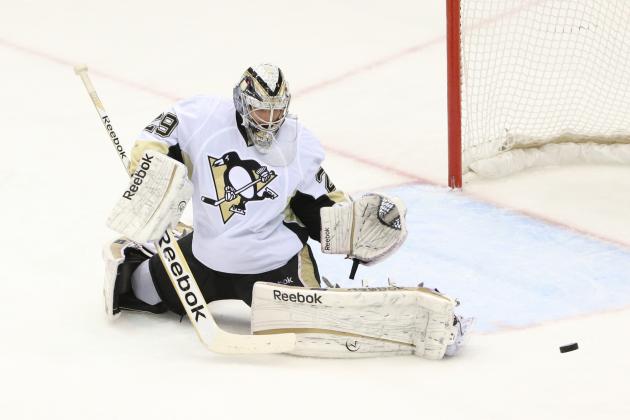 Anthony Gruppuso-USA TODAY Sport

Marc-Andre Fleury started 79 consecutive playoff games for the Penguins before being demoted to a backup role for Game 5 of the team's first-round matchup against the New York Islanders. He allowed 14 goals in the first four games of the series.
In the event that current starter Tomas Vokoun fails to perform at a high level or the Penguins find themselves on the brink of elimination against the Bruins, don't be surprised if Fleury makes an appearance in the Eastern Conference Final.
Penguins head coach Dan Bylsma has not declared Vokoun the undisputed starter in a public forum. And even though Fleury has struggled mightily in his last 10 playoff games (40 goals against), he did lead Pittsburgh to two straight Stanley Cup Final appearances, including a championship-clinching Game 7 victory on the road in 2009 against the Red Wings.
As a franchise goaltender and a player who has played an integral role in the team's success since the 2004-05 lockout, the Penguins would be wise to give Fleury another chance to redeem himself.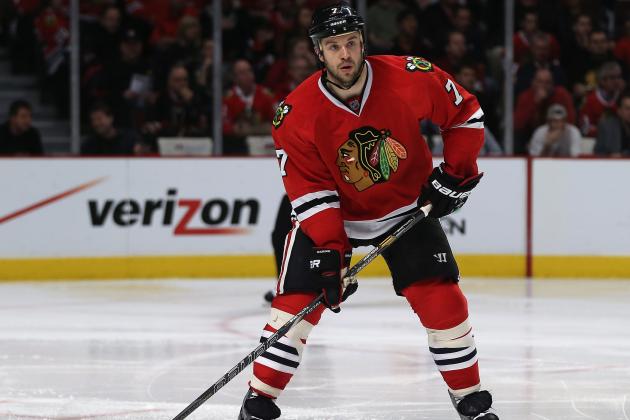 Jonathan Daniel/Getty Images

Brent Seabrook struggled in the second round against the Red Wings, and his ice time reflected his poor performance.
The veteran defenseman averaged about 16 minutes of ice time per game in Chicago's three losses to the Red Wings, and for the entire series, he had a disappointing plus/minus rating of minus-six.
His play improved in Game 7, when he logged 26:13 of ice time, helped shut down Detroit's top line and scored the series-winning goal in overtime.
Seabrook is one of the best two-way blueliners in the NHL and played a key role in the Blackhawks' Stanley Cup-winning campaign three years ago.
As a defenseman with impressive size and strength who likes to play a physical game, Seabrook matches up well against a Kings team that has 15 forwards who are 6'0" or taller.
The 28-year-old veteran will likely be matched up against Kings stars Anze Kopitar, Jeff Carter and Mike Richards quite often in this series. He's more than capable of shutting down these players with his fundamentally strong defensive skills.
Now that his confidence is high after a few good games to finish the Red Wings series, expect Seabrook to make a strong impact for Chicago.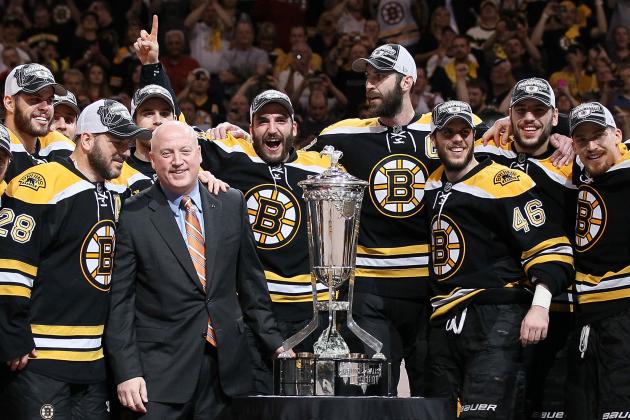 Elsa/Getty Images

The Penguins' offense is getting a lot of attention in the buildup to this series, and rightly so. It leads the playoffs in goals scored, and the Bruins also have four quality lines and scored 3.2 goals per game in the second round against an elite goaltender in Henrik Lundqvist.
Pittsburgh is not as deep or talented defensively as the Rangers and its goaltending is significantly worse, so there will be plenty of opportunities for Boston to score goals in this series. The Bruins rank second in goals scored (38) during the playoffs.
Boston also has the defensive skill to prevent the Pittsburgh offense from having the same success it did against Ottawa in the second round.
Zdeno Chara and Dennis Seidenberg, who form the best shutdown duo in the NHL, will likely be assigned to defend the Evgeni Malkin, James Neal and Jarome Iginla trio, while reigning Frank J. Selke Trophy winner Patrice Bergeron will likely match up against Sidney Crosby's line.
"With Pittsburgh, you've got to shut down more than a few players—I'm going to say even more than three and four," said Bruins head coach Claude Julien on Thursday.
"They come in bunches. I think that's the respect that you have to have for that team, knowing that every time you're on the ice, don't think it's going to be an easy shift. If you don't pay attention to your game defensively, it's going to end up costing you, but if you do, you may end up in some good offensive opportunities.
"I've said all along, we thrive, our offense thrives on how good a defense we play. When we turn pucks over, that's when we become dangerous."
The Bruins ranked third in GAA during the regular season and gave up an average of 2.67 goals in their three matchups with the Penguins prior to the playoffs.
Boston won't completely shut down the Pittsburgh offense because of its depth and talent on all four lines, but the Original Six club is better equipped to defend this kind of opponent than any other team in the NHL.
The Penguins have not yet faced an opponent in this year's playoffs that scores a lot of goals, defends well consistently and has an elite goaltender.
The New York Islanders had an impressive offense (seventh-highest scoring team in regular season) but were awful defensively and got poor goaltending in Round 1 versus the Penguins.
The Ottawa Senators were a good defensive team with strong goaltending for most of the year, but they finished 27th in scoring during the regular season and averaged just 2.2 goals per game against Pittsburgh in Round 2.
Boston, much like Los Angeles, is a complete team that has very few weaknesses with an experienced roster that is built for the rigorous, physical play of the postseason. The Bruins will win this series in six games and reach the Stanley Cup Final for the second time in three seasons.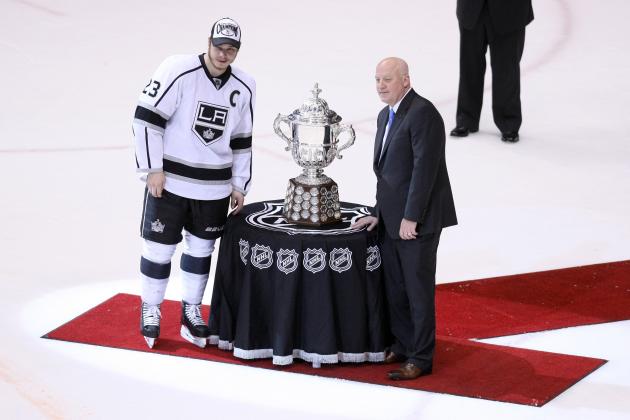 Maxx Wolfson/Getty Images

The Blackhawks have a little more talent and depth on their roster than the Kings, but it's so hard to pick against superstar goaltender Jonathan Quick when he's playing at a historic level.
The goaltending matchup will likely decide this series since both teams have four quality lines and an impressive group of offensively skilled defensemen.
And it's a lot easier to trust Quick at this stage of the playoffs than Corey Crawford, who has never played in the conference finals and looked shaky at times in Round 2 against the Red Wings.
Chicago's offense only averaged 2.22 goals per game against Detroit. Many of its top forwards failed to contribute offensively on a regular basis following the team's 4-1 series-opening win.
The most effective way to shut down the high-powered Blackhawks offense is to play a physical game and kill penalties, and the Kings have the talent and depth to execute this game plan.
The Kings have gone 33 consecutive playoff games without giving up more than three goals, and with Quick leading the postseason in GAA and save percentage, this streak is probably not going to be broken in the conference finals.
Los Angeles will win its seventh straight playoff series in six games to advance to Stanley Cup Final.
Nicholas Goss is an NHL Lead Writer at Bleacher Report. Nick was a credentialed reporter at the 2011 Stanley Cup Final and 2012 NHL playoffs, and he is also a credentialed writer at the 2013 NHL playoffs in Boston.