Ranking the 10 Active Fighters Most Likely to Knock out Their Opponents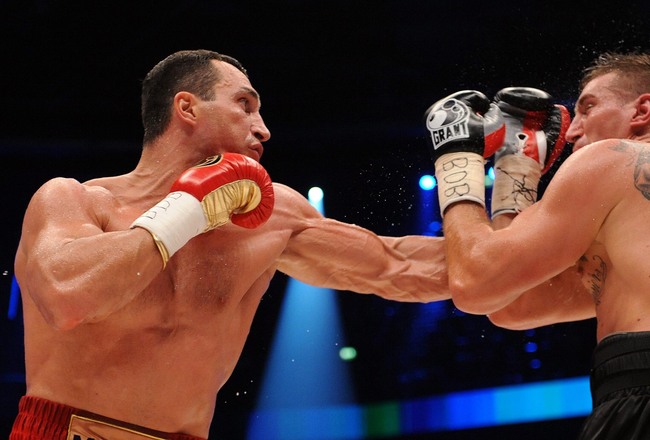 Witters Sport-USA TODAY Sports
A boxer does not need to be a knockout machine in order to achieve great success in the ring. Pernell Whitaker is one of the top five pound-for-pound fighters of my lifetime, and his KO percentage was a mere 37 percent.
Current pound-for-pound stars Floyd Mayweather and Andre Ward can certainly end fights early. But it has not been an essential ingredient in making them great.
Still, big-punch power has its advantages in the fight game. The ability to deposit an opponent on his ear with one or two sudden shots will bring a crowd to its feet every time. It can mark the difference between being a major star and just another contender.
The knockout is a lot like the home run in baseball. You can light up a score board all day with opposite-field doubles. But sometimes, you get to a point in a game where the big bomb is the surest and quickest way to turn things around.
So for the fans, the guys who can deliver them are always going to be special.
Roman Gonzalez
With a record of 35-0 and 29 KOs, Roman Gonzalez is the terror of the lowest weight classes. The former minimumweight and current light flyweight champion is a wrecking ball. I would favor him to beat anybody in the world 112 and below.
Gonzalez has a big overhand right, and he brings it from a lot of angles. But his most dangerous punch is the lead left. He throws a lead uppercut/lead hook combination that completely chops down opponents.
I think the most impressive stoppage on Gonzalez's record was his Round 5 TKO of Ramon Hirales. Hirales holds a split-decision victory over John Riel Casimero and went the distance against Donnie Nietes.
The only fighter to even go the distance with Gonzalez in the past two years is Juan Estrada, whom he beat by comfortable unanimous decision. Estrada went on from that fight to move up and beat Brian Viloria to capture the world title at 112.
Mikey Garcia
WBO featherweight world champion Mikey Garcia has a 31-0 record with 26 stoppages. He is an intelligent boxer who fights at a measured and deliberate pace that, at times, disguises the level of violence he is unleashing upon his opponents.
But when he recognizes an opening, he rarely fails to capitalize on it. Garcia has a very accurate straight jab and cross, and he often spends early rounds punishing opponents with fully extended punches from long range. As the action moves closer, he can score with crushing uppercuts and hooks.
Prior to this year, Garcia had mostly fought journeymen and fellow contenders. But in January, he captured the world title from Orlando Salido, knocking the champ down four times before winning via Round 8 technical decision—after his nose was broken on a headbutt.
When a fighter steps up to world-class competition, the knockout percentage often goes down as a result. But Garcia has a style well-designed to put people to sleep. His next opponent, Juan Manuel Lopez, is an aggressive bomb-thrower, and I think the shrewd Garcia will end the night early once more.
Lucas Matthysse
Light welterweight Lucas Matthysse is one of the most exciting, destructive punchers in the sport. His professional record is 34-2 with 32 KOs. Both of his losses came by split decision, and even in those fights, he knocked his opponents down.
Everybody Matthysse has ever fought has tasted the canvas.
It was expected that Lamont Peterson would represent a serious step up in competition for Matthysse when they fought this past May. Instead, he turned in his most impressive performance to date, knocking the IBF light welterweight belt-holder down in Round 2 and finishing him in the third.
Matthysse doesn't necessarily throw single punches that make his opponents implode. It is more his relentless pace that overwhelms them.
He throws a lot of punches, from a wide variety of angles. He doesn't give his opponents much space to throw back and doesn't seem to particularly mind when they do.
Matthysse is a very underrated boxer, though his recent destruction of Peterson will bring an end to that. His offensive footwork is excellent. As he throws one bad-intention punch, he is almost always moving into perfect position to drop the next one.
James Kirkland
James Kirkland hasn't fought in over a year, so that stretches the definition of "active fighter." But if he can come back and fight at full health, fans will want to see the big-punching junior middleweight face off with Canelo Alvarez in the future.
Kirkland is 31-1 with 27 KOs. The last time he won a fight by decision was 2007.
Kirkland's one big stumble was against Japanese journeyman Nobuhiro Ishida, who blitzed him by Round 1 TKO in April of 2011.
In November 2011, it looked like Kirkland was about to go down in similar fashion against Alfredo Angulo. Instead, Kirkland climbed off the canvas and dropped Angulo later in the round. He proceeded to take full control of the fight and win by a Round 6 TKO.
I thought Kirkland got a lucky break in his last fight, a Round 10 DQ over Carlos Molina in March 2012. Still, there is no denying that a healthy James Kirkland would add a definite layer of excitement to the junior middleweight division.
Gennady Golovkin
2004 Olympic silver medalist and WBA middleweight champion Gennady Golovkin is 26-0 with 23 wins by stoppage. He had three eight-round unanimous decisions, during the first part of his career. He has crushed everybody he has fought in the past half decade.
I was at Golovkin's U.S, debut, when he stopped Grzegorz Proksa in five rounds. In the press section, media people were using words like "scary" and "monster."
Golovkin cuts off the ring and punches people out. He doesn't mind getting hit a little bit himself along the way, because he is confident that his own punches are going to be much, much harder.
Golovkin has been one of the most-avoided fighters in the sport in recent years, but at this point he has generated enough fan enthusiasm to force the other top 160 pounders to come fight him. His next matchup is with tough Brit Matthew Macklin, at the end of June.
I expect Macklin will come forward against Golovkin, trying to seize some respect from the Kazakhstan native early. What I expect he'll end up getting instead is hits, a lot and hard. GGG will end the night early, with another stoppage.
Sergey Kovalev
Sergey Kovalev is a Russian light heavyweight training in Fort Lauderdale, Fla. He has a record of 20-0-1 with 18 KOs. The draw came after an accidental foul, not because anybody has seriously challenged Kovalev in a professional ring.
Kovalev is somewhat similar to Gennady Golovkin. Like Golovkin, Kovalev has a strong amateur background, but in the professional game exploits, his tremendous natural punching power to walk guys down and pound them out.
Kovalev is taller and rangier than Golovkin, and his punching motion is nowhere near as fluid and compact. But the way he cuts off the ring and takes an opponent apart with jolting shots to the body and head is GGG all over again.
I view Kovalev's Round 3 destruction of Gabriel Campillo as proof that he must be taken seriously at 175 pounds. Campillo was among the top of the pack at light heavyweight. He is a former world title holder who split in two very close fights with Beibut Shumenov, then drew with Karo Murat and lost a controversial split decision to Tavoris Cloud.
Against Cloud, Campillo went down twice in the first round and came back to take over the fight. I had him winning easily. When Kovalev hurt Campillo early, the Spanish fighter was helpless.
If Kovalev can continue to develop, there will be a lot of excitement to see him face off with Andre Ward down the line.
Magomed Abdusalamov
There are some wide-eyed fans and writers who see hard-punching, southpaw Magomed Abdusalamov as a potential Rocky Marciano 2.0. In this era of diminished heavyweight talent, I'd be thrilled to see him merely develop into a modern-day Ernie Shavers.
Have no doubts: "Mago" hits like a truck. 18-0 with 18 KOs, Abdusalamov is a native of Dagestan, a republic that falls within Russia's political jurisdiction.
The small, mountainous area specializes in great combat athletes. With a population only roughly the same size as Maine, New Hampshire and Vermont combined, they captured 10 medals in judo, wrestling and boxing during the 2012 Olympic Games.
Mago trains in Oxnard, Calif. now and is building a following quickly among the U.S. boxing public.
I think Mago has the potential to run into problems with his footwork and balance. He was dropped by a punch against Jameel McCline that he walked right into. But he got back up and chopped McCline down.
Nobody Abdusalamov has fought, yet, has come close to standing up to him. Maurice Byarm fought 10 rounds against the highly regarded Bryant Jennings, but Mago stopped him in two. Rich Powers went to an eight-round decision with Tyson Fury, but Mago TKOd him in three.
Mago is such a big puncher that even punches that look clumsy or off-balance end up scoring with great effect. I'm not saying I would pick him over a Klitschko brother at this point. But I would pick him to KO nearly anybody else he is likely to fight before them.
Deontay Wilder
2008 Olympic Bronze medalist Deontay Wilder has won all 28 of his professional fights by knockout. The 6'7" Wilder throws a devastating overhand right that he sets up well with a battering-ram jab.
The largest part of his record was built against lower-echelon opponents, but in the past year, he has stepped up his level of competition and steamrolled guys who don't generally get steamrolled.
Last August, he blitzed Kertson Manswell, TKOing the tough journeyman in the first round. Since then, he has racked up four more wins by stoppage, including a Round 3 KO of fellow unbeaten super heavyweight Kelvin Price and a Round 1 stoppage of Audley Harrison.
I'll admit that I've been lukewarm on Wilder the entire time he's been coming up. It's hard for me to imagine that a guy built like a basketball swingman is going to have the legs and torso to stand up to a true heavyweight attack. He's put on a solid ten pounds since turning pro, but it's mostly been in the shoulders and chest.
Still, there's no arguing with Wilder's punching power. At this point, he has to be regarded as among the top U.S. prospects at heavyweight.
Wladimir Klitschko
Wladimir Klitschko has a 60-3 record, with 51 wins coming by stoppage, giving him a KO ratio of 80 percent. That is extremely high for somebody who has been fighting at the world championship level for over a decade.
Klitschko is a technically near-perfect heavyweight prizefighter. He uses a punishing left jab to simultaneously pound opponents and keep them in range for his devastating straight right, the punch that earned him his nickname, "Dr. Steelhammer."
Two of Klitschko's last five fights have gone the distance. In July of 2011, David Haye managed to last 12 rounds by generally avoiding Klitschko and flopping to the canvas when necessary. Last November, the massive Polish contender Mairusz Wach withstood a full-out Klitschko assault in heroic fashion.
Other recent bouts have been more consistent with his career pattern. Last July he stopped top American heavyweight Tony Thompson in six. He did the same against undefeated Francesco Pianeta this past May 4.
It's tough to keep racking up KOs when you are fighting world title challengers every time out. But at this point, I'd still favor Klitschko by stoppage against almost anybody he might fight.
Vitali Klitschko
Vitali Klitschko's career record is 45-2 with 41 KOs. His 87 percent KO ratio places him with Rocky Marciano, among the very best in heavyweight history.
At nearly 6'8", the older Klitschko brother fights with a more wide-open, gunslinger style than his more cautious kid brother. He throws brutal left hooks and overhand rights. He seems to clearly enjoy fighting as a competitive pursuit.
The only two losses of Klitschko's career came on a shoulder injury against Chris Byrd, in 2000 and when he was stopped on cuts against Lennox Lewis in 2003. In both cases, he was up on all the judges' cards at the time of his loss. The fight with Lewis, stopped after six rounds, was shaping up to be an all-time classic.
Now 41, Klitschko is clearly nearing the end of his run. He has battled injuries throughout his career, and age has not helped. A torn ligament in his shoulder in a unanimous-decision victory over Dereck Chisora in February 2012 is probably the only thing that allowed the Brit to finish that fight upright.
Klitschko came back to stop undefeated German Manuel Charr by Round 4 TKO in September 2012 and has yet to fight this year.
Keep Reading