9 College Football Teams Recruiting Their Way to a Championship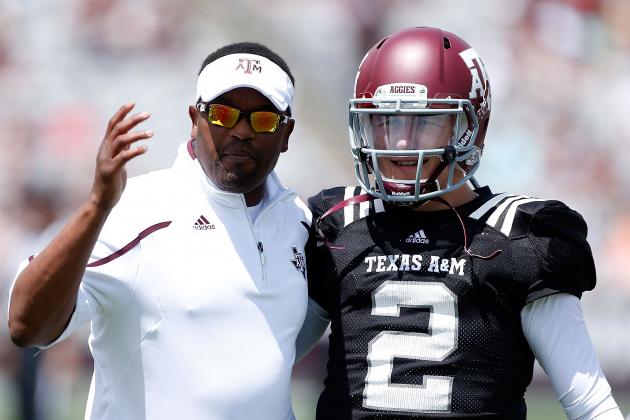 Scott Halleran/Getty Images

Recruiting is the lifeblood of every program and winning a championship is the ultimate goal. There's a program in the SEC who has positioned itself to compete for both conference and national titles well after the eventual departure of its star QB.
A pair of programs in the Big Ten clearly understand that they must continue to recruit at an elite level and prepare to play an SEC team in a big bowl/playoff game. That philosophy is also shared by the program in South Bend.
The premier program in the country is recruiting and re-stocking its roster to stay on top. Also on this list are two powerhouse programs in Florida who are no strangers to championships nor great recruiting.
Begin Slideshow

»
Stacy Revere/Getty Images

The Longhorns have recruited at an excellent clip under Mack Brown, but recently the results have not shown on the field. Texas has not won the Big 12 since 2009, which is also the last year it played in a BCS bowl.
Brown has signed a top-10 caliber class every year in Austin, so he has talent on his roster. He currently has a top-5 class, says 247Sports, so there will be even more exceptional players in his program.
Texas will be back in both the Big 12 and BCS title hunt soon, thanks to great recruiting by Brown and his staff.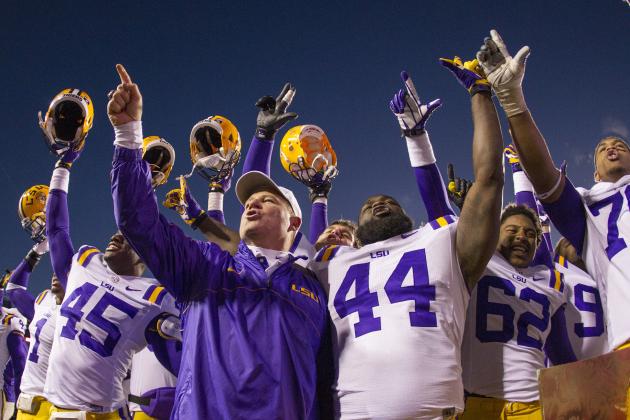 Wesley Hitt/Getty Images

Les Miles has undeniable charm and charisma, which works well during in-home visits to recruits. He leads an LSU program and signs a class full of future NFL players every February.
Miles has a top-10 class (247Sports) and he always has LSU in contention for SEC and BCS titles. He's adding more talent to his impressive roster and will have the Tigers in champion contention for years to come.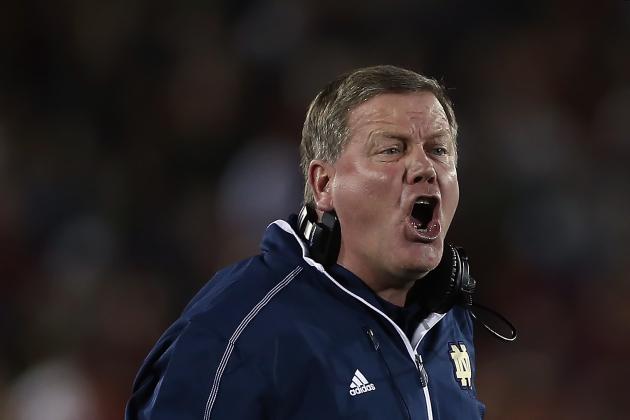 Jeff Gross/Getty Images

Brian Kelly has done an outstanding job recruiting at Notre Dame. He has mixed past tradition with modern ideas to make the Irish "cool" again to recruits.
Fresh off a 12-win season and a berth in the BCS title game, Kelly has loaded Notre Dame's roster with more speed and athleticism. After seeing an SEC team up close and personal, Kelly now will recruit more size and strength.
Notre Dame has a top-10 class (247Sports) and will be back in the BCS title game soon based on impressive Kelly's recruiting.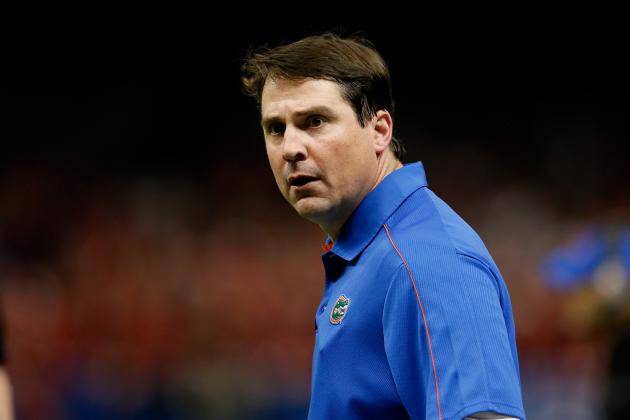 Kevin C. Cox/Getty Images

Florida has one of the most talented rosters in the country every year. Steve Spurrier built the Gators into a recruiting juggernaut, Ron Zook signed good talent and Urban Meyer became a legend at UF.
Today, Will Muschamp is the lead Gator and has also recruited well. He has signed two consecutive top-5 classes and currently has a top-15 class, per 247Sports.
Florida will be the most talented team in the SEC East for the foreseeable future. The Gators also pose a huge threat to Alabama's dominance both over the conference and nationally. Tip a cap to UF, as the Gators will be chomping at championships with teams led by elite recruits.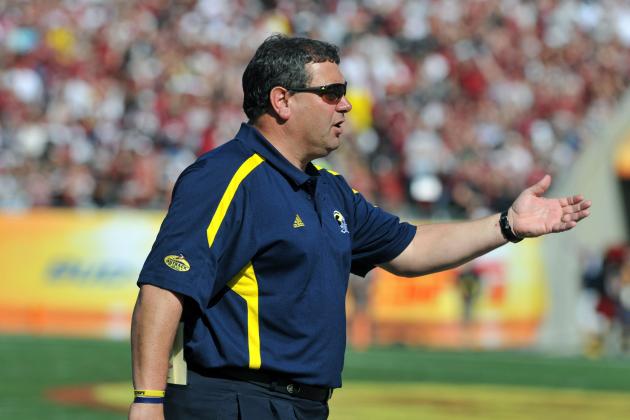 Al Messerschmidt/Getty Images

Michigan has the No. 1 recruiting class in the country, according to 247Sports. The Wolverines have finished in the top-10 recruiting rankings the past two cycles and they're on pace to make it three in a row.
With two great classes and another class who finished just outside the top-25 rankings in 2011, Brady Hoke has much talent to work with in Ann Arbor. The program is now full of great players he and his staff recruited to fit their schemes.
Big Blue is positioned to contend for B1G titles annually and will be a BCS/Playoff team thanks to arming itself with great recruits.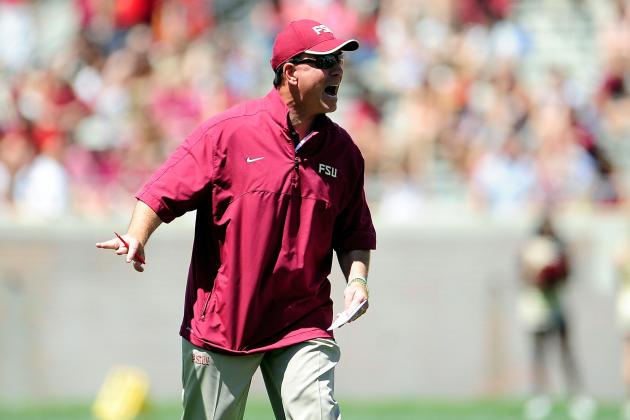 Stacy Revere/Getty Images

Jimbo Fisher took over at Florida State for the 2010 season and has signed a top-10 recruiting class every year since he's been head coach. That is a remarkable feat, and clearly Fisher has the 'Noles back as one of the elite juggernauts of recruiting.
So it is not a shocker to see FSU ranked in the top-5 of 247Sports' current recruiting rankings.
The Seminoles are basically an all-star team of exceptional talent and it is only a matter of time before they play for a national title. FSU will win its fair share of ACC championships, but with recruiting job Fisher and his staff have done since 2010, it is possible it will win a BCS/Playoff title.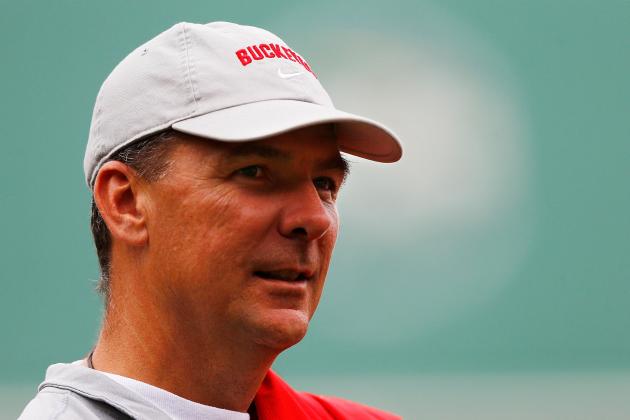 Jared Wickerham/Getty Images

Urban Meyer understands that he must recruit the Midwest hard and mine talent from his region. He also understands that to compete with SEC teams, he must recruit the same type of players those schools get.
So Meyer, who has brought back-to-back top-5 classes to Ohio State, will expand the Buckeyes' recruiting reach deeper into the South and Texas. Ohio State has a top-10 class in 2014 recruiting (247Sports) and has its hand in the pots of many non-midwestern recruits.
With his proven track record on the field and great recruiting prowess, Meyer surely will turn his highly ranked classes into championship-caliber teams.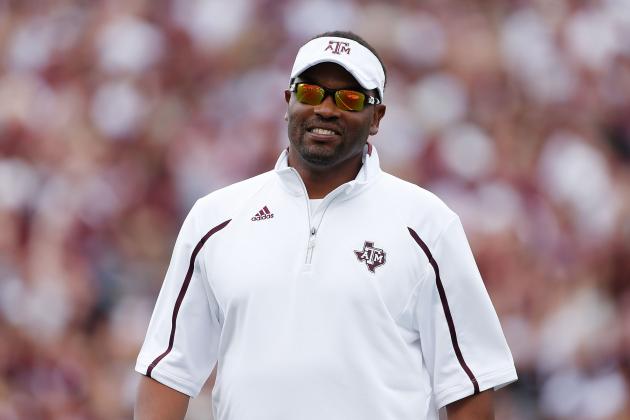 Scott Halleran/Getty Images

With a top-5 class currently in the works, Texas A&M is on a path of recruiting ascension under Kevin Sumlin. The Aggies signed one of the largest classes in recent memory with a 32-player haul last cycle.
Sumlin also put together a top-25 class in 2012, which was his initial recruiting group in College Station. The Aggies have loaded their roster with speed and quickness, which will allow them to compete for SEC West, SEC and BCS/Playoff championships for many years.
Though Johnny Manziel could leave after this season, Sumlin has a solid depth chart of young quarterbacks to continue to pilot his offense. He has built a team of great young talent by signing outstanding recruiting classes.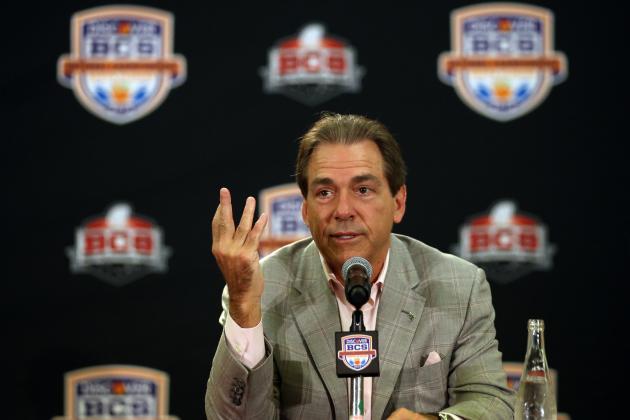 Streeter Lecka/Getty Images

The Crimson Tide no longer recruit players; rather, they hold a draft. Nick Saban and his staff understand they are the premier program in college football and an offer to join them is almost too damaging to pass up.
Saban has Alabama in the top-5 recruiting rankings like clockwork every first Wednesday in February—in a down year. The Tide have won three BCS titles in the past four years and could win No. 4 this season.
Alabama's roster is made up of remarkable talent that will continue to compete for SEC and BCS/Playoff championships. Though it is not in the top-10 recruiting rankings right now, expect 'Bama to have another terrific 2014 recruiting-draft.
Edwin Weathersby is the College Football Recruiting Analyst for Bleacher Report. He has worked in scouting/player personnel departments for three professional football teams, including the New York Giants and Cleveland Browns.