Detroit Red Wings' Blueprint for a Successful Offseason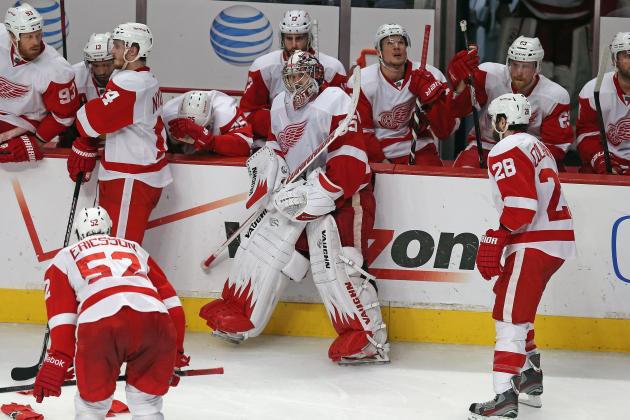 Jonathan Daniel/Getty Images

The offseason has arrived for the Detroit Red Wings.
For the first time in a few seasons, fans don't have to anxiously await the retirement decision (or lack thereof) of an irreplaceable player in Nicklas Lidstrom. And for the first time in at least five years, the important question isn't "how is Ken Holland going to supplement a veteran core?"
Instead, we're left to wonder for a few weeks how the Wings will manage to retain their young players. For Detroit, the reinforcements have finally arrived and it will make for an interesting offseason.
Begin Slideshow

»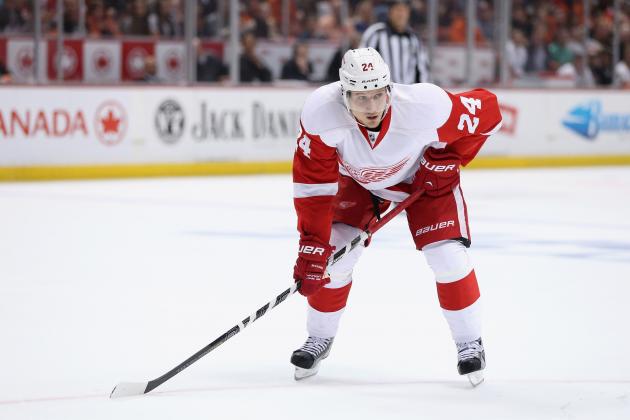 Jeff Gross/Getty Images

All through the regular season, coach Mike Babcock struggled to find a solid third line. The combinations lacked identity and weren't good for timely goal scoring or sound defense. Jordin Tootoo, Cory Emmerton and Drew Miller were all rotated into and out of what boiled down to rotating cast of a line.
Then Damien Brunner was united with Joakim Andersson and Gustav Nyquist and the magic began. The line was pivotal in Detroit's near-upset of the Chicago Blackhawks and was a large reason that the Wings made it by the Anaheim Ducks in Round 1.
Getting Brunner—who could still find a home in the top-six alongside Henrik Zetterberg—to re-up on a three- or four-year deal would be an outstanding way to kickstart the offseason.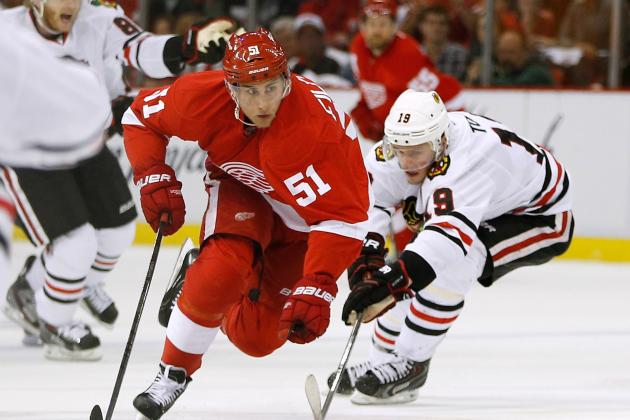 Gregory Shamus/Getty Images

Aside from Damien Brunner, Valtteri Filppula is the biggest unrestricted free agent that Detroit has to deal with this offseason.
The assumption was that his 66-point breakout season in 2012 was the tip of the iceberg, and that Fil would outright kill it in 2013—what with it being a contract year and all. Seventeen points through 41 games later, and suddenly the $5 million per season he is reportedly asking for seems bonkers.
Detroit's two best options are simple. Yield on the money, handing him his $5 million per but limiting the term to one or two years. Or back Fil down on the cash and sign him to a longer term.
Giving him both cash and term at this juncture would not be a wise move, and it's not likely that Ken Holland will buckle on both.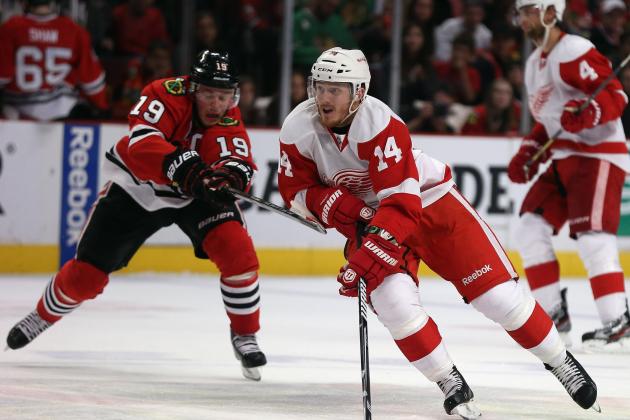 Jonathan Daniel/Getty Images

The biggest (and probably most obvious) part of Detroit's offseason blueprint is to re-sign all of the restricted free agents.
According to Capgeek.com, the Red Wings will have close to $12 million to spend this summer. Ignoring the chance to sign players that didn't finish the year in Detroit would serve the future of the team well, as the list of RFS resembles most of what the starting lineup card could look like by 2016.
Joakim Andersson, Gustav Nysuist, Jakub Kindl and Brendan Smith are all incredibly important parts of Detroit's future. It's likely that Ken Holland held onto his excess cap space during 2013 to prepare for inking Jimmy Howard and these four young players.
Howard has his extension. The kids are next.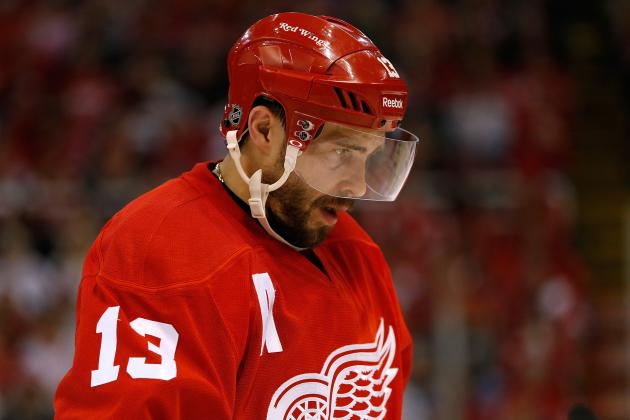 Gregory Shamus/Getty Images

Last week there were rumors floating around that Pavel Datsyuk had signed a deal to play in the KHL as soon as his NHL deal expired next season. (per sovsport.ru, translated by Google)
To that end, Mike Babcock and Gary Greenstin (Pav's agent) have both gone to great lengths to reassure Detroit's faithful that they'll see more of No. 13 beyond 2014. (per The Detroit News and MLive.com, respectively)
Regardless of where Datsyuk heads to retire, the fact that there's even speculation about where he wants to spend his farewell tour tells you all you need to know. He's still capable of playing the game at the highest of levels and his game hasn't dropped off one bit.
Yet Datsyuk is 35 years old now.
The Wings seemed mildly unprepared for life after Nicklas Lidstrom—he's an irreplaceable player, but the top-six without him looked very ordinary because it was just that for much of 2013. Detroit will need to ease a player or two on up the depth chart to prepare for this unavoidable event now, instead of a few years in the future when suddenly there's a gaping roster hole to fill.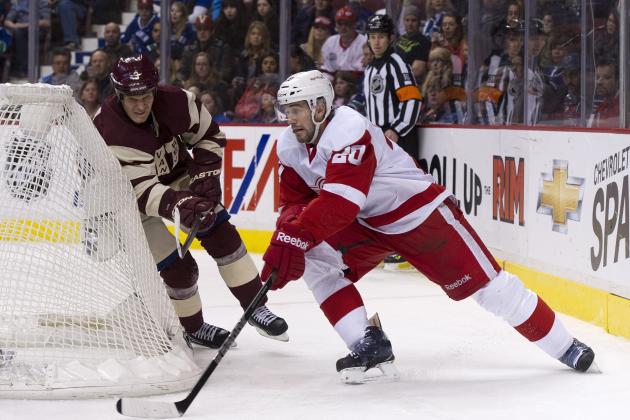 Rich Lam/Getty Images

Drew Miller has been a soldier since the Red Wings claimed him off waivers from the Tampa Bay Lightning back in 2009. As a depth guy he did his job, and he did it well.
Miller always hustled for the puck and brought the attitude Detroit wanted on a daily basis. Sadly, the time has come to let the journeyman forward go. The kids need to play, and they need to play now. Miller takes up a roster spot that could be used for a player like Landon Ferraro or Teemu Pulkkinen.
Moving forward Detroit would be best served to continue their youth movement, and Miller is just a casualty of that. He's a good player—this doesn't change that.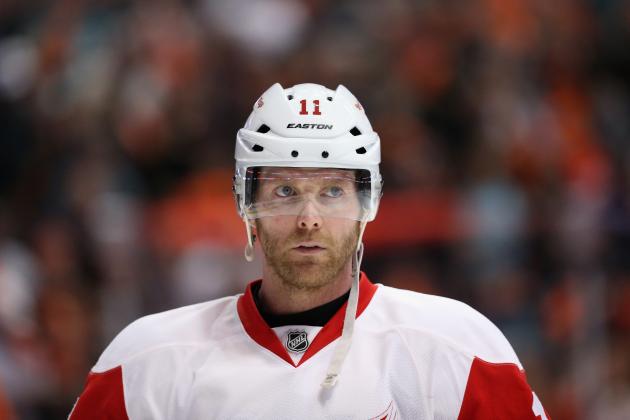 Jeff Gross/Getty Images

Danny Cleary does everything that Mike Babcock asks of his players. No. 11 shows up for every shift and the "compete level" is always there.
So what does Ken Holland do with a player that does everything that is asked of him while the youngsters continue to get closer and closer to NHL action? This will likely be a tough choice for management—Cleary is 34 years old, and while he's not too grey in the beard to play good puck, his best years aren't in front of him either.
Cleary has been one of my favorite Wings since 2005. His emotional story, heart and guts represent the best that this organization has to offer—as such I won't be the one to write that they need to cut him lose.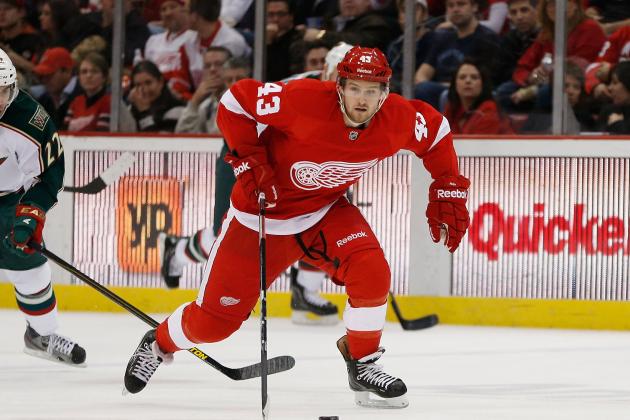 Gregory Shamus/Getty Images

Darren Helm played in just one game in 2013 due to injury—back problems kept him on the shelf the rest of the time, stripping Detroit of its best penalty killer and one of the top depth forwards in the NHL. It took until April for Mike Babcock to finally come to terms that he'd be moving forward without one of his favorite forwards.
After various setbacks and stunted starts, the Wings needs to find a way to help Helm find out what the root cause of this issue is. Team officials have seemed dumbfounded by his spazzy back, and getting to the bottom of this series issue would benefit both player and team.
And we all miss watching Helm tear down the ice while killing a penalty, don't we?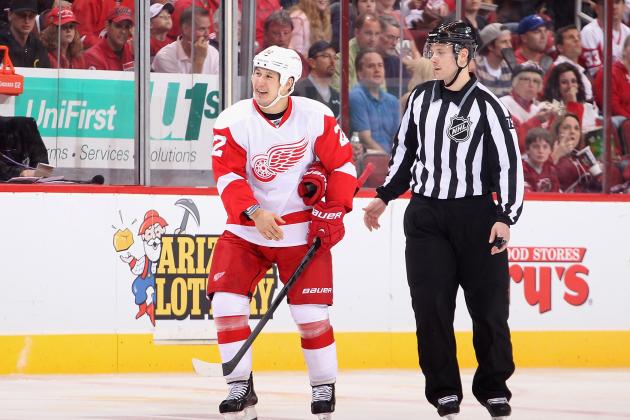 Christian Petersen/Getty Images

When the Detroit Red Wings signed Jordin Tootoo to a three-year, $5.7 million contract prior to the 2013 season they likely didn't envision him spending so much time up in the press box.
Despite all the injuries that spread through Detroit's core group, Tootoo still typically found himself on the outside looking in during games. If it was because he was a defensive liability or a guy that took some bad penalties, then Ken Holland needs to cut him.
This is Jordin Tootoo we're talking about after all, and the Wings knew exactly what they were signing up for when they offered him a deal. So make room on the opening night roster for the physical and pesky forward, move him or buy him out.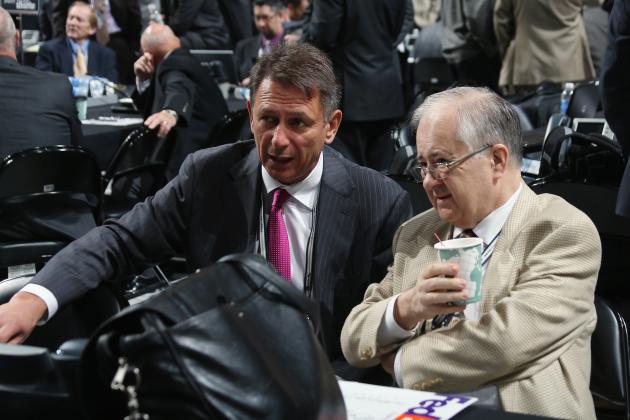 Bruce Bennett/Getty Images

This is a key component for every team in the NHL, but this is a special draft for Detroit. Not since they selected Jakub Kindl with the 19th-overall selection in 2005 have the Wings picked so high in the first round of a draft.
There are some possible difference makers available in the middle of the round as well. If Ken Holland and Co. decide to go with a forward, a player like Anthony Mantha or Valentin Zykov could be solid selections. On the other hand, if they decide to go with a defender, Robert Hagg or Joshua Morrissey could be sound picks.
Regardless of the name called, it needs to be the right player for the Wings. Given the track record in play here, it will be.