New York Mets vs. New York Yankees: Live Score, Analysis and Reaction
Who saw this coming? The New York Mets capped off a four-game series and season sweep over the New York Yankees in a 3-1 victory.
Dillon Gee pitched the best game of his season, probably career, striking out 12 while walking none in 7.1 innings pitched. After allowing two hits to begin the second inning, he did not allow another baserunner.
Vidal Nuno gave up two runs in six innings, but he received no run support from a Yankees offense that is finally starting to regress after an unlikely start from veteran contributors.
The Mets improved to 22-29 while the Yankees dropped to 30-23.
Final Score: Mets 3, Yankees 1
W: Dillon Gee (3-6, 5.68 ERA, 1.58 WHIP)
L: Vidal Nuno (1-2, 2.25 ERA, 1.10 WHIP)
HRs: Marlon Byrd (6), Robinson Cano (14)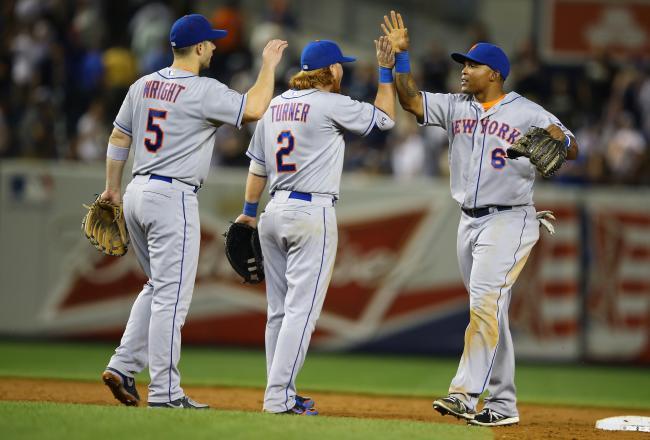 What does this mean for both teams? Are the Mets now the best team in New York?
No, they clearly are not. It means anything can happen in a small four-game sample size. Thing won't get much better for the Mets, and this is probably the most enthused any Mets fans will feel this year during a game not pitched by Matt Harvey.
Unless Zack Wheeler makes an immediate impact.
As for the Yankees, their offensive inefficiencies were exposed by an unlikely source. They floated by with solid production from Wells, Hafner and Overbay, but all the veteran stop-gaps have gone ice-cold at the same time.
They desperately need their regular offensive contributors to return, or else they will continue to regress. Luckily for them, Teixeira and Youkilis are slated to return tomorrow against the first-place Boston Red Sox.
One final note, the Mets are now 2-0 when I live blog their games. The other game was Harvey's coming-out party against Stephen Strasburg and the Washington Nationals. Maybe they can make a run if I do this every game.
Thanks for following along, and have a good night.
Hafner strikes out on a slider that nearly hits him again. The Mets win, 3-1.
Cano flies out to Baxter after a four-pitch sequence. Wells flies out to the other side. Are Yankees fans beginning to panic?
Cano leads off the inning. At least he can't tie it.
This likely means the Mets have seen Mariano Rivera for the last time. Sorry if anyone out there was still holding on to the pipe dream of another Subway World Series.
No Ron Darling, Joba is pitching well. He strikes out two of three batters faced to end a clean inning.
Parnell will enter the game as the Mets' attempt their first-ever season sweep over the Yankees.
Gardner swings wildly at a pitch in the dirt. Inning over, but that does not change my stance.
Maybe Collins wants Gee to end on a high note, but a complete game victory would have been a higher note.
Rice retires a pinch-hitting Ichiro Suzuki on a blooper in foul territory.
I can't get over what a bad call that was.
Terry Collins replaces Duda with Mike Baxter in left field. This could have been avoided by putting Duda at DH to start the game.
Gee raises his strikeout total to a dozen on a high curve against Brignac, who does not like the call. I can't blame him.
What?!? Why is Collins pulling Gee? He's thrown 88 pitches and retired the last 19 batters.. And in comes Rice, who will collapse before the season ends due to this crazy workload. Terrible choice by Collins.
You can't blame Adams on that one. It was hit so lightly that he likely would not have had a play if he charged the ball.
I'm guessing that's the only time we'll ever seen Buck record an infield hit and stolen base in the same inning. Or game. Or month.
A bouncing breaking ball jumps past Romine, allowing both runners to advance. Now there's two runners in scoring position for Buck in a 2-2 count.
Buck reaches for one out of the zone, which delicately rolls down the third-base line. Adams decides to let it go, hoping it strays foul, but it stays straight until hitting the base.
With runners on first and third, Buck steals second base. Now this is crazy.
Duda strikes out to end an odd chain of events.
3-1 Mets in the middle of the 8th

This is Chamberlain's first outing since April 27, but I suppose Girardi rightfully does not want David Robertson's arm to fall off.
Speaking of arms about to fall off, Scott Rice is warming up in the bullpen.
Oddly enough, that was Wright's first intentional walk of the year. He's hitting well, and the rest of the team surely is not.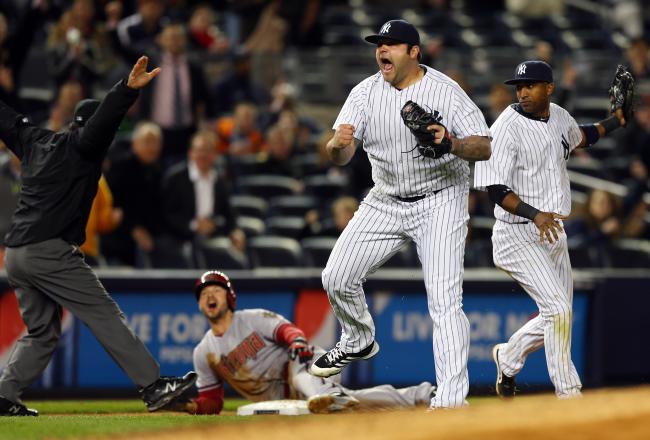 Murphy strikes out swinging on a hard slider at the knees. They're going to intentionally walk Wright with two outs to get to Buck.
Now Girardi will call for Joba Chamberlain, who recently returned from an oblique injury. I'm surprised to see him already being used in the eighth inning of a one-run game.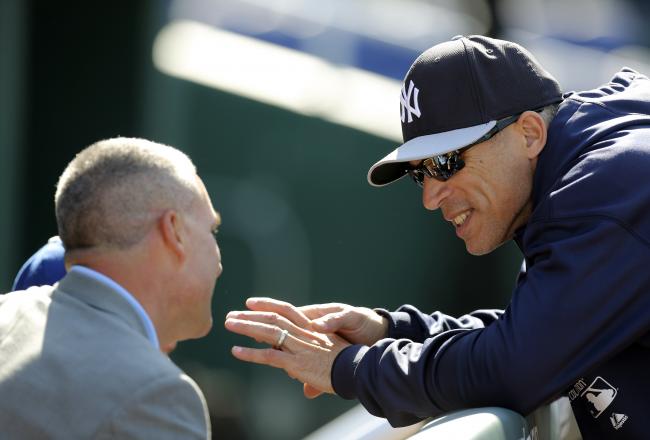 Turner barely makes contact on a ground out that moves the runner to second.
Joe Girardi is bringing in Boone Logan to face the lefty Murphy. Will he then bring in a righty to deal with Wright?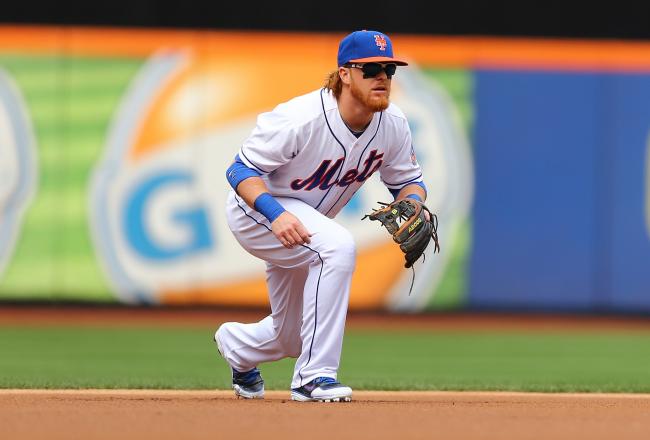 So is Gee just dealing, or are the Yankees that bad offensively? Probably a little of both, but Gee has delivered a rousing performance thus far.
Kelly comes back on the mound for the eighth. We have a baserunner! Kelly walks Quintanilla to start the inning, because it's only rational to fear a career .220 hitter.
Turner's up. Good thing we're not at Citi Field, because Turner typically employs Call Me Maybe as his walk-up music.
Gee has pitched every bit as good as Matt Harvey tonight.
<blockquote class="twitter-tweet">
Dillon Gee has gone all Harvey, fanning 8 of the last 11 #Yankees. #Mets
— Joel Sherman (@Joelsherman1) May 31, 2013
According to FanGraphs, Gee has tossed his fastball at an average velocity of 88.4 miles per hour prior to this game. He just got grabbed his 10th strikeout on a 91-mph heater.
A curveball on the inside corner freezes Adams. That's 11 strikeouts through seven, and he's only tallied 83 pitches.
Wow, another rough outing for former Met R.A. Dickey. He has allowed 11 hits and six runs through six innings. Yikes.
Overbay strikes out. That's nine for Gee, matching his personal best. Can he reach double digits for the first time?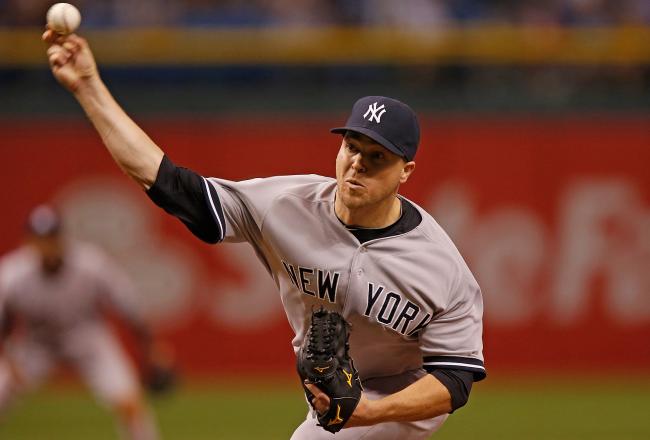 Now Recker wails on a slider out of the strike zone. Not the toughest adversaries, but Kelly still looks mighty impressive.
Lagares can't hold him swing on a breaking ball in the dirt, so Kelly retires the side. Time to stretch.
Shawn Kelly fans Byrd on a high fastball.
Wow, Kelly has a 34-to-5 strikeout-to-walk ratio through 20 innings this year. His 5.49 ERA does not demonstrate his true value.
It's been a rough year for Gee, before tonight that is.
<blockquote class="twitter-tweet">
Dillon Gee has completed six innings for the first time since April 26, and only the third time this season. #Mets 2, #Yankees 1, end 6
— Adam Rubin (@AdamRubinESPN) May 31, 2013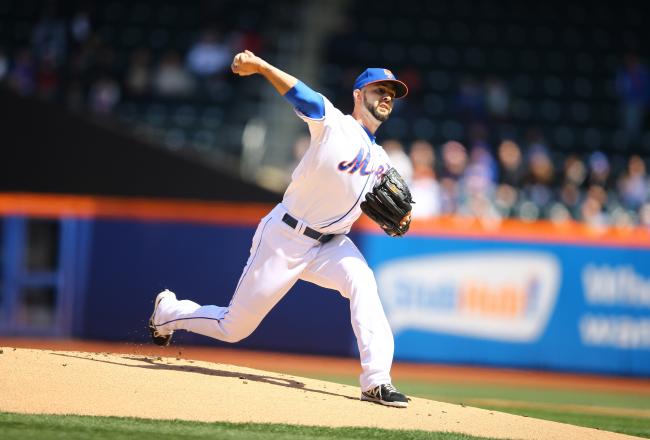 Nope. Hafner watches as a curveball lands in the strike zone for Gee's eight strikeout of the contest. He's close to setting a new best in punchouts.
Don't ya know, Gee strikes out Cano. Even Cano is chasing outside the strike zone.
Wells grounds out. Since tattooing him early, the Yankees are either missing or spiking balls into the dirt.
Hafner gets fooled badly by a changeup to start the at-bat, but the count is now 2-2. Can they finally draw a walk?
It is bizarre to see the Yankees swing with reckless abandon. That's not what we expect from the Bronx Bombers.
A scary stat from the SNY team, Gee has a .488 batting average against during his third go-around in the batting order. This is Cano's third at-bat.
<blockquote class="twitter-tweet">
The Yankees have not walked since Monday. Walks are good.
— Andy McCullough (@McCulloughSL) May 31, 2013
Duda would be a perfect Yankee. He gets on base, he'd hit 30 homers easily in that ballpark, and he could be their DH.
Romine draws off the fans behind home plate to catch a pop up by Duda. Another uneventful inning ends.
Keith Hernandez says that he figured this game would be a slugfest. It was certainly plausible considering the stadium and starting pitchers, but have I mentioned that these lineups are really, really bad?
Just like that, Nuno etched out two more outs. He's recorded 91 pitches, but Duda will likely make him work.
This article is
What is the duplicate article?
Why is this article offensive?
Where is this article plagiarized from?
Why is this article poorly edited?

New York Yankees: Like this team?